Last Updated on July 24, 2023 by Calvyn Ee
New and used car prices are still in a bit of a tight spot. Although prices are slowly getting lower, it's still nowhere as fast as one might think. While some suggest that buying a new or used car is ideal in May (owing to dealerships getting rid of their old inventory to make way for new models), it's still hard to predict how pricing trends will change over the next few months. This is especially prevalent when high interest rates make it much harder for everyday Americans to own a car.
Car buyers are looking for more fuel-efficient options that don't break the bank to make the most of their cash (or credit). If you're also doing just that, browse our list of new, cheap cars with good gas mileage that won't hurt your budget.
Our Rating Criteria
Performance
We present a balanced list of performers with good speed, great handling, and fuel-efficient powertrains.
Appearance
Who says affordable cars can't still look great? These cars will definitely get some interested looks as you drive by.
Features
Many cars are packed with useful standard features any driver would want, from driver assist aids to infotainment systems and more.
Fuel Economy
Fuel efficiency is measured in miles per gallon, or mpg for short. The higher the car's mpg rating, the better its fuel efficiency. Mpg ratings can be inconsistent due to various factors, so getting an accurate reading is challenging. The U.S. Environmental Protection Agency (EPA) handles the certification of all mpg ratings, so they will run a set of standardized tests to determine the official mpg rating of a car.
You can find the mpg ratings of various cars on the market via this site.
Here's Our List of Cheap Cars with Good Gas Mileage for 2023
2023 Volkswagen Jetta (From $21,750)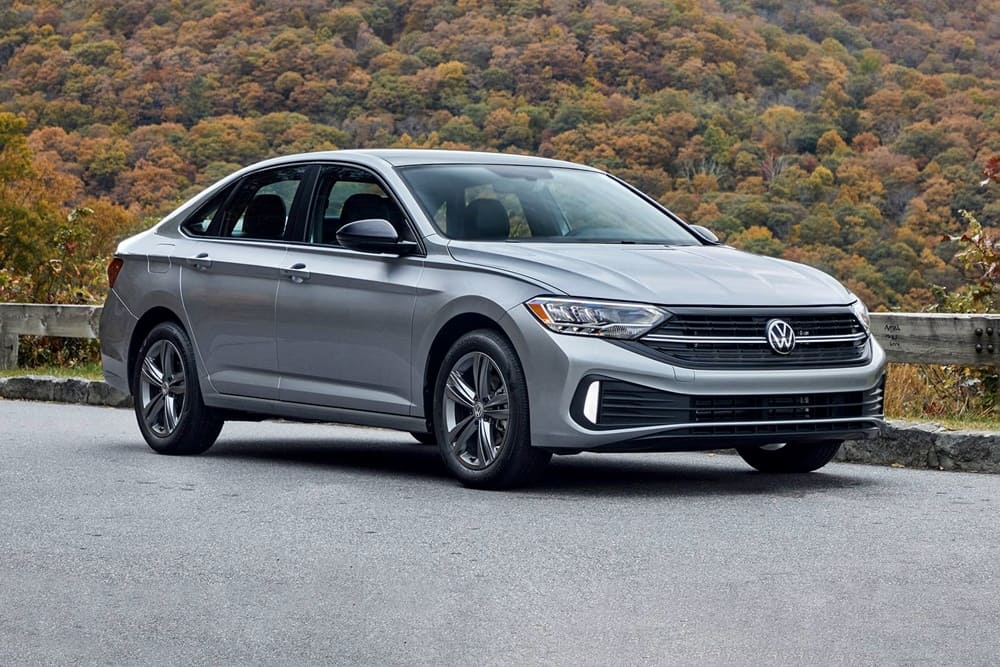 What We Liked
Good fuel savings
Roomy, quiet cabin
Fairly performant engine
Ratings based on the 2023 Volkswagen Jetta, 1.5L Automatic
City: 31 mpg
Highway: 41 mpg
Combined: 35 mpg
The Jetta may look relatively plain compared to other Volkswagen models, but underneath that is a reasonably priced, well-performing sedan that'll get you places while saving you on fuel. Under its hood is a 1.5L turbo-4 that makes 158hp and 184 lb-ft of torque; you can pair it with either the standard six-speed or eight-speed automatic transmission. With a 0-60 time of about 7 seconds, it's fairly zippy, and the transmissions provide smooth, responsive shifts at all times. Its ride quality is excellent, too, providing you with a balanced, comfy, and quiet drive even as you're going fast down the highway. It might not have the sharpest handling, but it does its job well. The interior is a little hit-or-miss with its mish-mash of material choices – including hard plastics – but the cabin is relatively spacious, featuring cozy, supportive front and back seats with up to 37.4 inches of legroom and plenty of standard kits. Even in the base model, you'll have Apple CarPlay and Android Auto compatibility and a nifty 6.5-inch infotainment touchscreen. Cargo space is also decent with its 14.1 cubic feet trunk; you also get utility with the Jetta's small-item storage spaces and a split-folding rear seatback. Safety tech is also admirable, with standard automatic emergency braking and blind-spot monitors; adaptive cruise control and active lane control are available as options. Higher Jetta trims pile on the luxury feel but they do cost extra and lose out on fuel efficiency.
Review
Reliability
Performance
Appearance
Features
2023 Kia Rio (From $17,875)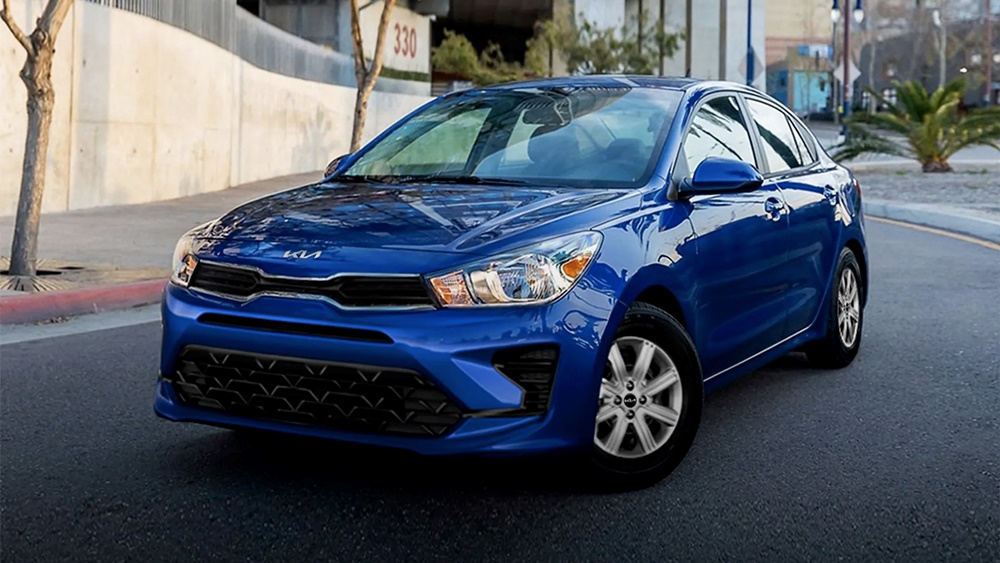 What We Liked
Decent ride quality
Hatchback has good cargo space
Good fuel economy
What We Disliked
Lacking several useful features
Ratings based on the 2023 Kia Rio, 1.6L Automatic
City: 32 mpg
Highway: 41 mpg
Combined: 36 mpg
One of the most affordable cars you can get your hands on right now is the Kia Rio. This sprightly subcompact car (available as a sedan or hatchback) offers a decent mix of confident handling and fuel economy but does have its drawbacks. The base 1.6L four-cylinder has a humble 120 hp and 112 lb-ft of torque and pairs with a decent CVT; under hard acceleration, the engine can get really loud. The engine does make it tricky to travel down highways, but it's perfectly at home navigating city streets. The Rio also surprises with its relatively solid but soft suspension, making for a comfy ride as the car absorbs bumps. The numb steering might detract the drive a little, but if you're OK with that, the Rio is still a good choice for daily driving. The cabin is also well-built despite some cheap-feeling plastics, featuring fairly comfortable seats in the front and back and an intuitive dashboard layout. Taller drivers might also feel a little cramped owing to the lack of a telescoping steering wheel. If you need the space, the hatchback Rio has 17.4 cubic feet in the trunk, going up to 33 cubic feet with the rear seats folded; the sedan has 14 cubic feet. We do think the Rio could do with more standard safety features. You'll need to add the Technology package to get forward collision avoidance with pedestrian detection, lane-keeping assist, lane-following assist, high-beam assist, driver attention warning, and lane departure warning. But no automatic braking system? Seems like a big miss to us.
Review
Reliability
Performance
Appearance
Features
2023 Honda Accord Hybrid (From $32,440)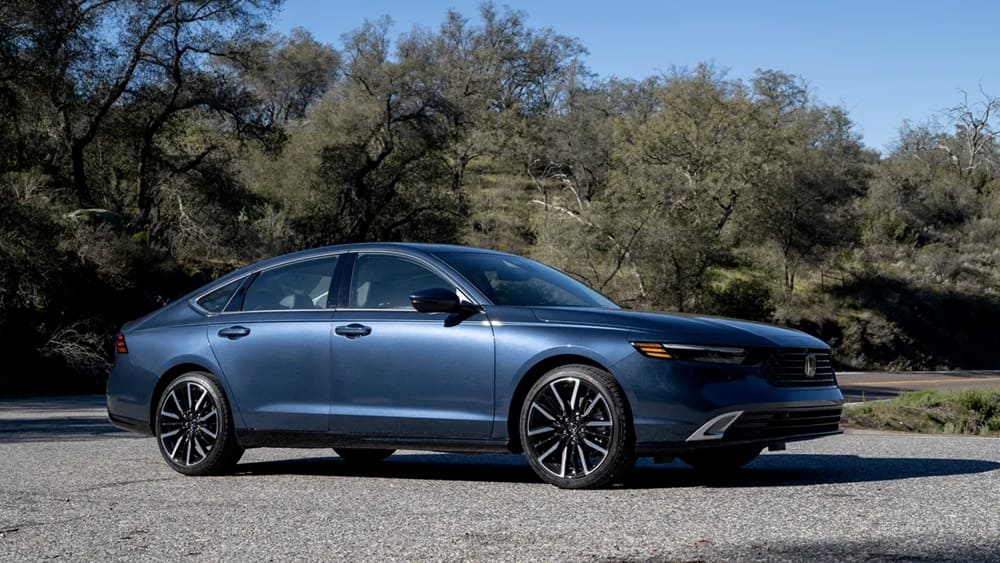 What We Liked
Great hybrid powertrain
Lots of great features
Packed safety suite
Ratings based on the 2023 Honda Accord Hybrid, 2.0L Automatic
City: 51 mpg
Highway: 44 mpg
Combined: 48 mpg
While it's pricier than most of the offerings listed here, the Honda Accord Hybrid still offers great value with its strong fuel efficiency, plentiful tech features, and a crisp hybrid powertrain. The 2.0L naturally aspirated inline-4 and two-motor hybrid system makes 204hp and 247 lb-ft of torque and has four drive modes for variable drive experiences. We're inclined to say it's a step up from the standard gas-only Accord; it's relatively performant but quiet, while the "transmission" (not in the traditional sense, anyway) does a good job of simulating gear shifts. The Accord is an enjoyable car to drive, helped immensely by its solid handling, well-footed cornering, and smooth, compliant ride. Cabin comfort also earns extra points with its noise insulation and adjustable (though less padded) front seats; the sloping roofline does cut into some headroom, but this is mitigated by generous legroom. The rear seat can seat two persons, but adding a third might be a bit of a stretch. Add to the clean, simplistic look of the cabin and control layout, and the Accord definitely has a lot of appeal. Meanwhile, the trunk has 16.7 cubic feet with a recessed floor to offer much more space to work with. Tech features are the Accord's strong point, with a solid infotainment system, available wireless system, and a suite of useful driving and safety aids: automatic emergency braking, blind-spot monitors, active lane control, and adaptive cruise control, among other things.
Review
Reliability
Performance
Appearance
Features
2023 Hyundai Elantra Hybrid Blue (From $25,665)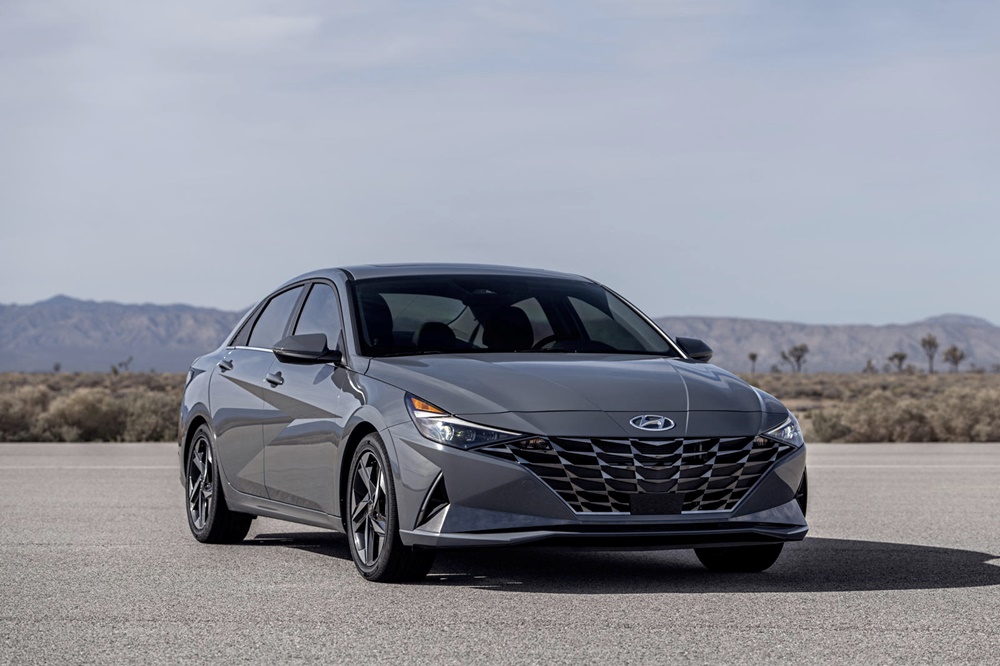 What We Liked
Decent performance
High fuel efficiency
Plenty of standard techs
Ratings based on the 2023 Hyundai Elantra Hybrid Blue, 1.6L Automatic
City: 53 mpg
Highway: 56 mpg
Combined: 54 mpg
Equipped with a 1.6L inline-4, paired with a 1.3kwH lithium-ion battery pack and an electric motor, the Hyundai Elantra Hybrid Blue is a frugal, fuel-efficient sedan that many will love. The hybrid powertrain offers more pep despite its 139hp, 8 less than the gas-only Elantra, with a smooth shifting six-speed dual-clutch automatic transmission and the battery pack improving low-end power. Meanwhile, the electric motor adds some much-needed zest to the Elantra Hybrid Blue's acceleration; it's still not the speediest, but it'll get you places with a more engaging drive. The ride quality is pretty decent, thanks to the independent rear suspension replacing the usual torsion beam, but wind noise is particularly loud when cruising fast. The Elantra Hybrid Blue's interior is clean and roomy, a good combination for a sedan. The controls are easy to reach, and the front seats are fairly comfortable but could use extra padding. The driver's seat is also easy to adjust to a cozy driving position, but its low position might make it awkward for smaller drivers. Rear seats are also OK with 38 inches of legroom, but the sloping roofline removes some headroom. Then there's the disappointing overall build quality of the cabin, with some of the plastic trims easily leaving fingerprint stains. Given its plenty of standard features, you'd expect some degree of sophistication put into the cabin. At least there are 14.2 cubic feet of storage space in the trunk. Speaking of standard features, the Elantra has a good selection: Apple CarPlay and Android Auto smartphone connectivity, automatic emergency braking, active lane control, and automatic high beams. Some of the safety techs are also easy to fine-tune to your liking.
Review
Reliability
Performance
Appearance
Features
2023 Toyota Prius (From $28,545)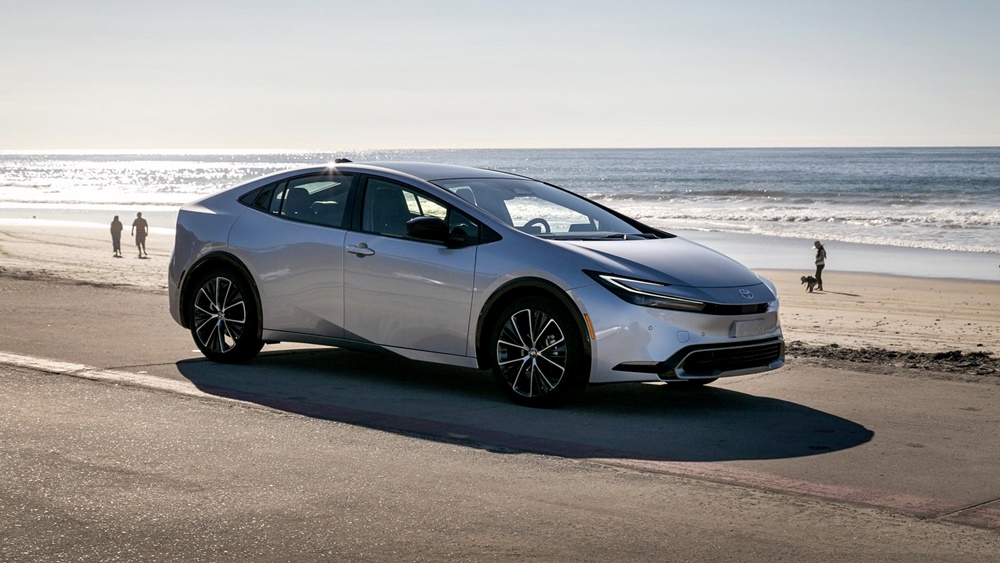 What We Liked
Improved cabin
Better performance
Very good fuel efficiency
Ratings based on the 2023 Toyota Prius, 2.0L Automatic
City: 57 mpg
Highway: 56 mpg
Combined: 57 mpg
Now entering its fifth generation, the Prius has undergone a radical facelift, featuring a sleeker design that's a step up from its previous design. It now houses a 2.0L naturally aspirated four-cylinder engine with an electric motor (a powertrain taken from the Corolla Cross Hybrid crossover), offering 194hp (196hp for the AWD variant) and paired to a CVT. This is a significant increase from the previous generation's meager 121hp. As a result, the new Prius feels much livelier on the road: its 0-60 time now goes up to 7 seconds, and it offers smooth performance and far better road manners. External noise, unfortunately, still gets loud when you're on the move, and the steering, while accurate, feels rather numb at times. Fuel economy is still the Prius' highlight, maintaining a high 57 mpg rating that outdoes its predecessor by just a few mpg. The cabin offers comfortable seats in the front and rear, but the rear seats sadly don't recline and have their headroom taken up by the updated roofline. The new Prius loses some points in terms of practicality, as the outgoing model had 27.4 cubic feet of cargo room compared to the new base trim's 23.8 cubes and the higher trims with only 20.3 cubes. The new design also ends up cutting into rear visibility, no thanks to an angled rear window and thick rear roof pillars. If those aren't a problem for you, you'll love the standard tech Toyota includes with the Prius: wireless connectivity via Android Auto and Apple CarPlay, an 8.0-inch infotainment unit, a (fussy) digital instrument cluster, and the newest Safety Sense 3.0 suite. The safety techs it bundles include pre-collision avoidance with pedestrian detection, lane departure avoidance, adaptive cruise control, lane-following assistance, and the Proactive Driving Assist that subtly helps drivers with their daily driving.
Review
Reliability
Performance
Appearance
Features
Getting the Right Car
Financing a car, whether new or used, can be quite scary with how much prices are shooting up. Don't forget that it's not just the auto loan payments you need to worry about: there's also insurance, fuel costs, maintenance fees, and so on. Make sure you do your homework before you get to buying a car: find out everything there is to know about the kind of loan offered and where you can find better financing offers. Check your credit score, too, and see what you can do anything to improve it. This saves you a major headache when you do decide to buy a car.
Look out for shady deals that seem too good to be true! You'll never know if a lucrative offer might just be a scam in disguise, and if you don't do your due diligence, you'll lose considerable money (and peace of mind). Make sure you scrutinize a deal you find and get yourself a copy of the vehicle history report to ensure it's in serviceable condition.