Last Updated on July 24, 2023 by Calvyn Ee
We recently covered a sampling of cars with the best gas mileage, which included seven sedans and small cars that make every dollar count where fuel economy is concerned. But did you look at that list and then wonder to yourself, "Hey, why aren't there any SUVs mentioned?" Well, you're just in luck!
If a sedan isn't to your liking and much rather spend your money on something a little bigger and with some additional utility, then this list won't disappoint. So let's not delay any further; look at our pick of seven SUVs for the best gas mileage, which features a balance of non-hybrid and hybrid models.
Our Selection Criteria
Fuel Economy
Fuel efficiency is measured in miles per gallon (mpg). The higher the car's mpg rating, the better its fuel efficiency. Mpg ratings can be inconsistent due to various factors, so getting an accurate reading is challenging. If you want to determine a specific car model's fuel economy ratings, head to the EPA's dedicated website.
For plug-in hybrid electric vehicles (PHEVs), mpge is used instead of standard mpg. The 'e' stands for equivalent since the formula to accurately calculate mpge isn't straightforward.
Performance
Just because fuel economy is the main point of this article doesn't mean an SUV can't also handle itself well on the road.
Appearance
Looks can mean a lot to some drivers, and with SUVs also offering a wide variety of interesting aesthetic choices, you'd be spoiled for choice.
Features
Standard safety tech, interior design, cabin room, and infotainment – each SUV has different offerings that cater to other drivers.
Onto Our List of SUVs with the Best Gas Mileage
2023 Nissan Rogue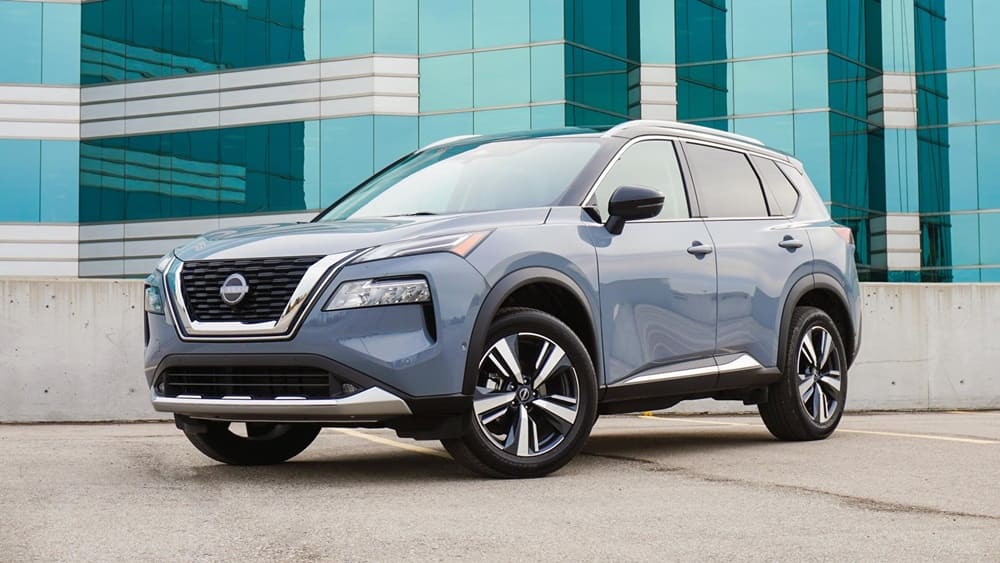 What We Liked
Good value for money
Comfy interior
Decent fuel economy
What We Disliked
Below average acceleration
Ratings based on the standard 2023 model, 1.5L Automatic, FWD

City: 30 mpg
Highway: 37 mpg
Combined: 33 mpg
With a modest fuel economy rating, the Nissan Rogue is a decent compact crossover that might fit the bill for those who might not want a hybrid. Under the hood is a variable-compression 1.5L turbo-3 engine, making 201 hp and 225 lb-ft of torque, and paired to a CVT. While the engine is capable and efficient, acceleration is not as responsive, causing the Rogue to feel sluggish when trying to hit strides on the highway. Along with plain handling traits that don't excite, the Rogue won't be ideal for drivers looking for some zest on the road. Still, it handles well enough and provides a sufficiently comfortable ride for everyone inside, thanks to its new platform introduced last year. Front seats are nicely padded while the rear has just enough room to fit two, with a third slender person in the middle. Road and wind noise are filtered out rather nicely, but engine noise can get in when it's revving hard. Tech features are aplenty, and the driver assistance aids are exceptionally great with how many you get, such as automatic emergency braking, blind-spot monitors, automatic high beams, and automatic rear braking. The available ProPilot Assist semi-autonomous driving mode combines adaptive cruise control and active lane-keeping tech and might be worthwhile. Overall, the Rogue makes an excellent crossover for its feature-packed positives, and although there isn't a hybrid model available, its fuel efficiency shouldn't be scoffed at.
Review
Fuel Economy
Performance
Appearance
Features
2023 Honda CR-V Hybrid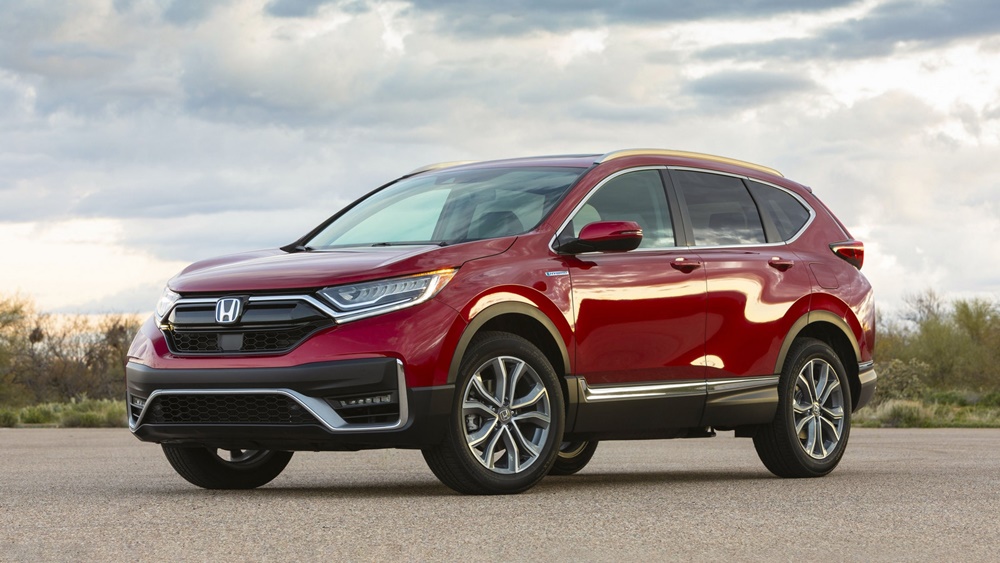 What We Liked
Honda-level reliability
Good fuel savings
Great interior
Ratings based on the standard 2023 model, 2.0L Automatic, FWD

City: 40 mpg
Highway: 35 mpg
Combined: 38 mpg
The CR-V Hybrid comes equipped with a 2.0L inline-4 with two electric motors and a lithium-ion battery, making a total output of 212hp. While only slightly quicker than its non-hybrid counterpart, the RAV4 Hybrid's performance is very smooth and quiet – indeed, a lot quieter than the standard CR-V, whose engine really blares noisily when on the move. Even so, the engine's performance is relatively similar to the non-hybrid one, owing to the added weight of the hybrid system and lackluster acceleration. It's meant to be a family SUV so you can expect the lack of performance pizazz. Where it does shine is its interior, thanks to the great practicality of its design to maximize space without sacrificing comfort. You still have to deal with external noise, but the seats are very accommodating, the climate control system is excellent, and sufficient room for tall passengers to relax in. The cargo space is a little smaller, coming in at 33.2 cubic feet, but that's still a decent amount of room to work with. If you need more space, you can easily fold down the rear seats to get upwards of 70 cubes of cargo room. Honda's reliability and standard driver-assist tech will definitely be areas where the CR-V shines, with automatic emergency braking, adaptive cruise control, active lane control, and automatic high beams included. The infotainment is probably the only piece of tech that feels outdated, but everything else is definitely in line with Honda's strong reputation. All in all, it's a very fuel-economical choice fit for families.
Review
Fuel Economy
Performance
Appearance
Features
2023 Toyota Venza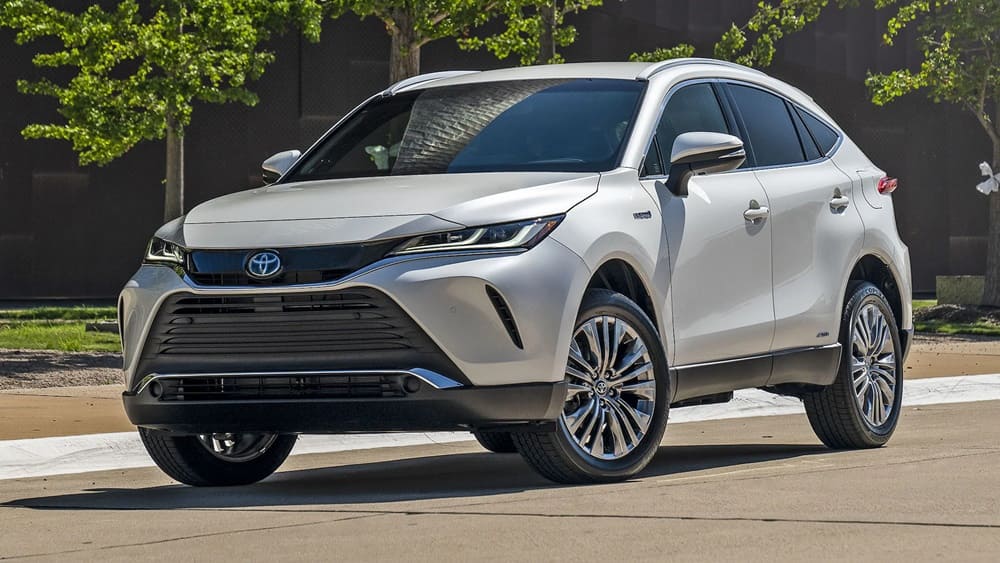 What We Liked
Luxury stylings
Great fuel economy
Standard all-wheel drive
Ratings based on the standard 2023 model, 2.5L Automatic

City: 40 mpg
Highway: 37 mpg
Combined: 39 mpg
Based on the RAV4 platform but with a luxury focus, the Venza can easily be confused for a high-end roller with its premium trappings. Exclusively sold as a hybrid, it sports a 2.5L inline-4 engine and three electric motors with a combined output of 219hp. It might not be athletic like most hybrids since it's tailored to fuel efficiency first and foremost, but it does offer confident, comfortable handling on nearly any road surface. Acceleration is modest at about 8 seconds to hit 60mph from rest, but that isn't saying much. It also tends to get loud under heavy throttle. Beyond the mediocre performance notes, the interior paints a different story. It's built with comfort and style in mind, and many have compared its appearance to that of a Lexus. It might look big, but it's only a smidge longer than the RAV4 it's based on. As such, comfort is excellent thanks to well-padded seats and a quiet cabin, but the rear can only reliably fit two passengers. Rear headroom is a decent 39 inches, affected by the sloping roofline, but legroom is only 37.8 inches and might be tight for tall folks. Cargo space is also surprisingly small for a midsize SUV, offering only 28.8 cubic feet with the rear seats up; fold those, and you get a little more cargo room but obviously less passenger space. And Toyota didn't forget to spruce the Venza with their standard tech features, including lots of safety tech like automatic emergency braking, blind-spot monitors, and active lane control, as well as a decent infotainment system with the usual smartphone integrations. The Venza is a worthy choice if comfort and style are what you like.
Review
Fuel Economy
Performance
Appearance
Features
2023 Toyota RAV4 Hybrid

What We Liked
Good fuel economy
Toyota standard features
Perky engine
Ratings based on the standard 2023 model, 2.5L Automatic, AWD

City: 41 mpg
Highway: 38 mpg
Combined: 40 mpg
Not a fan of the Venza? The RAV4 Hybrid might be just what you need instead. The RAV4 Hybrid features a 2.5-liter four-cylinder engine aided by two electric motors, making a combined output of 219hp and 163 lb-ft of torque. The powertrain is efficient and surprisingly peppier than the gas-only RAV4; its acceleration from 0 to 60 is about one second faster than its non-hybrid counterpart. Paired with an eCVT, the RAV4 Hybrid has great low-to-mid-range torque for city and freeway driving. Unfortunately, much like many other hybrids, the engine does make a fair amount of noise when you rev the engine to go faster. Beyond that, the RAV4 Hybrid offers a sport-tuned suspension that grants occupants a very comfortable ride. At the same time, the cabin nicely filters out external noise save for the engine's guttural noise as you're going fast. The seats offer comfort, but long rides can eventually change that feeling. It does help that the RAV4 Hybrid's interior doesn't feel small, unlike the Venza's, so the copious amount of headroom and legroom and ergonomic design is a welcome sight. And as befitting a Toyota, you can expect the tech to be top dollar: safety tech includes automated emergency braking, pedestrian detection, and forward collision monitoring, while an easy-to-use infotainment system makes for good entertainment on family trips. Cargo space is also similar to the gas-only RAV4, despite the inclusion of the electric motors, so that's a nice touch. The RAV4 Hybrid makes a strong case for a well-built compact family SUV.
Review
Fuel Economy
Performance
Appearance
Features
2023 Ford Escape Hybrid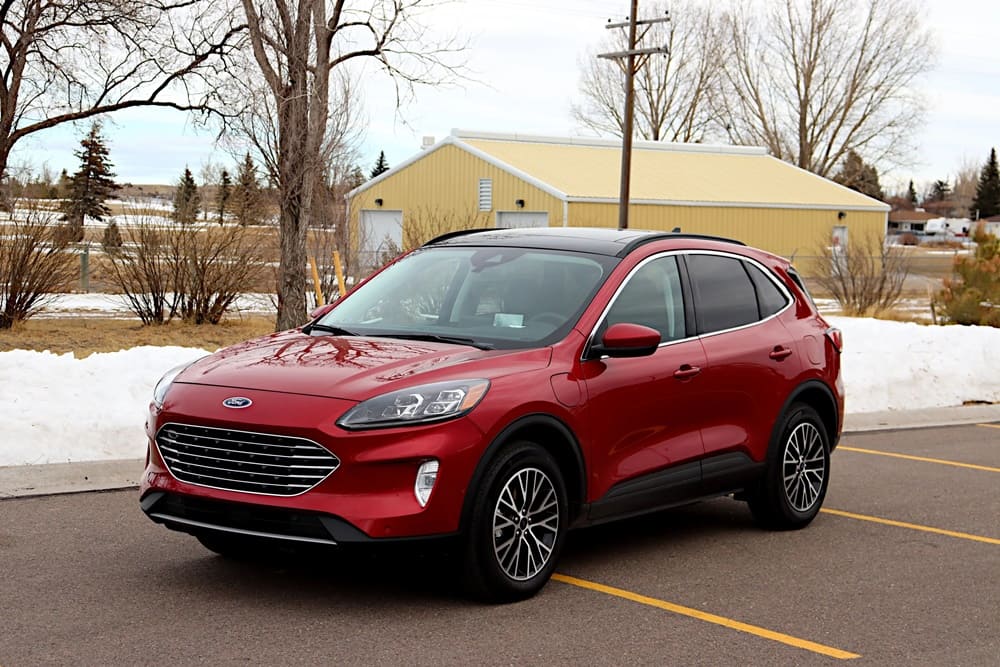 What We Liked
Strong fuel economy
Smooth ride quality
Impressive features
What We Disliked
Some cheap interior materials
Ratings based on the standard 2023 model, 2.5L Automatic, FWD

City: 44 mpg
Highway: 37 mpg
Combined: 41 mpg
Small SUVs like the Ford Escape Hybrid remain popular due to their low price and competitive utility compared to larger SUV models. In contrast to its turbocharged variants, the Escape Hybrid offers a solid small SUV with good fuel efficiency and overall driving manners. The naturally aspirated 2.5L four-cylinder engine is paired with dual electric motors and a small battery, producing 200 hp and 155 lb-ft of torque. Together with a smooth-shifting CVT, these elements offer a confident ride from start to finish, with adequate acceleration, natural-feeling braking, and impressive handling even over the most pockmarked streets. Its other strengths come in its spacious cabin that easily deceives the mind; a small SUV managing to offer this much room? It might seem like a prank, but step inside, and you'll know it's real. Some cheap interior design choices could diminish the classiness you feel, but at the very least, passenger comfort is generous, with 38.9 inches of legroom but a little less on the headroom side. Cargo space is 34.4 cubic feet, just slightly higher than the Honda CR-V Hybrid's, but still trailing behind rivals in the same class. It also rates well in terms of safety, helped by the standard CoPilot 360 suite of driver-assist aids, including automatic emergency braking, blind-spot monitoring, and rear cross-traffic alert; a CoPilot 360+ is also available for adaptive cruise control if you desire it. All in all, the Ford Escape Hybrid excels for its decent performance and interior workings.
Review
Fuel Economy
Performance
Appearance
Features
2023 Kia Niro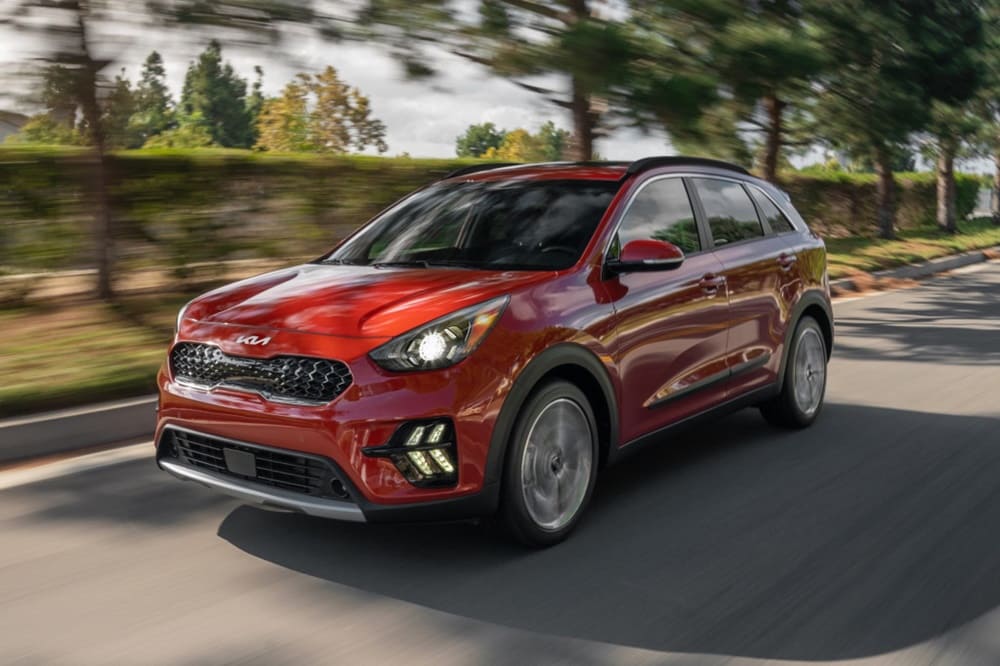 What We Liked
High fuel economy rating
Great value
Comfy cabin
What We Disliked
Base trim lacks plenty of features
Ratings based on the 2023 FE model, 1.6L Automatic

City: 53 mpg
Highway: 48 mpg
Combined: 50 mpg
If you're not a stickler for performance, the Kia Niro is an SUV for your consideration where comfort is concerned. The engine, a 1.6L inline-4 paired with an electric motor and a lithium-ion battery, isn't very perky with its low 139hp output. It steers and maneuvers reasonably well on the road, even with a slightly firm but average ride quality. However, the lackluster braking and slow-shifting six-speed dual-clutch automatic make it a little less pleasant. If anything, the Niro is built primarily around efficiency, and it shows. If those aren't a significant hindrance, you might like what else it offers: standard cloth seats that are well-cushioned, a strong dual-zone climate control system, and a relatively quiet cabin (unless you're working the engine hard). Rear legroom is 37.4 inches, which is decent for most, but tall passengers will find themselves in a rut where headroom might be concerned. Meanwhile, cargo space is a paltry 19.4 cubic feet, going up to 54.5 cubes with the rear seats folded. The lack of quality materials for the cabin is also quite apparent, so if you have the cash to splurge, higher trims offer leather upholstery and additional creature comforts – such as power adjustment for the driver's seat – that make the base trim feel very spartan in comparison. We'd recommend the LXS trim or higher for the additional goodies and much-needed safety tech; you won't need to spend more than 30k to get all those.
Review
Fuel Economy
Performance
Appearance
Features
2023 Hyundai Santa Fe PHEV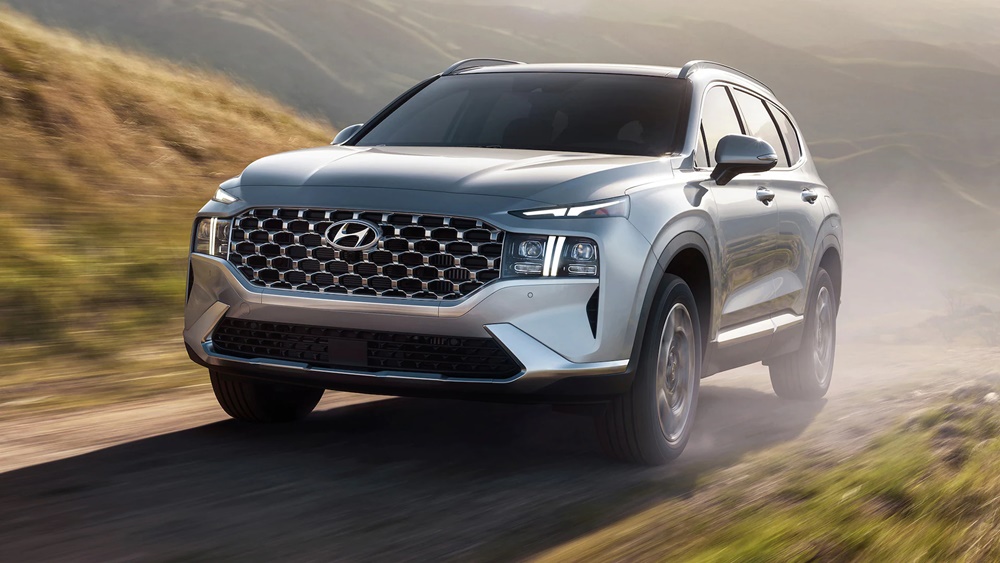 What We Liked
Strong electric-only efficiency
Bold, futuristic exterior
Lush, cozy cabin
Ratings based on the 2023 PHEV model, 1.6L Automatic

Combined mpg (gas only): 33

Combined mpge: 76
Estimated electric-only range: 30 miles
The all-wheel drive Santa Fe PHEV is a strong contender for its excellent fuel efficiency and impressive look and feel. With 31 miles of all-electric range, it makes the perfect daily driver for drives around town, hindered only by a 12.4-gallon tank that makes it less ideal for long-distance driving. It mounts a turbocharged 1.6L four-cylinder (paired with a six-speed automatic transmission) and a 66.9-kW electric motor powered by a 13.8-kWh battery, making a total of 261hp and 258 lb-ft of torque. The engine seamlessly transitions between electric and gas power with no noise streaming into the cabin, while four drive modes give some versatility to how you'd like to drive. It's very much a gentle giant with its crossover size but car-like handling, despite some body lean. On the inside is a plush, luxuriant cabin with great room and plenty of comforts. There's a great deal of headroom and legroom for the benefit of taller passengers, while the cargo space comes at a spacious 36.4 cubic feet – going up to 72.1 cubes with the rear seat folded. Tech offerings are also superb thanks to standard adaptive cruise control, automatic emergency braking, and blind-spot monitoring, among other things; the infotainment is decent, but the busy console – with its plentiful buttons and knobs – might be a put-off for some drivers. Higher trims also come with additional extras, such as Nappa leather upholstery, so if you're keen on driving your first PHEV or want to try a different offering, the Santa Fe doesn't disappoint.
Review
Fuel Economy
Performance
Appearance
Features
Maximizing Value
Fuel-efficient SUVs usually sacrifice performance to provide greater fuel economy. Still, such cars are typically relegated to either base trims or those built solely around efficiency (like the Kia Niro). Still, as models like the RAV4 and Santa Fe Hybrids have shown, you can build well-rounded vehicles that perform well on the road without giving up on fuel efficiency from start to finish. Given the popularity of newer hybrids and EVs, buyers will have plenty of options to help maximize the value they get from the car they choose.
Older hybrid models are also a good pick since you can still find a good blend of performance and fuel efficiency if you know where to look. Ensure you acquire a vehicle history report before looking for an SUV with excellent gas mileage. With VinFreeCheck, you can conduct a free license plate or VIN lookup to get all the data you need on a used SUV you're interested in. It doesn't take much to guarantee safety and peace of mind when shopping for a fuel-efficient used SUV. Don't delay; get yours today!