Last Updated on January 30, 2023 by Calvyn Ee
You've probably been here before: you walk into your local second-hand dealership, looking for a car. You browse for a while, then see a car you've done some research on. Reviews say it's a great vehicle with a good engine and handling. You ask and find that it's on sale at a bargain. You open the door and take a step inside… and now you find your head touching the interior's ceiling while your legs feel cramped even after adjusting the seat.
Picking a car is one thing, but choosing a car you like while also having sufficient headroom and legroom for tall people is a whole other matter. While automakers attempt to build cars that cater to every type of person, it doesn't always work out the way we hope. Luckily for you, we have compiled this list of the 6 best cars for tall people that maximize your comfort while behind the wheel.
What are Headroom and Legroom?
Headroom and legroom sound obvious, but what exactly are they? Headroom typically refers to the space between the roof and the bottom of the seat. This only considers the vertical space, not the angle of the backrest. On the other hand, legroom measures the distance from the pedals to the back of the driver's seat at an angled path based on where your legs go when driving.
The headroom and legroom you get aren't always the same from car to car. Some vehicles may have more headroom but not that much legroom, which means you're not going to be comfortable driving or operating the pedals. Conversely, having more legroom than headroom might mean you'll need to lean in your seat, which also adds to the discomfort while driving.
So What Are the Considerations?
Comfort
We'll put headroom and legroom together and prioritize cars with substantial space that maximizes driver comfort. Most cars listed here will have a minimum headroom and legroom of at least 38 inches.
Features
On top of your driving comfort, we also focus on other defining features of the car – from cozy interiors to integrated safety systems.
Appearance
While we'll first emphasize your comfort, a car's overall appearance and aesthetics still matter. After all, you'd still want a great-looking car to take out for a drive.
Performance
From its handling to its driving capability, a well performant car with the right amount of room for you to sit in is nothing short of a joyous experience.
Settle in for the 6 Best Cars for Tall People
2020 Nissan Leaf S Plus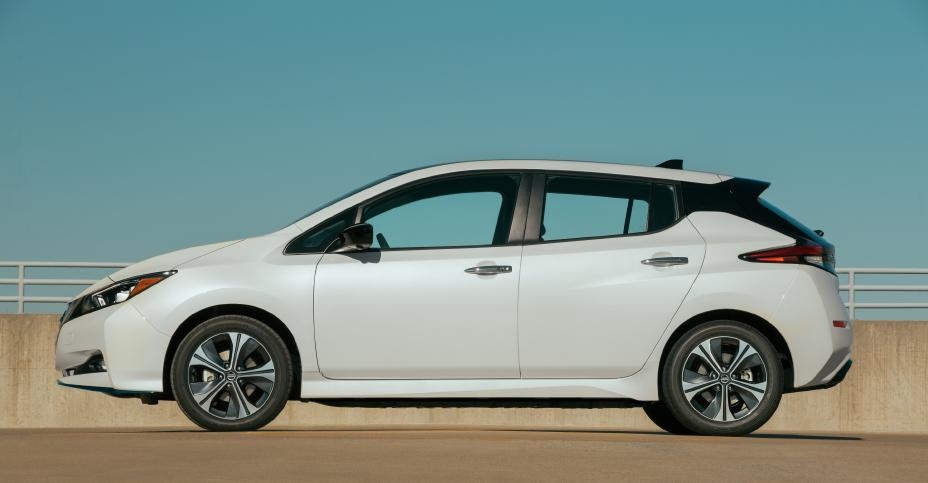 What We Liked
Surprisingly comfortable interiors
Good performance and handling
Has a variety of features
Front headroom: 41.2 inches
Front legroom: 42.1 inches
Electric cars have come a long way since they were introduced, and Nissan's Leaf is one modest electric vehicle worthy of your attention. It might lack in its maximum range with its 62-kWh battery pack offering 226 miles of driving range, but it still has much to offer. Its advantages include an unexpected amount of headroom and legroom, adjustable seats with lumbar support that you can tailor to your liking, and equally shocking cargo space once the back seats are folded. On top of all that, you're also getting impressive energy efficiency from its battery pack.
We recommend getting the S Plus mainly for its increased range thanks to the larger battery pack. The standard model only comes with a 40-kWh battery with a max range of 150 miles – much less than the S Plus trim. Don't expect the Leaf to also be a very performant car compared to its competitors. Still, the Nissan Leaf is a modest car to consider, thanks to its remarkable interior space and various features that improve your driving experience.
Review
Comfort
Features
Appearance
Performance
2021 Honda Accord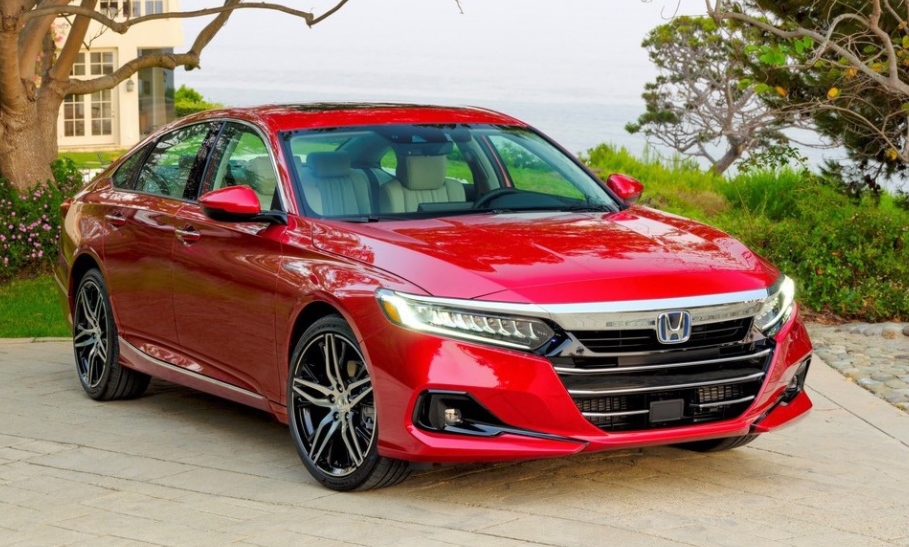 What We Liked
Top-notch safety features
Excellent interiors
Powerful yet fuel-efficient
Front headroom: 39.5 inches
Front legroom: 42.3 inches
A well-loved car for its plethora of safety features and impressive design, the Honda Accord ticks many boxes. It comes with a 1.5-liter turbo-four engine that packs 192 hp and 192 lb-ft of torque, giving it an impressive 0-60 time of 7.2 seconds. Higher-end models come instead with a 252-hp turbocharged 2.0-liter four-cylinder, but it can be tempting for a modest price increase. Not only are you getting stylish comfort and performance, but the Accord also boasts 32-33 mpg combined fuel economy, active safety, driver-assist features, and spacious interiors for tall people to sit back and relax.
The Honda Accord also sports height-adjustable seats to help you recline comfortably in the driver's seat. It might not be the most powerful car of its class, nor will it impress in terms of its technology. Still, Honda continues to captivate drivers through its standard safety features, its emphasis on sleeker, modern aesthetics, and solid fuel economy that gives you more bang for your buck.
Review
Comfort
Features
Appearance
Performance
2020 Hyundai Sonata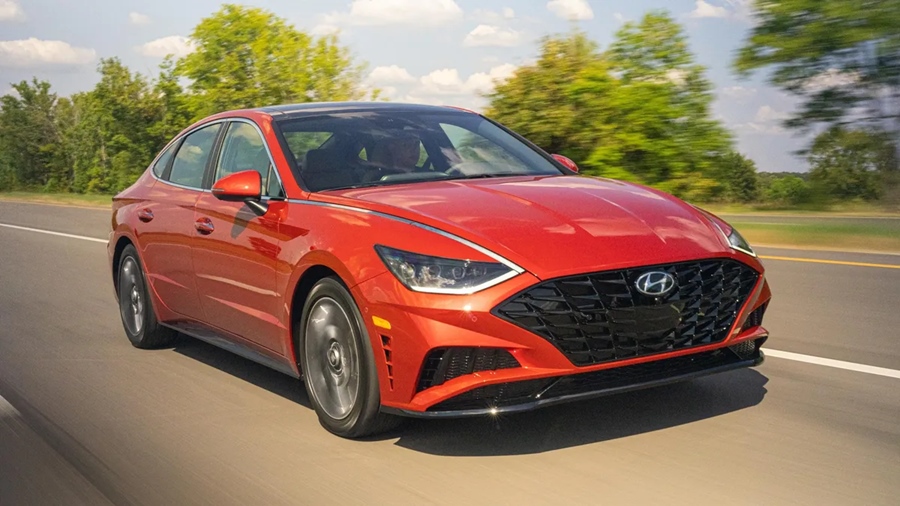 What We Liked
Roomy interiors and cargo space
Excellent standard features
Good value
What We Disliked
Less performant than rivals
Front headroom: 40.4 inches
Front legroom: 45.5 inches
The elegant Hyundai Sonata is another acceptable option that merges comfort and technology into one fantastic package. For less than $30,000, you can get a premium trim sporting a 1.6-liter turbocharged four-cylinder engine that puts out 180 hp and 195 lb-ft of torque while hitting 0-60 in about 7.3 seconds. It might have a relatively neutral drive feel to it. Still, where it lacks agility and handling precision, it makes up for its excellent standard-issue safety features, spacious interior and cargo space, outstanding fuel economy at 31 mpg combined, and high-class aesthetics.
With the proper amount of care, a Hyundai Sonata ages very gracefully. You'll be hard-pressed to find a car of this value that manages to pack so many useful or premium features in one place. Complemented by a good quality infotainment suite, your drives with a Sonata will surely be as pleasant as they can be.
Review
Comfort
Features
Appearance
Performance
2018 Chevrolet Impala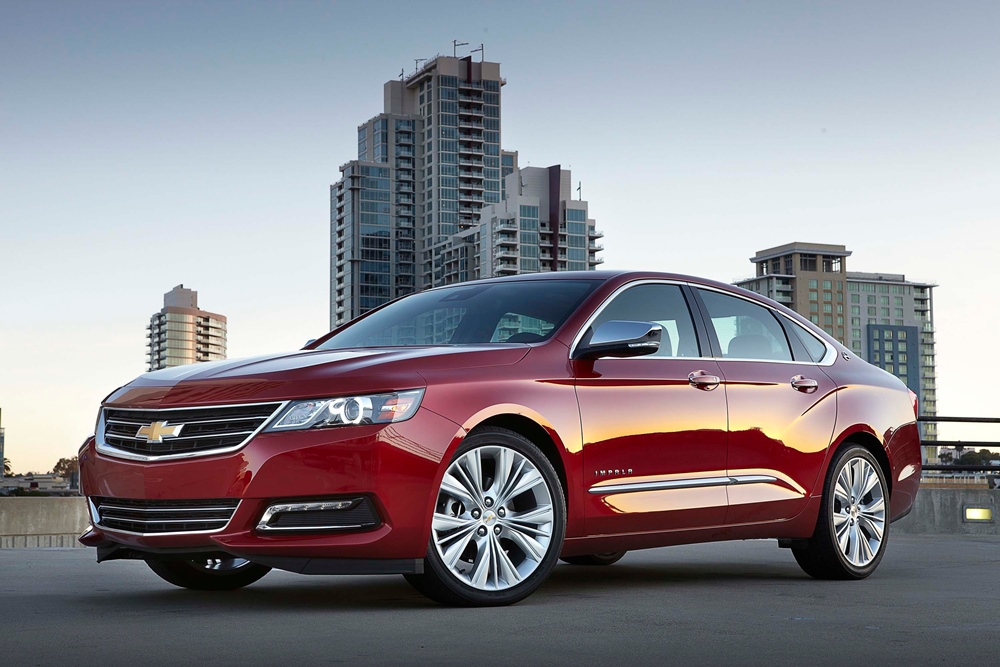 What We Liked
Large interior space
Quiet cabin while on the road
Packed with tech features
Front headroom: 39.9 inches
Front legroom: 45.8 inches
While the line has sadly been discontinued, you can still acquire a used Chevrolet Impala in relatively good condition. Despite this setback, the Impala affords you a significant amount of room; legroom especially boasts a cavernous 45.8 inches of space! On top of the comfortable seats and a pleasantly quiet drive, you're also getting a 2.5-liter inline-4 rated at 197 hp and 191 lb-ft torque. If you're lucky, you might find a higher-end trim with the 305 hp, 3.6-liter V-6 engine with 264 lb-ft torque for a punchier ride.
Unfortunately, you'll also have to deal with some less than stellar design choices, such as a few cheap interior components, poor fuel efficiency, and a somewhat dated aesthetic. Still, if you're in for a spacious car that still offers a muscular ride with decent handling and speed, you can't go wrong with an Impala.
Review
Comfort
Features
Appearance
Performance
2019 Subaru Forester Premium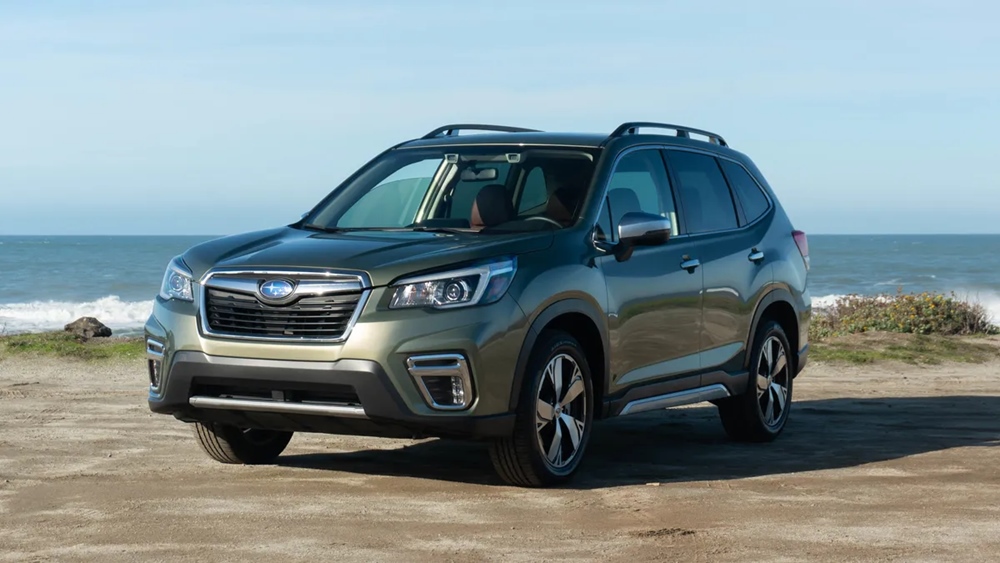 What We Liked
Spacious
Pleasant driving experience
High safety scores
Front headroom: 41.2 inches
Front legroom: 43.3 inches
The Subaru Forester has well-established popularity among many Americans for its safety-first features, excellent handling, and roomy interiors. The 2019 edition doesn't really innovate in terms of its looks, but has adjustable seats that you can tailor to your needs and a cushy, pleasant ride for all passengers. The 2.5-liter flat-four-cylinder engine offers 182 hp, 176 lb-ft torque, and a maximum tow weight of 1500 pounds. It's also a great off-road driver thanks to 8.7 inches of ground clearance, making it that much smoother a ride on bumpy terrain.
Unfortunately, it does lack some oomph where overall handling is concerned, while the engine lacks sportiness to it – especially with the lackluster acceleration. If those are less of your concern, the Subaru Forester is an excellent pick for an all-purpose ride – be it on city streets or adventuring among nature.
Review
Comfort
Features
Appearance
Performance
2021 GMC Canyon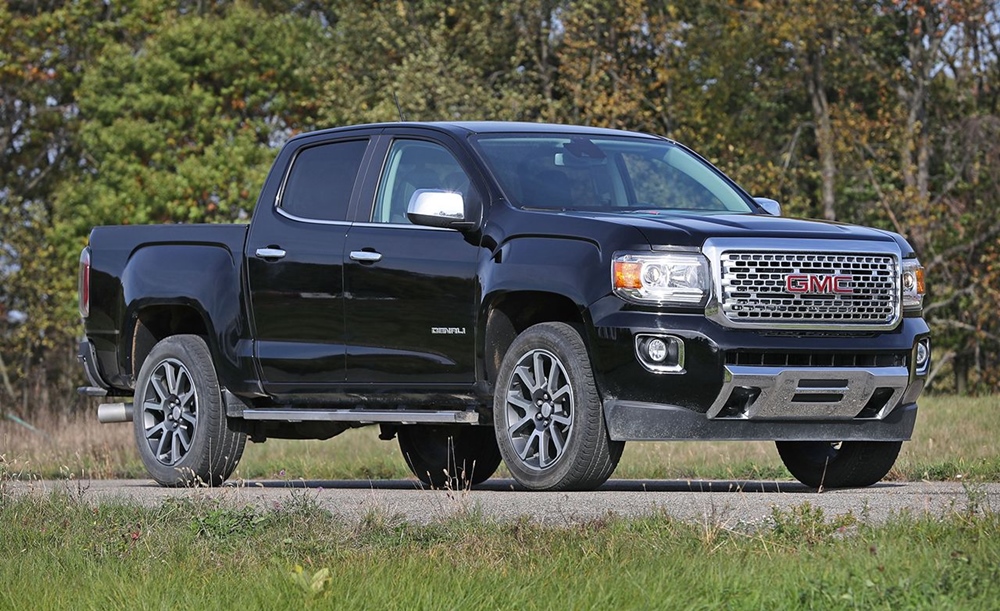 What We Liked
Potent engines
Muscular exterior looks
Very maneuverable
Front headroom: 41.4 inches
Front legroom: 45.0 inches
Considered by some to be a near-identical twin to the Chevrolet Colorado, the GMC Canyon is a bulky pickup that surprisingly handles like a regular car. Depending on your choice of trim, you can pick between the base 2.5-liter four-cylinder turbodiesel engine packing 200 hp and 191 lb-ft of torque or the 3.6-liter V-6 engine with 308 hp and 275 lb-ft torque for an extra punch. The base four-cylinder best suits moderate fuel economy and towing duties, while the latter V-6 offers more power. You'll still get decent handling and performance out of the Canyon on any terrain.
The cabin comforts are definitely a little lacking, but the amount of space you get in the seats is definitely still worth it. You'll be in for a relatively smooth journey, but rear passengers may find the upright seats to be a little uncomfortable over time. Even so, the GMC Canyon is a great choice where you'd like car-like handling in a pickup while also getting the additional interior and cargo space.
Review
Comfort
Features
Appearance
Performance
A Few Key Pointers
Many of these cars can be found used at a relatively good bargain, but be sure to do some additional research so you know what to expect from a potential sale. Make sure you conduct a VIN check, for one, on any potential cars that might strike your fancy so that you can access any historical records on its prior use. If everything looks good, visit the dealership and give it a test drive to see how it handles. Be sure to also protect yourself from automotive fraud, too; if something seems too good to be true, it probably is.