Last Updated on September 19, 2023 by Calvyn Ee
These days, owning a car with 300 horsepower under the hood is no longer a dream, especially when plenty of new and used options are available. These powerful vehicles offer a budget-friendly price tag and impressive performance without needing you to break the bank. From sedans to coupes, we'll cover a range of options that deliver exhilarating power without compromising your budget.
Our Criteria for Selection
Reliability
We make a point to get feedback from current and previous drivers and ratings from reliable sources like Consumer Reports and CarMD for each car we feature.
Appearance
Both new and used cars can have striking appearances inside and outside that help them stand out from the crowd.
Performance
300hp cars are plenty powerful to provide an exhilarating driving experience from start to finish. But it's not solely the engine that makes a great car great.
Features
You'll find plenty of value and utility in the features each car offers, from various creature comforts to important safety suites and more.
Without Further Ado: 6 of the Best 300hp Cars Worth the Price
2023 Kia Stinger GT-Line (300hp, $37,865)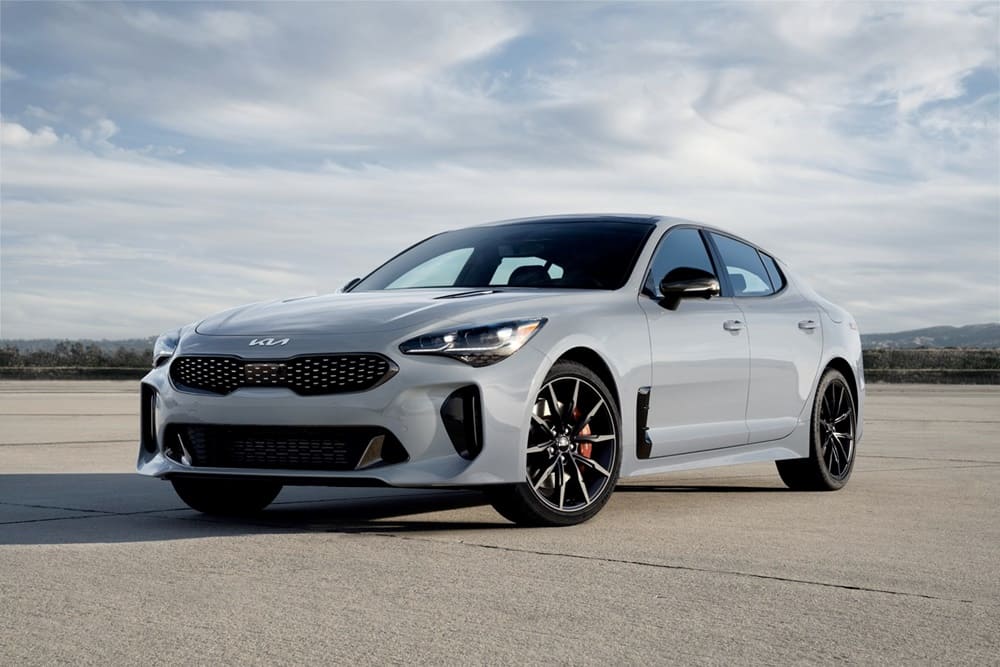 What We Liked
Fun to drive
Spacious cabin
Great value
What We Disliked
Not as quick as some other sports sedans
The Kia Stinger not only looks trendy, but with its 2.5-liter turbo-4 providing 300hp and 311 lb-ft of torque, this sports sedan offers a fiery ride you'll love. It may not be pure adrenaline driving a Stinger, but it still manages to sate one's need for speed. Together with a quick-shifting eight-speed automatic transmission, the Stinger delivers substantial performance without sacrificing comfort. It's also a well-built vehicle with a spacious interior featuring plenty of posh-looking materials (including leather seats) and an impressive 23.3 cubic feet cargo room. The Stinger delivers far more than what was promised for a sports sedan. Moreover, Kia is no slouch where safety is concerned: standard techs included are automatic emergency braking, active lane control, blind-spot monitors, and adaptive cruise control. Meanwhile, you can opt for a surround-view camera system and a heads-up display as optional features.
Review
Reliability
Appearance
Performance
Features
2023 Toyota Camry TRD (301hp, $34,480)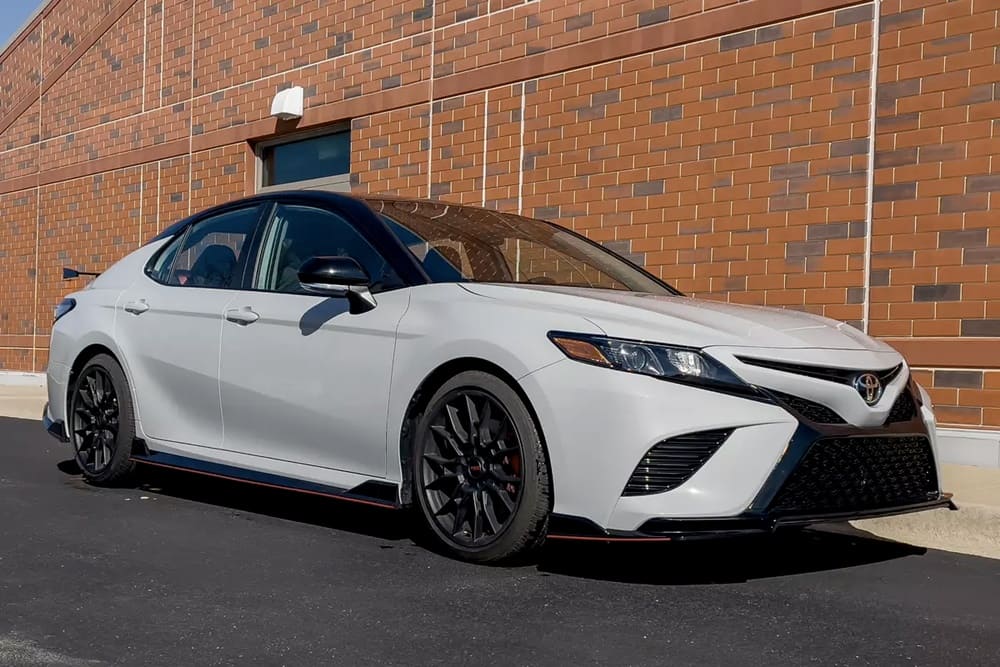 What We Liked
Impressive V6 powertrain
Strong value
Great safety suite
A Toyota might seem out of place, but the Camry TRD has the option to go with a 3.5-liter V6 that makes 301hp and 267 lb-ft of torque. It doesn't immediately turn the Camry into a speed demon, but it does still give some extra pep to the Camry's overall performance. Add that with the TRD's sport-oriented tuning – from its suspension and bigger brakes to the wider wheels and aesthetic add-ons – and you have yourself a spry city runner for all your commuting (and occasional fun time) needs. On top of that, you're still getting the best of Toyota's offerings: the Camry is a highly-rated sedan for a lot of reasons, especially where reliability is concerned. The interior is clean and comfy, though taller passengers will find headroom is somewhat lacking in the rear. The TRD does miss out on some premium creature comforts that the higher X-grade trims have, such as heated seats. And don't forget Toyota's top-notch safety suite, featuring standard automatic emergency braking with pedestrian detection, active lane control, and adaptive cruise control.
Review
Reliability
Appearance
Performance
Features
2023 Ford Mustang Ecoboost (310hp, $29,145)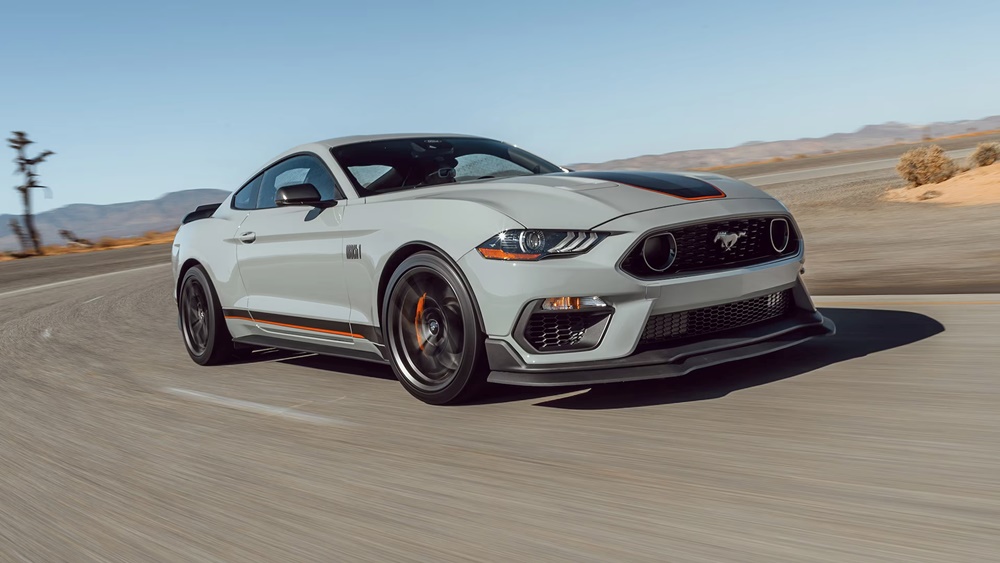 What We Liked
Affordable muscle car
Plenty of customization options
Great handling
You can never go wrong with an American-made muscle car, especially when you can get one for under 30k. Sure, the Mustang Ecoboost is as barebones as they come, but it's no slouch. In fact, the 2.3-liter turbo-4 has 310hp and 350 lb-ft of torque available, making for some impressive acceleration and speed. Opt for the High-Performance package, and you can add some extra zest to the engine. There's also a Handling package for even more sporty tuning and stronger Brembo brakes. For an entry-level muscle car, the Mustang Ecoboost is a no-brainer. Its only downsides are the odd hard plastics found in the interior, which only dampen the muscle car's burly image and the snug rear seat that's more suited for luggage or kids than adults. The front seats are nice and comfortable, at least. Lastly, while this can be a powerful machine with the right options, adding said options can quickly get pricey – the High-Performance itself can cost up to 5k alone.
Review
Reliability
Appearance
Performance
Features
2019 Chevrolet Camaro LT (335hp, from $19,000)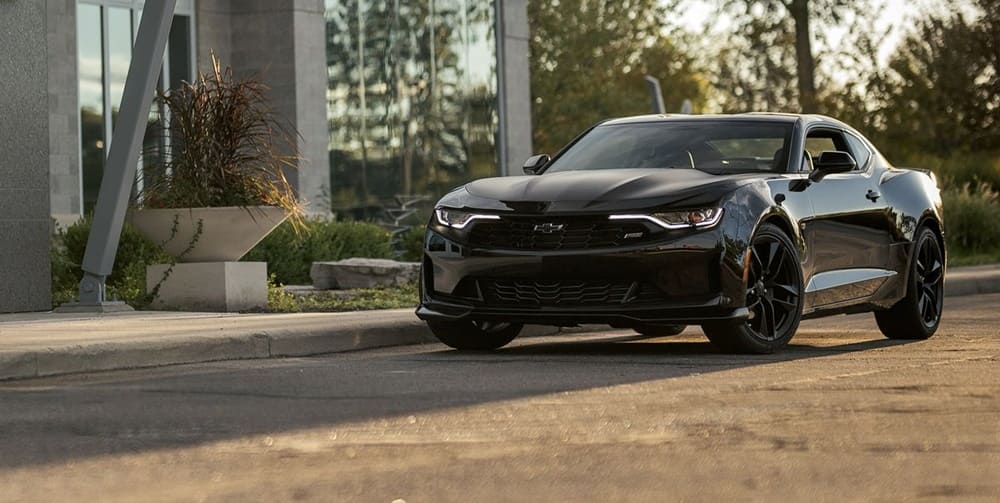 What We Liked
Strong V6 performance
Superb handling
Still looks fantastic
What We Disliked
Small rear and cargo area
The iconic Chevrolet Camaro is a symbol of superb power in a gorgeous frame. The LT trim comes equipped with a potent 3.6-liter V6, making 335hp and 284 lb-ft of torque: the perfect choice for an agile road runner. The engine thrums with power, and when you push the pedal to the metal, it very much roars with a reverberating oomph. On top of that, the Camaro is engineered to almost perfection with its sublime handling, well-tuned suspension, and sharp, responsive steering. It's hard to say no to a pony car like this, especially if you're able to get one for a bargain. Needless to say, this is – like the Mustang – a car meant only for two: the rear is also small enough that it's only ideal for groceries or luggage. The same can be said of the trunk: space inside is almost negligible beyond a couple of small items. Safety is also a concern due to less-than-ideal visibility and poor crash test scores.
Review
Reliability
Appearance
Performance
Features
2012 Chrysler 300C (363hp, from $9,000)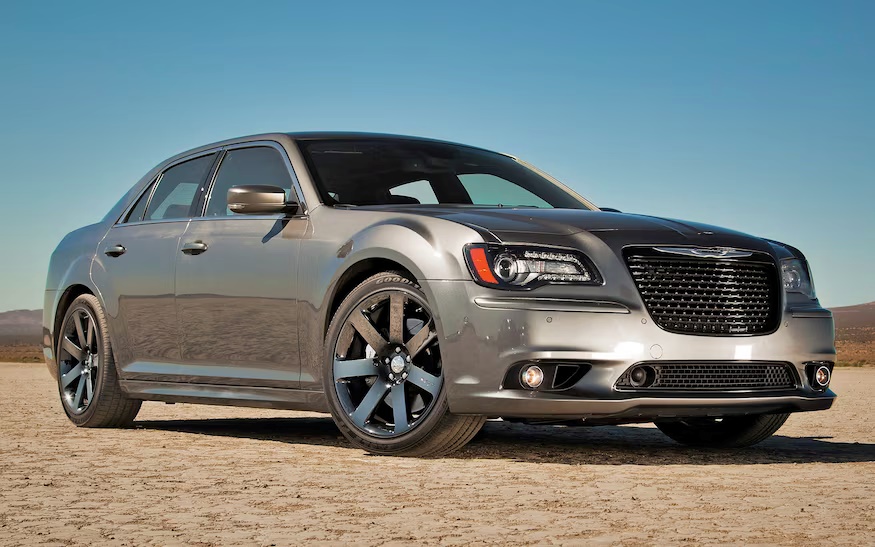 What We Liked
Immense size
Drives like a champ
Stable handling
What We Disliked
Rear visibility could be better
The Chrysler 300C is an imposing car, more so when you find out that it has a 5.7-liter HEMI V-8 under its hood, making an impressive 363 hp and 394 lb-ft of torque. Capable of hitting the 60 mark in under 6 seconds, the 300C is an aggressive, growling beast at full speed. For a full-size sedan, it also scores well on overall handling, as you wouldn't think you're driving a full-size car when you're behind the wheel. Even more impressive is that it doesn't feel ponderous to drive, considering its size, with little to no body rolls, among other things. On the inside, the 300C is also stately, helped by its luxury appearance, cushy cabin space with great front seat bolstering, and plenty of headroom (the rear is something of a mixed bag, though). For something built in 2012, the 300C can really make you feel like royalty. Safety is also a plus point for this hulking sedan, with standard lane-departure warnings, blind-spot monitors, and a forward-collision warning system.
Review
Reliability
Appearance
Performance
Features
2012 Hyundai Genesis 5.0 (429hp)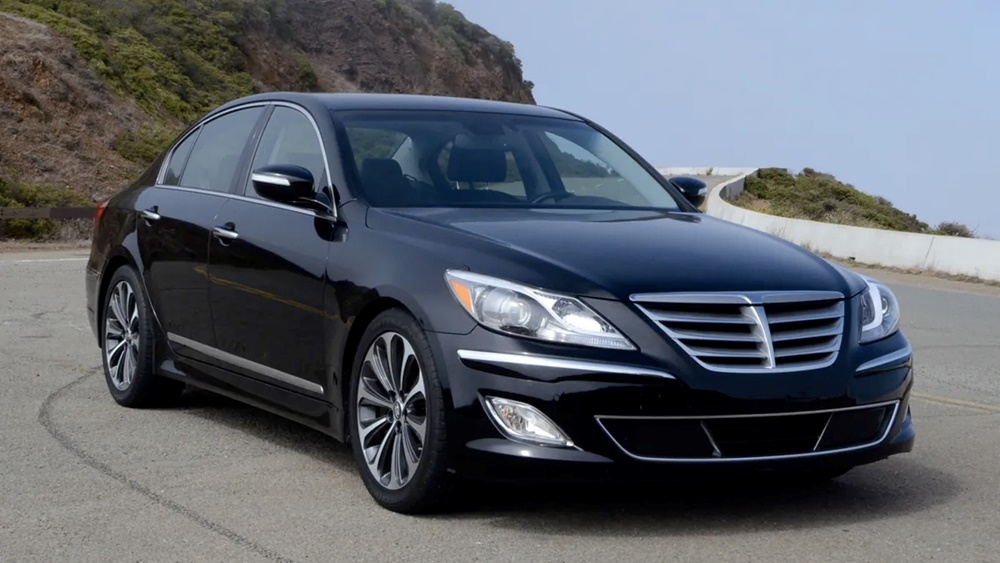 What We Liked
Very fast
Impressive interior
Decent value
It might look like a plain sedan on the outside, but the Hyundai Genesis – a car that preceded Hyundai's luxury brand, Genesis – is a luxury car harboring a secret. In this case, its 5.0 trim comes equipped with a 5.0-liter direct-injected V8 engine, offering a staggering 429hp and 376 lb-ft of torque! The Genesis is absolutely fast, easily hitting 0-60 at the five-second mark; with an excellent eight-speed automatic transmission, the Genesis really feels like a sports sedan. While snagging the R-Spec trim with its various sport-oriented tune-ups might be tempting, it's worth giving it a skip due to its firm ride quality and inexplicable inability to filter out road imperfections. Even so, the 5.0 sedan is still a fantastic luxury vehicle that holds up even today. There's a great deal of space for passengers, especially those in the back, though the front seats could do with more bolstering, however, while. Cargo space is an impressive 15.9 cubic feet, while standard driving aids include adaptive cruise control, antilock brakes with brake assist, parking sensors, and a lane-departure warning system.
Review
Reliability
Appearance
Performance
Features
300hp on a Budget
Finding a car with 300hp doesn't have to cost you an arm and a leg. These affordable options prove that power and performance can be within reach, even on a budget. Given that some of these options, particularly the new model years, can be a little over 30k – even 20k can seem steep – you can still pick a previous year's model that has all the bells and whistles you'll want and need. Moreover, given that used car prices have reduced somewhat in August, you could make good with this opportunity to get a 300hp car for a good price.
Be sure to protect yourself before signing on for a used car deal. A vehicle history report will give you everything you need to know about a used car you're interested in. This includes odometer readings, accident records, and even finding out if a car might have been flooded or been salvaged for scrap. With the report, you'll be able to identify a scam from miles away, thereby protecting you and your finances from trouble. Have peace of mind while shopping for a used car: get a vehicle history report today!