Last Updated on September 14, 2023 by Calvyn Ee
The impressive power and performance of a high-performance car are always sure to catch the eye of any car enthusiast. As technology improves, even the most powerful engines can make use of hybrid solutions for better performance while providing surprising fuel economy at the same time. However, that premium quality also comes with a hefty price tag.
This doesn't mean you won't be able to find a top-notch car with the horsepower you want. As competition ramps up between automakers, various attractive options will become available to interested buyers. You can even buy 300hp cars at relatively affordable prices if you know where to look. Luckily, this guide will be a handy starting point to help you decide.
Our Criteria for Selection
Appearance
How a car is designed is usually the first thing most buyers will look at before jumping into the technical side. A strong, sharp, accentuated form and bold, dashing aesthetics can easily add value to make a car stand out from the rest.
Performance
High-quality cars are well-loved for their seamless integration of every single car part. From its engine to the suspension to the triumph of its well-engineered handling and steering, a highly performant car can provide you with an unforgettable driving experience.
Interiors
Just as the exterior draws interest from curious eyes, a well-designed interior also adds a luxury factor to any car. Comfortable seats, premium quality materials, and even the available room in the back seat can make or break a person's opinion of the car.
Technology
As technology improves, cars can sport various features that greatly enhance the driving experience. These can include top-quality infotainment systems, built-in navigation assistance, and state-of-the-art safety features.
Without Further Ado: 6 of the Best 300hp Cars Worth the Price
Nissan 370Z (332 hp)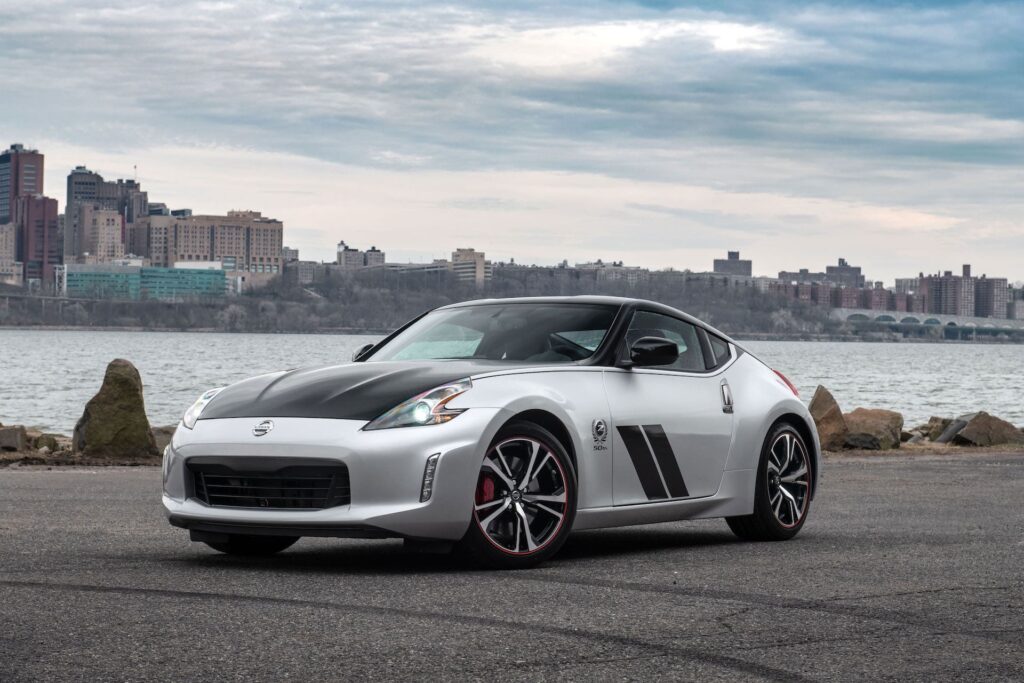 What We Liked
Fun to drive
Relatively affordable
Handles very well
What We Disliked
Not as performant as rivals
Starting to show its age
While its age is starting to show, the Nissan 370Z is still a modest vehicle that performs admirably in an iconic package. It sports a 332hp V6 engine producing 270 lb-ft of torque and a six-speed manual gearbox that delivers power to the rear wheels. It's also able to squeeze out a 5.3-second time to go from zero to sixty, which isn't too shabby. It drives and handles well and has a decently impressive fuel economy rating of 21 mpg combined (19 mpg city / 28 mpg highway).
Unfortunately, it's nowhere as modern or advanced as its contemporary rivals, a line that has been around for over a decade. The line has also been discontinued in favor of the upcoming 2023 Nissan Z. Nevertheless, with its long and proud heritage, those who love old-school classics may find the 370Z a decent (and surprisingly affordable) choice.
Review
Appearance
Performance
Interiors
Technology
Ford Mustang EcoBoost (310hp)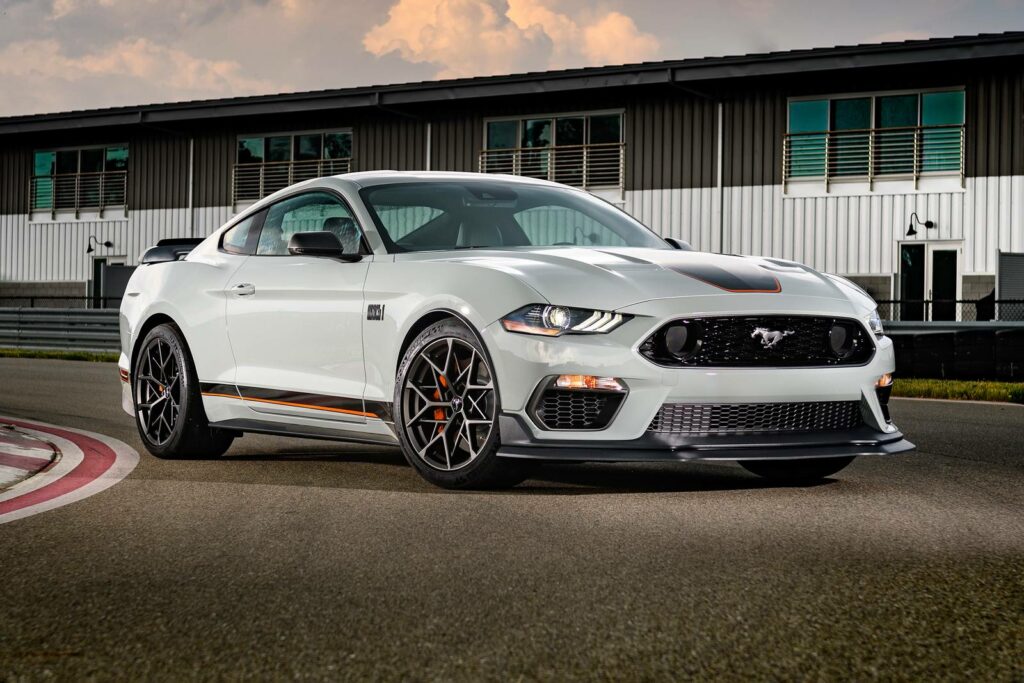 What We Liked
Affordable entry model
Great overall performance
Slick, classic design
The unmistakable Ford Mustang is a veritable powerhouse among muscle cars. Its EcoBoost variant possesses a 2.3-liter turbocharged, four-cylinder engine under the hood, paired with a six-speed manual or 10-speed automatic transmission. The engine might not roar as loud as a V8, but the performance gained from the engine – initially mounted in the Ford Focus RS, then modified extensively for the Mustang – is astounding. The base model is no pushover, showcasing excellent performance while you drive in comfort and style. And the best part? The base EcoBoost model goes for under $30,000!
If you're willing to splurge, the High-Performance package and Handling upgrade will improve the Mustang's agility and precision exponentially. It re-tunes the car to a 330hp engine and adds a host of performance tune-ups and additions to help it deliver that much more oomph in your drive. With all that raw power waiting to be unleashed, you'll inevitably find that fuel economy isn't one of its strong suits.
Review
Appearance
Performance
Interiors
Technology
Audi S3 (310hp)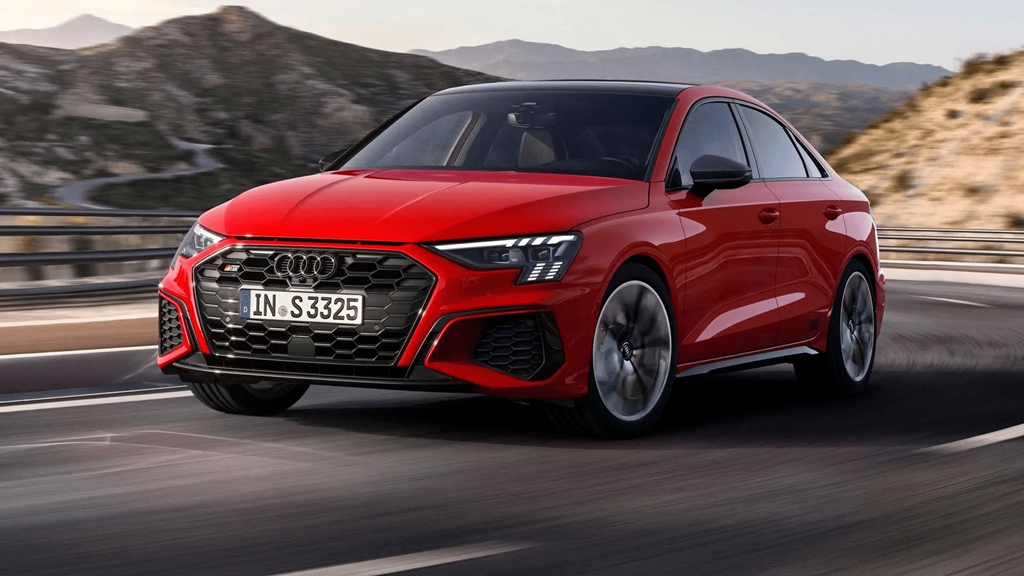 What We Liked
Excellent performance
Bold aesthetics
Impressive handling
What We Disliked
Small cargo space
Hefty price tag
The Audi S3 is an athletic car with much to offer. It comes with a turbocharged 2.0-liter 306hp four-cylinder powering it, a seven-speed automatic transmission, and Audi's Quattro all-wheel-drive system. These combine to give you a luxurious driving experience, complemented by electro-hydraulic adaptive dampers in its chassis, making the ride much smoother. Acceleration-wise, the S3 can quickly go from zero to sixty in 4.5 seconds, the engine hitting 3,500 rpm. Surprisingly, a seemingly unassuming sedan can have many advantages, including a decent fuel economy rating.
Unfortunately, its hefty price tag (going around $40,000 or more) and disappointing cargo space (only 8.3 cubic feet) might be significant factors that could put you off buying one. Still, the S3 effortlessly delivers a fun-to-drive experience in a solid, reliable frame.
Review
Appearance
Performance
Interiors
Technology
Dodge Challenger GT (303hp)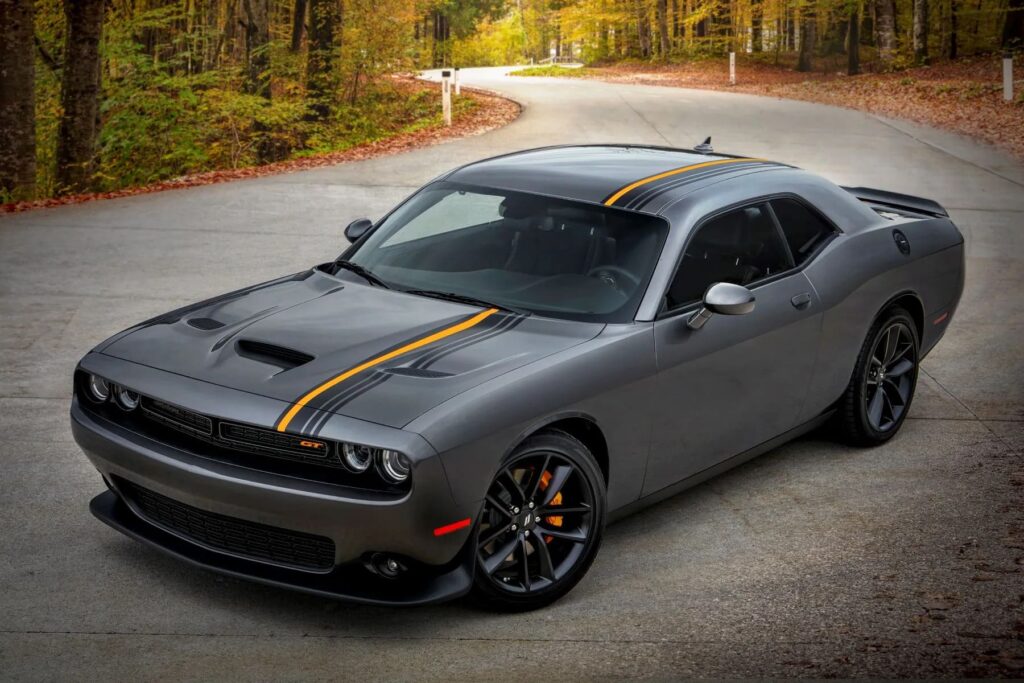 What We Liked
Strong, dependable engine
Comfortable ride
Very roomy
The Dodge Challenger sports a 3.6 liter, 303hp V-6 engine delivering 268 lb-ft of torque, an eight-speed automatic transmission, and the choice of either an all-wheel or rear-wheel-drive. Despite its large external dimensions, it belies the surprising fun factor once you get behind the wheel. You'll enjoy a comfy cruise for all kinds of road trips, even as simple as a trip to the grocery store. There's also ample room for you and four others and much space in the boot for longer trips. Just be mindful when going around the city; the large size can end up being a hindrance to traffic.
Less than satisfactory safety levels constitute a significant area of concern. Though it earned five stars in the NHTSA's safety tests, the IIHS finds it lacking, especially regarding head-on collisions on the driver's side. With careful driving, you'll still be able to take the Challenger for some awe-inspiring rides.
Review
Appearance
Performance
Interiors
Technology
Chevrolet Camaro (335hp)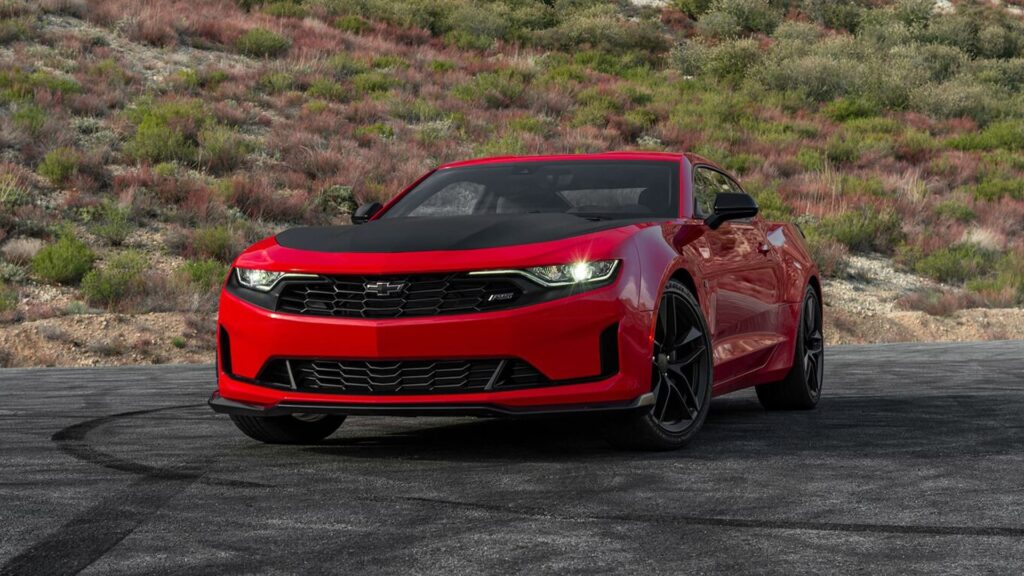 What We Liked
Great value
Potent engine
Handles very well
What We Disliked
Cramped cargo and back seat space
Another muscle car contender, the Chevrolet Camaro, also has a long and proud history. Going slightly above the 300hp mark, the mid-line Camaro boasts a 335hp, 3.6-liter V-6 engine with 284 lb-ft of torque, allowing it to hit sixty from zero in 5.4 seconds. You can also pick the standard 6-speed manual transmission or a 10-speed automatic. The Camaro excels on the road, with robust, precise handling even on the entry models. The only downside is that you can't share the joy of driving a Camaro with others; the interior space is very disappointing.
The significance of the Camaro can be seen in its value, for even its entry models are competitive automobiles with a host of features that appeal to specific drivers. The Camaro is just for you if you're looking for a quiet, powerful, and reliable daily driver or road runner. If you're planning to take some friends or family along, look elsewhere.
Review
Appearance
Performance
Interiors
Technology
Toyota Camry (301hp)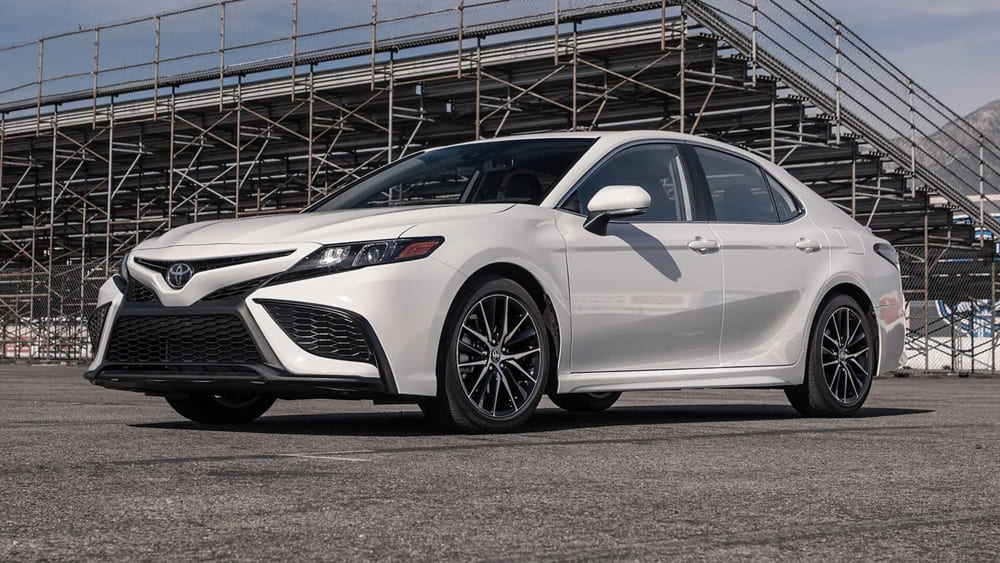 What We Liked
Great fuel economy
Very safe to drive
Solid performance and value
A robust option for daily driving, the mid-line Toyota Camry XLE, XSE, and TRD models come with a 3.5-liter V-6 engine with 301hp and 267 lb-ft of torque. Rapid acceleration may not be the Camry's strength, but it does offer an excellent suite of safety features – including automated emergency braking and driver assistance technology that is now standard on all Camry models. The Camry also has a good rating for fuel economy, with its combined rating at 32 mpg (28 city / 39 highway), marking it higher than the others on the list.
It may not be the flashiest compared to the other cars listed here, but the Camry can still pull off a stylish, modern look while giving you solid, all-around performance on the road. Moreover, thanks to its impressive fuel economy, you're getting a bang for your buck with the fuel savings you earn.
Review
Appearance
Performance
Interiors
Technology
Getting Your Dream 300hp Car
Because 300hp cars can deliver power, many of these cars are sold for a pretty penny on the market. Most of the vehicles listed here are the newest version of that model. However, older models can still deliver a good bang for your buck while still providing enough features to complete the experience. The Ford Mustang, for example, is still a reliable muscle car you can get at a reasonable secondhand price.
If you're lucky, you might be able to find a 300hp car for a respectable amount. Just make sure you protect yourself from the possibility of fraud, whether you're buying online or from an authorized seller.