Last Updated on July 24, 2023 by Calvyn Ee
Purchasing a used car can be daunting, especially if you're on a tight budget. Worry not, however, because we've compiled a list of 8 of the most reliable used sedans that won't break the bank. We'll be giving you all the information you need to help you decide on what your next vehicle will be.
How We Rated This List
Reliability
Reliable used cars can last a long time, especially with frequent maintenance. Our reviews consider feedback from current and previous drivers and ratings from reliable sources like Consumer Reports and CarMD.
Performance
Some of these cars have high marks in speed and power, while others boast stable handling and smooth rides.
Appearance
Budget-friendly used cars come in all shapes and sizes. Even some older models can still look pretty impressive.
Features
Many cars are packed with useful standard features any driver would want, from driver assist aids to infotainment systems and more.
Here are the Most Reliable Used Sedans Money Can Buy
2015-2016 Lincoln MKZ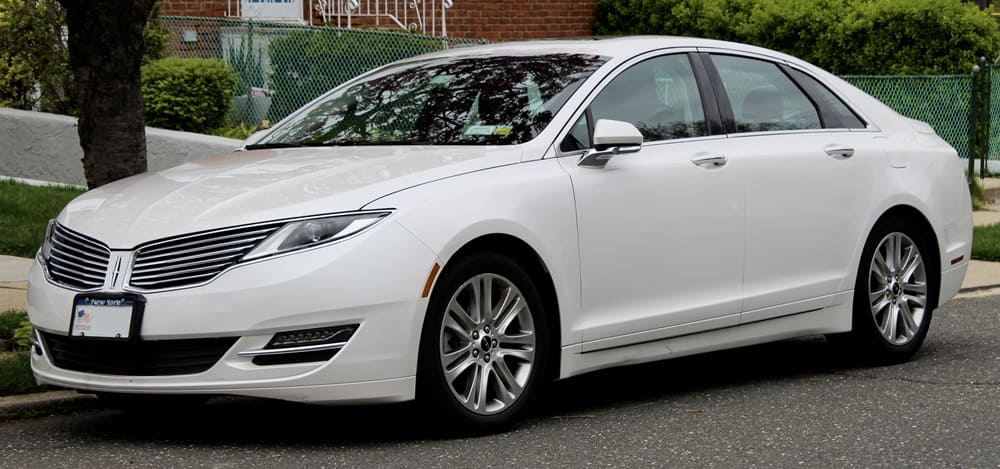 What We Liked
Available hybrid powertrain
Premium looks and feel
Good drive quality
What We Disliked
Not as roomy as some rival models
Discontinued after the 2020 model year, the Lincoln MKZ is a good-looking luxury sedan that offers premium styling on the inside and out. With three powertrain options, including a 2.0-liter four-cylinder hybrid drivetrain with lithium-ion batteries and a CVT, the MKZ is a dependable vehicle with similar ride quality and handling as some of the best European sports sedans of its time. It's also equipped with a great suite of safety features, including antilock disc brakes, stability and traction control, and a rearview camera; some other techs can be found in higher trims with optional packages installed. There's little to complain about beyond the iffy MyLincoln Touch system, and you can easily own one of these for under 15k if you're fortunate.
Review
Reliability
Performance
Appearance
Features
2015-2017 Subaru Legacy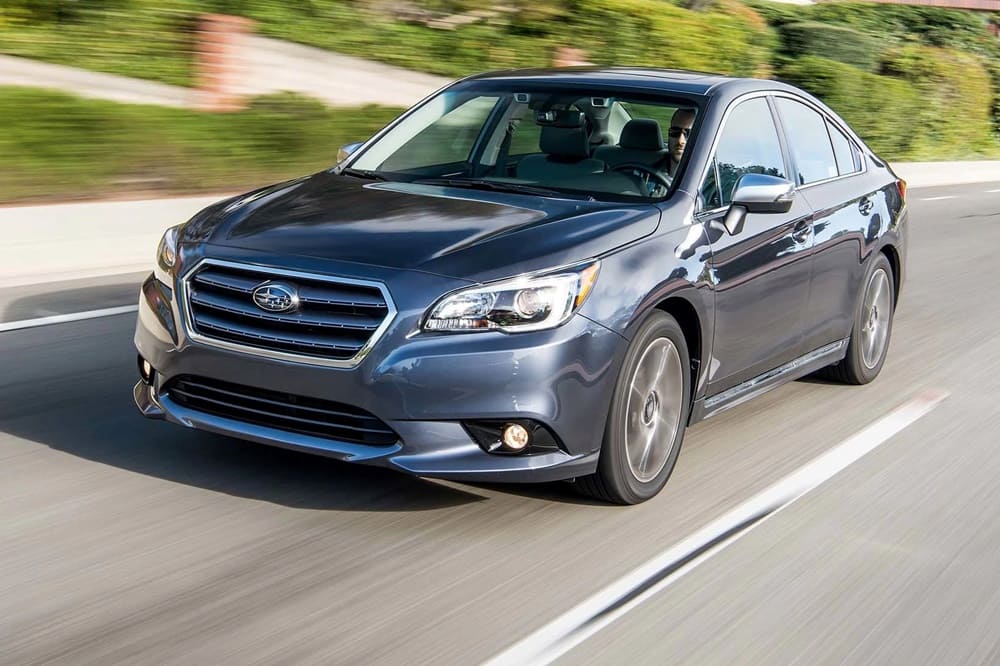 What We Liked
Standard AWD
Decent cabin quality
Great safety features
With two engine options, the AWD-capable Subaru Legacy is another good pick for a dependable sedan. The base 2.5-liter flat-4 engine is an average powertrain that lacks some punchiness, but the 3.6-liter flat-6 could use more refinement. Nonetheless, despite its somewhat lackluster performance, the Legacy handles nicely, is easy to drive, and offers a comfortable ride. The all-wheel-drive makes it great to handle in inclement weather, like snow, so that's always a plus point. The cabin is fairly quiet and roomy, with ample space for small items. Headroom and legroom are also decent, though slightly less than some rivals offer. Safety features are as competitive as Honda and Toyota's, with the top-notch EyeSight system containing adaptive cruise control, lane-keeping assist, lane-departure warning, and forward collision warning with automatic emergency braking.
Review
Reliability
Performance
Appearance
Features
2014-2017 Toyota Corolla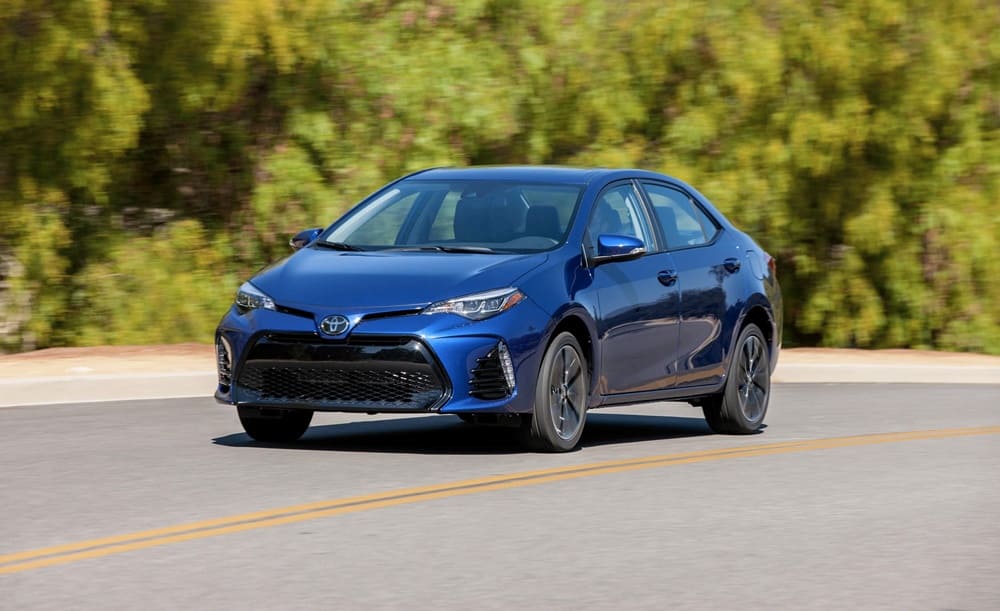 What We Liked
Good fuel economy
Cushy, roomy cabin
Great safety equipment
Popular for its longstanding reliability in the country, the fuel-efficient Corolla has plenty of things to like. Its 1.8-liter inline-4 on the Eco models can get up to 34 mpg combined; the Eco model is the best option, as the base model only has mediocre performance. This is because the Eco model has Toyota's fancy Valvematic system that helps reduce drag when going at high speed. However, it doesn't make the drive any more exciting. Still, the Corolla is a decent daily driver with a plush, well-built cabin and good legroom for taller folks sitting in the rear. Tech is also another strong point, with the Toyota Safety Sense-P safety package being standard on all Corolla trims. That means you're getting forward collision warning with automatic emergency braking, adaptive cruise control, automatic high beams, and lane-departure warning with active lane control. You really can't go wrong with the Corolla.
Review
Reliability
Performance
Appearance
Features
2016-2017 Mazda Mazda6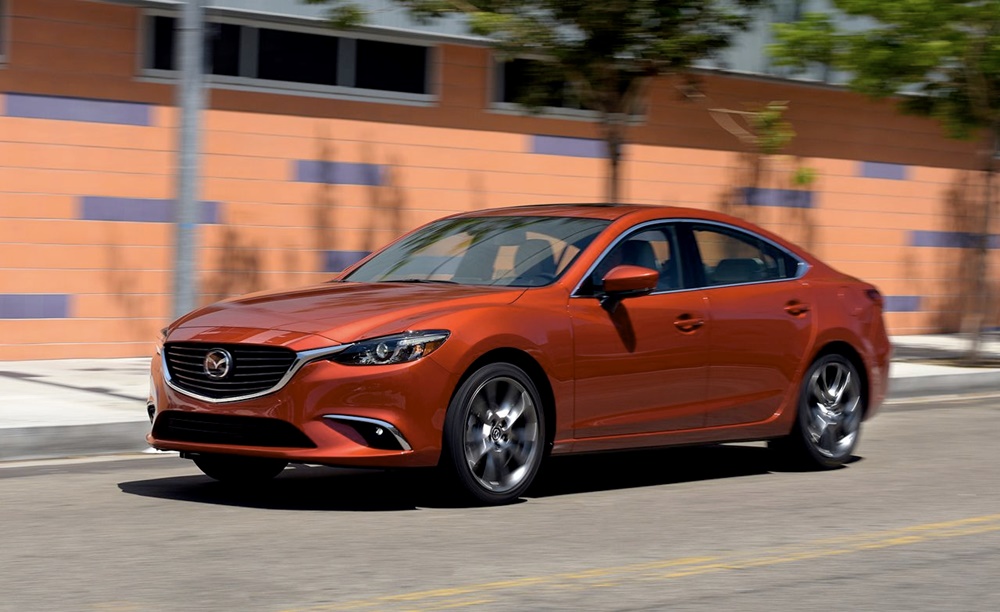 What We Liked
Premium-grade for a bargain
Great overall handling
Cozy cabin
The Mazda6 is as stylish as they come while still offering you a reasonably priced luxury vehicle. It's a competent and comfortable sedan, with its potent 2.5-liter four-cylinder engine providing good amounts of power, while well-mannered handling dynamics make the 6 an appealing car to drive. The ride quality may be a little stiff, but it's nowhere as intrusive as some other cars. The modern-looking cabin still looks and feels good, but headroom is one area the cabin lacks owing to the sloping roofline. It also still lets in a fair bit of external noise when you're on the move. 14.8 cubic feet of trunk space is fairly decent, though some rivals offer a little more; at least it has a wide load opening. It also has many standard safety features found on other cars, further cementing its reputation as a trendy go-getter. It's a shame it's also been discontinued after the 2021 model year.
Review
Reliability
Performance
Appearance
Features
2017 Honda Accord Hybrid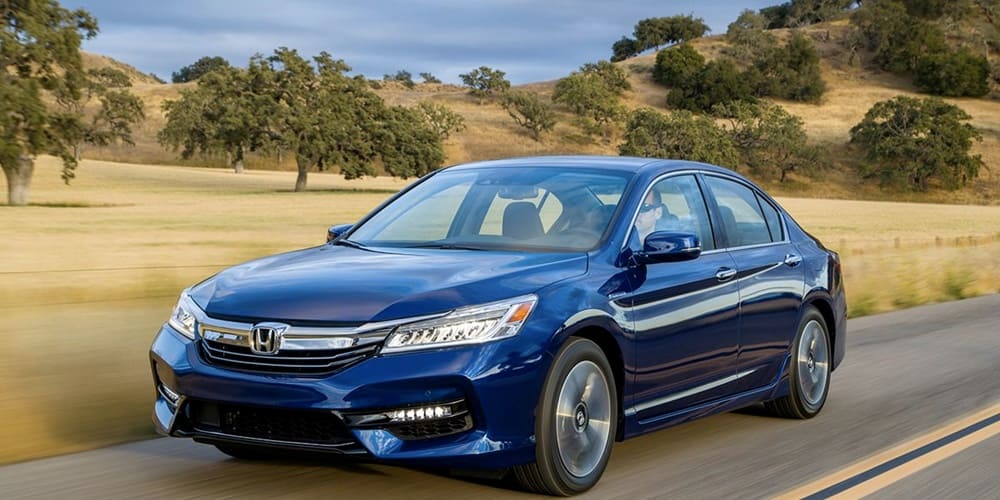 What We Liked
Modern appeal
Economical hybrid powertrain
Quiet, comfy cabin
What We Disliked
Busy engine when going fast
Featuring a 2.0-liter inline-4 paired with two electric motors and a compact lithium-ion battery pack, the Honda Accord Hybrid can give you as much as 48 mpg combined fuel savings while still delivering a good amount of performance at the same time. However, the engine gets loud at full throttle, which might be worth noting. Thankfully, the cabin filters out most external sound, so it doesn't get too grating. At the very least, it performs decently and is slightly better than its non-hybrid counterpart. On the inside, the Accord is welcoming with its nicely padded seats in the front and back, good visibility, and sufficient legroom and headroom. Much like Toyota, Honda also doesn't skimp on tech features: Bluetooth mobile phone connectivity, an 8.0-inch touchscreen, and safety features, including an automatic emergency braking system, forward-collision warnings, lane-departure warnings, and adaptive cruise control.
Review
Reliability
Performance
Appearance
Features
2014-2016 Ford Fusion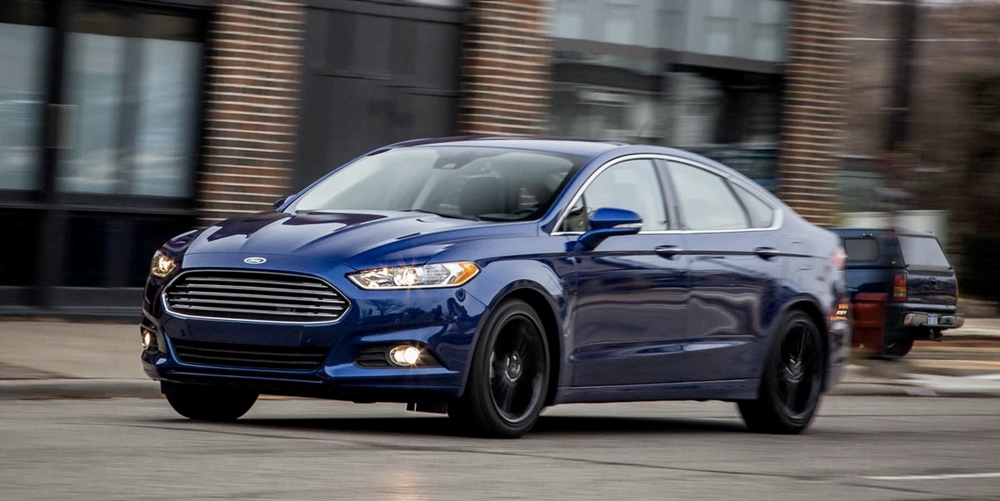 What We Liked
Various powertrain options
Good handling
Great cabin
What We Disliked
Some missing safety techs
The Ford Fusion is a sporty sedan with three engine options for different strokes of performance power. The 1.5-liter Ecoboost offers a better balance of speed and value than the base 2.5-liter inline-4, while the 2.0-liter Ecoboost provides plenty of zest at the cost of fuel savings. You also have a hybrid option with its 2.0-liter four-cylinder engine paired with an electric motor and a lithium-ion battery pack. Options are aplenty, and the Fusion serves a dishing of good speed, confident handling, and precise (though imperfect) steering. The cabin is also very good, with plenty of good design choices and comfy seats. The infotainment feels sluggish, however, while some may find its functions hard to use. Standard safety equipment is fairly decent, but if you want lane-departure warning, adaptive cruise control with forward collision warning, and blind-spot monitors, you'll need to look for models equipped with these options.
Review
Reliability
Performance
Appearance
Features
Be a Smart Consumer
Making the choice to purchase a used sedan can save you a lot of money, but it can also be risky if you don't know where to start. There could be scams hiding in plain sight, offering low sticker prices, attractive financing rates, and many other goodies to lure potential buyers. If something feels off about a deal, don't be afraid to say no and look elsewhere. Ensure you also get a vehicle history report to tell if the vehicle is in good condition and that nothing's out of the ordinary. Pay attention to possible inconsistencies in odometer readings, accident records, and other details. If need be, get help from an independent mechanic to check the car out for you.
It always pays to be well-prepared, so make sure you do your research first before you agree to a deal!