Last Updated on April 3, 2023 by Calvyn Ee
To some people, fuel efficiency and SUVs don't exactly go hand in hand, what with the size of SUVs in general. But with technology improving, newer SUVs have become surprisingly economical in fuel usage. Hybrid SUV models are also becoming increasingly popular, especially with rising gas prices. In fact, the U.S. Energy Information Administration published findings stating hybrid, plug-in hybrid, and electric vehicles made up 11% of light-duty vehicle sales in the United States. That's still a lot of cars!
Perhaps now might be the best time to get your hands on any of the most fuel-efficient SUVs available on the market. You'll find a choice of new and old hybrid and non-hybrid models in this list, but you'll be spoiled for choice with what we have to share!
Criteria for Review
Fuel Economy
Fuel efficiency is measured in miles per gallon, or mpg for short. The higher the car's mpg rating, the better its fuel efficiency. Mpg ratings can be inconsistent due to various factors, so getting an accurate reading is challenging. The U.S. Environmental Protection Agency (EPA) handles the certification of all mpg ratings, so they will run a set of standardized tests to determine the official mpg rating of a car.
You can find the mpg ratings of various cars on the market via this site.
Appearance
SUV designs have become more modern through angular contours, sharp defining features, and signature stylings. Who doesn't love that?
Features
Comfortable, pretty interiors, top-notch infotainment and electronics, and essential safety features are all a must on any car.
Performance
You may trade performance power to get the most out of these fuel-saving driving machines. Still, some of them can give you a mix of pleasant rides, quiet drives, and even high-speed road running.
What are 6 of the Most Fuel-Efficient SUVs You Can Buy?
2023 Kia Niro Hybrid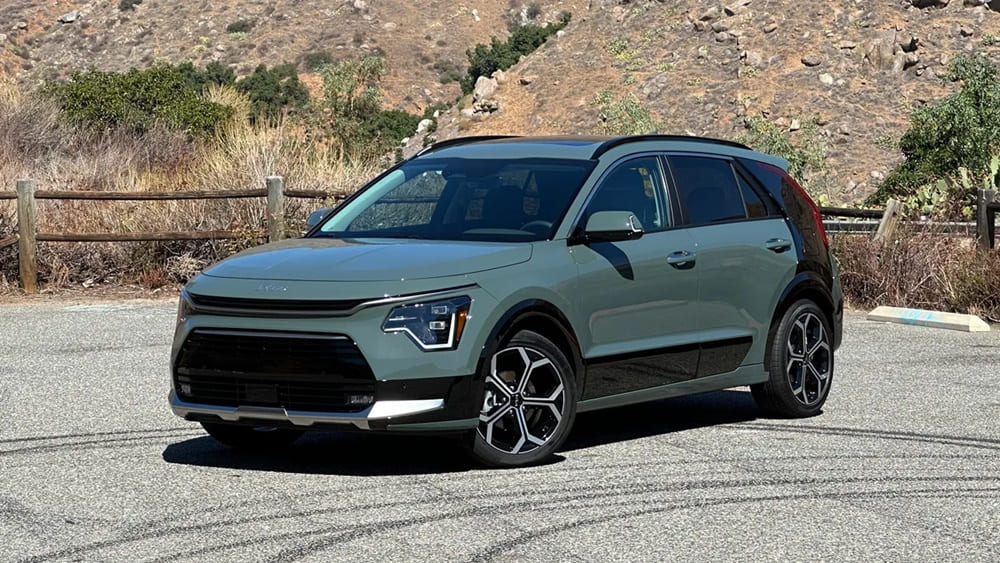 What We Liked
Great fuel economy
Affordable selection of trims
Has various features
Ratings based on the 2023 Kia Niro FE, 1.6L
City: 53 mpg
Highway: 54 mpg
Combined: 53 mpg
If you're OK with sacrificing engine power for more fuel economy, the 2023 Kia Niro Hybrid is a great SUV option. Having fuel efficiency go as high as 53 mpg might seem like a dream, but the Niro can deliver. In the base FE trim (which coincidentally stands for Fuel Economy), you get a 1.6L four-cylinder engine sporting 139hp and 195 lb-ft of torque working together with a 43hp electric motor. Admittedly, you lose a good deal of powerful performance on the road, but the Niro still offers well-adjusted handling and a stable ride.
For a little extra, you can get the LX model, which offers some extra creature comforts without sacrificing the base model's many strengths. In contrast to many of its rivals, however, the Niro lacks cargo space, overall performance – especially acceleration, with 0-60 time taking as much as 8 seconds or more – and less than fantastic drive quality. It remains an ideal choice for simple daily driving and fuel economy savings.
Review
Fuel Economy
Appearance
Features
Performance
2023 Ford Escape Hybrid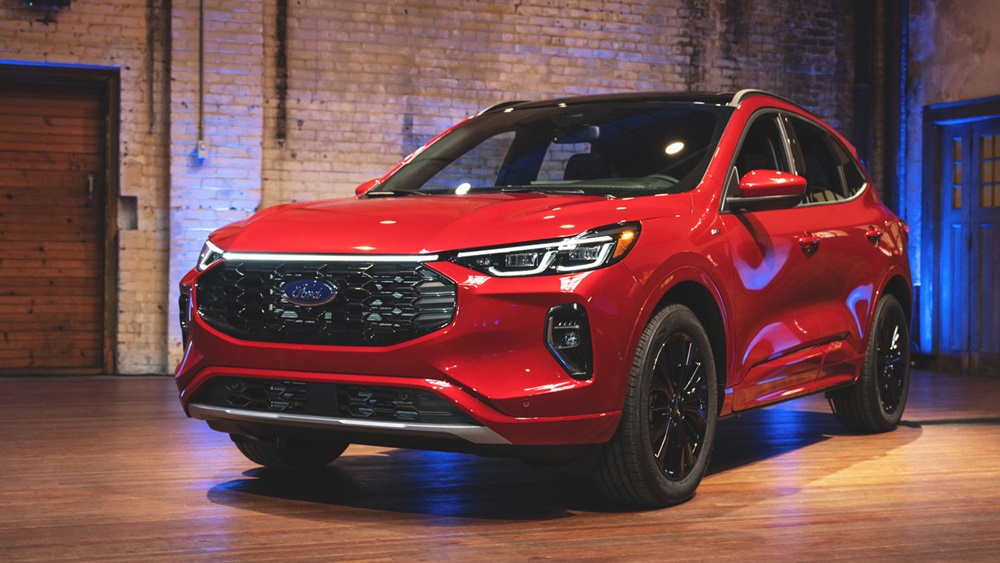 What We Liked
Great fuel economy
Smooth ride
Standard safety features
Ratings based on the 2023 Ford Escape Hybrid front-wheel drive, 2.5L
City: 42 mpg
Highway: 36 mpg
Combined: 39 mpg
Able to achieve 39 mpg worth of savings (equal to about $1,300 of fuel savings), the 2023 Ford Escape Hybrid offers a great daily driver that's ideal for anyone looking to save an extra buck or two on fuel costs. Not only are you getting a well-rounded SUV for your daily driving, but you also get a decent package with a spacious cabin, excellent standard safety features, and a host of fun and sound infotainment systems. It's still relatively affordable to get your hands on, with a price tag of $28,995 for the base trim.
The 2.5L gasoline inline-4 engine comes with two electric motors, delivering 200hp and 155 lb-ft of torque. It uses a continuously variable automatic transmission (CVT) and is available with standard front-wheel drive or optional all-wheel drive. It's not the punchiest of vehicles to drive, while the cabin doesn't filter out noise very well when on the move; you might also find some interior design choices lacking. The overall savings you get from its fuel economy is no joke, and it can still offer a relatively smooth ride for your everyday needs.
Review
Fuel Economy
Appearance
Features
Performance
2018 Nissan Rogue Hybrid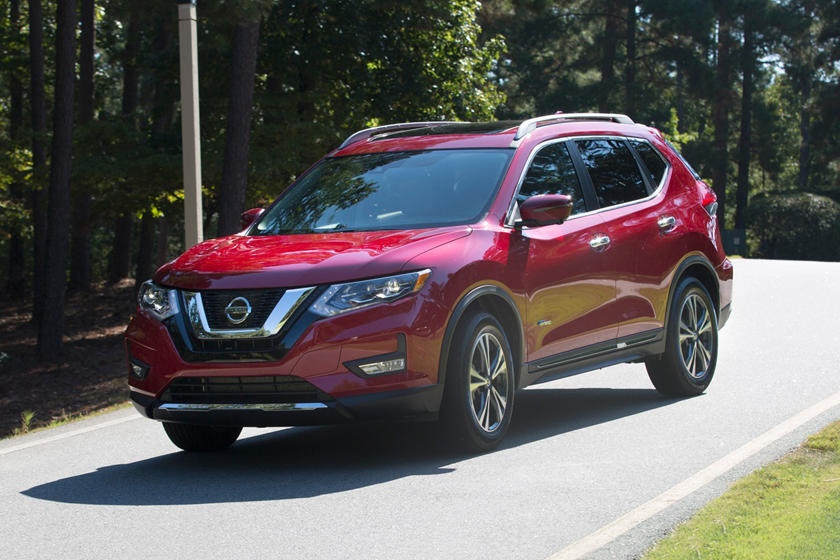 What We Liked
Significant fuel economy
Lots of room
Comfy interiors
Ratings based on the 2018 Nissan Rogue Hybrid, front-wheel-drive, 2.0L
City: 33 mpg
Highway: 35 mpg
Combined: 34 mpg
The Nissan Rogue Hybrid is yet another fuel-efficient choice in the SUV lineup. The 2018 hybrid model has a 2.0L, 4-cylinder engine and an electric motor, both of which work to produce 176hp and 262 lb-ft of torque. Mated with a rather disappointing CVT, you might be less than thrilled with the driving quality or speed you'll get behind the wheel. Despite the lack of sportiness and its unremarkable performance, you'll still enjoy a reasonably balanced ride for a fair price. Moreover, you'll be getting up to 34 mpg combined fuel efficiency, which translates to about $2,050 worth of fuel savings!
The overall design of the Rogue did get a slight facelift from the previous model. Say goodbye to the optional third row, but say hello to more cabin room and cargo space. Add comfortable seats and well-assembled interior pieces, and you'll get a cozy ride for everyone on board. The base model is no slouch, but if you find a good deal for a top-of-the-line SL trim, we'd highly recommend it for its leather upholstery and advanced safety features, among other things.
Review
Fuel Economy
Appearance
Features
Performance
2019 Chevrolet Equinox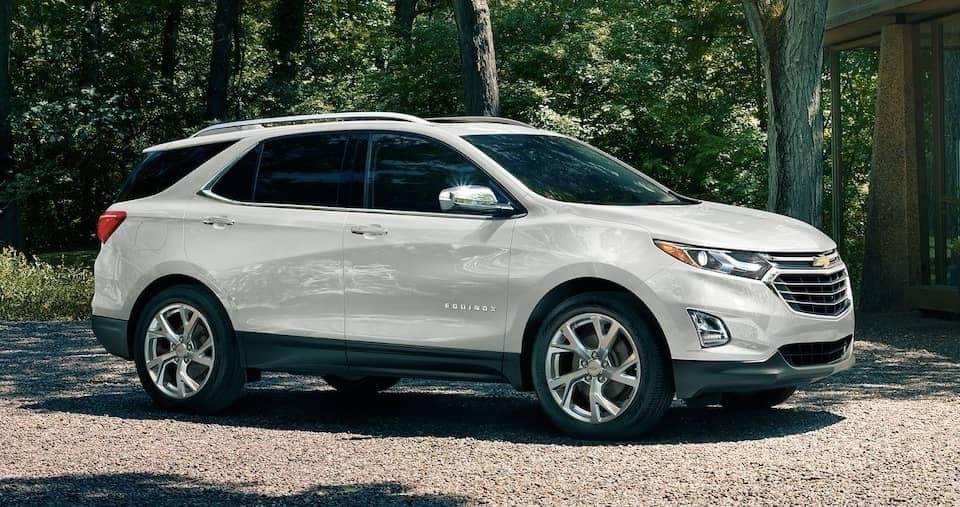 What We Liked
Quite fuel-efficient
Three engine choices
Spacious interior
What We Disliked
Manual all-wheel-drive system
Ratings based on the 2019 Chevrolet Equinox, front-wheel-drive, 1.6L diesel
City: 28 mpg
Highway: 39 mpg
Combined: 32 mpg
The 2019 Chevrolet Equinox is the only non-hybrid vehicle on our list. The Equinox comes available with one of three engines you can choose from. The base turbocharged 1.5L engine with 170hp is considered to lack power in terms of the car's size. You could pick a 2.0L turbocharged 4-cylinder that produces 250hp and 260 lb-ft torque; or the fuel-efficient 1.6-liter inline-four diesel with 137hp and 240 lb-ft torque. Some tests have found the Chevrolet Equinox to be able to hit a highway rating of 43 mpg and a combined rating of 34 mpg!
The Chevrolet Equinox is an impressive road runner with its competent handling, smooth, accurate steering, and decent driving range. Its main flaws come from its unappealing acceleration times, poor build quality, and lackluster entry-level trims owing to the underpowered 1.5L turbo engine. The Equinox is still an excellent choice if you'd still like to get your hands on a reliable SUV without taking the hybrid route.
Review
Fuel Economy
Appearance
Features
Performance
2021 Toyota RAV4 Hybrid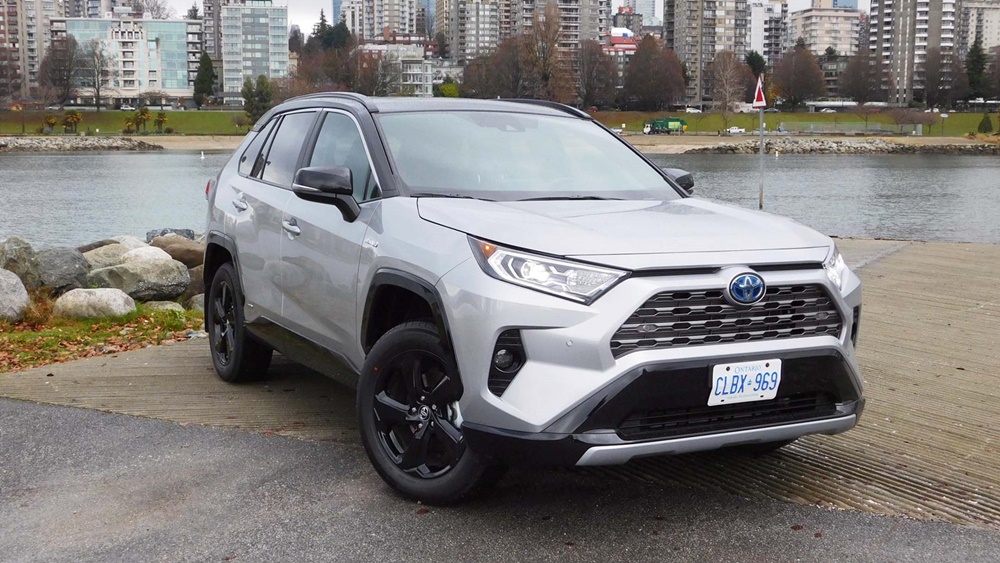 What We Liked
Sharp, classy look
Excellent hybrid performance
Good fuel savings
Ratings based on the 2021 Toyota RAV4 Hybrid, all-wheel-drive, 2.5L
City: 41 mpg
Highway: 38 mpg
Combined: 40 mpg
Powered by a 2.5L 4-cylinder engine aided by two electric motors, the Toyota RAV4 Hybrid is a muscular yet economical beast, with 219hp, 163 lb-ft torque, and all-wheel-drive capability. Delivering up to 40 mpg fuel efficiency yet possessing a fast, snappy engine that can outperform the standard RAV4 line, the RAV4 hybrid demonstrates a formidable combination of power and efficiency without losing too much of either quality. You'll get great rides in a sleek, modern package, sprinting from 0 to 60 in a respectable 7.4 seconds.
You may find some of its design choices being conventional-looking, while its overall driving quality is somewhat marred by the noise coming into the cabin while driving. There's also the issue of low headroom for taller persons to sit inside comfortably. At the very least, you can rely on Toyota's track record for building dependable cars that, with proper maintenance, can outlast its competitors without fail. Not only will you be saving on fuel costs, but you're also saving on the need to spend more on a brand-new car.
Review
Fuel Economy
Appearance
Features
Performance
2019 Lexus UX200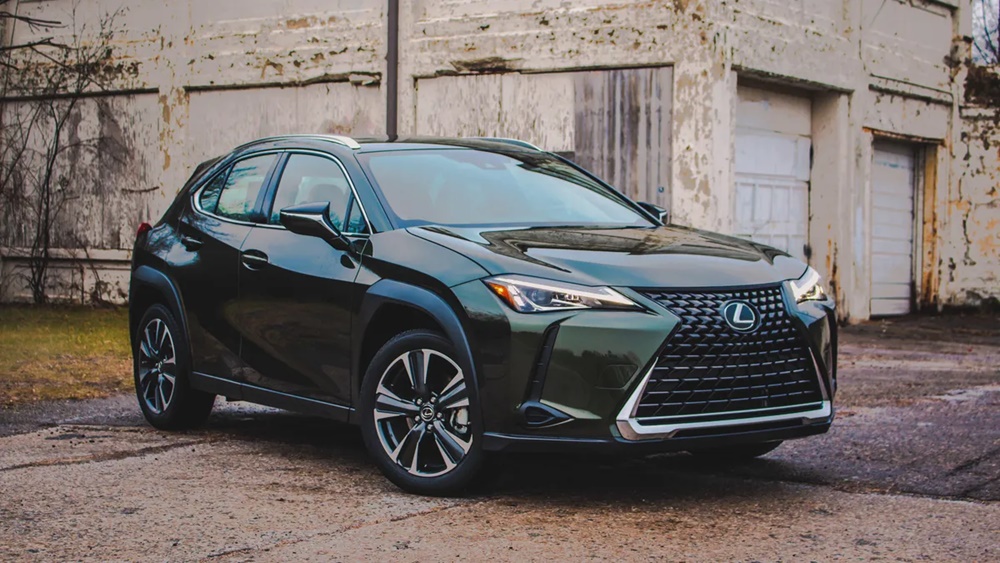 What We Liked
Decent overall handling
Great maneuverability
Premium quality at a reasonable price
Ratings based on the 2019 Lexus UX200, front-wheel-drive, 2.0L
City: 29 mpg
Highway: 37 mpg
Combined: 33 mpg
The Lexus UX200 is a subcompact crossover "mini SUV," whose design exudes Lexus' aggressive trademark looks. While it might be smaller than its competitors, the UX200 is a noteworthy contender. It sports a 2.0L naturally aspirated inline-four that clocks 169hp and 151 lb-ft of torque (and paired to a CVT), a premium interior facade, well-balanced handling and responsiveness, and a surprising fuel economy rating despite being a non-hybrid car. You may find the main letdown of the UX200 to be its driving, no thanks to a less-than-impressive engine and curiously small size (given its position as a subcompact crossover).
Still, you'll get a lot of fun with a few tweaks in places. Switch to Sports mode to enjoy a livelier driving experience, for example. It might be a little hampered compared to the competition, but you'll still be able to put out a few exciting drives thanks to a good balance of drivability boons in its mechanisms. If you'd like to take it further, the UX250h hybrid vehicle offers plenty to offer as well on top of top-notch fuel economy.
Review
Fuel Economy
Appearance
Features
Performance
Getting the Most Out of Fuel Economy
Saving fuel costs is particularly important with how gas prices increase. Getting your hands on a fuel-efficient car will undoubtedly be an option you'd like to consider, and these SUVs might just fit the bill. You can always refer to the U.S. Environmental Protection Agency's fuel economy reference site if you want to learn more about a car's fuel efficiency ratings. Various car reviewers will also factor fuel economy into their ratings; some even test a car's EPA rating against their standards to see its accuracy. Do note that your mileage may still vary depending on how you drive.
Make sure you also protect yourself from automotive fraud if you're looking to buy a car you're interested in. Ensure you also get a hold of its VIN, then get its vehicle history report for additional checking. If something seems too good to be true, it probably is! It's always better to be safe than sorry.