Last Updated on July 24, 2023 by Calvyn Ee
Though SUVs are growing in popularity owing to their impressive utility and road performance, sedans are still the popular vehicles of choice for daily driving. With the possibility that you can own a recent year model in good condition at a low price – be it a luxury sedan or a full-size family sedan – it's a sensible choice for owning your first car or the car of your dreams at a worthwhile offer.
With new cars becoming more expensive, why not look for an alternative well-liked by drivers? Reliable used sedans, especially those well-maintained, can still hit the road in style. Plus, with the kind of features most of these sedans still have to offer, it's an obvious choice to get you a good car without breaking the bank. Let's get you excited with a curated list of the best used sedans you can buy today.
Criteria for the Best
Reliability
A reliable used sedan will get you to places without a hitch. The best of the best is what we're looking for, anyway, so we refer to reliable sources like JD Power and a host of consumer reviews to determine what's suitable for your consideration.
Performance
We're interested in sedans that offer a good balance of speed and handling so that you can get the most out of their overall engineering.
Appearance
Used cars helped pave the way for many modern designs, but these cars retain a classy charm even years since it was first unveiled.
Features
Every car has its fair share of unique features, from a suite of driver assist tech to ample cargo space.
Making Our Call for the Best Used Sedans Worth the Money
2012-2020 Honda Civic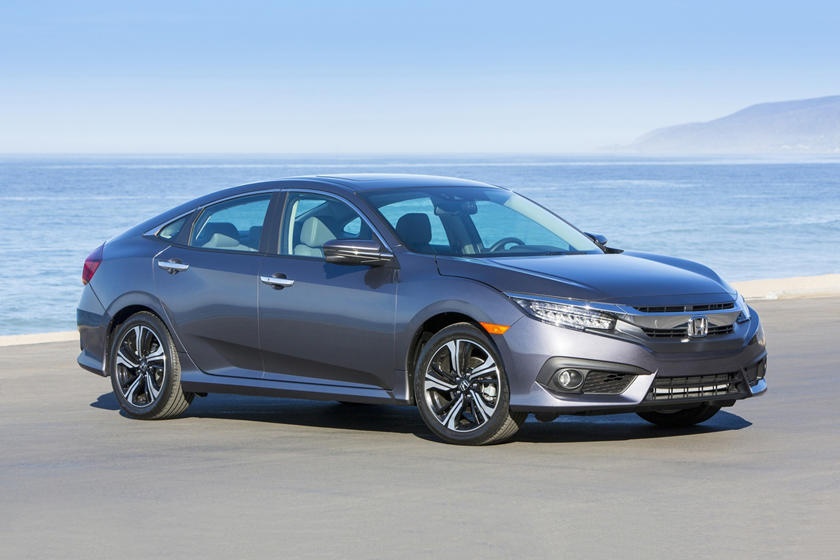 What We Liked
Great fuel economy
Comfy cabin
Great standard tech
By this point, we could probably start calling the Civic "Ol' Reliable" for how often it appears on our lists. The truth is that the Civic, much like the Accord and Toyota's Camry, is undeniably popular among Americans for its exceptional reliability in the long term. The fact that models as old as 2008 continue to find their way to car owners pretty much sums it up. On top of its impressive track record, the Civic is also loaded with the best tech Honda has to offer, top-notch driver assistance tech of particular note. With bold stylings over the years, a roomy cabin with decent interior quality and a relatively performant engine that's perfect for your daily driving needs. The 1.5L turbo-four doesn't provide drivers with an exciting ride down empty streets, but it does deliver on fuel efficiency – perfect for the more economical drivers. You really can't go wrong with the Civic's remarkable track record.
Review
Reliability
Performance
Appearance
Features
2016-2018 Toyota Avalon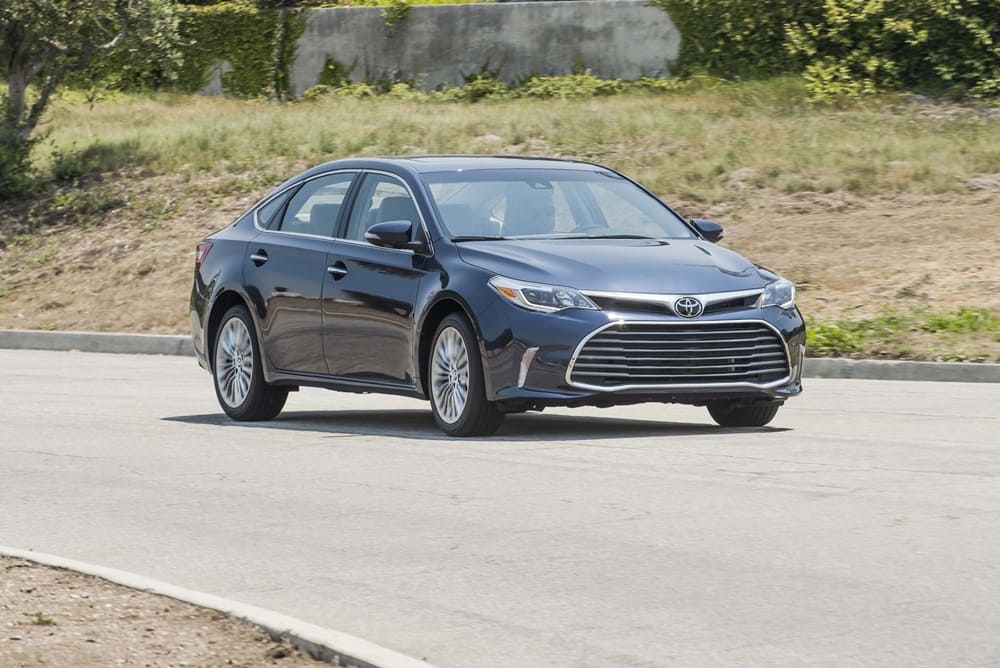 What We Liked
Roomy cabin
Spacious trunk
Upscale features
Considered by some as a larger, more luxurious Camry, the Avalon is a beefy sedan that prioritizes passenger comfort and space. Still, the 3.5L V-6 engine offers 268hp, offering plenty of speed and charisma on the move, which is only hampered by the sedan's size. The hybrid powertrain – a 2.5L four-cylinder paired to two electric motors and a CVT – is worth considering if you're looking to save on fuel costs down the road, but it does come at a slight performance cost. Still, for a full-size sedan, the Avalon doesn't disappoint with the space it provides to passengers. Everything about the interior has a premium feel to it, despite the odd plastics here and there; passenger comfort is also no slouch so that everyone can have a relaxing, stylish ride without any discomfort from long road trips. If you want something laden with all the crucial standard safety tech and serves up a smooth ride for everyone aboard, you can't go wrong with the Avalon.
Review
Reliability
Performance
Appearance
Features
2015-2019 Nissan Maxima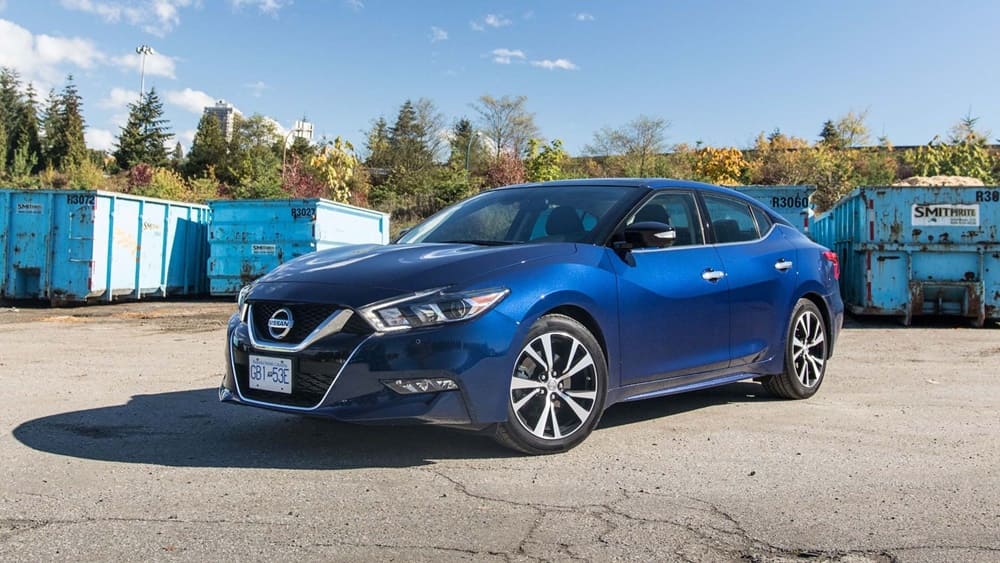 What We Liked
Good handling dynamics
Sleek design
Packed with features
Nissan's bold-looking Maxima is a potent large sedan that delivers on the sporty side of driving dynamics while providing a posh assortment of features and a trendy exterior. Although somewhat dampened by an unfulfilling CVT and lackluster steering that feels too light, the Maxima still manages to live up to its label as a "four-door sports car" – at least according to Nissan. On the inside, you'll feel like the interior is full of lush trappings that make you feel like you're riding in a luxury car. The overall build helps the Maxima earn high points, while leg and headroom are comfy but nowhere as cavernous as the Avalon's (nor is its trunk, at only 14.3 cubic feet). Together with a host of beneficial tech packed in its frame, including a blind-spot monitoring system on higher trims, the Maxima is a very tempting offer for something fast and zesty on the move but equally luxuriant on the inside.
Review
Reliability
Performance
Appearance
Features
2018 Volvo S60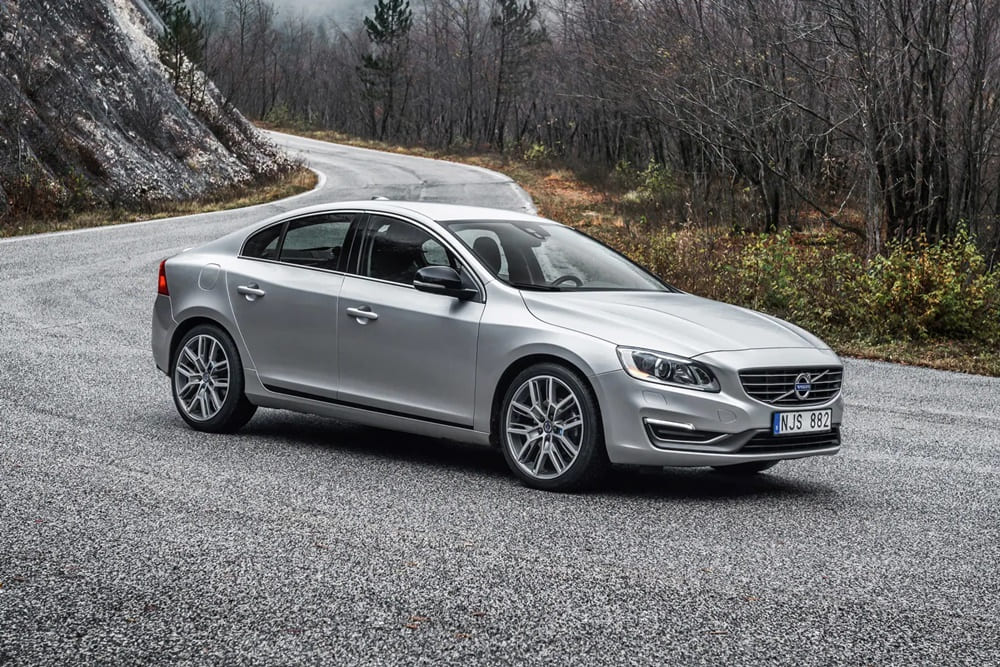 What We Liked
Incredibly smooth ride
Top safety scores
Available AWD
The Volvo S60 carries the automaker's reputable safety standards, boasting excellent safety scores on top of a smooth, luxurious ride quality that's almost unrivaled. With the optional Technology package, you'd get a lot more in the way of safety tech, including adaptive cruise control and an advanced forward collision warning and mitigation system. While the base engine does a decent job of providing good performance to the S60, the turbo and supercharged 2.0L inline-4 might be a more attractive choice for additional performance power. Passengers also ride with maximum comfort thanks to well-supportive seats and decent rear space. The extended-wheelbase variant, called the Inscription, does offer more legroom for taller passengers. As an entry-level luxury sedan, the S60 does a fine job at providing a good balance of performance and aesthetics without turning a blind eye to overall comfort and safety – a hallmark of any Volvo vehicle on the market since the automaker's inception.
Review
Reliability
Performance
Appearance
Features
2018-2019 Hyundai Sonata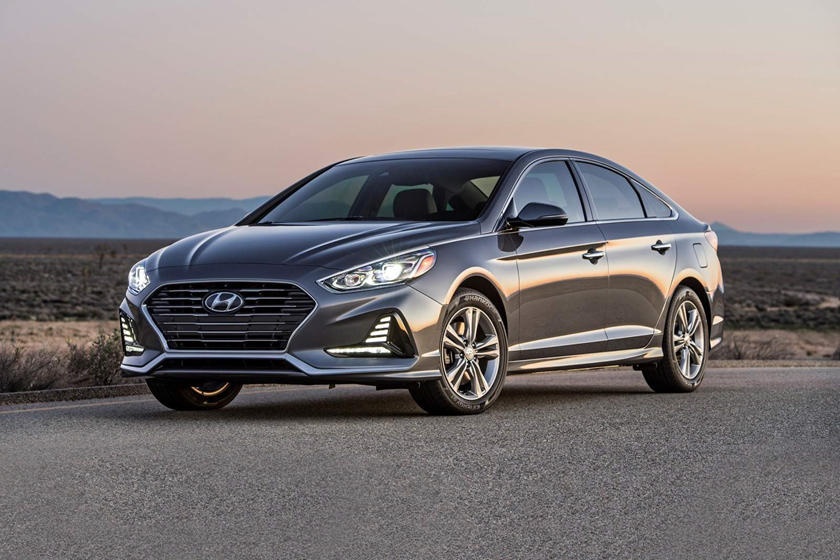 What We Liked
Handles fairly well
Versatile engine options
Great user interface
With five powertrains to choose from, you might be spoiled for choice. Want more fuel savings? Opt for the hybrid or plug-in hybrid, which provides 41 mpg combined savings after 27 miles of battery-only driving. Otherwise, the 1.6L turbo-4 or the 2.0L turbo-4 might satisfy your speedy self; the 2.0L pumps more power with its 245 hp and 260 lb-ft of torque while paired with an eight-speed automatic. Performance-wise, you'd have to pick one that meets your needs. Beyond that and its decent handling traits on the road or when cruising down the highway, the Sonata offers a reasonably average interior and a somewhat snug rear seat area; tall passengers might have a hard time. However, it does provide 16.3 cubic feet of cargo storage – a fair amount for a mid-size family sedan. It might not excite you as much as some other rival offerings. Still, it delivers a comfortable ride experience, helped by clever engineering, bold exterior stylings, and excellent engine choices (even though they're a little underpowered). Incidentally, it's also a good pick for your teen's first car.
Review
Reliability
Performance
Appearance
Features
2018 Lincoln MKZ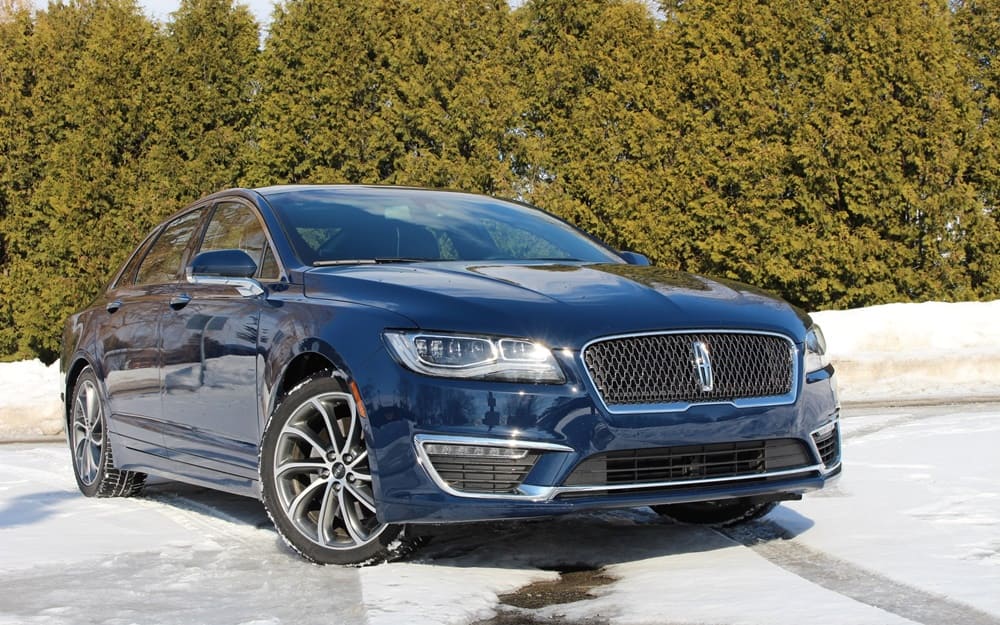 What We Liked
Comfortable ride
Available hybrid option
Lots of standard features
The Lincoln MKZ combines comfort and speed with its optional V-6 powertrain making 350hp (400hp for all-wheel drives) and delivering a great heap of performance power. If you're OK with giving up on the V-6's thrill, the base engine is a humble performer, while the hybrid's 2.0L four-cylinder and electric motor pairing serve up to 40 mpg combined in fuel economy. Whatever you choose, the MKZ grants owners a reasonably relaxed and satisfactory driving experience, aided by a quiet cabin and above-average interior design. Despite its sizeable exterior stature and cozy seats, rear space is a little limited owing to the sloping roof; rear passengers might have a little less headroom to work with. The MKZ has some robust tech offerings, such as the easy-to-use Sync 3 infotainment system, smartphone integration, voice recognition, and a slew of handy safety features like adaptive cruise control. All in all, the MKZ is a decent, tech-aided choice for an American-made sedan.
Review
Reliability
Performance
Appearance
Features
2017-2018 Mazda 6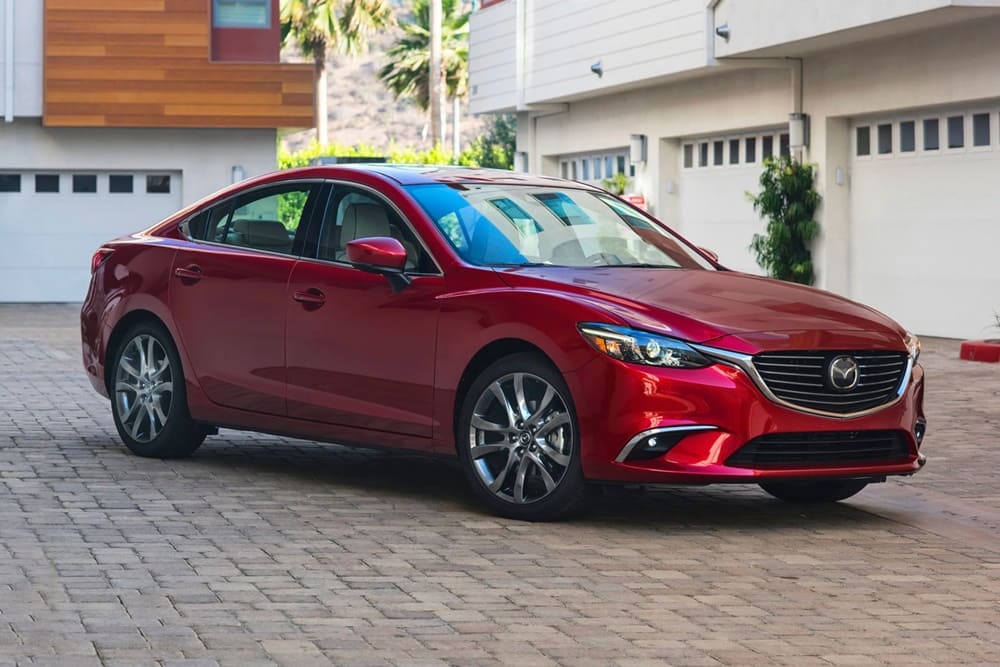 What We Liked
Bold, modern design
Excellent handling
Comfy interior
What We Disliked
Higher trims have more goodies
With a sleek exterior that exudes premium charm, the Mazda 6 is a bold-looking sedan with a 2.5L inline-4 boasting 187hp and 186 lb-feet of torque. In tandem with the Mazda 6's solid engineering, the sedan handles itself very well with excellent body control and impressive responsiveness. Higher trims will unlock more goodies, which is a shame, but you might be lucky and stumble on a good used deal on something like the Signature trim. Step inside, and you'll be impressed with the quality that went into the cabin design. With comfortable and supportive seats and sufficient room for tall passengers in the rear, the relatively quiet cabin pleases most folks. Its tech features are also top-notch, with a host of helpful safety gear to keep you safe – but again, a lot of the good stuff is only available on the higher trims, so pick your poison. The tech-packed vehicle's control layout and infotainment system are the only cons. Still, if you can look past those flaws, the Mazda 6 remains a strong contender for an excellent and performance-worthy sedan.
Review
Reliability
Performance
Appearance
Features
2016 Acura TLX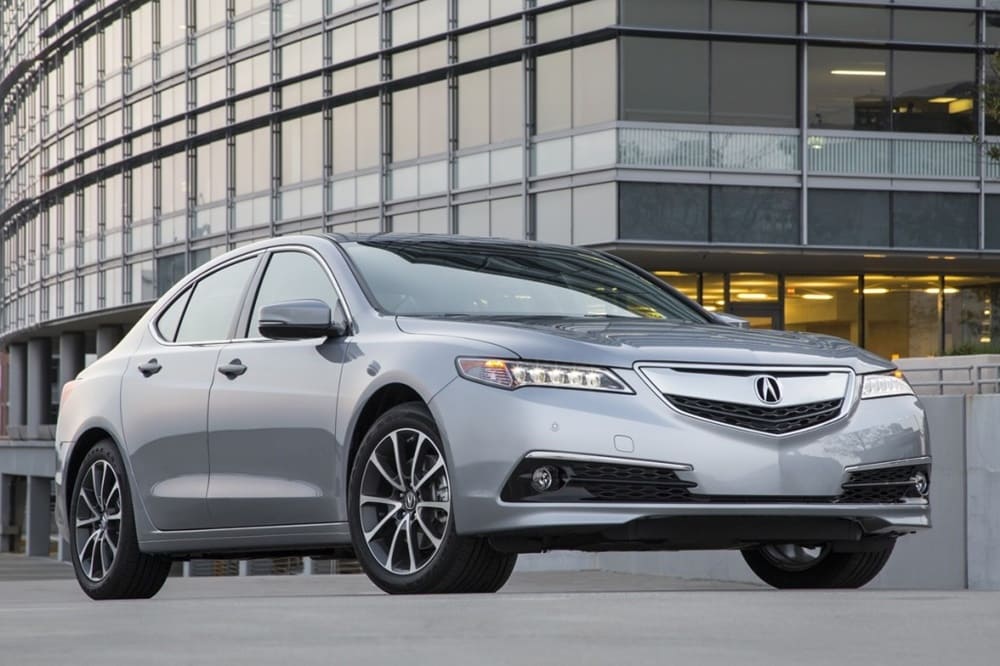 What We Liked
Quiet, cozy cabin
Value-for-money
The base trim is a great all-rounder
It might look like a compact sedan, but the TLX's mid-size interior and excellent features make it an outstanding choice for used car buyers. It rivals even luxury cars of the same class with a significant amount of tech and other features, from its 2.4L inline-4 that goes well with an eight-speed dual-clutch transmission, an excellently performing driver-assist suite, and a Technology package that adds so many helpful creature comforts. Though the TLX has rather lackluster acceleration and average handling traits, its overall value-for-money for all the tech it manages to fit into its compact frame quickly makes up for these cons. The front and rear seats are well-padded and very plush; tall passengers may need to work with the slightly reduced headroom. Add on a great, intuitive infotainment system and cabin construction that reduces external noise coming in, as well as an Advance Package that adds even more goodies to the mix, and the TLX starts looking a lot more attractive for the price.
Review
Reliability
Performance
Appearance
Features
Getting Your Hands on a Used Car
Are you looking to buy any of these listed sedans? Before you do, make sure you equip yourself with knowledge on used car buying. With automotive fraud still a significant concern for consumers, you might become an easy target for scammers to con. In the end, without preparing for the task ahead, you could wind up with lighter pockets and a highly defective vehicle that will cost you a lot more to fix in the coming years.
You must secure yourself with a vehicle history report first. With it, you'll have a crucial tool to help you find (and buy) the used sedan you want. Here at VinFreeCheck, our free license plate lookup provides a comprehensive report on a used car's particulars, all within a matter of moments. You might find that the used sedan of your choice is not a sedan; the actual car whose VIN you were given is an entirely different vehicle – and a problematic one at that! With how easily scammers can fool potential buyers, you should never let your guard down.