Last Updated on September 15, 2023 by Calvyn Ee
Are you ready to take snowy or even slippery terrain with a good measure of confidence? Even if you've only got a budget of 10k, these all-wheel drive (AWD) vehicles offer superior traction and handling for any adventure, no matter the weather conditions. The stability and control these cars have might just be what you need, or maybe it's an added bonus for the performance they also provide. We've curated a list of the best AWD cars under 10k for their reliability, appearance, and performance. Buckle up!
How We Rate Cars
Reliability
When buying a used car, it helps to know how well it can run even after it's been used for a long time. We get feedback from current and previous drivers and ratings from reliable sources like Consumer Reports and CarMD.
Performance
AWD cars can still provide excellent driving dynamics while offering steady footing in inclement weather and road conditions.
Appearance
Despite their age, some of these used AWD cars can still look great even today.
Features
Though some may lack certain features found on more modern cars, they can still give you plenty of value and utility.
Leafing Through the Best AWD Cars Under 10k
2012 Subaru Legacy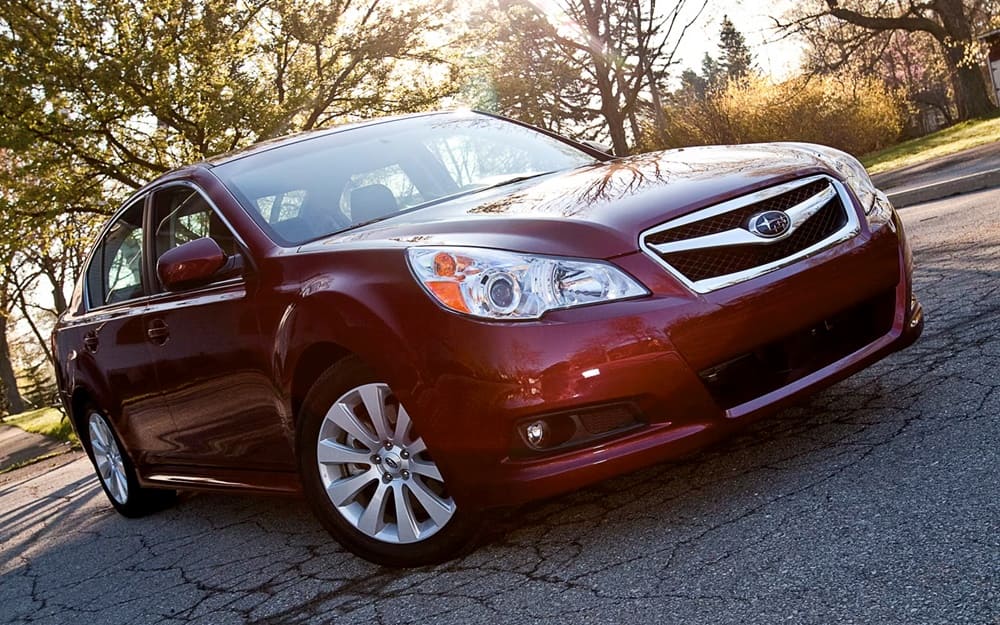 What We Liked
Stable handling
Great ride quality
Good amounts of passenger space
While the Subaru Impreza is a well-liked AWD car, its engine is a little unrefined, especially where acceleration is concerned. Thankfully, there's also the Legacy as an alternate option. This Subaru model is surprising with its engaging and surefooted handling even in inclement weather conditions. You also have the option to go with either the base 173hp 2.5-liter boxer 4-cylinder engine or the optional 3.6-liter boxer 6-cylinder packing 256hp, both of which are no slouches. Ride quality is firm but still comfortable, soaking up road imperfections very well and with little road noise filtering in. The Legacy also offers ample rear-passenger legroom and 14.7 cubic feet of cargo space. However, the interior cabin quality is a little disappointing with its plain looks and plenty of hard plastics. Nevertheless, the Subaru Legacy remains a reliable and capable AWD sedan that stands out, especially when you can get one for under $10,000.
Review
Reliability
Performance
Appearance
Features
2008-2012 Acura RL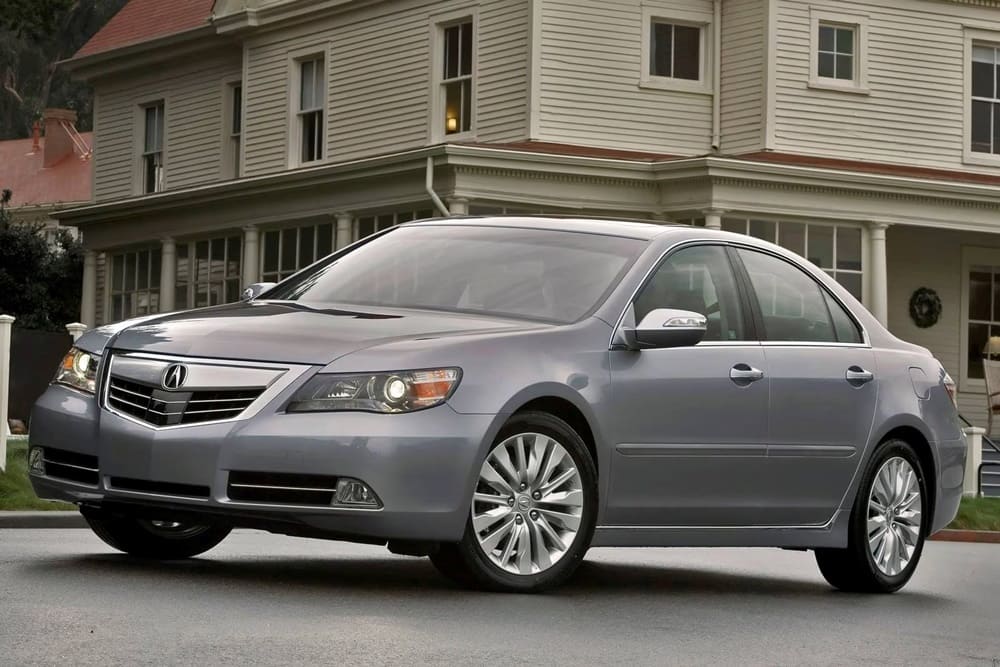 What We Liked
Strong performance
Well-performing AWD
Plush interior
What We Disliked
The rear seating area can be cramped
If you desire both luxury and performance in an AWD sedan, the seemingly forgotten Acura RL is a hidden gem worth your while. With its proprietary Super Handling All-Wheel Drive (SH-AWD) system, the RL offers exceptional grip and stability on the road. The longitudinally-mounted, 300hp 3.7-liter V6 engine offered the RL great acceleration and zest on the road, while the torque-vectoring AWD made for a thrilling driving experience. The cabin is also very comfortable, especially in the front seats, while the interior materials are all of high quality. Rear passengers, particularly taller persons, may find the rear to be a little small for comfort. 13.1 cubic feet of cargo storage is also a little on the low side compared to the competition. While the RL's sales aren't as high as some of its more well-known competitors, it still remains a formidable contender in the luxury AWD segment thanks to its unique balance of comfort, performance, and reliability.
Review
Reliability
Performance
Appearance
Features
2012-2013 Volvo S80
What We Liked
Good ride quality
Impressive tech features
Excellent safety techs
What We Disliked
AWD is hard to find these days
The Volvo S80 is a standout choice not just for its top-notch safety features but also for its premium stylings and AWD capability. 3.2-liter inline-6 producing 240hp and 236 lb-ft of torque, offering impressive performance stats. If you're lucky, you might snag a T6 model with a more powerful turbocharged 3.0-liter inline-6 engine. The S80's AWD capabilities offer enhanced stability and control, allowing it to tackle challenging road conditions easily. Inside, the S80 offers a practical but comfortable cabin with seats that provide excellent support and comfort, along with numerous creature comforts to add to the whole premium feel of the car. And, of course, Volvo's packed safety suite will easily put you at ease as you're cruising down the highway. While the S80 may come with a higher price tag than some competitors, its blend of safety, elegance, and AWD capabilities makes it a worthwhile investment.
Review
Reliability
Performance
Appearance
Features
2014 Mazda CX-9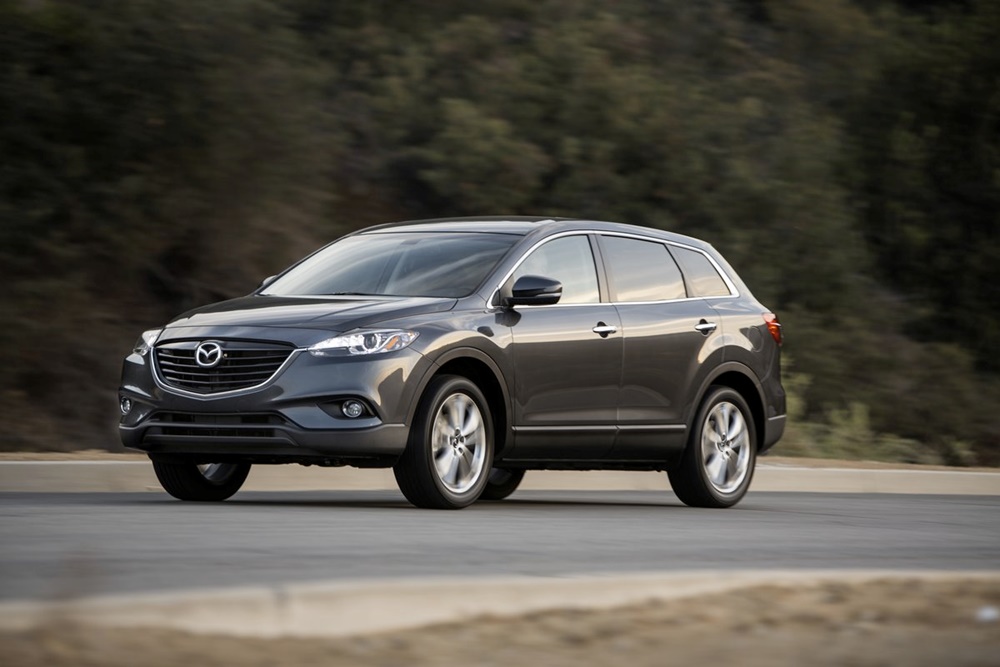 What We Liked
Sharp performance
Looks great
Comfy interior
What We Disliked
Below-average crash-test scores
Not a fan of sedans? If you're in need of a 7-passenger SUV that has the energy of a sporty sedan, you can't go wrong with the Mazda CX-9. This crossover offers surprising agility in its handling, helped by a 3.7-liter V6 engine that makes 273 horsepower and 270 lb-ft of torque. Available AWD only helps to sweeten the deal with its suite of useful features to help maintain control of the SUV on various road conditions. Meanwhile, its upscale interiors give the illusion that you're riding in a luxury car, especially with its strikingly sleek appearance. However, the CX-9 does have low safety and reliability scores, despite having various safety techs as standard equipment. Meanwhile, its cargo space and third-row seating can be quite limiting (the latter is best suited for kids or stashing items). But if you prioritize a thrilling driving experience for the family while enjoying a touch of luxury, the CX-9 is still your best bet.
Review
Reliability
Performance
Appearance
Features
2014 Kia Sportage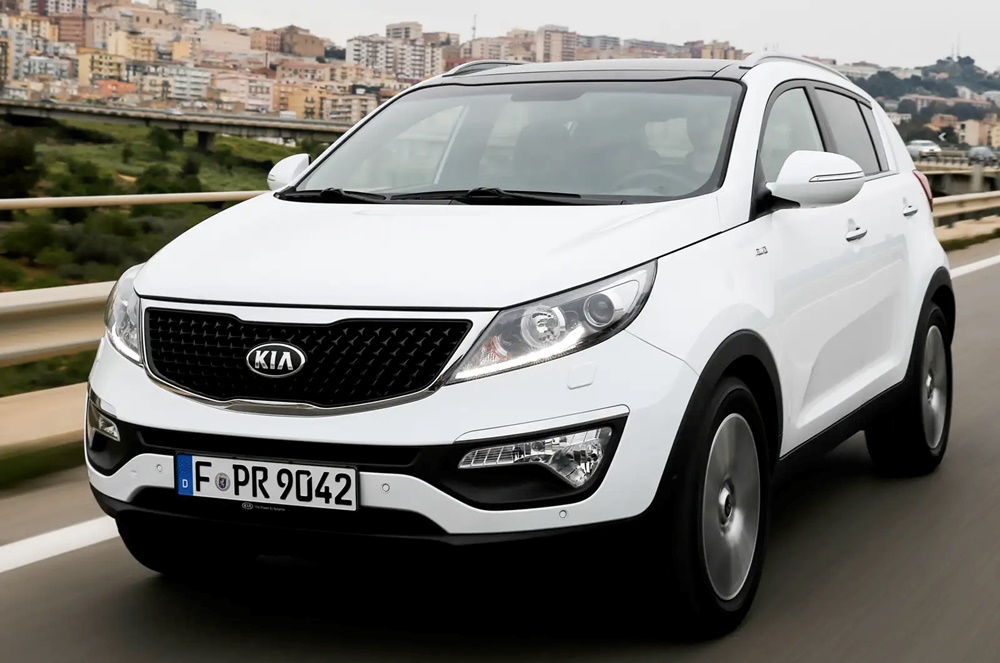 What We Liked
Decent powertrains
Plenty of cargo room
Sporty handling
The Kia Sportage is another crossover with available AWD worth your time and money. Base models come equipped with a 2.4-liter four-cylinder with 182 hp and 177 lb-ft of torque, while the SX trim has a turbocharged 2.0-liter four-cylinder engine that makes 260 hp and 269 lb-ft of torque; both engines are reliable and peppy. The AWD system is great, but it does add weight to the SUV and does drain fuel efficiency by a small margin. Ride quality also takes a loss due to how stiff the suspension is; you can also expect some road and wind noise. At the very least, the cabin is nice and cushy, but rear passengers will find a little less headroom for their comfort. Cargo space is also pretty impressive at 26.1 cubic feet, while useful safety techs include rear parking sensors and a rearview camera. For under 10k, however, the utility of the Sportage gives it an edge you might just need.
Review
Reliability
Performance
Appearance
Features
Picking the Right AWD Car
When the weather turns harsh and the roads become treacherous, these AWD cars will provide the stability and confidence you need to conquer any terrain. However, you need to know that looking for any of these at a bargain can be a challenge, especially as various factors can influence a used car's pricing. Thankfully, there are other models to consider or earlier model years that may have fewer features but offer better value for money, especially if you're on a budget.
Make sure you get a vehicle history report before you agree on a deal. The report fills you in on everything you need to know about a used car you're eyeing. This includes vehicle maintenance records, odometer readings, and even accident and other records of damage the car may have gone through (like flooding). With the vehicle history report, you'll be able to look out for possible red flags, allowing you to back out of a potential deal that will end up draining your finances (and your peace of mind). Save yourself the hassle and stress of buying a used AWD car with a vehicle history report in your hands!