Last Updated on September 4, 2023 by Calvyn Ee
When it comes to finding a fun and affordable driving experience, a used sports sedan can make for an excellent choice. Car buyers view them favorably due to their powerful engines, sport-tuned suspensions, and upgraded brakes, among many reasons. We'll explore the top options in the used sports sedan market, highlighting their key features, reliability, and pricing. Whether you're a thrill-seeker or simply want a stylish and enjoyable ride, these sports sedans will surely impress.
How We Rate Cars
Reliability
Even used vehicles can remain dependable when taken care of. Our reviews consider feedback from current and previous drivers and ratings from reliable sources like Consumer Reports and CarMD.
Performance
Sports sedans offer promising driving dynamics that make for an exhilarating ride from start to finish.
Appearance
Despite their age, some of these used sports sedans can still look great even today.
Features
Though some may lack certain features found on more modern cars, they can still give you plenty of value and utility.
Behold the Best V8 Cars In Today's Auto Market
2012 Audi S4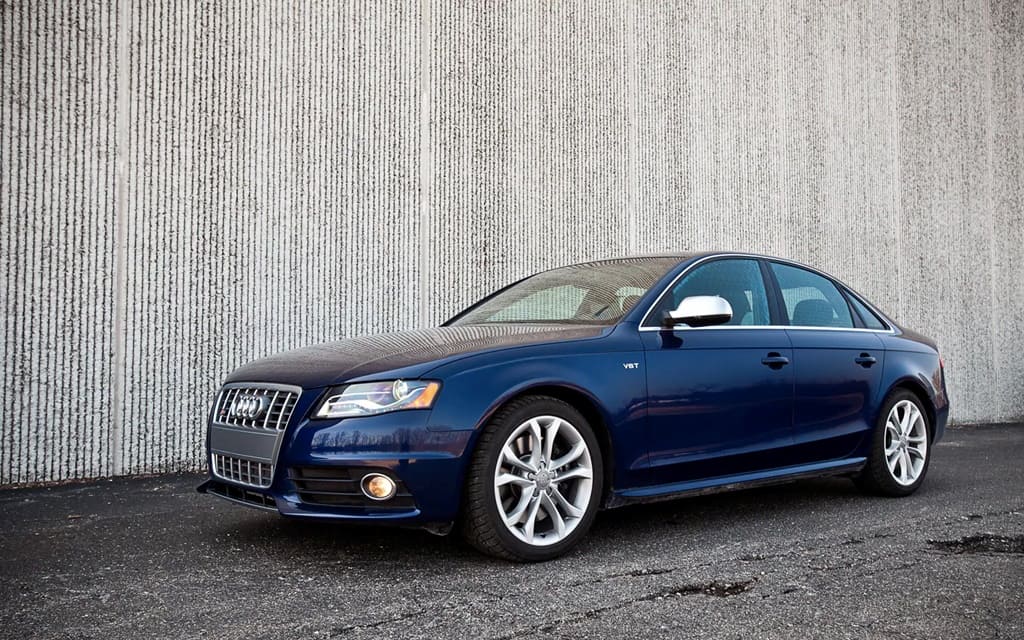 What We Liked
Great performance
Sharp handling
AWD capability
What We Disliked
Some outdated tech by current standards
The Audi S4 is a versatile sports sedan that's well worth the asking price. Its exterior design is sporty and stylish, with Audi's distinctive styling and aerodynamic enhancements. Powered by a supercharged 3.0-liter V6 engine, the S4 delivers impressive acceleration with its 333hp and sharp, responsive handling (despite the less-than-stellar steering feel). With its confident Quattro all-wheel-drive system, the S4 offers excellent traction and stability with little to no body rolls, even when taking corners or going through winding paths. As befitting an Audi, the S4 also features a well-appointed interior with comfortable seats, plenty of helpful technology, and a refined cabin ambiance. Some of its offerings may be a little outdated, including the multimedia interface, but you can still enjoy the refinement of a solid sports sedan for a decent price point in the used market.
Review
Reliability
Performance
Appearance
Features
2013 Dodge Charger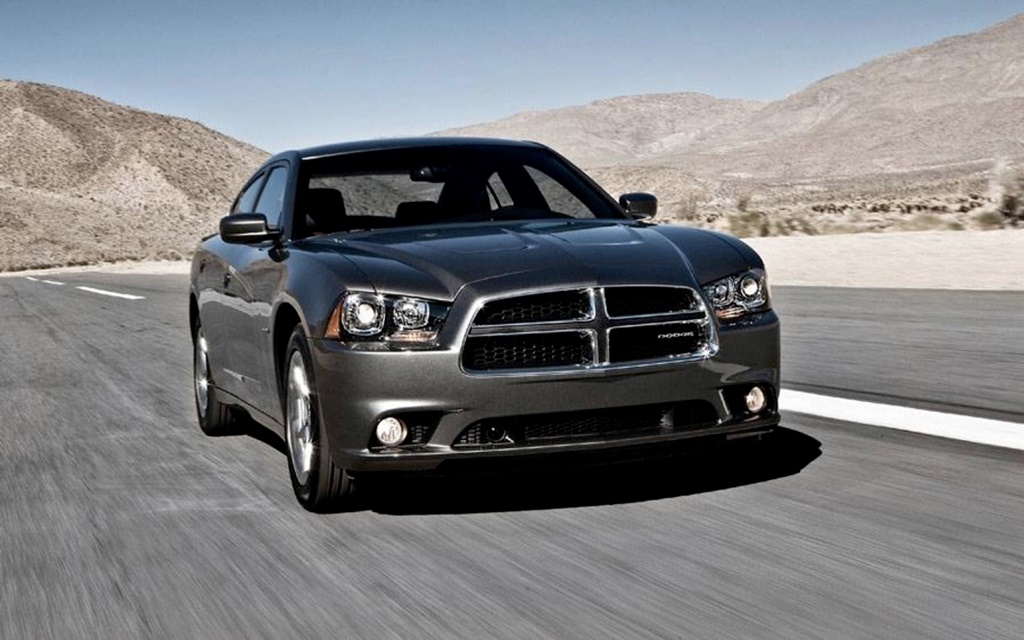 What We Liked
Various powertrain options
Roomy interior
Stable handling traits
Sometimes, you might want something that is both performant and practical, and that's where Dodge comes in. The Charger is a potent machine with its choice of powertrains – including the mighty 6.4-liter V8 on the SRT8 model, with 470 hp and 470 lb-ft of torque to boot – and impressive (and some say impractical) size. The Charger has good steering feedback, and its suspension does well to keep the vehicle in check as it rushes headlong at full speed. Its weight is a major downside, especially for the V6 engines, but the thirsty V8s deliver power in your rides. Ride quality is generally favorable, too, but bumps on the road can still be felt at times. The interior is also crafted well with an intuitive control layout, a decent 8.4-inch touchscreen interface, and cushy space for passengers in the front and rear. Cargo space is only 15.4 cubic feet, which is just slightly under the Challenger's 16.2 cubic feet; it's adequate, but it definitely could be better.
Review
Reliability
Performance
Appearance
Features
2015 Jaguar XF Supercharged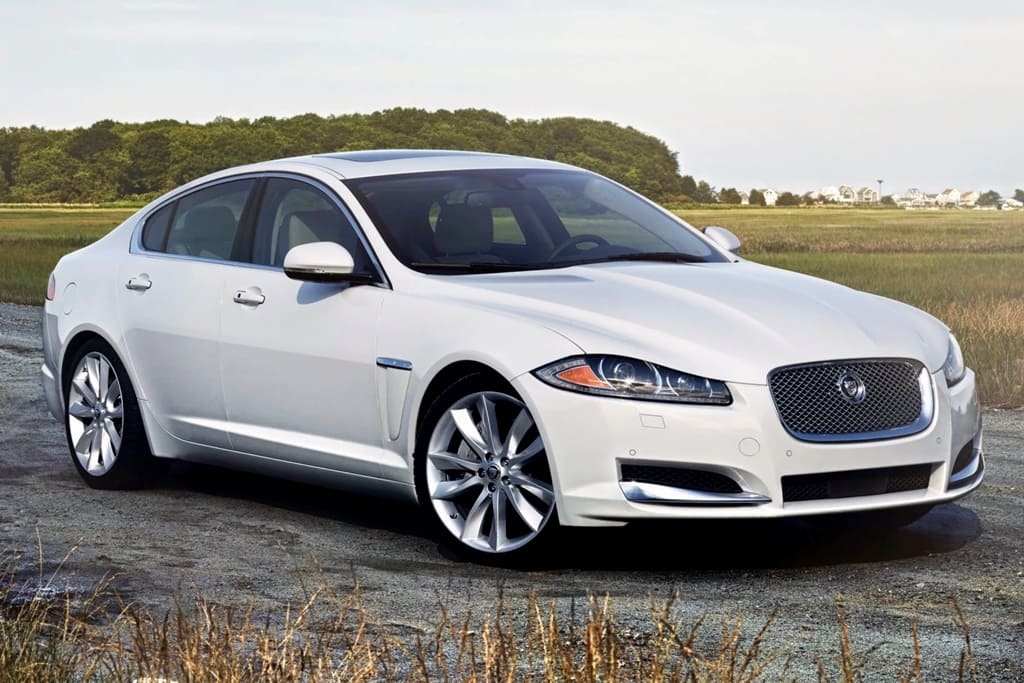 What We Liked
Impressive handling
Stylish on the inside, too
Comfortable ride
A slightly rare gem to find, the Jaguar XF Supercharged is well-loved for its top-notch handling and performance. Its 5.0-liter supercharged V8 engine delivers a whopping 470 hp and 424 lb-ft of torque, promising engaging handling at fiery speeds; you'll be hitting 60 mph in only 4.5 seconds. Thirsty though V8 engines can be, the exhilarating thrill you get from zooming through the street or on the track at full power is truly unforgettable. Moreover, adaptive suspension makes for some comfy rides from start to finish. It also helps you ride in style thanks to the stately-looking interior, featuring plenty of classic charm reinterpreted for the modern age. Limited rear visibility is a bit of a problem, but it can be alleviated with the standard safety features included with the car, including a rearview camera. However, a few key features are missing, and the infotainment system feels much more dated and complicated to use than others in other automakers' sports sedans. You can find one used for at least $24,000 if you're lucky.
Review
Reliability
Performance
Appearance
Features
2012 Ford Taurus SHO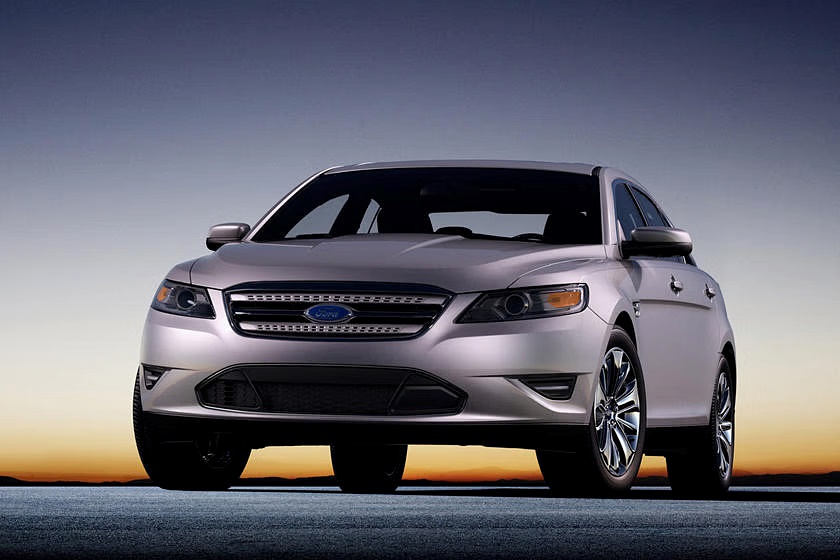 What We Liked
Very comfy interior
Strong performance
Standard AWD
Armed with a 3.5-liter twin-turbocharged Ecoboost V6 engine that produces 365 hp and 350 lb-ft of torque, the Ford Taurus SHO remains a popular choice even today, thanks to its confident drivability and impressive interior space. Coming standard with all-wheel drive and an eight-speed automatic, the Taurus SHO is an exciting and performant sports sedan that manages to offer impressive fuel savings while still being an agile car. Going to 60 mph in only 5.8 seconds, the Taurus SHO also has the same handling traits as the regular Taurus model while having a sport-tuned suspension for firm but sharp rides that you'll greatly enjoy. There's more to it than just its performance: the car is also well-loved thanks to its very comfortable cabin and spacious trunk. You'll be surprised by the generous amount of headroom and legroom in both the front and rear seats. There are some issues with the control layout, so that may take some time to get used to.
Review
Reliability
Performance
Appearance
Features
2012 Mercedes-Benz S63 AMG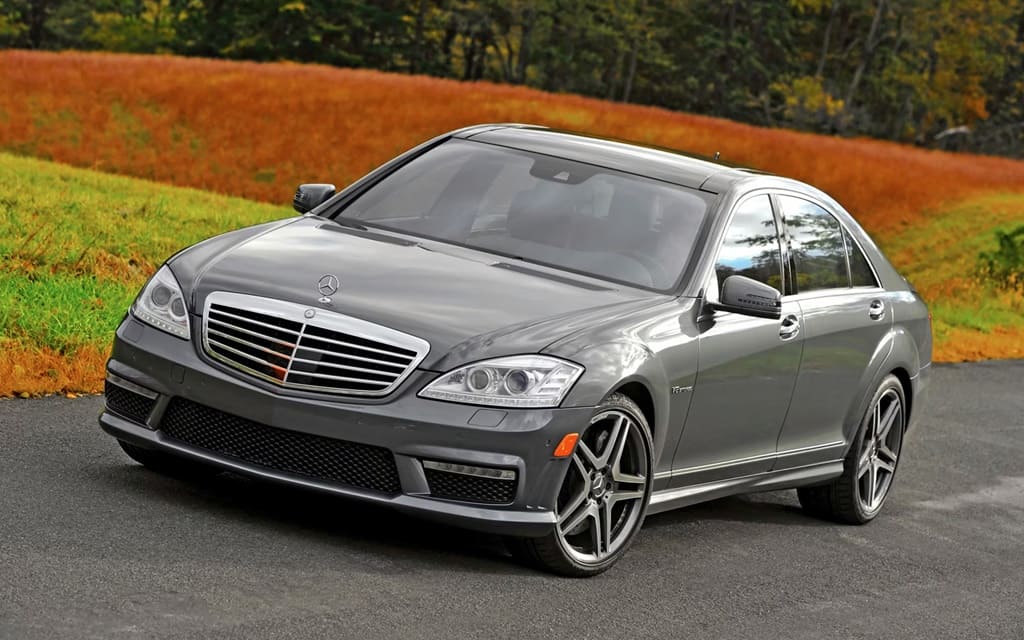 What We Liked
Very agile
Very responsive
Luxurious from top to bottom
What We Disliked
Features can get overwhelming
This stylish luxury sports sedan mounts a 5.5-liter twin-turbo V-8 that provides 536 hp and 590 lb-ft of torque, giving it a 0-60 mph time of 4.3 seconds. If the car has the AMG Performance package added on, that's an extra amount of power added to its overall performance. As a high-class luxury car, you'll be riding stately with little to no road noise coming in, road bumps smoothed out nicely, and peppy acceleration and handling in this premium-looking package. The cabin is also luxurious as well, with its blend of black colors and modern stylings on top of the plush front bucket seats that are also adjustable. The S63 also comes equipped with plenty of other features, including a full suite of safety techs that includes Mercedes-Benz's mbrace emergency telematics and PreSafe system for better protection in a crash. You definitely can't get this kind of fun yet elegant driving in any other vehicle of its class.
Review
Reliability
Performance
Appearance
Features
Exhilaration on a Budget
When it comes to finding an affordable and exciting driving experience, a used sports sedan can be what you need. With their powerful engines, sport-tuned suspensions, and stylish designs, you can't beat their fun combination of performance and practicality, not to mention good looks. Whichever sports sedan appeals to you, you'll surely enjoy the fast-paced mobility and comfort these cars can provide. So, if you're in the market for a used sports sedan, you might want to start shopping around for a good deal.
At the same time, you should keep yourself safe with a vehicle history report. With it, you'll be able to see everything about a particular used car you might be interested in. This includes vehicle maintenance records, odometer readings, and even accident records or whether it was stolen previously. You may never know which deals are sheep in wolves' clothing: the vehicle history report will provide additional context to spot possible red flags, giving you plenty of security and peace of mind. Save yourself the hassle and stress of buying a used SUV with a vehicle history report in your hands!