Last Updated on July 24, 2023 by Calvyn Ee
On the hunt for a good car but need to keep to a budget? You've probably been through various listings for new and used cars and found the prices to be steep, even for recent-year popular models. You can still find a good car for a good bargain, but let us make it easier for you. Consult our list of the best used cars for under 20000, catering to any kind of driver!
Rating This List
Performance
A good used car will give you a good balance of fun driving and confident handling.
Appearance
Used cars can still look good despite their age, with a combination of fancy aesthetics and nifty extras.
Features
Used cars do still offer many valuable features, including safety aids, comfy seats, and more.
Reliability
Reliable used cars can last a long time, especially with frequent maintenance. Our reviews consider feedback from current and previous drivers and ratings from reliable sources like JD Power.
Featuring the Best Used Cars for Under 20000
2014 Ford Mustang (From $16,000)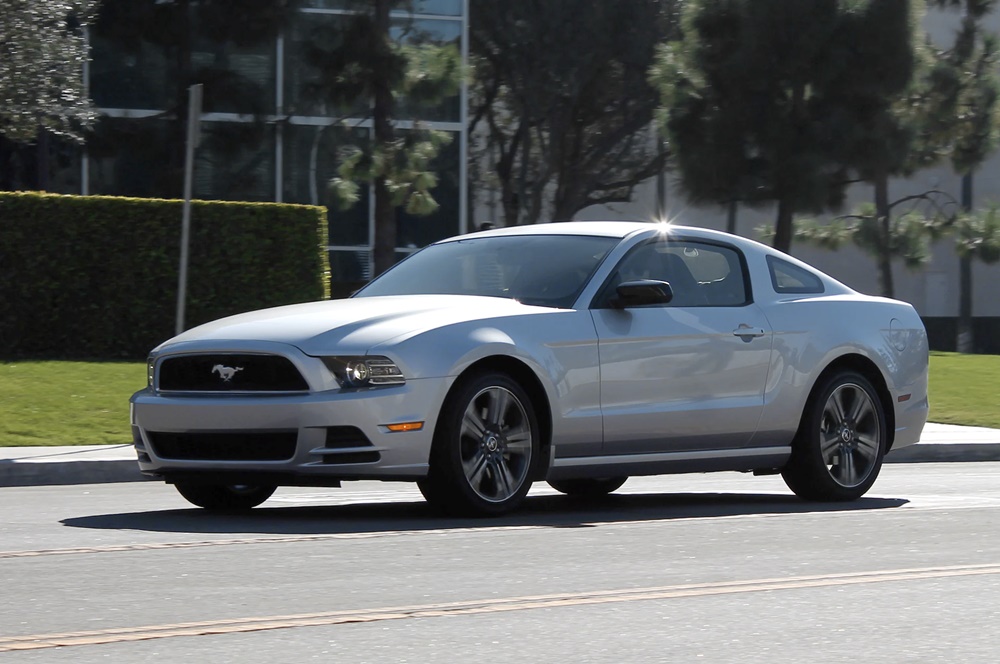 What We Liked
Powerful V-6 engine
Handles very well
Sublime looks
The much-loved Ford Mustang is well-known for its impressive power and agility, and it's also a car you can own for under $20k. The 2014 model is one such choice, with its available 3.7L V-6 that makes 305hp and 280 lb-ft of torque. V-8 Mustangs are also available but may have asking prices above 20k. Still, V-6 ones can go from 0 to 60 in a respectable six or so seconds; with the right selection of equipment and tuning, you can make that in less than five. The Mustang pairs well with a manual transmission, drawing out the best in the engine and helping deliver solid performance from start to finish. The Mustang handles very well, too, with great maneuvering capabilities and minimal discomfort. Driver-selectable modes also give you the ability to tune the already responsive steering. Overall, it's an excellent sports car to own if you're looking to sate your need for speed even on a budget. Its interior is also decently designed, featuring sturdy and comfortable Recaro seats, a clean dashboard layout, Ford's SYNC system, and a host of extra creature comforts available to add (look out for some of these in your used car shopping). Safety-wise, the Mustang also puts you at ease with its airbags, anti-lock brakes, and stability control; blind-spot monitors, a rearview camera, and rear parking sensors are optional add-ons. The Ford Mustang easily covers your bases if you're looking for a fun cruiser to take out for a spin.
Review
Performance
Appearance
Features
Reliability
2015 Dodge Challenger (From $15,000)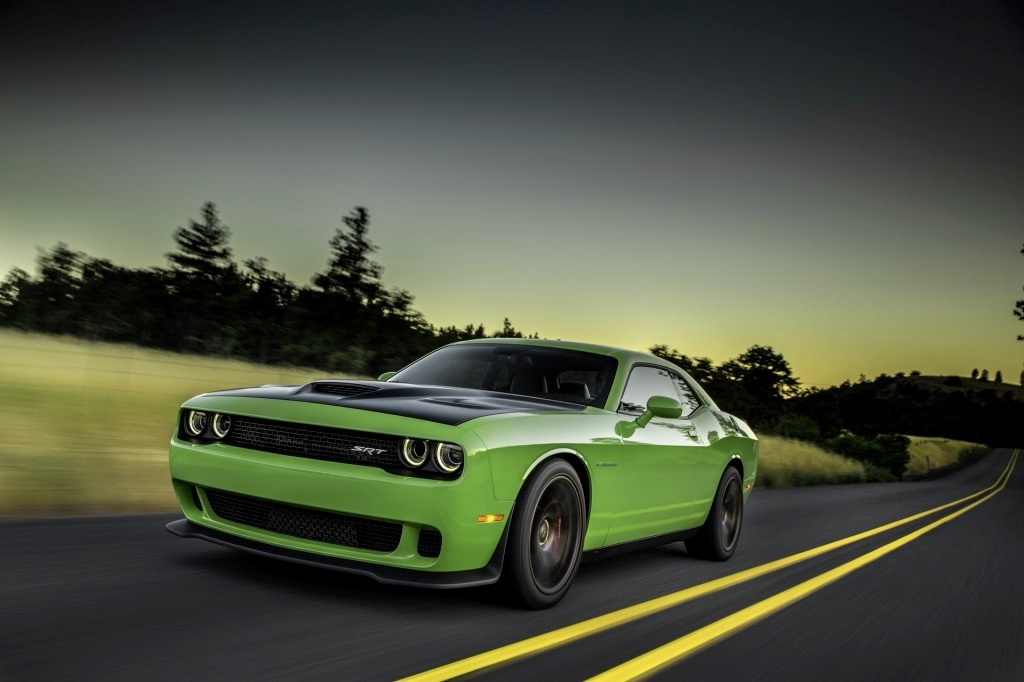 What We Liked
Spacious interior
Powerful performance
Lots of cargo space
What We Disliked
Big, bulky size affects handling
Want something speedy but also a little roomier? The Dodge Challenger might be a good fit. Base Challengers are armed with a 3.6L Pentastar V-6, producing 305hp and 268 lb-ft of torque, and paired with an eight-speed automatic transmission. On the R/T models, you'll find a 5.7L Hemi V-8 with a roaring 375 horsepower and 410 lb-ft of torque. Whichever engine you pick, the Challenger offers a solid, power-packed ride that also earns top marks for comfort. The cabin is spacious, with plenty of legroom and headroom for everyone aboard. The backseat easily fits two adults, but headroom isn't as luxurious as if you were in front; at the very least, you'll be able to relax in your seat while the cabin easily filters out any external noise to make for a quiet ride. You also enjoy a whopping 16.2 cubic feet of space, perfect for long hauls. Ride quality is still hit-or-miss for some, as the suspension sometimes feels floaty. The Challenger also handles rather well, although its bulk does mean it's nowhere as agile as competitors like the Mustang or Chevrolet's Camaro. Look for used Challengers that come with optional performance add-ons if you'd like a firmer ride and some sporty upgrades to boot. The Challenger also wins in terms of its top safety scores. However, you might want to look for Challengers equipped with safety techs like adaptive cruise control, forward collision warning, and blind-spot monitoring, to name a few.
Review
Performance
Appearance
Features
Reliability
2017 Toyota Prius (From $17,000)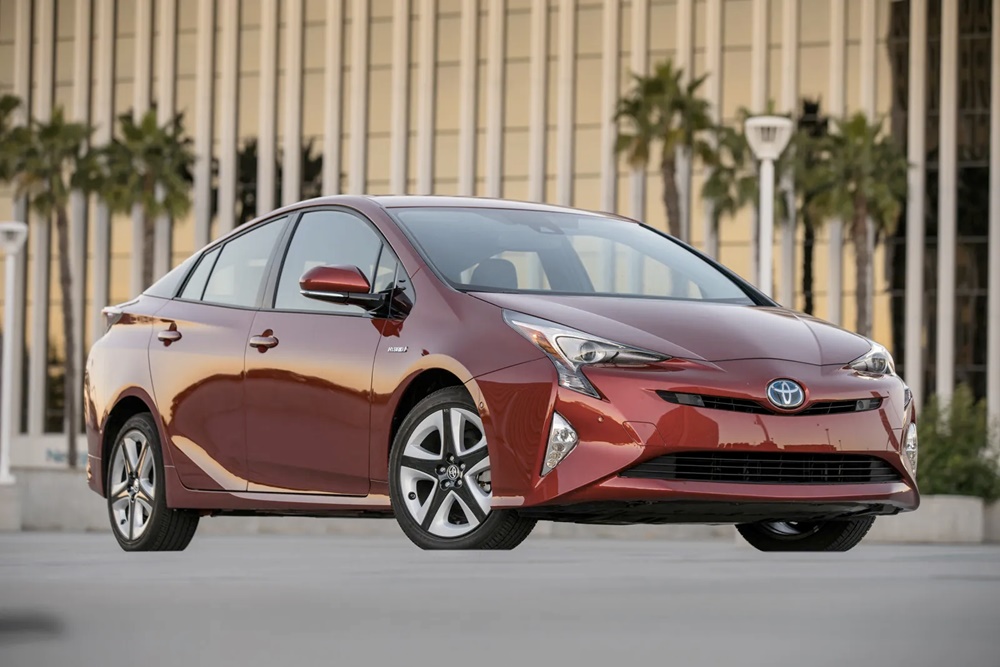 What We Liked
Great fuel economy
An upgrade from previous models
Good handling
Needing something a little more practical? The popular Toyota Prius is a dependable choice thanks to Toyota's sterling reputation for building great cars that last. Available as a mild hybrid or a plug-in, the Prius is not built for amazing driving performance but focuses more on efficiency instead. If you go with the mild hybrid, it comes with a 1.8L inline-4 with 95hp and a 53-kilowatt electric motor, with a combined output of 121hp. It drives well enough and has a far better, quieter ride quality than its predecessors, but its meager acceleration can make it tricky to overtake traffic. And as you can guess, this is more a family daily driver than a speedy rider: if you're looking for thrills, this isn't for you. Getting to the interior, the 2017 Prius is a lot better than previous year models, with better quality materials and relatively comfortable seats, especially for the front seats. The rear might not be great for taller passengers because of the low roof line. The dashboard also got a facelift to give a cleaner appearance, while the center console looks more conventional than its previous iteration. Of course, the big plus for the Prius is the standard Safety Sense-P suite: that's forward collision warning with automatic emergency braking, active lane control, automatic high beams, and adaptive cruise control all in one car.
Review
Performance
Appearance
Features
Reliability
2017 Honda Accord (From $15,000)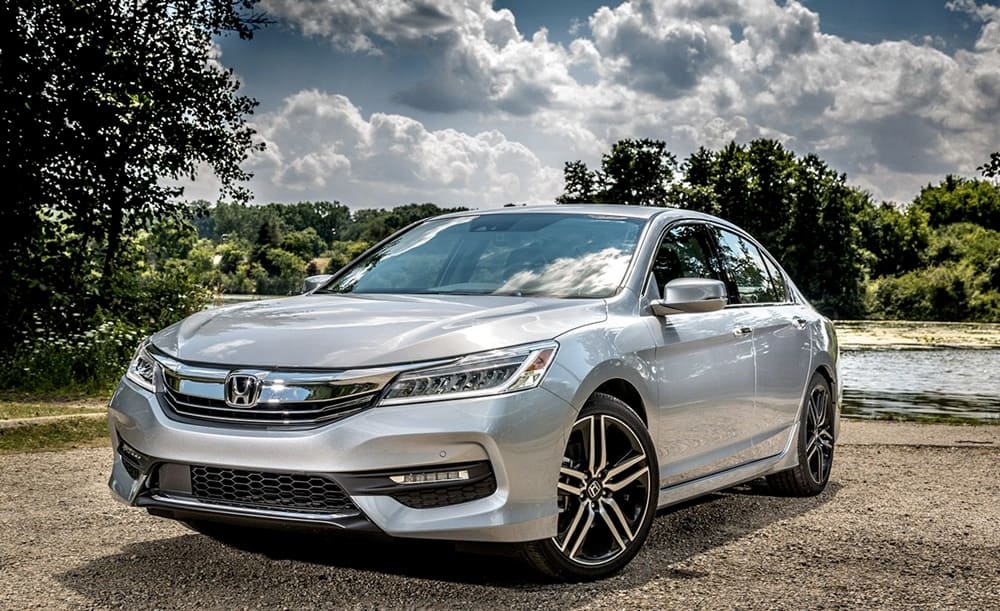 What We Liked
Top-notch ride quality
Good performance marks
Very fuel efficient
What We Disliked
Some sensitive driving aids
The Accord is a strong contender to Toyota's Camry in the mid-size sedan category. Whether you're looking for a family sedan or something with some sportiness to it, the Accord easily fits both categories. The base Accord comes with a 185hp 2.4L inline-4 paired with a CVT. Compared to many other CVTs, Honda's CVT does a good job of smoothly shifting gears without any rubber-banding issues. The V-6 is available with the Touring trim, which pairs with a six-speed automatic, while a manual transmission is only available to select trims. The Accord is a joy to drive – not the most athletic unless you picked the V-6, but it still provides a stable, quiet, and pleasant driving experience. The steering is nice and responsive, the car is composed when cornering – there's a lot to love about the Accord. The cabin also has a lot to love: active noise control keeps it nice and quiet, there's excellent space for passengers in the back, and the seats are supportive and comfy for long drives. They've also added many more standard features, from connectivity to safety techs, to the Accord as a whole, but with plenty of trims to choose from, it might be quite confusing to pick out the right Accord for your needs. Speaking of which, standard safety features include automatic emergency braking, forward-collision warnings, lane-departure warnings, lane-keeping assist, and adaptive cruise control.
Review
Performance
Appearance
Features
Reliability
2020 Hyundai Sonata (From $16,000)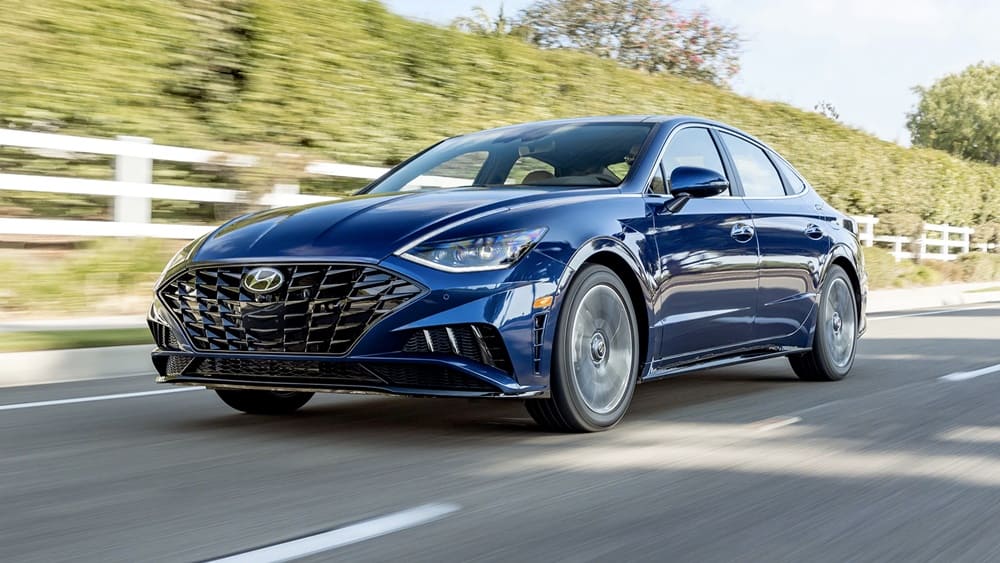 What We Liked
Sporty appearance
Hybrid option available
Great handling
Another good pick for a sporty sedan would be the Hyundai Sonata. Not everyone may like the big grille on the front, but its sleek curves and decent performance definitely will impress. The base engine is a 2.5L inline-4 which produces 180 hp and 195 lb-ft and is paired with an eight-speed automatic. There's also a hybrid version with a 2.0L inline-4 paired with a 51hp electric motor, making a combined output of 192hp. It's not a very sharp performer, but it still earns points for its above-average agility, smooth (though slightly laggy) gear shifts, and precise steering. The front-strut, rear multi-link suspension offers a fairly soft but decent ride quality, although some may find it a little firm for the most part. The cabin has quilted seating, average seat comfort, and an intuitive control scheme, although the layout is sometimes somewhat confusing. Despite the seemingly low roofline, the Sonata doesn't cut into rear headroom, which is a relief for taller folks. Trunk space is also generous, with 16 cubic feet available. Safety-wise, it's not as numerous as what the Accord has to offer, but you still get to enjoy automatic emergency braking, adaptive cruise control, active lane control, and even a driver-attention monitor. Top trims will have other additions like surround-view cameras and blind-spot monitors.
Review
Performance
Appearance
Features
Reliability
2016 Mazda CX-5 (From $14,000)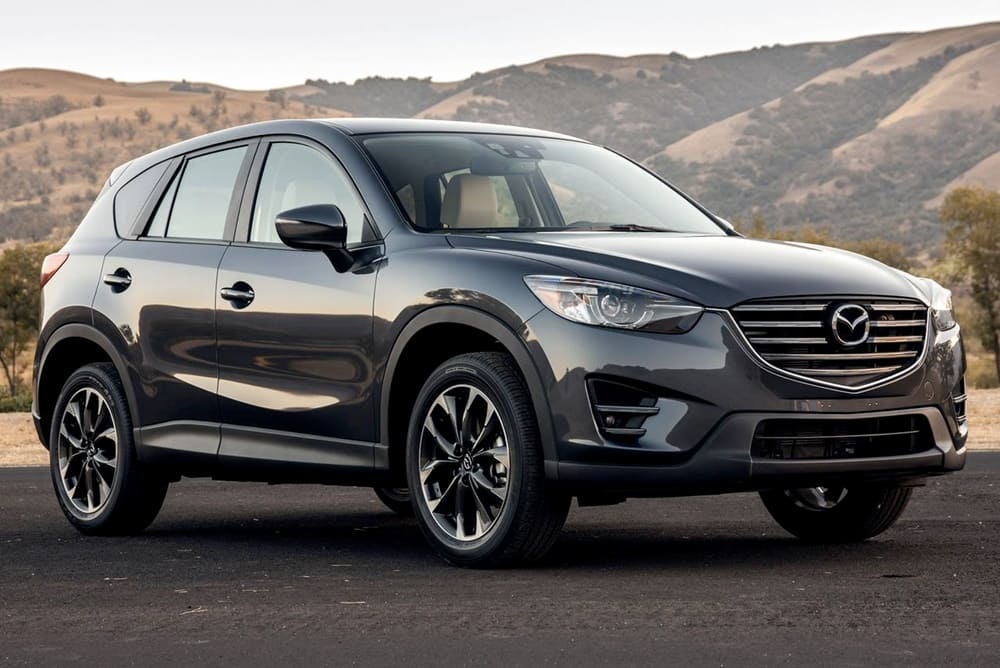 What We Liked
Excellent handling
Modern looks
Competitive trunk space
Want something a lot roomier? The Mazda CX-5 crossover might be a worthwhile consideration. Base Sport trims offer a 2.0L inline-4 which produces 155hp and 150 lb-ft of torque, while higher trims have a 2.5L inline-4 with its output of 184 hp and 185 lb-ft. We'd suggest picking the 2.5L paired with a responsive six-speed automatic transmission for best results. The suspension can feel firm (but not very choppy), but it retains balance as it takes corners while its steering is confident and precise. It's a significant improvement over its debut model year, and that's always a good thing. Step into the cabin, and you'll be rewarded with luxury-level quality in its seating, dashboard layout, and interior trimmings. The front seats are just right, with good comfort and excellent driver visibility, while the rear seats have plenty of legroom for its class. The cabin also does a good job of keeping out external noise, so you can ride in style without being assailed by the roar of the wind as you're barreling down the highway. You also get a decent amount of interior storage for small items and a top-tier infotainment system as well. Cargo space is a decent 34.1 cubic feet, which expands to 64.8 cubic feet when you fold down the rear seats. As for safety, the CX-5 boasts standard airbags, antilock brakes, stability, and traction control. Optional techs include automatic emergency braking, adaptive cruise control, and even lane-departure warning.
Review
Performance
Appearance
Features
Reliability
Getting the Most Out of Your 20k
Used car prices are still in a relatively hot spot. If you want to make the most out of your available funds, you'll need to do some extensive research. A cursory search yielded a few of these models for under 20k, with varying mileage readings, so you could start with those and learn more from the dealership. Be sure you can see the car in person and give it a test drive to see if it's still in working order. If possible, have an independent vehicle check done to reassure yourself that the car's in optimal condition. The last thing you want is to spend a good amount of cash on a car that turns out to be a lemon!
Some deals can also be a little too good to be true. Ensure you equip yourself with a vehicle history report: even if the seller has a free report to give you, what are the odds that its details are falsified? You'd need an insurance policy to keep you safe from falling victim to these scams. You can even compare the vehicle history report with what the seller's given you. A keen eye might just spot inconsistencies in odometer readings or something strange about certain technical aspects of the vehicle. Be sure to keep yourself safe at all times!