Last Updated on July 24, 2023 by Calvyn Ee
Key Points
Overall, vehicle sales have had a positive uptick despite high price tags and interest rates
Diminishing consumer power can potentially affect further sales this year onwards
Car dealers and buyers need to be prepared for the uncertainties ahead of them
---
There's been a positive uptick in sales so far in 2023, and based on current estimates, it looks poised to keep going on this uptrend. In February, light vehicle sales saw an 8.5 percent increase (year-over-year), up 9.1 percent month-on-month from January; the seasonally adjusted annual rate (SAAR) sits at 14.9 million. As a whole, car sales went up 4.6 percent year-over-year, while light truck sales saw a year-over-year increase of 9.7 percent.
Inventory is starting to stabilize as supply chain issues are mitigated. At the end of February, overall inventory increased 28,000 units from the end of January to 1.74 million units, the "highest level since April 2021." It's still below the "normal" levels of between 2.5 to 3 million units despite the 63 percent year-over-year increase. Unadjusted sales increased 8.7 percent monthly, thanks to this "modest increase" in inventory.
Since auto loan rates are still rising and inflation is only slowing down marginally, sales are anticipated to increase "nearly 4 percent from last year and last month." Supply chain issues will still present a problem, but only temporarily. Currently, new cars are still priced high, while used cars are relatively affordable. It may come to a point where used car inventories will dwindle and cause prices to rise, while manufacturers may need to offer more competitive prices to sell off their fleets of new vehicles. With that in mind, we anticipate a steep increase in auto sales in 2024 as trends eventually stabilize, with a potential peak to occur in 2028.
Rates Are Still Climbing
One potential cause of concern is the ever-increasing loan rates as interest rates continue to increase to deal with inflation. Cox Automotive's weekly report for the last week of February notes that the "volume weighted average new auto loan rates" have "increased 25 basis points to 8.67 percent, up 313 basis points year-over-year." Meanwhile, the "volume weighted average used auto loan rate is up 75 basis points to 13.65 percent;" that's up "369 basis points from a year ago." That being said, this has resulted in an 11 percent increase in car payments.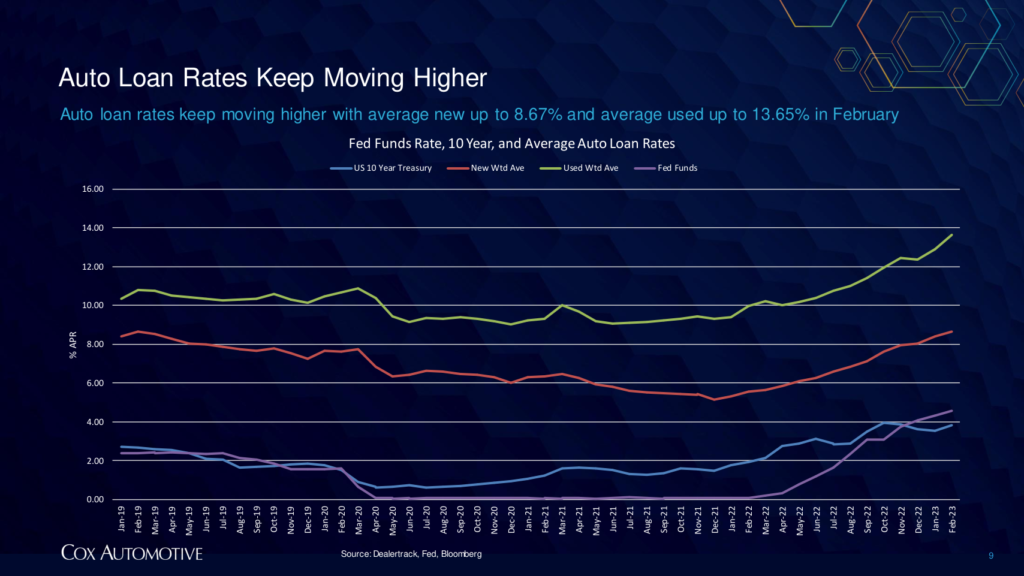 On that note, the "share of new vehicle financing transactions" with a "zero percent annual percentage rate" has increased to 6.8 percent. Even though fewer of these offers are being provided to potential buyers, people are still looking for them despite the rising interest rates. It indicates that consumers still have money to spend and that consumer spending power is still in a good place.
Consumer Power
At 3.4 percent, unemployment is currently at a 54-year low with 1.65 million unemployment benefits claims, 109,000 lower than before the pandemic. The number of those on benefits is low but has been increasing "from absolute lows" compared to the previous year. Consumer spending has increased 21 percent year-over-year, with vehicle purchases up 18 percent year-over-year.
Average transaction prices for vehicles climbed up 5.2 percent year-over-year to $45,645, according to TrueCar. That's an increase of $2,263 per unit year-over-year. If anything, this only reinforces the fact that people are still more than willing to spend even as prices are still going up – however, they are making smarter choices in where they spend their money.
The pandemic helped to instill a strong level of savings in many American families, especially when the personal savings rate hit 33.8 percent in April 2020 during the early Covid-19 restrictions. While real disposable income (RDI) did increase during the pandemic, it's starting to decline slowly. RDI is currently below pre-pandemic levels, but a much more significant drop would indicate the beginnings of a recession.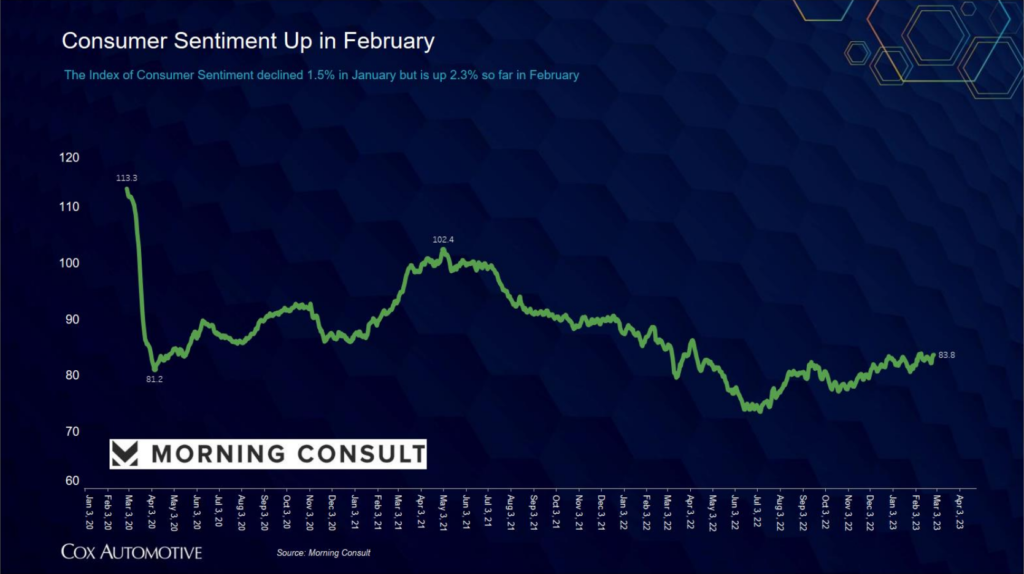 That being said, consumer sentiment increased 2.3 percent in February, up from a decline of 1.5 percent in January when gas prices were higher. Currently, the average unleaded gas price has declined 1.3 percent week-over-week to $3.37/gallon "as of Sunday;" this is down from 7 percent year-over-year.
Even so, shaky consumer fundamentals mean that more people are becoming concerned about where vehicle pricing is headed this year. It's quite unlikely that vehicle prices will go any higher to capture consumer interest. Still, even after Tesla and Ford's recent price adjustments, other automakers (such as GM) will likely maintain "pricing discipline" going forward.
Fluctuating Times
It's still plausible that things can change drastically. Even though consumer spending is still in a good position, a shrinking personal savings rate – currently at 4.7 percent as of January 2023 – and rising credit card and loan delinquency rates could lead to a negative shift in overall consumer spending for the rest of the year.
Consumers are struggling to repay their auto loans owing to significant spending since the pandemic began. Auto loan performance in December 2022 has worsened as a whole, with "loans delinquent by more than 60 days" going up 5.3 percent, a 26.7 percent increase from a year ago. Various news outlets have already pointed out that many Americans are opting to default on their repayments. Meanwhile, credit card debt had also hit an all-time high at $986 billion, contrasting this to when pre-pandemic credit card debt was $927 billion.
Dealers must draw on the lessons learned during the pandemic if they intend to make it through the year. This could include further adjustments to labor strength, marketing plans, and greater expansion of online sales platforms. Inventory will steadily improve, but supply chain issues still persist and can take a while to address. That's also excluding the effects that inflation, faltering consumer confidence, and hiking interest rates will have on the auto industry as a whole.
These are definitely confusing times when the market presents such wildly conflicting projections. As interest rates and overall prices continue to rise and Americans face difficulties in managing their expenses, it becomes increasingly important to start saving up for the rainy days that have yet to come in the year ahead.