Last Updated on September 27, 2023 by Calvyn Ee
If you're in the market for an SUV that's not just big but powerful, look no further than the best V8 SUVs we've got here. These SUVs offer remarkable practicality and versatility while providing exhilarating performance through their beastly V8 engine. Whether you're looking for towing capacity, speed, or a balance between power and luxury, there's a V8 SUV on this list that's sure to leave you impressed.
How We Rate Cars
Reliability
We make a point to get feedback from current and previous drivers and ratings from reliable sources like Consumer Reports and CarMD for each car we feature.
Appearance
Both new and used SUVs can look great both on the inside and outside, making them look unique compared to their competition.
Performance
V8 SUVs are mighty machines that offer a decently performing drive, even for larger SUVs. Good performance is also helped by solid handling traits as well.
Features
You'll find plenty of value and utility in what a car has to offer, from various creature comforts to important safety suites and more.
Drive Off with Our List of the Best V8 SUVs
2019 Jeep Grand Cherokee Limited (360hp)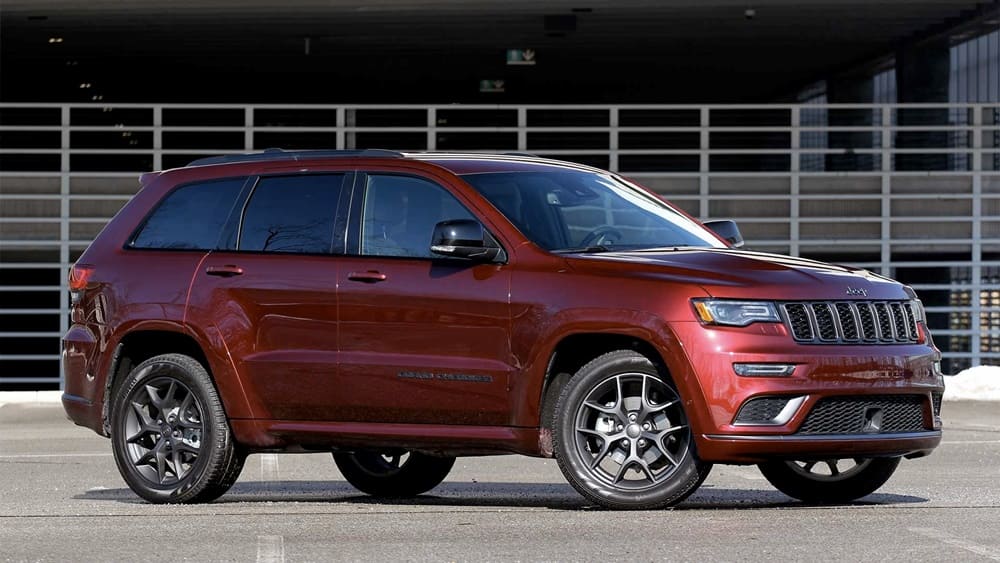 What We Liked
Powerful engine
Looks great
Various useful add-ons
The fiery V8 in the 4WD Grand Cherokee Limited (and upper trims) has 360 hp and 390 lb-ft of torque on tap, giving you a lot of power at the cost of fuel efficiency (to no one's surprise). The brawny engine also improves its towing capacity to 7,200 lbs from 6,200 lbs for V6-equipped models, allowing for big hauls on long trips. It's a fairly competent road runner outside the bumpy ride quality unless you go for the optional air suspension that greatly improves its roadside manners for comfort. There are also options to make it more capable for off-roading, and we'd recommend that for adventurous drivers. On the inside, some passengers might feel a little squished with the somewhat limited interior space. Cargo room also trails behind the competition at 24.6 cubic feet, going up to 54.9 cubic feet with the rear seats folded. Limited and higher trims get safety techs in the form of a rearview camera, blind-spot monitors, and rear cross-path detection; opt for models with the Technology Group package that adds automatic emergency braking, lane-departure warning, and adaptive cruise control, among other things.
Review
Reliability
Appearance
Performance
Features
2022 Chevrolet Tahoe RST (355hp)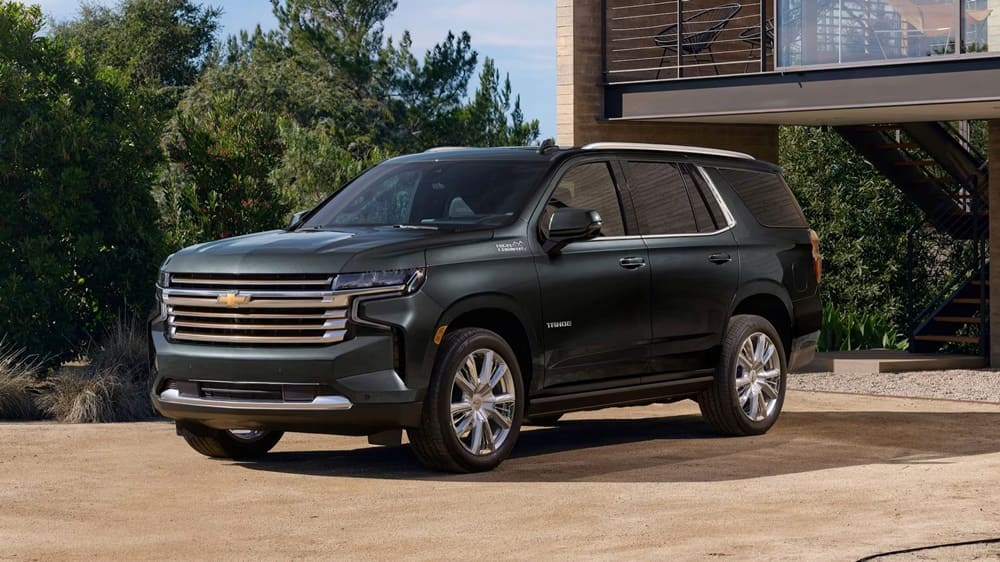 What We Liked
Quiet, spacious cabin
Balanced performance
Immense towing power
Like Chevy's massive Suburban SUV, but can't fit its gigantic frame in your garage? The Tahoe might just fit the bill with its shorter stature while still offering plenty of room. The 5.3-liter V8 offers 355hp and 383 lb-ft of torque, offering great power and towing strength that's just as excellent as the top-rated 6.2-liter V8 option that packs 420hp and 460 lb-ft of torque. Meanwhile, the independent suspension adds plenty of bonus points with its sublime ride quality and minimal body roll. You'd hardly feel as though you were driving a full-size SUV; the quiet ride is also a surprising addition, despite the V8's notorious growl at full strength. The cabin is easily the Tahoe's selling point, however, thanks to the immense amount of headroom and legroom as well as supportive seats. Cargo space in the rear is nearly cavernous, too, going up to 122.9 cubic feet when the second and third rows are folded. Safety techs are also aplenty with standard active lane control, blind-spot monitors, and emergency automatic braking, with additional options for a rear camera mirror and a surround-view camera system.
Review
Reliability
Appearance
Performance
Features
2021 Cadillac Escalade Premium Luxury (420hp)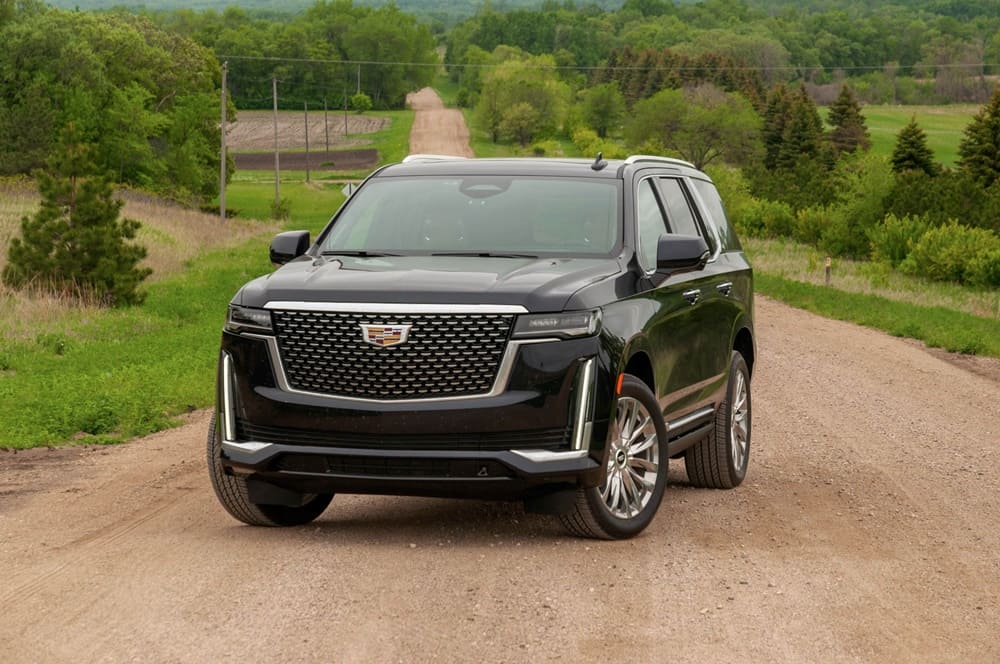 What We Liked
Confident handling
Large interior
Plenty of tech
What We Disliked
More expensive than the Tahoe
If you're willing to splurge a little more, the Cadillac Escalade is a strong contender to its sibling, the Chevy Tahoe, by offering a touch of luxury. The Escalade is powered by a 420hp 6.2-liter V8 engine mated to a 10-speed automatic transmission, both of which pair well to provide smooth handling and composed performance. The Escalade can also tow up to 8,200 lbs, just 200 shy of the Tahoe but still impressive nonetheless. It also features an independent rear suspension that greatly helps with ride comfort from start to finish. Step inside, and the cabin can fit seven passengers (eight with the second-row bench seats) nice and snug; the third row is still only for kids. Cabin space is 25.5 cubic feet minimum and grows to 109.1 cubic feet once you fold down the second and third rows; a little less than the Tahoe, sure, but it's still large enough for most types of cargo. Tech offerings are also strong with the inclusion of a fancy digital instrument cluster as well as a number of standard driver-assist tools like automatic emergency braking with pedestrian detection, front and rear parking sensors, active lane control, and even a surround-view camera system. Adaptive cruise control and some others are only found on the higher trims.
Review
Reliability
Appearance
Performance
Features
2022 GMC Yukon SLT (355hp)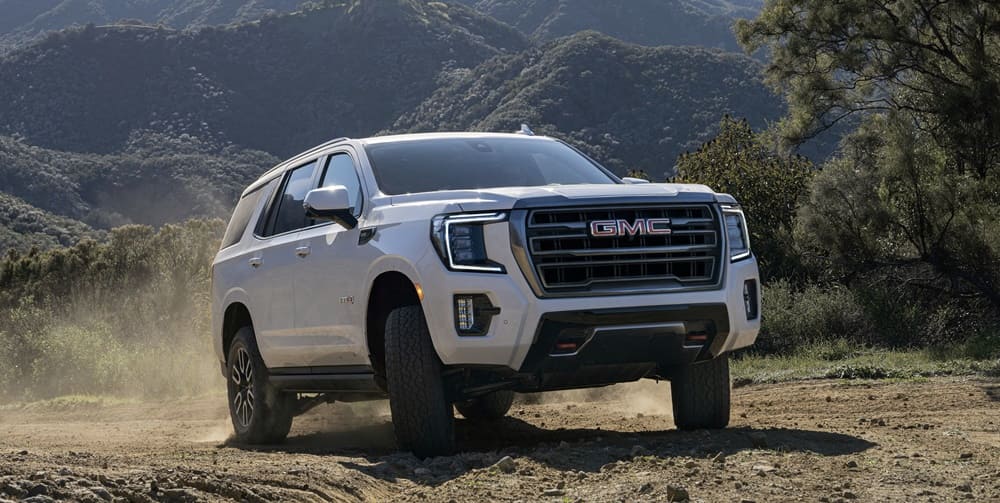 What We Liked
Stable handling
Lots of cargo room
Great ride quality
What We Disliked
Poor standard safety suite
The GMC Yukon has two V8 engines for consideration: a 5.3-liter V8 with 355hp and 383 lb-ft of torque and a 420hp 6.2-liter V8 found on the higher-priced Denali and AT4 trims. Both also pair with a smooth-shifting 10-speed automatic. It's still capable of strong performance and stable rides while towing up to 8,400 lbs of stuff. It also handles very well for a full-size SUV, and with the optional air springs and adaptive damping added, the ride quality is sublime. It's also a good choice that has plenty of creature comforts to go with it: leather upholstery, heated and ventilated front seats, and even a power rear liftgate. There's also plenty of room inside, but getting in a Yukon can be tricky, given how tall it is. The third row is a lot more useful as well, with as much as 35 inches of legroom available. Meanwhile, cargo space goes up to 144.7 cubic feet with both back rows folded, making it even more roomy for longer vacations. Safety could be much better as only automated emergency braking with forward-collision warning is standard; others, like adaptive cruise control, are only available as add-ons.
Review
Reliability
Appearance
Performance
Features
2020 Mercedes-Benz GLS 580 (483hp)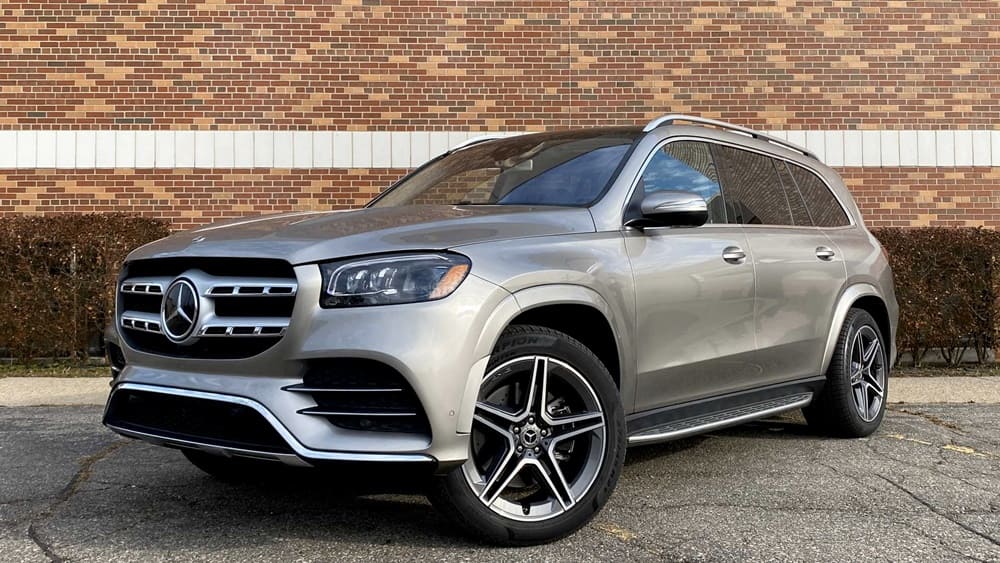 What We Liked
Premium SUV
Compelling powertrain
Lots of technology
What We Disliked
Very expensive, even for used models
The luxuriant Mercedes-Benz GLS 580 might be worth your while for something that's both posh and performant. It boasts a 4.0-liter turbocharged V-8 that makes 483hp and 516 lb-ft of torque, the highest amount of horsepower among the SUVs listed here. This allows the GLS 580 to surge to 60 from rest in under five-and-a-half seconds, but the 9-speed automatic transmission it pairs with does downshift quite eagerly. The standard air suspension also offers a stable, confident ride, and you won't need to splurge on the fancy E-Active Body Control suspension system. As for the cabin, you can expect top-notch comfort from a luxury SUV like this, with the supportive and well-padded seats, good amounts of passenger space – even in the third row – and lots of premium finishes. The only downside is the small cargo room at 17.4 cubic feet with both rows up, going up to 85 cubic feet with both rows folded down. It's also packed with a lot of technological goodies, ranging from the responsive and robust MBUX infotainment system to a great built-in navigation system. Safety techs are also solid, with standard automatic emergency braking with pedestrian and cross-traffic detection; models with the Driver Assistance package also come with adaptive cruise control, active lane control, and lane departure warning.
Review
Reliability
Appearance
Performance
Features
Buying the Right V8 SUV
Prices are still on the high side for many recent year model trims, even for used SUVs, so it wouldn't hurt to consider past model years that are not only affordable but still give you plenty of value from your purchase. Make sure you review all your options first, including the kind of financing you'll need to go through to purchase a V8 SUV you like. On top of that, you'll also want to make sure you're not falling into a potential scam deal, which will only add to your woes.
It's always a good idea to obtain a vehicle history report for any used vehicle you're considering. You'll be able to get up-to-date odometer readings, as well as accident records, salvage titles, and even vehicle specifications. With the report, you can look out for possible red flags in a deal – say, mismatched odometer readings – and lodge a report to the authorities. Buying a used car shouldn't have to feel draining on you and your family, so get a vehicle history report today for that extra peace of mind!