Last Updated on July 24, 2023 by Calvyn Ee
If you've got a fast car, you'd want to take it for a cruise and entertain yourself behind the wheel: take an exhilarating stroll through an empty race track and put it through its paces. Maybe you'd imagine yourself in a brawny Ford Mustang, an agile Porsche 911 Carrera, or even a fancy Alfa Romeo Giulia Quadrifoglio. And then there are the cars that take performance to the highest degree, pushing modern technology to the limits and allowing a car to hit near breakneck speeds in a flash.
The thrill of powerful engines mounted in exquisitely designed, or muscular looking, frames present drivers with a rare opportunity to go the distance in more ways than one – though, of course, don't be surprised that the price tag hits well above your pay grade. Take some time to admire seven of the highest horsepower cars that (a lot of) money can buy.
Our Basis for Selections
Performance
With the kind of horsepower each of these vehicles packs, you can be sure to experience some breathtaking and high-octane rides from start to finish. Don't forget to belt up!
Aesthetics
Whatever the class of vehicle, aesthetics are always an important consideration. Bold stylings, sleek curves, or a mix of both – different styles appeal to different people.
Interior
Cabin comfort and interior design are equally important hallmarks of a good car. We also account for other elements, such as road noise that might seep into the cabin.
Technology
Apart from the standard driver-assist suite, infotainment system, and other features, we also put some consideration into the overall tech to make these powerful cars.
Leafing Through the Highest Horsepower Cars Available in 2023
2023 Chevrolet Camaro ZL1 (650hp)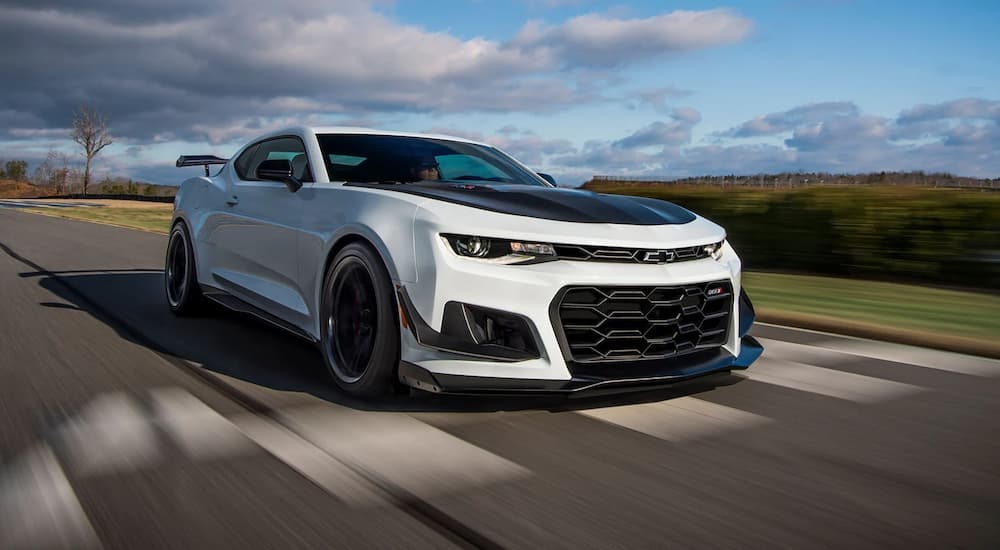 What We Liked
Strong engine
Cushy front seats
Impeccable handling
The ZL1 variant of the stylish Camaro mounts a supercharged 6.2L V-8 engine in its hood, pumping out a ferocious 650hp and 650 lb-ft of torque. While you'd be impressed that its horsepower matches its torque rating, what's even more awe-inspiring is the feeling of bliss when you take the Camaro out for a spin – and boy, does it have a lot to offer. Stick-shifters would be more than happy to pick the standard six-speed manual over the ten-speed automatic, even if the auto does afford slightly better acceleration. Regardless of your transmission of choice, the Camaro sings when it blazes a path, be it on the race track or even along city roads. With a lot of detail going into the engineering of its chassis and suspension (among other aspects), the Camaro offers a solid, well-tuned ride, its engine making a sublime thrumming as it revs up to high speed. However, you may sometimes find the ride quality a wee bit harsh; thankfully, the adaptive suspension can minimize this. You'd also be interested in opting for the 1LE Extreme Track Performance package for a manually adjustable front suspension and exclusive spool-valve dampers for even stronger performance and handling.
Review
Performance
Aesthetics
Interior
Technology
2023 Ford F-150 Raptor R (700hp)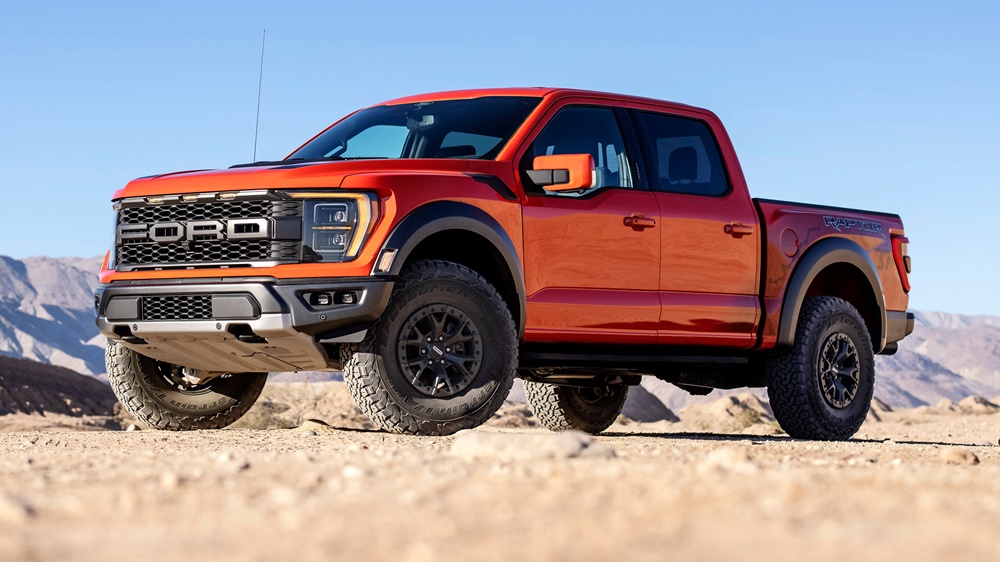 What We Liked
Big on power
Big on room, too
Strong off-roading
While it might be considered the 2023 model, the Ford F-150 Raptor R is now available for purchase. With 700 horses and 640 lb-ft of torque from its 5.2L V-8 Predator engine, most people might scoff at the 250hp increase from the regular F-150's twin-turbo 450-hp V-6. Still, for the F-150 fans, all that extra power translates to a powerful performance on nearly any type of terrain. The suspension features larger internal-bypass dampers and a five-link rear coil-spring setup, granting it high scores on surefooted ride quality and traction. The Raptor R also comes standard with 37-inch BFGoodrich All-Terrain T/A K02 tires on top of up to 13.1 inches of ground clearance, which only goes to show its purpose as a potent off-road monster. Even so, it still provides well-behaved road mannerisms, making it just as ideal as a regular F-150 for your working needs. You can even adjust the settings of the exhaust system, accentuating the engine's burly, throttling scream as you venture out in the wilds, or even take it through city streets at night almost silently, thanks to Quiet Mode. Various optional packages also add a lot more utility to the vehicle, making it not just a raucous beast that can take on what nature throws its way but also a reliable, stable platform for all your working (and leisurely) needs.
Review
Performance
Aesthetics
Interior
Technology
2023 Ford Mustang Shelby GT500 (760hp)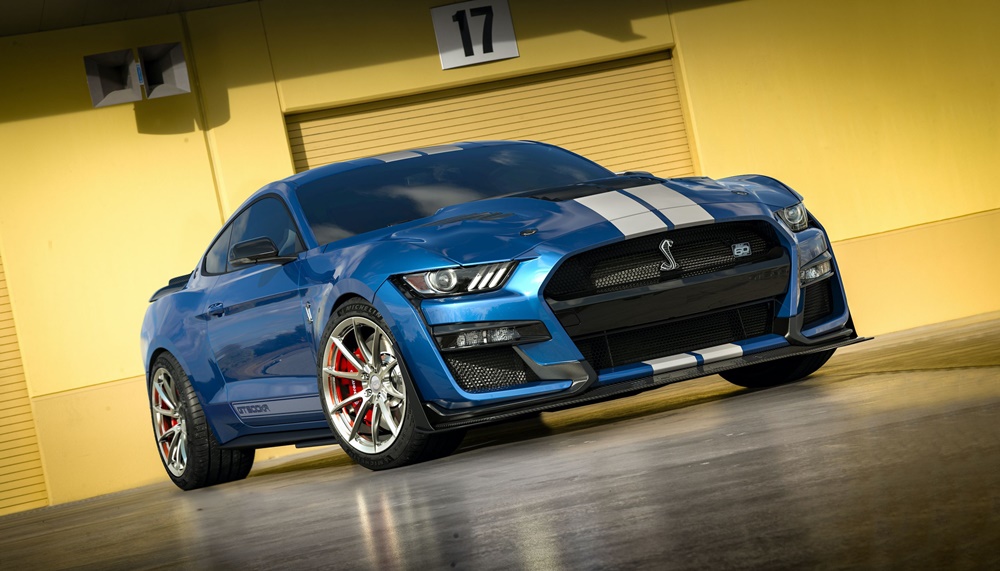 What We Liked
The most powerful Mustang yet
Exciting handling traits
Optional Recaro front seats
Mustang aficionados are undoubtedly slobbering over this fantastic, well-loved American muscle car. The 2023 model year boasts a supercharged 5.2L V-8 Predator – yes, the same one you'll find in the aforementioned F-150 Raptor R – that puts out 760hp and 625 lb-ft of torque; it easily goes from 0 to 60mph in only 3.5 seconds. Everything about this Mustang is specifically tailored to power and strength, so much so that it can outperform even the most exquisite, six-figure supercars you can find today. Even in its base setup, it delivers strong performance stats from start to finish, aided by the loud engine, a very responsive seven-speed dual-clutch automatic transmission (no manuals for this one, sadly), and very promising handling. Clearly, its two-ton curb weight is no hindrance with an engine this impressive. The MagneRide active suspension also helps make your drives much more comfortable; Sport or Track modes are also present if you're looking for that extra zest as you're racing down the track or having a leisurely drive in the city outskirts. You can consider adding some of the many packages Ford offers to make your rides way cooler but be warned: they'll cost you an arm and a leg. The tempting Carbon Fiber Track Pack, which adds 20-inch carbon-fiber wheels and various performance tweaks, costs $18,500!
Review
Performance
Aesthetics
Interior
Technology
2023 Dodge Challenger SRT Super Stock (807hp)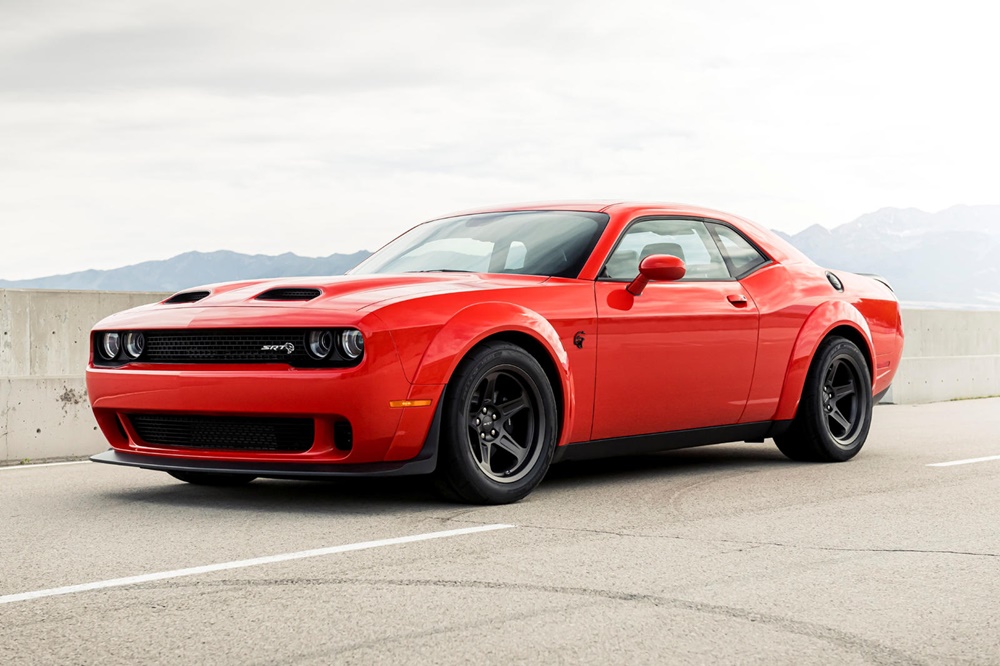 What We Liked
Growling, punchy engine
Spacious cabin
Great standard tech
Dodge always had an obsession with hitting high horsepower ratings: look at the 2018 limited edition Demon model, for example. 808hp was considered ludicrously high for a sports car – but let's not forget the Veyron had been hitting the 900s. Still, Dodge has not lost its desire to take things further, and the Super Stock trim of the Dodge Challenger SRT is just that. With 807hp, just one less than its Demon predecessor, and 707 lb-ft of torque from its 6.2L HEMI V-8, this Challenger sings boldly as it goes from 0 to 60 within four seconds. Sure, it's just a little slower than the Shelby, but the kind of power the Challenger quickly delivers is still astounding, and in a drag race, it'd give a Shelby a run for its money. It's a loud, muscular car that takes guff from no one, even when its hefty weight leads to some unwieldy handling characteristics. Do also note that the widebody Challenger is big for a car of this class, so there's plenty of comfortable room for passengers in the rear. If you can overlook the somewhat vague but still precise steering and somewhat stiff ride quality, the Challenger's Super Stock trim might just be what you need in a monstrous but undaunted muscle car like this.
Review
Performance
Aesthetics
Interior
Technology
2023 Hummer EV SUT (1,000hp)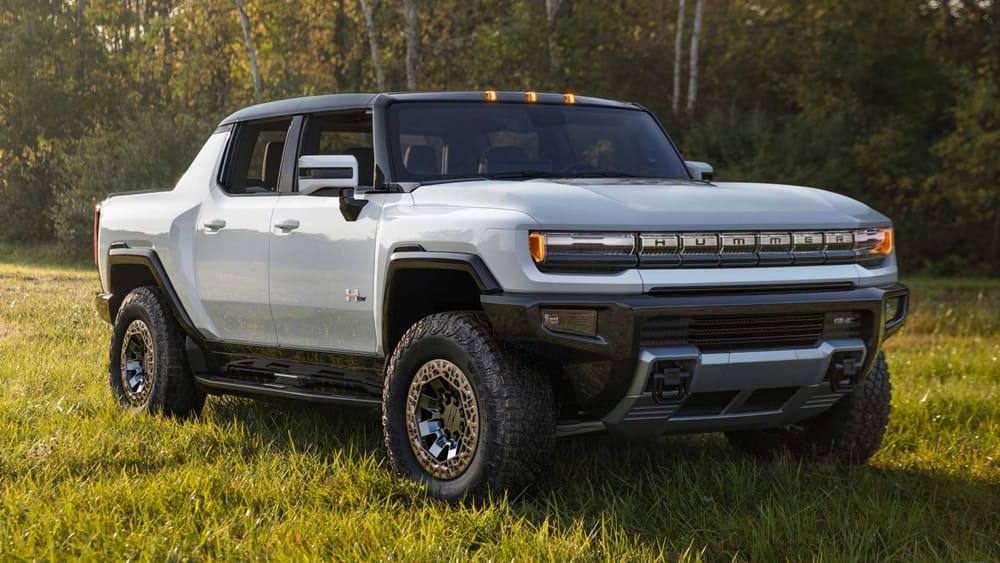 What We Liked
Superb fuel efficiency
Huge cabin
Off-roading king
A revival of the retired Hummer line, GMC's massive SUT (as it's a pickup truck; an SUV version will be coming) serves as the company's flagship electric supertruck – GM's words, not ours. Under its hood lies a large 205kWh battery pack that rests between two main frame rails, paired with three electric motors (one in front, two in the rear) to make 1,000hp and 1,200 lb-ft of torque. Where performance is concerned, the Hummer delivers a fantastic suite of options for tackling any off-road path you'd want to take. There's a whole host of features to help it deal with nearly any situation you find yourself in, helped by a host of modes such as Terrain mode that adds extra ground clearance (from 10.1 inches up to 11.9 inches). Front e-lockers and virtual rear lockers make for a very stable traction system, rear-wheel steering, and a formidable torque vectoring e4WD system. Then there's the amusingly named Watts to Freedom mode that enables the Hummer to accelerate to 60 mph in around three seconds, putting it on par with the equally tech-oriented Rivian R1T. On-road performance, unfortunately, is one area where it lacks. Still, if you're thinking of owning one of these Hummers, it's for the undeniably exciting off-road performance it effortlessly delivers. It also doesn't hurt that it's an electric vehicle; hurray for more savings down the road (no pun intended)!
Review
Performance
Aesthetics
Interior
Technology
2023 Lucid Air Grand Touring Performance (1,050hp)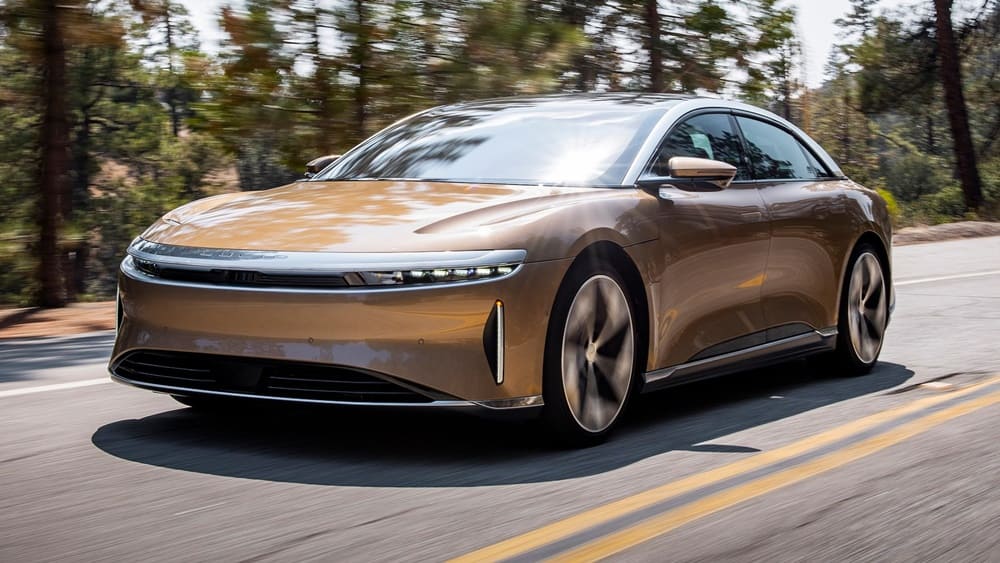 What We Liked
Elegant design
Very good range
High-tech engineering
The Lucid Air's design is like it came straight out of a science fiction movie, and for a relatively new company, its success was very much a surprise to many people. Still, the 2021 edition's popularity has now led us to the 2023 model. For the Grand Touring Performance edition, you have a hefty battery pack paired with dual electric motors that somehow produce 1,050hp and 921 lb-ft of torque, pushing the Air to 60 from rest at a resounding 2.6 seconds or so. Even when it's sprinting so amazingly fast, it retains a smooth, supple ride quality that's hard to find fault with – except for some road noise that filters through into the cabin. With more than 500 miles of range and solid handling even on rough roads, the Air is a shockingly competent electric vehicle that easily outpaces nearly every other EV on the market: even the gigantic Hummer EV SUT has a range of only 329 miles or so! The overall engineering of the Lucid Air is sublime, thanks to their highly proficient engineers; no expense was spared in making this a powerful yet quiet contender in the automotive industry.
Review
Performance
Aesthetics
Interior
Technology
2023 Koenigsegg Regera (~1,500hp)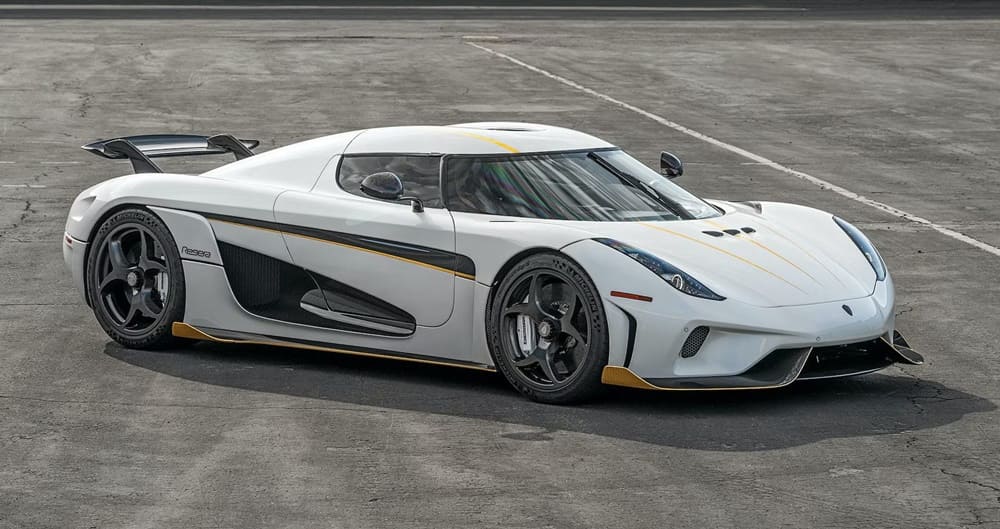 What We Liked
Incredible performance
Elegant design
Amazing hybrid powertrain
If you were to ask people in the sixties or seventies if they ever thought of driving a sports car with over a thousand horses saddled under the hood, they'd probably give you weird looks or laugh it off as an odd joke. If the Lucid Air's highest trim isn't already astounding with the 1,111hp it packs (for an EV, too!), then the Koenigsegg Regera will leave you baffled. For one, its powertrain is a 5.0L twin-turbo V-8 supported by a powerful battery pack that weighs about 165 lbs and three electric motors: altogether, it's able to put out at least 1,500hp and 1,475 lb-ft of torque. Yes, you might want to read that again. The top speed is said to be over 250mph, while acceleration takes it up to 60 in between two to three seconds. In fact, it's estimated that it could hit 250 in just 20 seconds, and the company is confident it can definitely achieve that. Beyond that is a lot of surprises from a small but dedicated company that seeks to build the fastest car in the world (and challenge Bugatti's reputation as well), such as heavy but responsive steering, as well the Direct Drive transmission the company boasts as providing the "smoothest driving experiences imaginable." Koenigsegg prides itself in building nearly all its tech on its own, so it's no surprise that people revere their work to push the limits of future sports cars.
Review
Performance
Aesthetics
Interior
Technology
Gotta Go Fast?
Easy on the pedal there, tiger; wanting to own a sports car is a dream most of us have had since childhood – that desire to be excited as you're blazing down a track at high speed, putting the pedal to the metal… Still, you'd want to be conservative if you plan on owning a sports car of your own. Let's not even bring up those tailored for the ultra-rich: the Lucid Air Dream Edition Performance already hits six figures, and even if you did have the money, they've all (unsurprisingly) sold out. Still, if you really need to cure that itch, you could always consider the used sports car option. Don't expect to find one that goes above 800 horses and still be affordable, but it's better to have options, no?
And speaking of options, any deal that looks really enticing might just be too good to be true. It always pays to be aware of the possibility of a scam, so be sure to get yourself the vehicle's history report before you think about buying it. All the information you need to know will be there: odometer readings, accident records, flood damage, and more. You might find out that the Ford Mustang you've been keen on has had its odometer records tampered with, or it might have unresolved underlying issues that could cost you big time down the road. It never hurts to take extra precautions and save you the trouble of hefty maintenance bills for years.