Last Updated on January 29, 2023 by Calvyn Ee
According to the US Bureau of Transportation Statistics, 2019 recorded a whopping total of 48,320,784 pickup trucks in the country. Imagine that! Having left an indelible mark on American roads since the 1920s, the utility of the pickup truck has gone relatively unmatched. With various automakers introducing a slew of pickup trucks to meet different consumer needs, even introducing hybrid powertrains to keep them relevant in the ever-changing automotive landscape, one would be spoiled for choice.
If you're looking for a reliable truck that meets your needs, you'll get many different opinions on which truck you should purchase. Feel a little overwhelmed with all the conflicting information you've collected? Don't sweat it; we've got a handy list of the five most reliable trucks money can buy – including one whose price tag might shock you! Let's get started!
What Makes a Reliable Pickup Truck, Anyway?
Reliability
One word says a lot. We're looking at pickup trucks that people find dependable in more ways than one: good warranty coverage, long-lasting performance, few maintenance schedules, and the list goes on. We also looked at sites such as JD Power and consumer reviews to see what trucks people are talking about often.
Performance
A reliable truck can get you places at any pace. Some trucks go fast, while some take it easy. Some were born to be wild, while others have a more balanced approach.
Appearance
Pickup trucks continue to boast that muscled, rugged look, though you might find some interesting design choices along the way. There's something for everyone!
Features
Reliable trucks also come packed with valuable features no driver should go without. From intuitive controls to top-notch driver assistance systems, automakers will find ways to rope you into buying their newest model.
Without Further Ado: The Most Reliable Trucks Just for You
2023 Toyota Tundra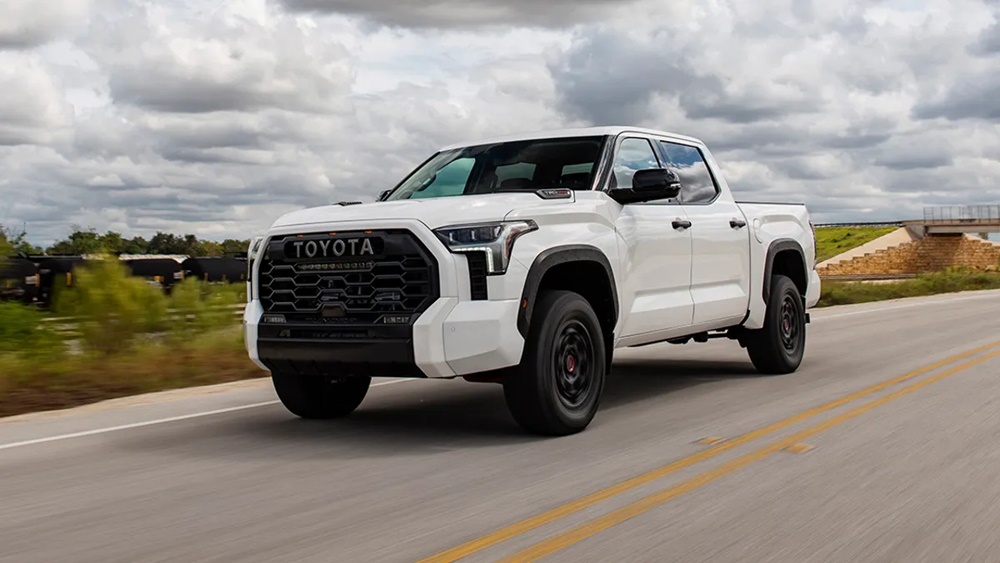 What We Liked
Smooth powertrain choices
Lots of good tech features
A comfy, spacious cabin
The Tundra might be an enticing pick over the venerable Tacoma if you're a long-time Toyota fan. With a choice of a 3.5L twin-turbo V-6 engine packing 389 hp and 479 lb-ft, or a hybrid option offering 437 hp and 583 lb-ft at 2,400 rpm, you'll get respectably fast acceleration (for a truck) and potent towing and load capacities. Not exactly class-leading, but it still gets the job done. The Tundra is an excellent daily driver on the road and off-road, aided by an all-new platform shared with the Lexus LX, rear coil spring suspension, and available options to improve its stability on the road significantly. While it can handle itself nicely on dirt roads and most off-road terrain, you'd need to cough up more money for the TRD Pro trim if you want to rough it out. The TRD Off-Road package can help somewhat, but don't expect to take it on a natural obstacle course.
What's more critical beyond the performance power of the Tundra is everything else it packs inside. On top of a spacious cabin that easily seats five with the crew cab, everyone can enjoy a smooth, bump-free ride from start to finish. As for cargo, you have the option for a 5.5-foot short bed, a 6.5-foot standard bed, and the 8.1-foot long bed limited to the extended cab; the first two are available for the crew cab. Payload capacity goes between 1,745 to 2,290 lbs, depending on your options, which again isn't class-leading but will be sufficient for most work requirements. What is class-leading is Toyota's safety tech features, such as automatic emergency braking, adaptive cruise control, and automatic high beams; optional extras include a surround-view camera system, recommended for navigating through tight spots. The extra sweet spot comes in the complimentary maintenance covered for two years, or 25,000 miles, on top of the standard limited and powertrain warranties. These boons help make the Tundra a desirable truck for the interior comforts and a comfy ride for everyone inside.
Review
Reliability
Performance
Appearance
Features
2023 Ford F-150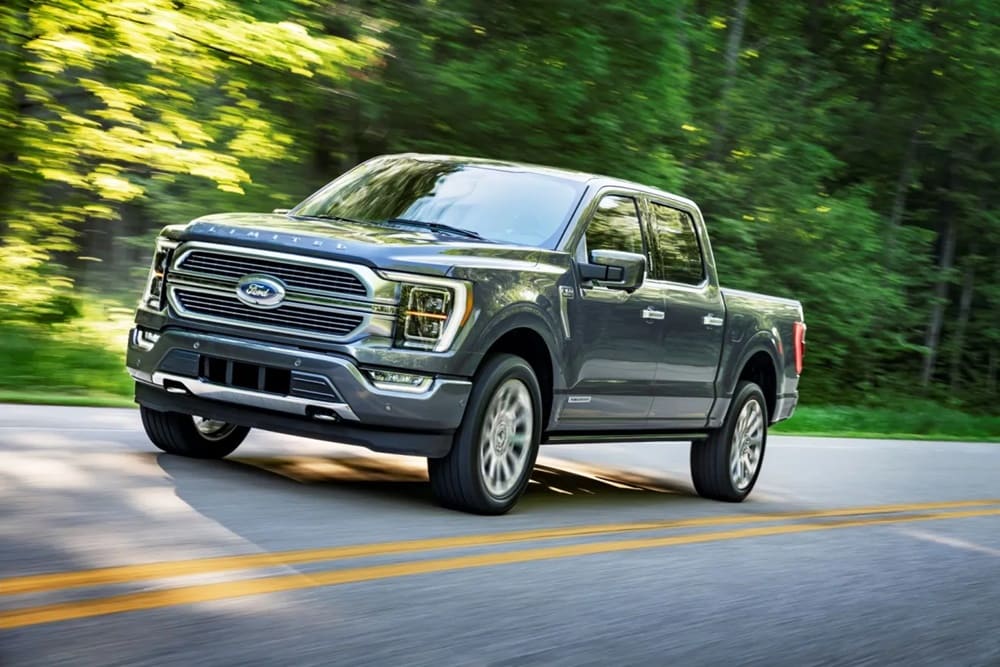 What We Liked
Lots of options to choose from
Useful truck-friendly features
Pretty powerful
Ford's track record has always kept them at the forefront, and the F-150 is another stellar release. Its main draw is the plentiful options you have available to consider. For one, you've got so many powertrains: the standard 290hp 3.3L V-6 is a capable workhorse for frugal buyers, while the 400hp 5.0L V-8 is for those who want considerable power and big towing ratings. The 400hp 3.5L twin-turbo V-6 goes even further with towing, taking 500 lb-ft of torque to deliver up to 14,000 lbs of towing capability. Want a Hybrid instead? Opt for the 3.5L twin-turbo V-6 with a 47hp electric motor and a 1.5-kWh lithium-ion battery for additional fuel savings. The sheer versatility gives drivers a bang for their buck whichever way they go. The nimble feeling of the steering, coupled with solid braking and smooth shifts from the standard 10-speed automatic, makes for pleasant rides on nearly any road condition (though your mileage may vary). As far as we're concerned, all these goodies earn solid points in our book.
If you're planning to have guests on board, the crew cab offers plentiful space for everyone to relax in; it helps that the interior is striking, especially in the upper trims. Front seats are generously comfortable and supportive, while rear seat options include lie-flat reclining seats for when your passengers want to nap – and nap they shall since the F-150's ride quality is smooth and quiet. Payload capacity goes between 1840 to 3250 lbs depending on your configuration, keeping it apace with competitors like Chevrolet, Ram, and GMC. Tech features also help to keep the F-150 a fantastic option: excellent and easy-to-use infotainment is one thing, while extra creature comforts like heated rear seats are another. If you go for the hybrid powertrain, one nifty addition is the Pro Power onboard generator. With it, you can use the F-150 as a mobile generator with variable power levels (based on your configuration) and outlets in the bed for any use. Couple that with standard safety tech and decent limited and powertrain warranties (no complimentary maintenance, sadly), and you have a very attractive package brimming with the latest and greatest of features inside and out.
Review
Reliability
Performance
Appearance
Features
2022 Rivian R1T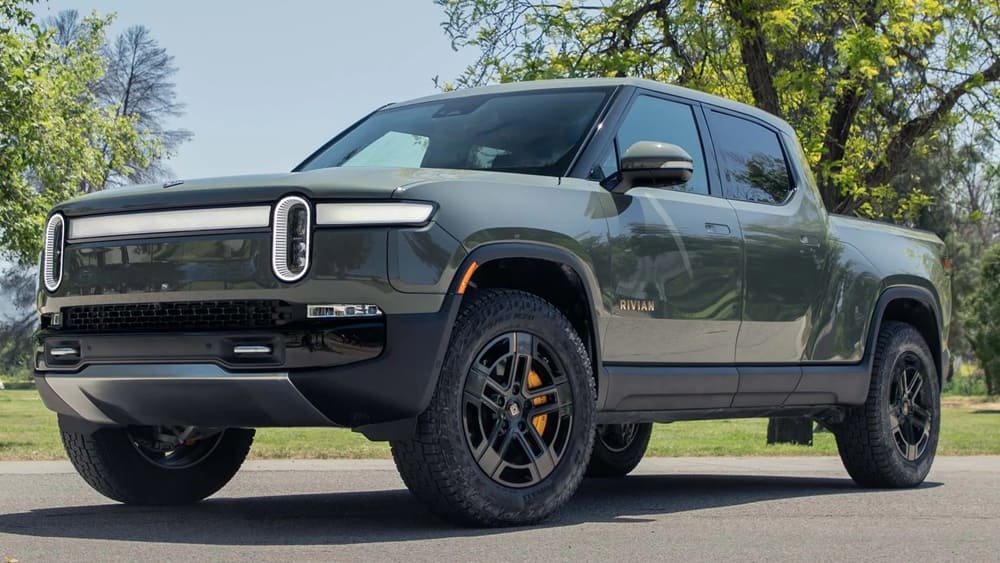 What We Liked
Impressive drive experience
Outstanding handling
Unique stylings
The Rivian R1 T's looks might perplex you, and the price tag might leave you stunned, but hear us out: look past its curious design, and you'll find a sporty SUV doppelganger posing as a truck. The exterior design mixes both futuristic and contemporary charm, while under the hood, a massive 135-kWh battery pack powers four independent motors for each of its wheels. The quad-motor drive system gives the R1T off-roading capability, combined with the motors going over 800 hp and 900 lb-ft. Despite its midsize stature and hefty weight of 7,150 lbs, five drive settings with five different suspension heights gives it unprecedented versatility. Whether changing the ground clearance for various terrain conditions, or adjusting adaptive damping, regenerative braking, and traction control, the Rivian R1 T's plethora of exciting features quickly knocks most of the competition out of the park. There are plenty of good things to say about it!
Inside, the air suspension helps keep the ride relatively smooth, while the electric powertrain keeps the journey quiet, with minimal noise. The seats do a fine job keeping occupants comfortable, but it's nothing groundbreaking. At the very least, it's more comfortable than most midsize trucks. Much of the available internal tech was made by Rivian, so it will take a bit of a learning curve to adapt; some wonky controls, buggy driving aids, and confusing design/layout choices can complicate things, too. As for storage, the 11-cubic-feet front trunk and 11.7-cubic-feet gear tunnel (located between the cab and the bed) provide ample space for all your storage needs. This doesn't even include cleverly positioned interior storage spaces. You can also have the R1T towing up to 11,000 lbs if needed, but do expect it to drain your battery pack faster than usual. If you can afford it (and the many extra goodies you can add to it), the Rivian R1T is a high-tech truck with excellent warranty coverage and a host of unique features that help it stand tall among its rivals.
Review
Reliability
Performance
Appearance
Features
2023 Ram 1500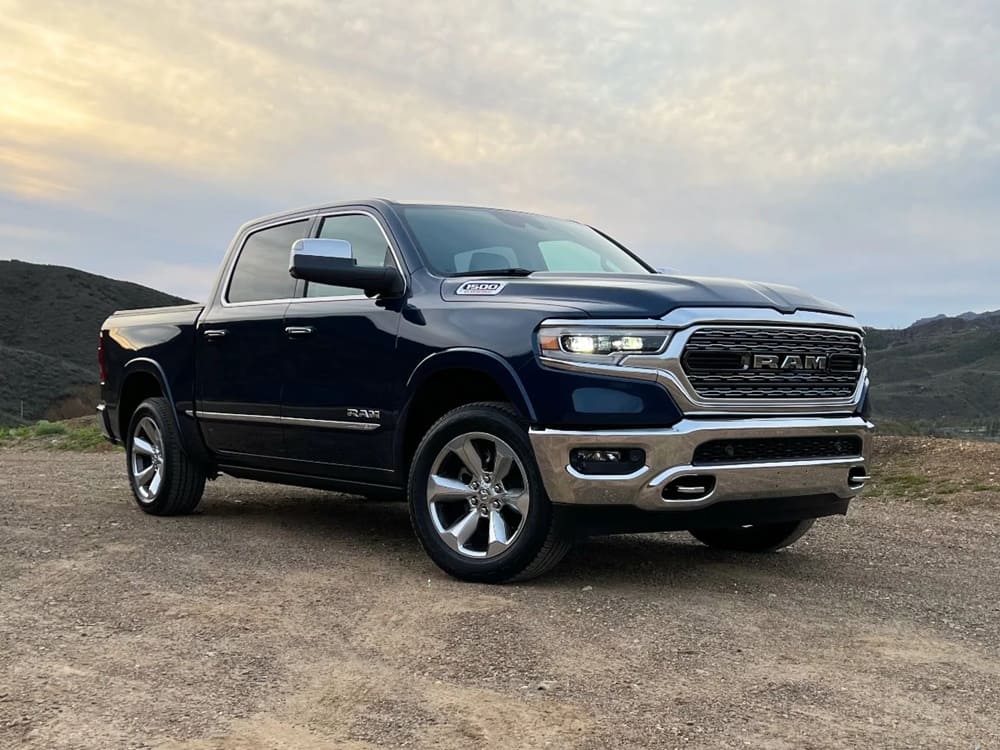 What We Liked
Great interior
Refined ride
Very capable on- and off-road
What We Disliked
Optional driver assistance tech
Many folks view the Ram 1500 as a reliable yet fancy workhorse. It's also pretty powerful with the choice of either a 305hp 3.6L V-6 that's standard on all trims or the monstrous 395hp 5.7L V-8 engine. The former is suitable for daily driving and has some light towing duty (max towing goes up to 7,710 lbs). At the same time, the latter – unsurprisingly the more popular choice – turns the Ram 1500 into a beast when on the move while pushing towing capacity to a whopping 12,750 lbs. There's also a 3.0L V-6 turbodiesel available, and while it does boost fuel efficiency, the price tag to get the engine might turn off many buyers. Whichever engine you pick, you'll be sure to enjoy a slightly firm but composed ride experience with little to no external noise coming in and solid handling and braking. The coil-spring rear suspension (or the optional air suspension) helps to enhance your ride experience in a Ram.
Now we're getting to more goodness: the previous year's model boasted some good looks and a very comfortable cabin. Even the entry-level Tradesman trim will make you feel like you're riding in style. This is true if you pick the crew cab configuration; the extended cab is great for working trucks but sacrifices rear comfort for extra storage space. You can also choose a 5-foot-7 or a 6-foot-4 bed, although extended cabs only get the latter. The bed has loads to offer: tie-downs, lighting, and sliding rear window, to name a few. Then, the optional RamBox locking bins give you even more room for storing equipment and other items. Driver assist features are lacking, however, save a few trims that only come with select features. Most of these are optional features, but the lack of these techs seems odd. With competitive limited and powertrain warranty coverage, the Ram 1500 makes for a popular (if not expensive) choice for anyone looking for a comfy truck that does its job and beyond.
Review
Reliability
Performance
Appearance
Features
2023 Ford Maverick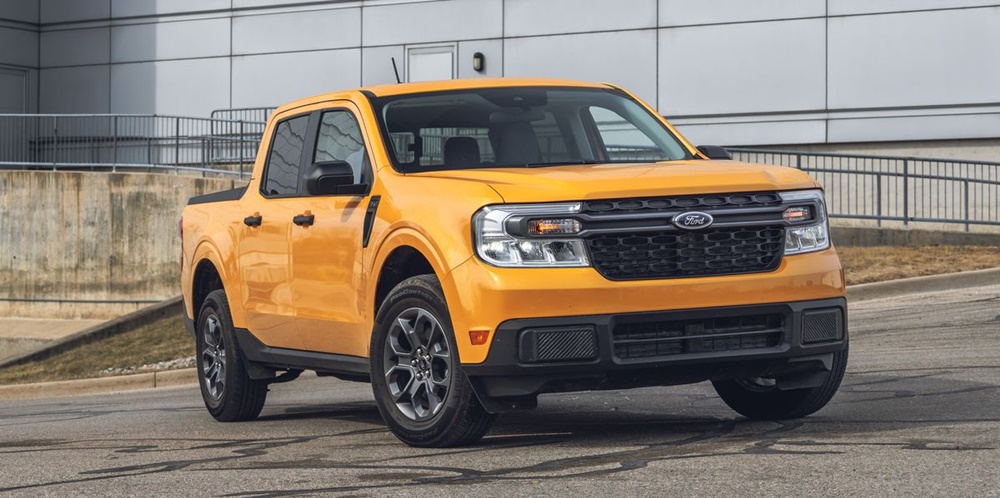 What We Liked
Great off-roading
Standard tech and safety features
Long track record
What We Disliked
Some tech locked to certain trims
Want something affordable but still as potent as larger trucks? Then the Ford Maverick might be what you need. It comes standard with a hybrid powertrain, a 2.5L inline-4 (paired with an electric motor) that produces 191hp and 155 lb-ft of torque and is paired to a CVT. It's not a perky engine and, thus, leads to a low towing rating of 2,000 lbs, but it's ideal for drivers who want a truck's utility for various other uses. You could opt for a perkier 2.0L turbo four-cylinder engine that makes 250hp and 277 lb-ft of torque, paired to an 8-speed automatic. With the tow package, the non-hybrid can haul 4,000 lbs with ease. The Maverick is still well equipped for towing duties, even if it's lighter due to its compact size. Ride quality offers mixed feelings: the suspension helps with its payload capacity of up to 1,500 lbs, but it does lead to a firm ride that doesn't do so well on bumpy, uneven terrain. An FX4 package is available to help with off-roading, while steering and handling are pretty so-so for a compact truck. Five driving modes are also available for all kinds of driving needs.
The cabin is nice and relatively spacious inside to fit five folks with sufficient headroom and legroom. The layout is simple but intuitive, with many surprising spaces for small storage. There are even slots for you to place useful 3D-printed add-ons! In terms of tech, the Maverick comes standard with automatic emergency braking and automatic headlights. At the same time, the optional Co-Pilot 360 package adds blind-spot monitoring, lane-keeping aid, and lane-departure warning. Some other features are locked behind trim-specific optional packages, which is a bummer if you're going for the base model. The lengthy 54.4-inch pickup bed comes with dual-covered bins, up to 10 tie-downs, and various other goodies. Ford also states the bed can support "18 sheets of 4×8-foot three-quarter-inch plywood," but we'll let you judge that. All in all, though, the Maverick makes for a handy compact truck while also coming with standard warranty coverage and hybrid component warranty coverage for eight years, or 100,000 miles.
Review
Reliability
Performance
Appearance
Features
When Buying a Reliable Truck…
You want a truck that does the job and will last you a decently long time. These trucks on our list will meet those criteria due to their excellent engineering and well-thought-out features. Toyota leads the pack thanks to its well-regarded history of guaranteed reliability in all its vehicles, but other automakers are doing a good job keeping up with Toyota's advances.
If you're looking to save some money, you can also opt for the previous year's models, as they share quite a few similarities with the 2022 models (with some differences here and there). Just be sure to take the necessary precautions before you start your used car search; having a vehicle history report is a great way to safeguard yourself from falling into automotive fraud. You don't want to lose thousands of dollars (and your peace of mind) to a scam, do you?