Last Updated on January 30, 2023 by Calvyn Ee
Are you a sports car enthusiast? If you are also a family man, looking for the right car might be tricky. You might need a reliable family daily driver, but you might also want something that goes fast and hard. Why compromise? Some sedans are oriented not only as great cars to drive and ride in but also provide a breathtaking experience in terms of acceleration and handling.
We've helpfully compiled a list of some of the fastest sedans that money can buy this year. Most of them will no doubt be out of reach with their hefty price tags, but if you ever want a choice, you can't go wrong with these fast-moving selections.
Picking the Fastest Sedans for the List
Performance
Not only do these sedans go fast, but some also have well-tuned handling traits that make them very enjoyable to drive.
Appearance
Even sedans can still look and feel as good with various aesthetic choices and subtle design cues.
Features
Sedans come packed with valuable features, including high-tech safety aids and efficient cabin room use.
Reliability
Reliable sedans can go fast for a decently long time. Our reviews consider feedback from current and previous drivers and ratings from reliable sources like JD Power.
Revving Up to the Fastest Sedans of 2023
2023 Tesla Model S Plaid (~1.99 seconds)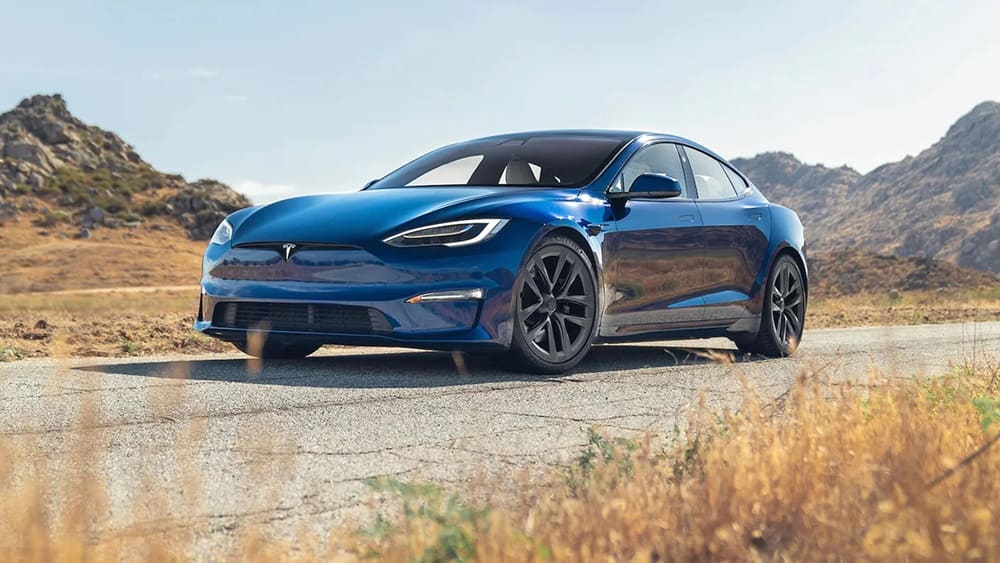 What We Liked
Impressive acceleration
Lots of cargo room
Strong fuel economy
What We Disliked
Overall quality is suspect
A considerably blazing-fast EV, the Tesla Model S Plaid has a triple-motor powertrain that produces a whopping 1,020 hp and 1,050 lb-ft of torque. Official channels claim it can easily hit 60mph from rest in only 1.99 seconds, but you might find that it varies depending on where, when, and how you're accelerating. The Model S Plaid also handles very well on the road, aided by the standard adaptive air suspension and all-wheel drive capabilities, among other things. It makes for an excellent daily driver for all your needs, but some aspects don't work as well as they should. For one, the yoke used for steering the car is inadequate, with its poor feedback and awkward, imprecise control when making certain maneuvers. You might as well replace the yoke with an actual steering wheel at no cost. The braking power is also unimpressive, and you might sometimes feel like the braking ability diminishes after every accelerated run. Build quality is also somewhat suspect in more ways than one, as we've already noted with the hapless braking and terrible yoke calibration and use. So despite its impressive performance, the Model S Plaid's other points of attraction fall a little flat. With the EV market slowly becoming more saturated, you might find better offerings from rival automakers. But for now, the Model S Plaid is a sumptuous buy if you have the money and want an EV that blazes past all other competition.
Review
Reliability
Performance
Appearance
Features
2023 Lucid Air Grand Touring Performance (~2.5 seconds)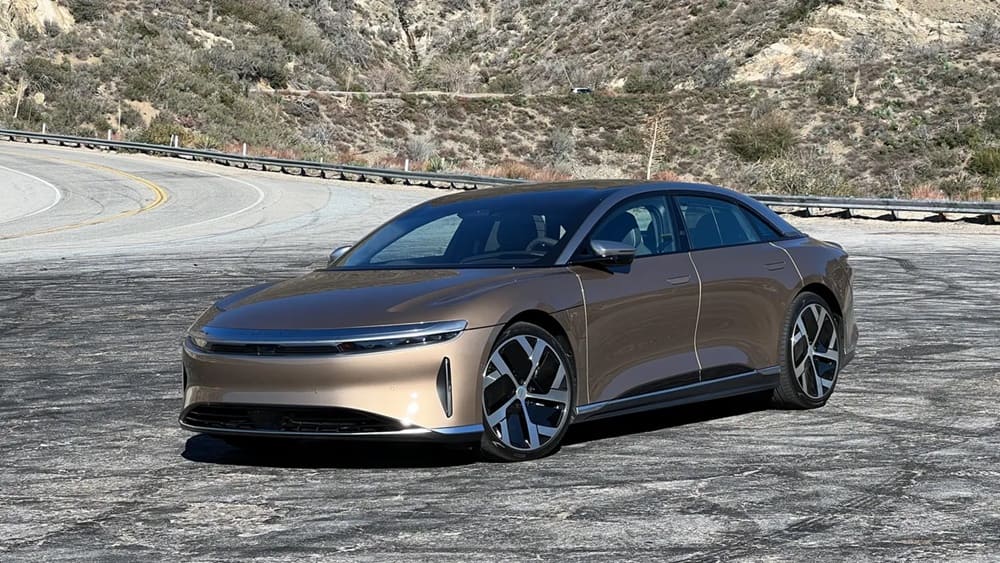 What We Liked
Superb tech
Amazing all-electric range
Futuristic design
Packing a 113-kWh battery pack and dual-motor setup, the Lucid Air Grand Touring Performance model (quite a mouthful of a name) is your pick if you missed out on last year's 2022 Dream Edition Performance model. While it's only 1,050hp compared to the Dream Edition P's 1,111 hp, the Grand Touring P is still fast while retaining a sublime ride quality. It includes a significant level of comfort for everyone on board, helped on by a silent ride (with the occasional sound of the tires or noise seeping into the cabin), a well-tuned coil spring suspension, and handling that makes you feel as though you're literally gliding on air. The approximate 516 miles of all-electric range it has easily outshines all the competition. Even though it can't exactly hit that mark (owing to the bigger draw from the motors, among other things), you're still able to go over 400 miles on a single charge. With a DC fast-charging connection, you can quickly add 300 miles to the range in only 21 minutes. To top it all off, the overall design of the Lucid Air helps give it a bold, futuristic appearance, coupled with the amount of tech that comes standard in its elegant frame; you can easily see why this luxury all-electric sedan is quickly turning heads – its price point, notwithstanding.
Review
Reliability
Performance
Appearance
Features
2023 Porsche Taycan Turbo S (2.6 seconds)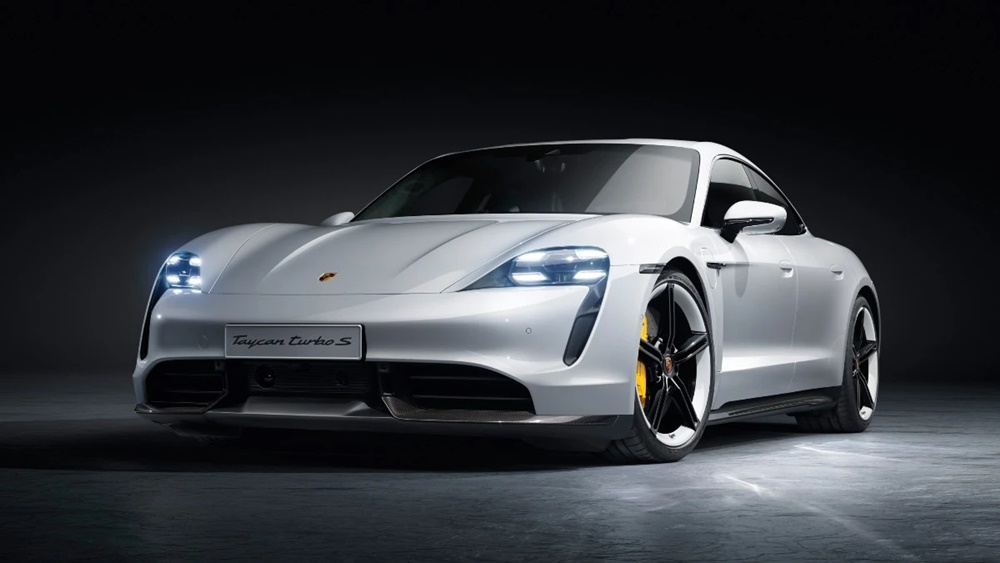 What We Liked
Astonishing performance
Stylish exterior
Exceptional build
Porsche never fails to excite with every offering, and the Taycan Turbo S – their all-electric sports car – is no exception. Able to hit 2.6 seconds on its straight-line acceleration from rest, the Taycan Turbo S' secret sauce is its powertrain: a 93.4-kWh Performance Battery Plus paired with two motors and a two-speed automatic transmission, making a potent 750hp and 774 lb-ft of torque. In truth, though, its actual horsepower goes up to 616hp; with the overboost function, you can ramp it up to 750 horses for a short time to effectively "boost" its acceleration. It definitely accelerates fast, even if it's nowhere as agile as the Model S Plaid. Despite that power, the Taycan Turbo S still retains a docile side when you're driving sedately in the city. Even with 21-inch wheels, the ride quality is superbly smooth and cozy, with nary a sound coming into the cabin from the outside. This is quite an impressive feat for a car that weighs 4,600 lbs or so. It handles itself very well and offers a pleasant, planted ride even as it takes corners. All-wheel drive capability also helps improve some handling on all types of terrain, but be mindful as it doesn't turn it into an off-road champion. The only complaint would be the brakes: forgoing one-pedal braking was a wrong move on Porsche's part, leaving you with a weird, limp feeling when hitting the brakes. And let's not even mention the extra money needed to unlock the Taycan Turbo S' true potential locked behind various optional packages.
Review
Reliability
Performance
Appearance
Features
2023 Cadillac CT5-V Blackwing (3.4 seconds)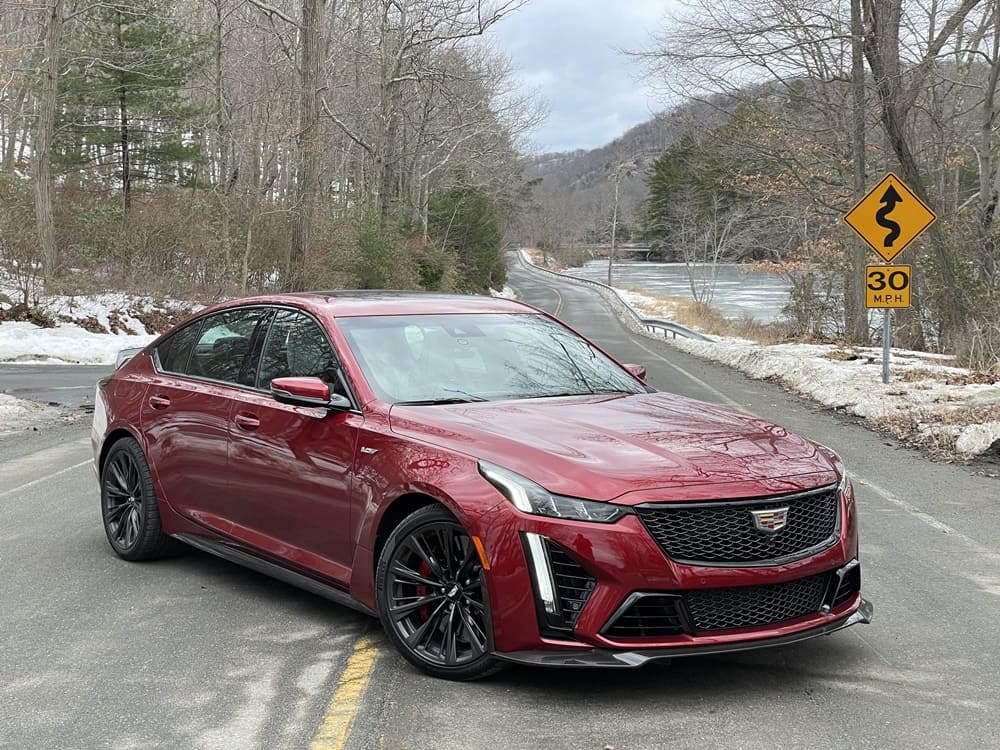 What We Liked
Powerful, firm ride
Feature packed
Spacious cabin
Armed with a 6.2L V-8 engine making 668hp and 659 lb-ft of torque, paired with either a 6-speed manual transmission or a 10-speed automatic, the Blackwing is a cheaper alternative to some of the fastest luxury cars on the market – but it will still cost you. It goes very fast, comparable to or even better than many speedy sedans, and can hit 200mph in the right conditions. The Blackwing also handles like a champ, offering a secure and comfy ride thanks to the standard magnetorheological dampers: it would be able to sense road conditions as you drive on and adjust itself accordingly. Multiple driving and suspension modes are also available to tune your ride to how you want it. Add the responsive steering and confident braking performance, and the Blackwing shines as a potent muscle car. It might not be the flashiest or the most luxurious fast car on the market, but if you want to hit the gas with a robust and confident ride from start to finish, you can't go wrong with the Blackwing. If you don't have the cash to splurge, the CT4-V Blackwing is a slightly more affordable option; it might not be as quick (around the four-second mark), but it'll still give you some fast rides.
Review
Reliability
Performance
Appearance
Features
2023 Audi RS3 (3.6 seconds)
What We Liked
Accurate, stable ride
Strong five-cylinder engine
Adept handling
What We Disliked
It could be more exciting
The RS3 is unusual with its turbocharged five-cylinder engine packing 401hp and 369 lb-feet of torque, not something you'd see outside of Audi's rally cars. It proffers a good deal of performance power and, with the many drive modes available, robust handling that suits your driving preferences. The seven-speed dual-clutch automatic transmission shifts very nicely, too. Let's not forget the Quattro all-wheel drive system that comes standard with the RS3; it really helps to improve the overall drive performance when you have the correct mode set, so much so that it feels extra smooth going on gravel roads as it does on paved roads. It even allows you to send 50 percent of its torque to the rear, allowing for some nifty drifts while pacing around a track. Accurate steering also helps make it an evocative ride, whether you're going fast or otherwise. The low thrum of the engine when you're daily driving around the city evokes the power it can unleash once you put the pedal to the metal; it gets you going when you can finally bring that power to light. Not all of its features may feel particularly engaging, but when it does come together, you can't help but feel so exhilarated about how that manifests energetically.
Review
Reliability
Performance
Appearance
Features
2023 Mercedes-AMG CLA45 (3.7 seconds)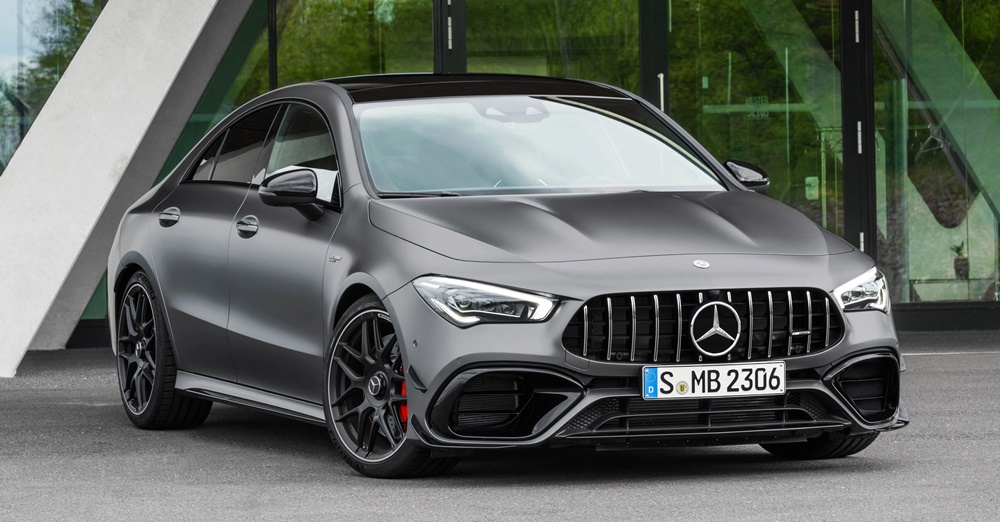 What We Liked
Exhilarating drive
Slick exterior
Lots of tech
Despite its coupe-like appearance, this is a compact-looking sedan mounting with a turbocharged 2.0L four-cylinder engine that produces 382hp and 354 lb-ft of torque and is paired with an eight-speed automatic. The CLA45 is considered one of the best-made cars by the Mercedes-AMG partnership, even though it's the most affordable one in their lineup. Not only was it a luxurious sedan fitted with leather upholstery and fantastic stylistic finishings, but it's also a powerful sedan to blaze the trail with. The hand-built (yes, you read that right) engine provides significant power throughout the car, helped out by a firm grip on the road, confident all-wheel drive capability, and various drive modes for a dynamic range of driving experiences. Driving the CLA45 offers a strong sense of feedback, with outstanding steering and handling responsiveness. Being able to hit 60 mph from 0 in 3.6 seconds or so is already exhilarating, and the low, well-tuned suspension, coupled with anti-roll bars and optional adaptive dampers, keeps you feeling comfortable as you're piloting the CLA45. It can do a decent job taking on uneven or bumpy roads, but it doesn't eliminate it. The CLA45 is what you might like in a luxury car that looks good and rides just as well; it's almost a supercar on a budget.
Review
Reliability
Performance
Appearance
Features
2023 Alfa Romeo Giulia Quadrifoglio (3.8 seconds)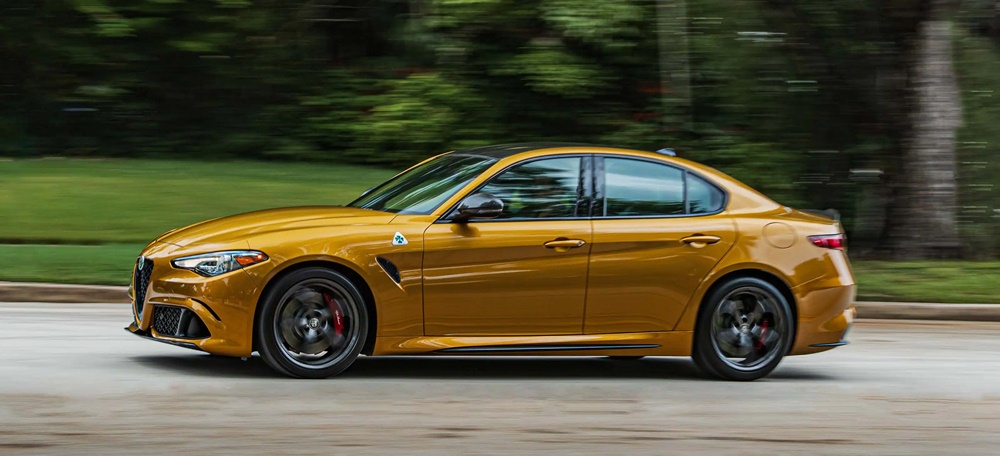 What We Liked
Agile handling
Looks incredible
Great driving dynamics
Alfa Romeo has always created some of the most unique designs in the automotive world, and the Giulia Quadrifoglio is yet another example of that design playbook. The Quadrifoglio is equipped with a 2.9L twin-turbo V-6, packing 505 hp and 443 lb-ft, that's able to hit 60 in only 3.8 seconds. Together with a well-calibrated eight-speed automatic, the Quadrifoglio is a superbly performant sedan that combines form and function in such a remarkable way. Whether you're going all-out or taking it easy, you can feel the power as you make gear shifts and even as you make every turn with the highly-tuned steering wheel. Moreover, the great damping of the chassis combines with these elements to help keep a planted ride for the driver, though it still does have caveats. Much like the others on this list, you also have variable drive modes for any driving needs you'd like. On the whole, the Quadrifoglio feels very much like a strong sedan – that's what you get when a former Ferrari engineer helped out in its development. One major issue, though, is that Alfa Romeo still has kinks to iron out: mechanical glitches are something you'll need to look out for.
Review
Reliability
Performance
Appearance
Features
Feeling the Need for Speed?
You can still get a fast sedan of your own, even on a budget. Previous-year models can still hit some high speeds, even if they might be missing a few features that current-year ones possess. For example, the 2019 Cadillac CTS-V might be a good pick for its ability to zoom to 60 in only 3.6 seconds. If you can find a good deal, you might get what you've always wanted. If it's still in relatively pristine condition and doesn't need much overhaul, wouldn't that be a great deal to pursue? Just be mindful that you keep an eye out for red flags: automotive scams come in all shapes and sizes.
Make sure to visit VinFreeCheck first and get your vehicle history report. With it, you can get all the necessary information on a sedan you want to buy, including its odometer readings and accident records. The info ensures you have a way of protecting yourself from automotive scams. With how easy it is for scammers to disguise a fraudulent deal, you want to have every means of protecting yourself from becoming a victim yourself. Get yourself a vehicle history report with our free and legal service right now!