Last Updated on January 29, 2023 by Calvyn Ee
There's nothing like hitting the roads – dirt roads, to be more precise – and heading out for an unforgettable adventure. But you're not going to ride out into the sunset with a sedan, are you? An off-roader is what you need, a capable machine that can take you through mud, rivers, rocky paths, and down hilly inclines without breaking a sweat… by that, we mean you, not the vehicle.
Our previous article discussed some great pickup trucks that can handle themselves off the beaten path, but what about SUVs? While we also covered the Jeep Wrangler, what about the rest? That's our topic for this article, so let's look at the best off-road SUVs money can buy you today.
Our Criteria for this List
Reliability
Any good off-road SUV can handle anything you throw in its path. We reviewed reliability results from sources such as JD Power and consumer reviews from current and previous owners.
Performance
We have a comprehensive list of off-road performers, each with its own share of positives. You won't be disappointed!
Appearance
Unlike off-road pickups, off-road SUVs merge modern aesthetics with burly design cues to emphasize their off-roading capability.
Features
Whether it's standard safety tech, new-fangled infotainment systems, or a hefty amount of cargo space, you'll definitely be spoiled for choice.
Picking Out the Best Off-Road SUV for You
2023 Subaru Crosstrek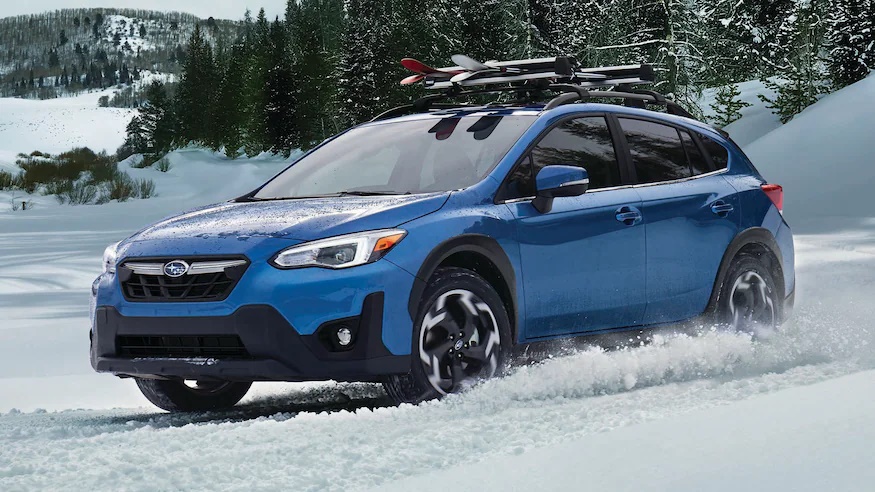 What We Liked
Good for off-roading
Comfy ride quality
Excellent safety tech
What We Disliked
The base engine could be better
Not looking to break the bank, but still want a little thrill once in a while? The Subaru Crosstrek might be worth your while. Its standard 2.0L flat-4 engine, delivering 152hp and 145 lb-ft of torque, isn't as perky as its rivals, so consider the 2.5L flat-4 found in the Sport and Limited models. With 182hp and 176 lb-ft of torque, you can enjoy a peppier ride from start to finish. Alternatively, the hybrid option is available: a 118hp motor and a 137hp flat-4 engine that grants 17 miles of electric driving range. The hybrid is great for frugal buyers looking to save more down the road. On-road mannerisms are decent but off-road is where it shines. The Crosstrek feels well-planted on the move, even if its handling and steering do feel iffy on asphalt; luckily, its 8.7 inches of ground clearance, sturdy suspension, and impressive AWD system help it to stay relevant even as rival offerings tout better off-roading specs.
Additional points favor its comfortable seats, relatively quiet cabin, and above-average interior build. Rear legroom can be a little tight for some, with only 36.5 inches of space, but you can still make it work. The cabin does have a notable function-over-form design language, but it works well enough. To make up for it, infotainment features are good, with Android Auto and Apple CarPlay available on top of Harman Kardon stereo for the higher trims. Storage is a little on the small side, even for small items, and with the rear seats folded, you're only getting 55 cubic feet of space for cargo. Luckily, Subaru offers clamp-on devices for all your outdoor needs, including additional cargo storage on the roof. And, of course, safety is top-notch with the standard driver assistance features like automatic emergency braking. As a starter for going on your first off-road adventure (and a few more after that), the Subaru Crosstrek is a good pick.
Review
Reliability
Performance
Appearance
Features
2023 Toyota 4Runner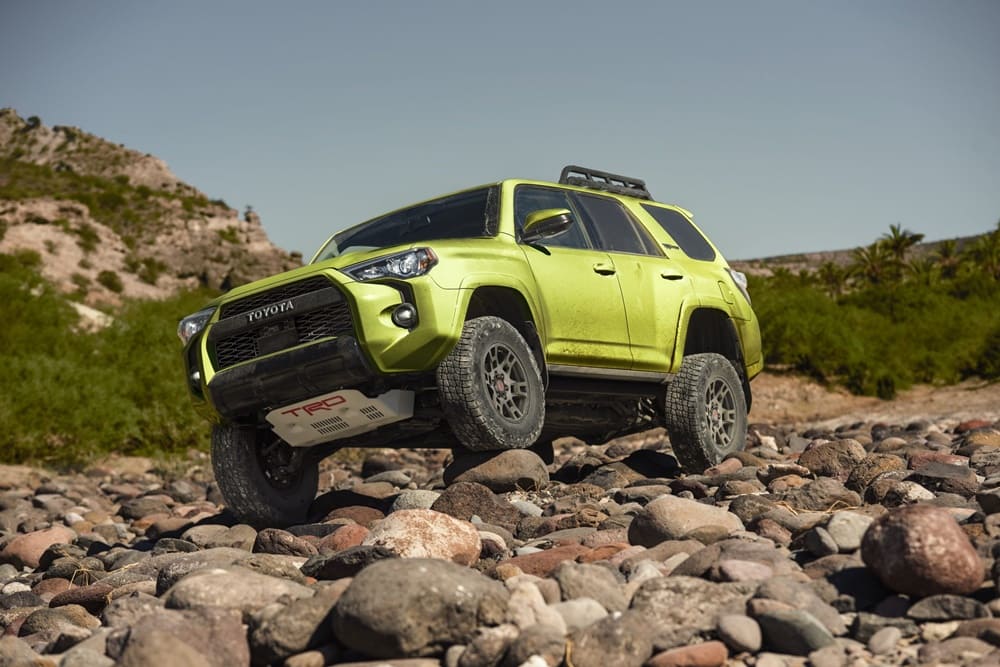 What We Liked
Excellent off-roading prowess
Toyota's assured reliability
Lots of cargo space
Not impressed with the Crosstrek? Toyota's 4Runner might be what you're looking for instead. The beefy-looking SUV might not have changed much in the past ten years, but what it packs inside is impressive – especially when you get off-roading. The 270hp 4.0L V-6 is a beast, capable of pushing the 4Runner from 0 to 60mph in about 7.7 seconds, a definite improvement over the Crosstrek's base engine. While it does shine traversing dirt roads and mud trails, on-road mannerisms are pretty doable; it's not very nimble, but it works much better than something like the Jeep Wrangler. Four-wheel drive is available and recommended, and it runs like a champ on any kind of terrain that's not asphalt; it's no wonder many people still like the 4Runner after so long. Go for a pricier trim, and you'll get more useful bells and whistles, including traction control modes and all-terrain tires, to name a few.
While it does handle itself fairly well on- and off-road, your passengers might not agree with you: its truck-based construction means that it can get rather bumpy for nearly everyone aboard. Moreover, front passengers get 41.7 inches of legroom, while those in the rear only have 32.9 inches – far smaller than the Crosstrek's. Third-row seats are optional, but you might as well forget about it. The vehicle's tall ride height makes it difficult to get in and out, but your mileage may vary. At the very least, you have a great amount of room for storing stuff: 47.2 cubic feet. Fold the rear seats, and you get double that amount. Need more space? Just tow it, as the 4Runner can easily haul 5,000 lbs of extra cargo, a regular boat, or even a camping trailer. As for safety, Toyota did lose some marks for the IIHS' tests on overlapping frontal impacts but still comes standard with lane departure alert, automatic high beams, adaptive cruise control, and automatic emergency braking, among other features. Overall, the 4Runner's a solid pick for its outstanding off-road performance and long track record to show for it.
Review
Reliability
Performance
Appearance
Features
2023 Jeep Grand Cherokee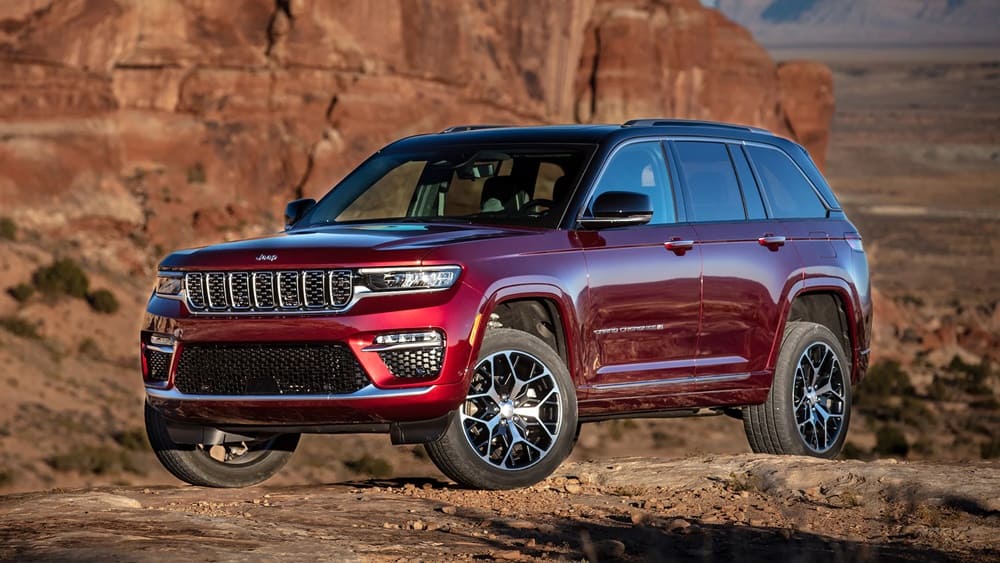 What We Liked
Strong off-road capability
Spacious cabin and storage
Excellent tech available
If you're looking for luxury even as you're kicking up dirt, why not go for the Jeep Grand Cherokee? With a choice of three different four-wheel-drive systems, you can customize your ride based on the kind of terrain you'll be traversing. Your choices aren't limited to that: take a pick from the standard 3.6L V-6 that delivers 293 hp and 260 lb-ft of torque or a beefier 5.7L Hemi V-8 that makes 357 hp and 390 lb-ft of torque. There's also a plug-in option in the 4xe hybrid; it comes with a 2.0L turbo-4 paired to two electric motors; combined, they produce 375 hp and 470 lb-ft of torque – more power that's also more efficient (though its towing rating will drop). On-road mannerisms are no different from its rivals; it shines off-road thanks to accurate handling, a generally composed ride, and decent ground clearance. Want more? The Trailhawk trim comes with a more extensive off-roading kit, such as an air suspension that enables it to get 11.3 inches of ground clearance. Expect to pay even more for it, too.
The Grand Cherokee is big, leading to a huge plus point for its interiors. Rear passengers have a good amount of head and leg room, but the low seat cushions might make long-term comfort less pleasant. You won't have complaints in the front row; seats are pretty nicely padded, and there's eight-way adjustability and a power telescoping steering rack to accommodate any type of driver. The infotainment system is also terrific, coupled with a great surround sound system. Cargo space is pretty standard, going at about 37.7 cubic feet without the rear seats folded (70.8 cubic feet with); small item storage is nice, which helps, but good towing helps even more: with the V-8, the Grand Cherokee comfortably tows up to 7,200 lbs! Together with a comprehensive suite of safety features standard on all trims, you have a powerful off-road machine that is both luxurious and functionally impressive. The only thing that could stop you from owning one is the hefty price tag.
Review
Reliability
Performance
Appearance
Features
2023 Ford Bronco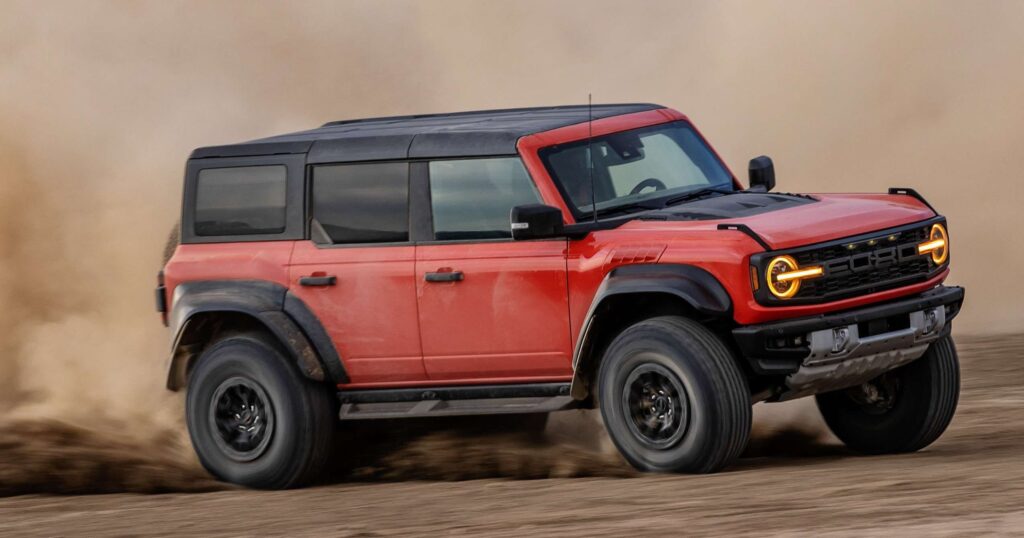 What We Liked
Superb handling, on- and off-road
Reliable engines
Highly configurable
The Ford Bronco is widely considered a versatile workhorse for everyday needs. Do you want a balanced daily driver that can handle dirt roads and the like? The Bronco's capable of that (helped by its four-wheel drive capability). Pick between the standard 2.3L turbo-4 that packs 275 hp and 315 lb-ft of torque, or a more potent 2.7L twin-turbo V-6 with its 315 hp and 410 lb-ft of torque; both engines are formidable, but of course, the V-6 is where the real power lies. On top of the good engines, the Bronco's handling is excellent whether you might be in the city or out in the desert. Braking does leave much to be desired, but you won't have much to worry about as long as you're not hitting the brakes hard. Its body-on-frame construction does mean some bumpy ride quality, and the noise is expected for an SUV with removable doors and roof (like the Jeep Wrangler). Still, precise steering and impressive handling on all types of terrain make the Bronco a winner.
Look inside to find a spacious cabin with just enough legroom for rear passengers to let them feel comfortable. Despite the truck-like suspension, the cushy seats and padding help make even the longest drives a pleasant journey. You do have to bear with some cheap interior materials, though. Between the two-door or the four-door, both will accommodate four (five in the four-door) passengers very nicely; the four-door does maximize the space well, thankfully. Physical controls are all well within reach and just the right size so that you can fiddle with them relatively easily; Ford's infotainment is also top-notch, even if the stereo speakers have a tough time drowning out the exterior noise. Available storage is a decent amount at 35.6 cubic feet, while towing goes up to 3,500 lbs – not class-leading, but it works well enough. There are also helpful safety aids that come packed with a Bronco, from parking sensors to hill descent control for your off-roading needs. It's really a no-brainer not to pick the Bronco for what it offers; it definitely isn't a one-trick pony, that's for sure.
Review
Reliability
Performance
Appearance
Features
2023 Land Rover Defender
What We Liked
Strong off-road vehicle
Packed with features
Powerful engines
Looking for even more luxury while you're adventuring? Land Rover has built a name for deluxe off-roaders, including the Defender. It starts off strong with three engine choices: the standard 2.0L turbo-4 that makes 296 hp and 295 lb-ft of torque; a turbocharged 3.0L inline turbo-6 (with a mild hybrid system) delivering 395 hp and 406 lb-ft; and a phenomenal supercharged 5.0L V-8 delivering 518 horsepower and 461 lb-ft of torque. The last one is what you'd want for true power, but you can expect an exorbitant price tag. With good ground clearance and a fully independent suspension (with an option for air springs to make that ground clearance adjustable), the Defender provides solid footing on any terrain, smooth transmission changes, and relatively easy control. Behind the wheel of a Defender, you can ford through 35 inches of water hassle-free and take on almost anything nature can throw your way. Honestly, it's just that good!
Once you step inside the cabin, you'll be blown away by the premium yet highly functional cabin and interior cues. Ride quality is good, with next to noise coming in from the outside, and the seats are nicely padded; drivers enjoy various adjustments to meet their spatial needs. The four-door, five-passenger configuration is what we'd recommend for the best amount of passenger room and 34 cubic feet of cargo space. If that isn't enough, the Defender can effortlessly tow up to 8,200 lbs with an optional tow package. Infotainment is also good, though some controls are a little confusing to get used to, mainly the climate control dials pulling extra duty for changing drive modes and seat heating/ventilation. While the Defender doesn't pull its punches off-road, adding extra off-road kits can take its capabilities even further. It's also very safety-oriented, including excellent safety tech like a surround-view camera system, adaptive cruise control, and the usual driver-assist features. A worthwhile long-term investment for the pleasures it provides and the determined performance it offers for all your adventuring needs.
Review
Reliability
Performance
Appearance
Features
Off the Road Again
SUVs have always struck a unique balance between on- and off-road driving, though some models do usually lean towards one side more than the other. That's to be expected, after all. With some of these picks, though, you can tell that automakers can find that sweet spot that makes their vehicle an excellent pick for daily driving in town or the city, then rush off to a beautiful trek across plains, deserts, and forests over the weekend or for a long holiday. If you can't go for the newest model on the market, you can always consider a used model from the previous year. Most of the time, these models share various similarities except a few incremental changes; of course, you'd best do some additional research as some past year models are vastly different due to complete overhauls to give them new life.
Equally important is your research into automotive consumer protection. Basically, you should protect yourself from the possibility of getting scammed. Don't scoff at us and say you "know what you're doing;" you might end up missing potential red flags in a deal you simply "can't refuse." Low price point for a 10-year-old model? Missed the strange, inconsistent odometer readings? You'll never know what crucial info you might be missing. The best thing you can do is to get a vehicle history report, which gives you comprehensive data on a vehicle's specifications, records of accidents or floods it may have been in, and various other vital aspects. Don't delay; get your report today!