Last Updated on January 29, 2023 by Calvyn Ee
They might not be beauties on the road, but pickup trucks allow users to haul or tow heavy loads and even have some off-roading capability. It's hard to believe the pickup truck originally began as a working man's vehicle, especially on the farms of 1920s America. Over the years, the pickup truck has become an indelible part of American roads for any kind of driver.
With its popularity unchanged, newer models introduced a variety of upgrades and improvements that cater to buyers from all walks of life. Whether you're a family person looking to accommodate your loved ones on a long trip across the state or need extra hauling power and cargo space for work arrangements, there's a pickup truck just for you. We've got five of the best pickup trucks worth your time and money.
What Are We Looking For?
Reliability
A good pickup truck doesn't just offer rugged utility; it's also a dependable vehicle, too. We compared the pickups on our list with what verified sites such as JD Power and consumer reviews from current and previous owners have to say about them.
Performance
We look at performance not just in terms of speed, but also it's overall handling. Modern pickup trucks can zoom on and off the road, but that's never been their primary draw.
Appearance
Pickup truck designs have evolved over the years, so you'll have those with a rugged look, while others go for slightly more unique aesthetics.
Features
Various pickup trucks also add quite a few features with great value. From infotainment systems to driver assistance systems, you won't be disappointed with what a pickup truck can offer these days.
Hop On to Review the Best Pickup Trucks of the Year
2023 Ford Maverick ($22,470)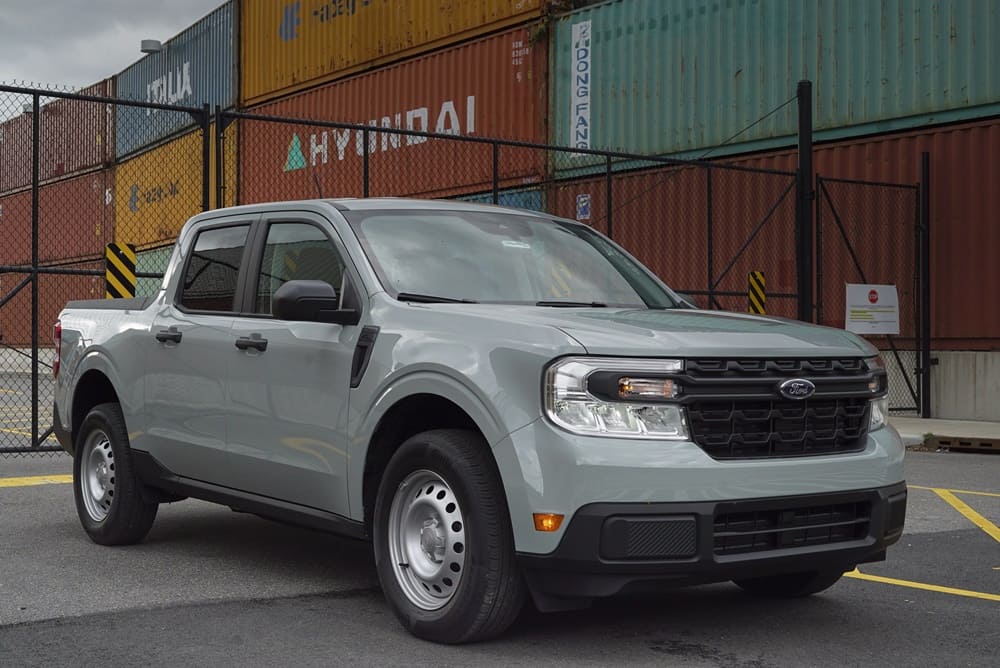 What We Liked
Great engine choices
Affordable trims
Just as good as a full-size pickup
What We Disliked
Inconsistent ride quality
The Ford Maverick is a compact pickup truck that shares some engineering cues from the earlier Ford Escape SUV. Despite its "compact" size and forgoing the classic body-on-frame construction for a unibody one, it still offers users a surprising amount of space and towing capability. The Maverick comes with a hybrid powertrain for base trims: a 2.5L four-cylinder engine paired with an electric motor, delivering a combined output of 191hp. If you're looking for more power on the road, you can consider the optional 250hp turbocharged 2.0L four-cylinder engine. Sticking with the hybrid engine gives you significant fuel savings with a combined rating of 37 mpg, but both engines deliver an excellent driving experience from start to finish. It can sometimes feel rather firm, especially on more pronounced road defects. But all in all, though, this isn't too bad for a "compact" pickup!
The base XL trim feels rather spartan in terms of appearance, but going for the slightly higher tier XLT gives you a little more value in the form of ambient interior lighting, power exterior mirrors, and other creature comforts. As befitting a Ford pickup, you also get a lot of space for storing items in the cabin, while two passengers have a good deal of comfort in the rear (35.9 inches of rear legroom is pretty decent). Meanwhile, the 54.4-inch pickup bed gives you lots of room to work with, as well as dual-covered bins and up to 10 tie-downs to go with it. Ford claims the bed can support "18 sheets of 4×8-foot three-quarter-inch plywood," but we'll let you put that to the test. Oh, and the maximum towing capacity goes up to 4,000 lbs. What's not to love about the Maverick?
Review
Reliability
Performance
Appearance
Features
2023 Chevrolet Colorado ($27,230)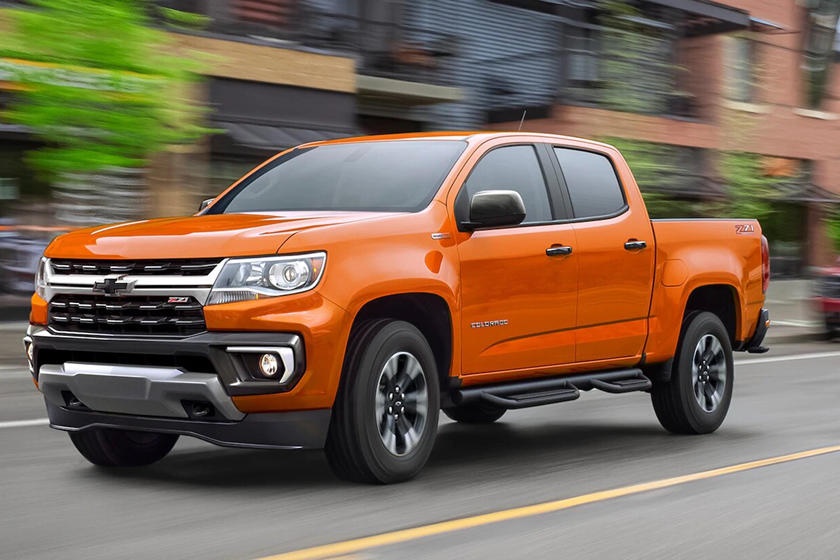 What We Liked
Well-mannered handling
Great ride quality
Very customizable
Chevrolet also has a good track record where pickups are concerned, and their Colorado is just one of many to choose from. Its base engine, a 2.5L four-cylinder making 200hp and 181 lb-ft of torque (paired to a six-speed automatic), is probably the least popular choice given its propensity for noise and lackluster performance. You may as well upgrade for either the 3.6L V-6 with an eight-speed automatic, boasting 308 hp and 275 lb-ft torque, or the turbodiesel 2.8L inline-4 packing 181 hp and 369 lb-ft torque. Either of the two will serve you better than the base engine. From there, you'll enjoy surprisingly easy maneuverability for a pickup of its size, helped by excellent handling on any surface. Some iffiness can be expected, especially when downshifting on flat roads, but they're not huge annoyances. Off-roading is a good idea, too, but be sure to remove the low front airdam first, or it'll get in the way.
The Colorado offers great comfort for the driver and front passenger inside. Are you sitting in the rear? It does get cramped back there, and the rear seats aren't exactly the epitome of comfort. You have a choice between a 5-foot-2 short bed and crew cab or a 6-foot-2 long bed in either crew or extended cab; the crew cab is the better option if you're hauling people than cargo, but that's not really saying much. On towing, we recommend getting either of the two engines we picked, as they have upwards of 7,000 lbs max (7,700 for the diesel), while bed capacity is also pretty good except for the difficulty loading it up with stuff. As for safety, the Colorado loses marks for its lack of certain safety features, some of which are standard on rival models, such as automatic emergency braking and blind-spot monitoring. Still, the Chevrolet Colorado offers plenty of choices for the discerning buyer.
Review
Reliability
Performance
Appearance
Features
2023 GMC Sierra 1500 ($35,645)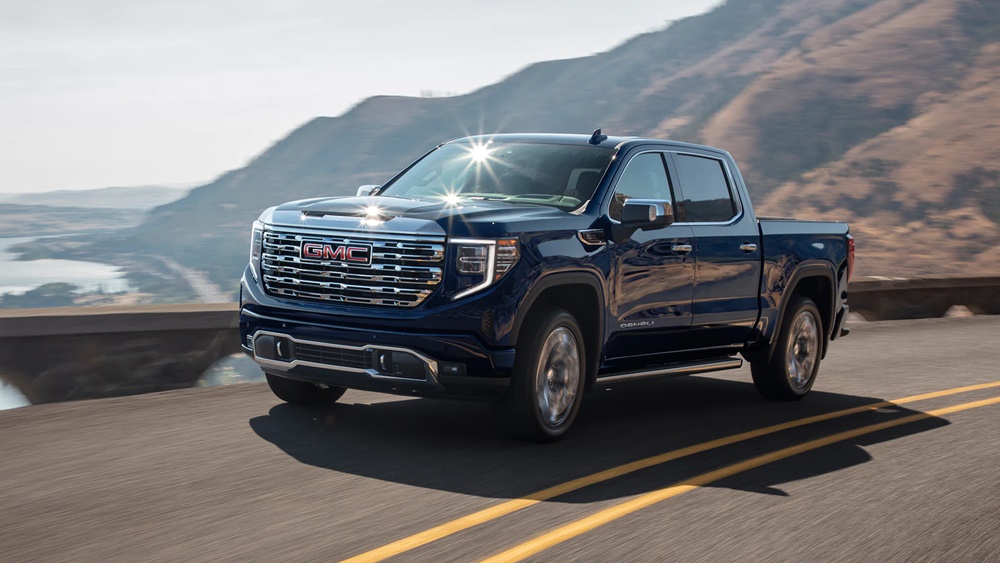 What We Liked
Great interior space
Powerful engines
Strong towing/hauling power
On the pricier end of the pickup truck spectrum, the GMC Sierra 1500 boasts lots of space to accommodate rear passengers comfortably and still haul lots of cargo on long journeys. The base engine is a turbocharged 2.7-liter four-cylinder delivering 310hp and 420 lb-ft of torque (nice); it's beefy enough that you can stick with this engine for all your needs. Towing capacity gets a decent boost to 9,400 lbs (from 9,100 lbs on the previous engine iteration), which is still mighty impressive. The optional 3.0L inline-6 turbodiesel offers 277hp and 460 lb-ft of torque, while towing goes up to 13,200 lbs with the extended cab; it also boasts 30 mpg combined fuel economy, which is a nice bonus. Higher trims get beefier engines but expect to pay a hefty sum to afford those.
Other than its impressive, responsive handling, the Sierra goes big on its cabin space. You've got lots of cubby storage for whatever you're putting inside, and the seats feel nice and comfortable thanks to the sufficient room for passengers. The bed options are also well thought out, with plenty of room for cargo and ease of getting in and out of it. Additionally, the Sierra comes with the noteworthy Super Cruise function, which is hands-free, safety-first vehicle operation on the highway; it even works with a trailer attached! Add some standard safety tech like emergency braking with pedestrian detection, and you've got a powerful pickup truck for any occasion. The one major downside? The higher the trim, the higher your bill will turn out.
Review
Reliability
Performance
Appearance
Features
2023 Honda Ridgeline ($39,435)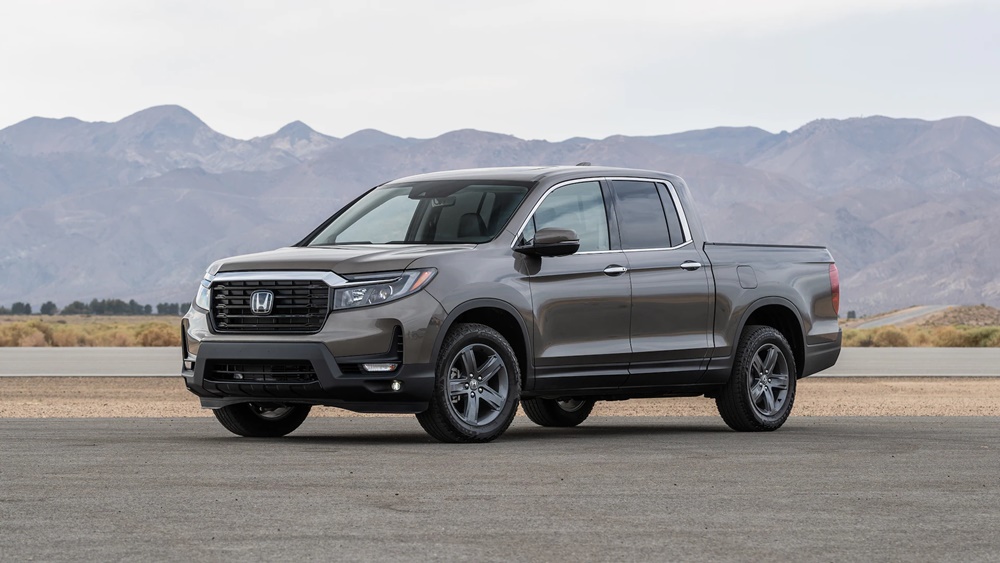 What We Liked
Standard safety tech
Excellent ride quality
Spacious crew cab
What We Disliked
Limited off-roading and towing
The Honda Ridgeline's price may shock frugal buyers, but it manages to impress with its versatility and Honda's trademark reliability. This mid-size pickup has a unibody platform, much like the Ford Maverick, while its powertrain is a 280hp 3.5L V-6 with 280hp and 262 lb-ft of torque. It's able to tow 5,000 lbs and carry a payload of 1,500 lb – it's not as great as many other competitors, but it might just be your fit if you're not loading hefty items. With a 0-60 mph time of 7.2 seconds, the Ridgeline is also a perky performer on the road. It helps that its car-based truck construction, aided by the coil-sprung independent rear suspension and unibody construction, gives it smooth handling notes from start to finish. The catch is that its off-roading ability is nowhere as impressive as other rival offerings.
The Ridgeline's interior comprises some hard plastics in some areas. Still, it's more than made up for smart choices in the comfortable driving position, easy access in and out of the vehicle, and 36.7 inches of rear leg room with the roomy crew cab. There's only one choice of bed: about 60 inches long and 50 inches wide. It might be smaller than most other beds, but the Ridgeline is still the only mid-size pickup able to fit a sheet of four-by-eight-foot building material flat on the bed floor, thanks to 50.0 inches of space between the wheel wells. As for safety, expect Honda to load it with important safety techs like active lane control and automatic emergency braking. Despite the price point, it's worth the investment, thanks to its smart design cues.
Review
Reliability
Performance
Appearance
Features
2021 Ram 1500 ($31,305)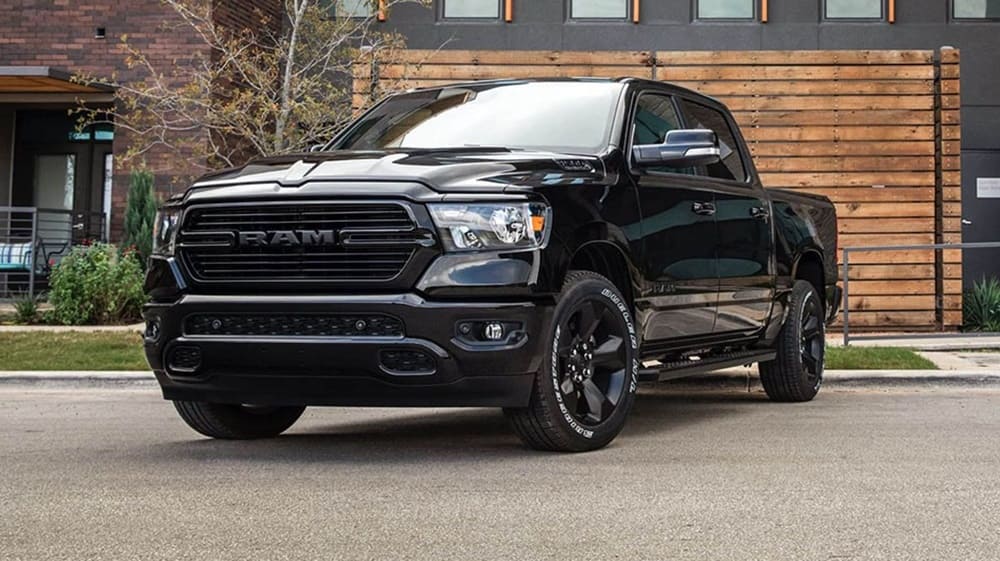 What We Liked
Excellent off-road ability
Classic retro look
Very smooth ride
It might not be the latest model, but the 2021 Ram 1500 is still a capable pickup truck that's not too different from its successor. The standard Ram 1500 comes with a 305hp 3.6L V-6 engine paired with an 8-speed automatic and max towing strength of about 7,710 lbs. If you want more than that, the 5.7L V-8 might appeal to you with its 395 hp and 410 lb-ft of torque and an incredible 12,750 lbs of towing power. There's also the 3.0L V-6 turbodiesel, the priciest of the three engines, offering 280 hp and 480 lb-ft and just 200 lbs less towing capacity than the V-8. The turbodiesel also comes with the benefit of making up to 26 mpg combined in fuel efficiency, unlike the other two. Whatever engine you choose, you can still expect the Ram 1500 to behave well while drivSuperbGreat steering and handling allow you to maneuver this beast with little difficulty, while standard coil springs in the suspension (or optional air springs) guarantee a pleasant ride from start to finish.
Beastly though it may be outside, on the inside, it has a lush, premium look and feel that you'll definitely enjoy. The dashboard layout is clean and practical, while the seats are plush and comfortable. The large cabin also means rear passengers have plenty of legroom to stretch, especially if you pick the full-size four-door crew cab. An extended cab configuration is also available but doesn't sacrifice comfort. You also have a 5-foot-7 or 6-foot-4 bed to choose from, but the extended cab only offers the latter. Cargo space is no issue either; optional RamBox locking bins are one of a few available features for the side of the bed, handy for storing tools. The Ram does lack some driver assistance features except on the Laramie model, and even that's somewhat limited. Overall, the Ram 1500 is one marvelous machine worth looking into – assuming you have the means to afford one.
Review
Reliability
Performance
Appearance
Features
Getting the Right Pickup Truck
You can't go wrong with these listed vehicles if you're looking for a new pickup truck. It might be challenging to find the model you want, like in the case of the Ford Maverick that's already sold out. Some pickups may be based on a redesigned model from not too long ago, so you can still get a used past year's edition at a decent price without losing too many new features. Just note that if you're planning to get a used car, automotive fraud is still a huge problem, costing prospective car buyers thousands of dollars in losses.
It always pays to be vigilant for potential red flags in any deal that may be attractive. Consider getting yourself the car's VIN and using it to check the vehicle history report. You might find out the dealer is selling you a salvaged car. Protecting yourself from financial loss and a great deal of stress is paramount when buying a car, so be sure to take the necessary steps to shield yourself from potential scams.