Last Updated on January 29, 2023 by Calvyn Ee
It's not hard to like SUVs for all the features they pack in their frame. Full-size SUVs might appeal to you for their large cabin and cargo space. Crossovers are a cross of SUVs and regular cars; you might look at those for fuel economy and everyday on-road driving. Once you've identified the kind of SUV that suits your needs, you can start shopping for one of the many models available from a diverse selection of automakers.
But times are lean these days, and every penny saved counts, especially when making an expensive purchase like a car. There's always the used car market, which does help you better manage your budget, but used car buying can be tricky to navigate. As such, we've compiled a simple list of the best SUVs for the money: they come in various sizes, have unique qualities, and, more importantly, won't break your bank!
How We Picked the List
Pricing
We've tried to keep prices below the $30k mark, but there are a few exceptions. However, we found several models that were comfortably below that threshold. You could always go for one of the higher trims if you have a little extra to spend.
Performance
New SUV engines are getting bigger and better as time goes by. In some cases, the engines don't get bigger but still exhibit equal performance power compared to those with larger engines. Our selection gives you an assortment of drive qualities, from speedy runners to relaxed daily drivers.
Appearance
SUVs may have a rugged look to their design, but newer models have been going the extra mile regarding aesthetics. Who says SUVs can't look stylish while traversing an off-road journey?
Features
Comfortable, pretty interiors, top-notch infotainment and electronics, and essential safety features are all a must on any car. We'll also take note of the car's fuel economy for additional savings.
Let's Look at this List of Best SUVs for the Money
2023 Hyundai Kona (MSRP: $21,990)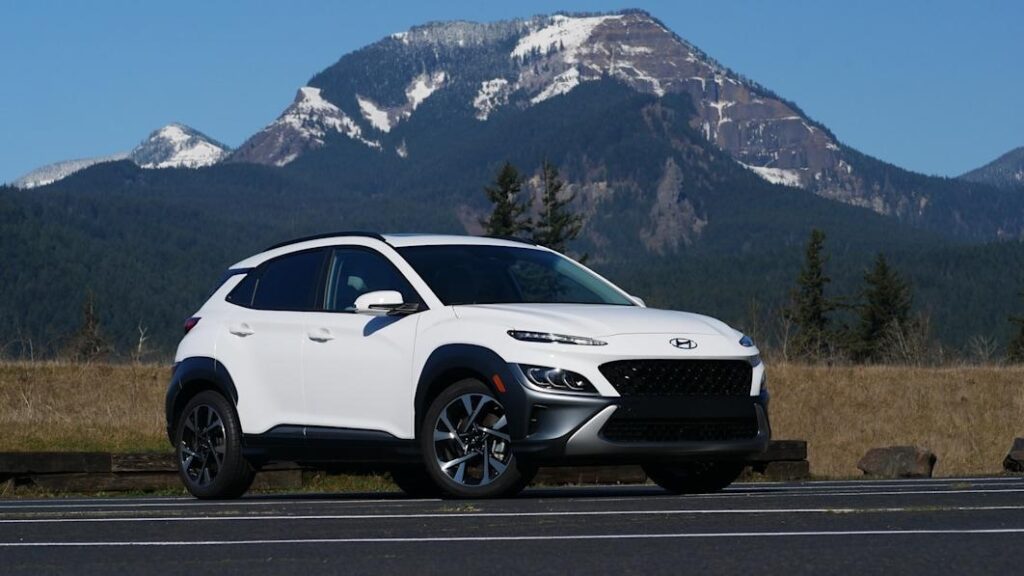 What We Liked
Lithe external aesthetics
Packed with features
Good fuel economy
What We Disliked
Less-than-impressive interiors
Unexciting base engine
Don't be alarmed by the model year; the Hyundai Kona is one of a few highly affordable crossovers, with the base model's MSRP going as low as $21,990. Shocking indeed, especially when the Kona shines with its agile handling, stable ride quality, and decent safety features. The base SE and SEL models come with a less-than-perky 2.0L four-cylinder engine (paired to a CVT) with 147hp and 132 lb-ft of torque; you may find it severely lacking overall performance and acceleration. You can opt for the 1.6L turbocharged four-cylinder that packs 195hp and 195 lb-ft of torque on the higher trims; the Limited model goes for $29,895 MSRP.
A downside to buying an affordable SUV such as the Kona is the drop in quality in certain areas to keep costs down. In the case of the Kona, it's the plain interiors and cheap, plasticky pieces here and there. Cargo and cabin space is decent, but if you previously drove a larger SUV, you might be disappointed by the smaller cargo space and smaller amounts of legroom. Still, it's not all that bad. The Hyundai Kona is still an excellent pick for an affordable compact SUV that still performs well while delivering many excellent features and a decent fuel economy rating of 32-33 mpg combined.
Review
Pricing
Performance
Appearance
Features
2023 Kia Seltos (MSRP: $22,840)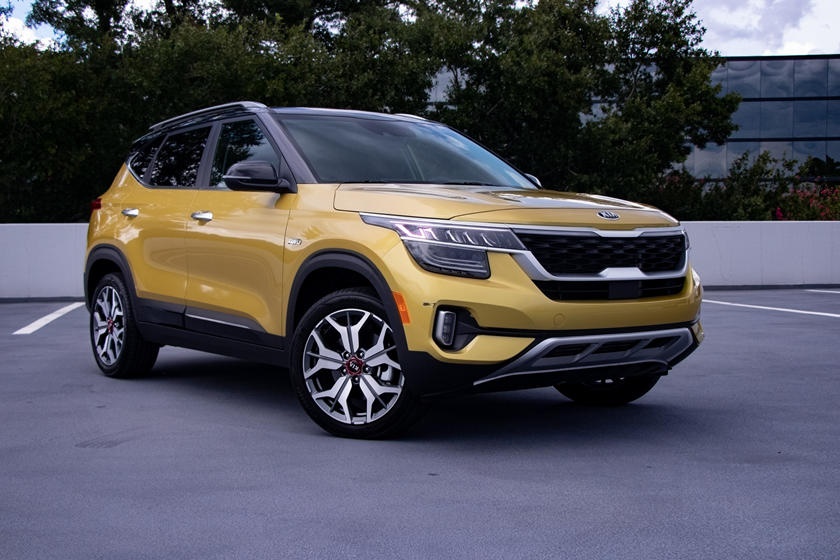 What We Liked
Spacious interior
Decent drive quality
Good fuel economy
What We Disliked
Seats aren't very comfy
Four-star safety rating
With a starting MSRP of $22,840, the Kia Seltos is another worthwhile option for affordable, reliable SUVs. This crossover comes with a naturally aspirated 2.0L inline-four engine offering 146hp and 132 lb-ft of torque; it'll hit 60mph in around 9 seconds. You can upgrade to the optional 1.6L turbocharged four-cylinder that packs 175hp and 195 lb-ft of torque, giving you more performance. However, the base engine does offer better fuel economy, with EPA ratings of 29/35 mpg city/highway. Whichever you choose, you'll still enjoy a composed ride with responsive steering, although it's less-than-stellar when you're taking bends with the Seltos.
The Seltos shines with its interior space. The seats might not be the most comfortable, and the rear visibility is lackluster, but almost everything fits in nicely. The infotainment screen is big and easy to use, you get a surprising amount of cargo space, and standard safety features help make the car safe – though some safety features, such as cyclist detection, are only available to higher trims. Still, for the price you're paying, you're getting a lot of value from a single Kia Seltos – and with higher trims going for just slightly above $30k, you'd be hard-pressed not to miss out on one.
Review
Pricing
Performance
Appearance
Features
2022 Honda CR-V (MSRP: $26,400)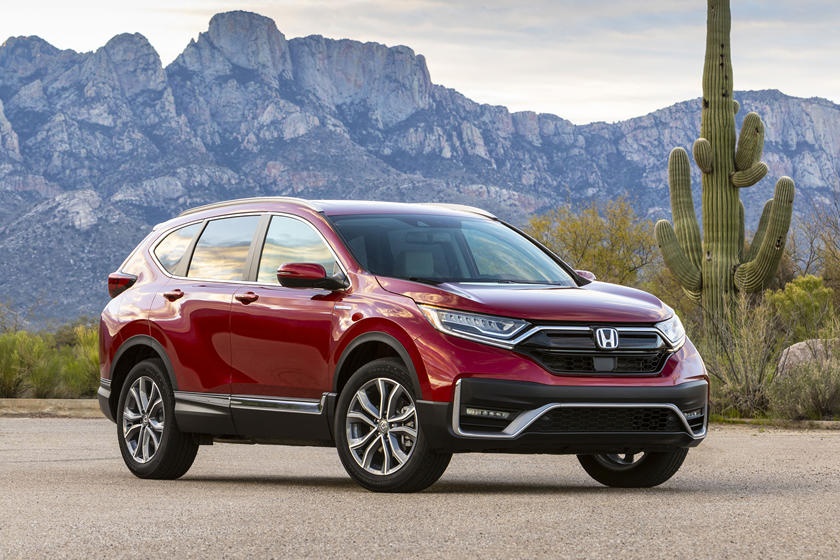 What We Liked
Plenty of interior room
Great ride quality
Notable fuel economy
What We Disliked
Not very agile
Some finicky controls
When it comes to versatility, Honda has your bases covered. The CR-V is an impressive SUV with a well-equipped platform that edges out the competition by being highly adaptive to various drivers' needs. Want a refined, quiet ride? Check. A robust turbocharged engine? Check. A hybrid option for better fuel savings? Check. Great acceleration? Well, you can't win them all. Nevertheless, the CR-V still makes up for its sheer versatility to whatever you need it to be. It might not be thrilling, but you can't deny the kind of value for money the CR-V gives with its top-notch utility and comfort.
Fuel economy-wise, you'll be getting 28 mpg in the city and 34 on the highway. This is a significant rating compared to most SUV competitors that hit at most 30 mpg combined. If you lucked out and got a hybrid model, fuel efficiency is rated at 40 mpg city and 35 mpg highway. Interior-wise, you're getting 39.2 cubic feet just behind the rear seats – and double that if you fold the seats down – and lots of legroom and headroom for taller folks. And safety features are always top marks in a Honda car. With the impressive abilities of the CR-V, it's no surprise that many Americans keep coming back for newer models.
Review
Pricing
Performance
Appearance
Features
2023 Subaru Outback (MSRP: $28,395)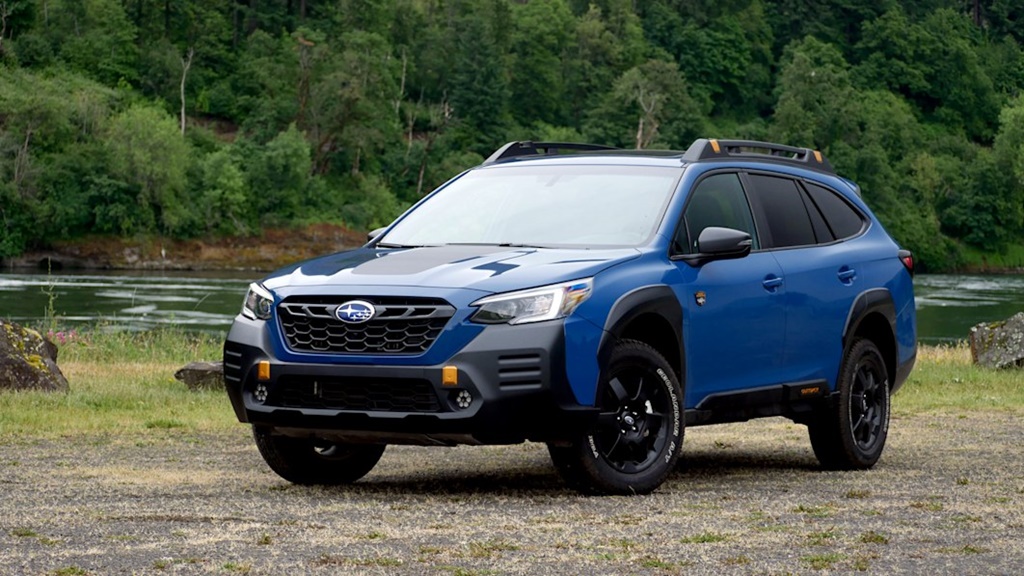 What We Liked
Rugged looks
Roomy interior space
Pretty good off-roader
What We Disliked
Base engine isn't great
Not very athletic
The Subaru Outback mixes the stylings of a modern SUV with the behavior of a station wagon, and somehow this merger works in its favor. With a 2.5L flat-4 delivering 182hp and 176 lb-ft of torque, you'll be squeezing out 0 to 60 within 9 seconds. You could opt for the 260hp, 2.4L turbo-4 instead, but the base engine will still provide you with decent drive quality. It might not be the perkiest of engines, and its boring attempt at athleticism may not excite drivers with a need for speed. Still, suppose you're looking solely at its ability to go off the beaten path. In that case, the base engine – together with all-wheel-drive capability and 8.7 inches of ground clearance – is enough to get you roaming in any off-road environment in an adventurous style.
And if you're planning to do just that, you'd want the ride to be as comfortable as humanly possible. Rest assured that the Outback delivers just that, with soft yet supportive front seats, plenty of legroom for passengers, dual-zone climate control, and a smooth ride that nearly cancels out any bump and pothole you might encounter. With the base engine, you're looking at decent fuel economy ratings, with 26 mpg in the city and 33 on the highway. It might be slightly more expensive than the others on this list, but the Outback is an excellent choice for those who want to adventure.
Review
Pricing
Performance
Appearance
Features
2021 Toyota RAV4 (MSRP: $26,525)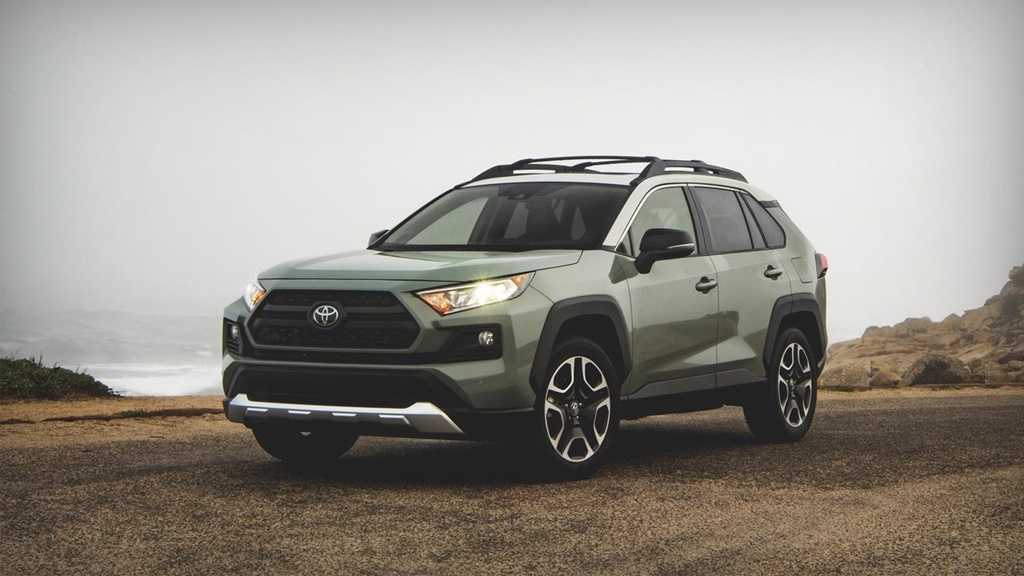 What We Liked
Drives like a car
Great interior space
Lots of standard/safety tech
What We Disliked
Dull base model
Can be noisy
The Toyota RAV4 is perfect for those who want to sample Toyota's top-tier quality or for newcomers who want to see what a Toyota is all about. It has a slightly higher premium than most rivals, but the RAV4 offers great power and performance. The base engine is a naturally aspirated 2.5L four-cylinder delivering 203hp and 184 pound-feet of torque; performance isn't going to stun, but it gets the job done while delivering substantial performance and a smooth ride even as it navigates around corners. Some aspects of driving, such as the steering, could work.
The RAV4 also has a hybrid model with a 2.5L inline-4 paired with a battery and electric motor, delivering 219 hp. It's a lot quicker than the normal RAV4, and its fuel economy is also improved (41 mpg city, 38 mpg highway, 40 mpg combined), but you'll need to prepare to shelve out a little more to snag one. On its own, the standard RAV4 still has much to offer. With ample room for passengers and cargo, the well-praised Toyota standard features (especially for driver/passenger safety), and various features to improve the ride quality further, the RAV4 makes for a great pick.
Review
Pricing
Performance
Appearance
Features
The Bottom Line
Everyone's looking to save when it comes to car buying, and you should do that, too. Owning a great car can be fun, but high maintenance costs and long-term fuel consumption can end up haunting you down the road. It's always best to research what's available on the market. Take note of not just the appearance and performance scores of a particular vehicle but also its overall running costs, fuel efficiency ratings, and more. See what others have to say about the car you're looking at, too; you might find some insightful pieces of information from previous owners.
Make sure you also protect yourself from the possibility of automotive fraud. Unscrupulous sellers can offer a deal you couldn't possibly refuse, which is a major red flag you should look out for. Find out more about the car before agreeing to anything. Get a hold of the car's VIN and use it to check its vehicle history report. You might find that the car in question might be a lemon or stolen long ago. It's always important to keep yourself safe while you're car shopping.