Last Updated on January 29, 2023 by Calvyn Ee
Electric vehicles (EVs) weren't viewed in a very positive light when the first models rolled out years ago. One major contributor was the hefty price tags EVs came with, owing to how new the technology was then. Prices have not gone down significantly over the years, and with the current inflation and rising cost of raw materials, it's doubtful that prices will go any lower.
The recently signed Inflation Reduction Act introduced a change in the availability of electric vehicle tax credits: EVs assembled in North America will only qualify for the $7,500 tax credit, incentivizing people to buy an EV. EVs in every form have also seen marked improvements in their performance over time, keeping pace with the rest of the automotive world.
Perhaps it's time to give EVs a chance, then? Maybe you'd like something a little more significant for the whole family while still getting maximum savings. Here's a list of the cheapest electric SUVs available today.
Our Criteria for this List
Reliability
We checked the reliability scores for these cars as provided by trusted sources such as JD Power, among other places. We also noted consumer reviews to see what current and previous owners have to say about these cars.
Performance
EV technology has evolved over the years, making newer models handle better when on the move. They may not be as performant as regular vehicles, but they're enough to give you a satisfying on-the-road experience.
Appearance
Who says EVs can't look good? Electric SUVs are still capable of looking great, inside and outside, while delivering you economical rides in style.
Features
EVs are also packed with various features, such as standard safety tech, infotainment options, and decent room for passengers and cargo. We'll also take note of the car's fuel economy (measured in mpge, as standard mpg ratings aren't the same for EVs) for more savings down the road.
Looking at the Cheapest Electric SUVs Available Today
2023 Chevrolet Bolt EV ($26,595)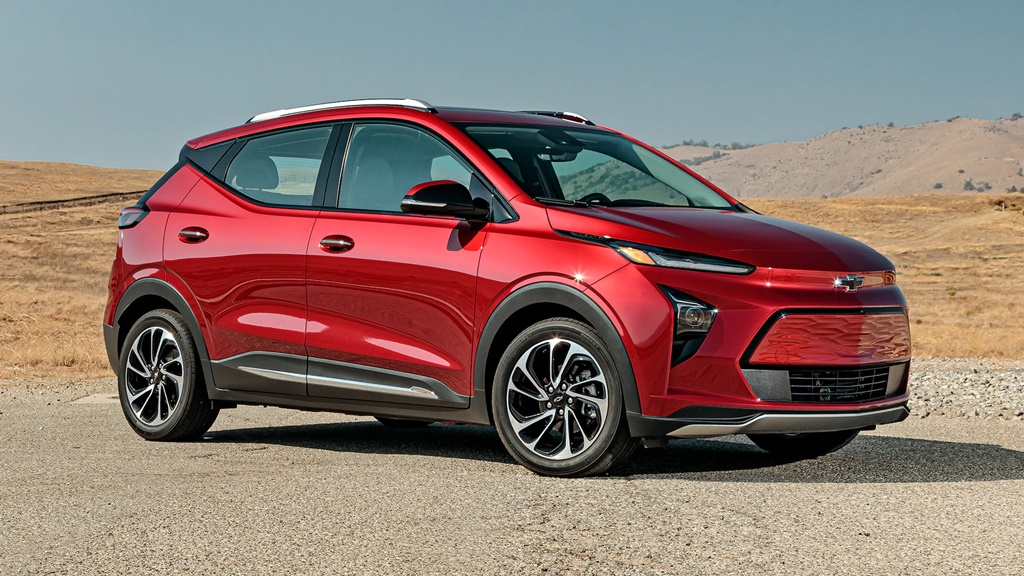 What We Liked
Affordable EV choice
Roomy interior
Good range
EPA-estimated combined mpge rating: 120 (115 for the EUV)
One of the few vehicles eligible for the EV tax credit, the Chevrolet Bolt has come a long way since it was first launched in 2017. It's currently the cheapest electric SUV available on the market, thanks to its retail price of $26,595 for the base trim, and it offers a decent amount of fun and value. Under the hood, the Bolt has a 150kW electric motor that delivers 200hp and 266 lb-feet of torque, much like the 2022 edition. As far as SUVs go, the Bolt's appearance is reasonably plain-like, with nothing as enticing as its various rivals. However, what it lacks in style, it makes up for in substance. You can expect to enjoy the same composed but pleasant driving experience as a 2022 Bolt while having a maximum range of about 259 miles on a full charge.
The Bolt is available in two forms: the well-known EV, which is considered a "micro crossover" owing to its small-ish size (it isn't a regular crossover, that's for sure); and the EUV, which is short for Electric Utility Vehicle. The EUV is 7 inches longer and one inch taller than the EV but has a slightly reduced range of 247 miles. Both share a surprisingly good amount of interior space that's also pretty upscale for the price while possessing the standard suite of safety features and other additions that make it a safe and comfy SUV to drive around in. The EUV does come at a slightly higher retail price of $28,195, but the Bolt EV is more than enough to satisfy your needs.
Review
Reliability
Performance
Appearance
Features
2023 Hyundai Kona Electric ($35,295)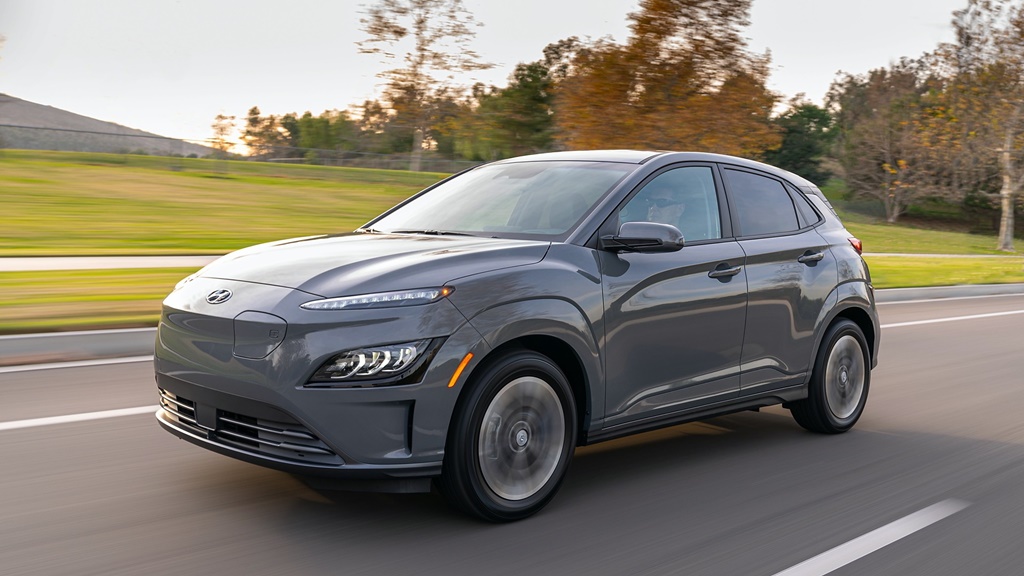 What We Liked
A surprising amount of range
Fun to drive
Fast charging
What We Disliked
Small rear passenger area
EPA-estimated combined mpge rating: 120
"Budget EV" might seem like an odd choice of words for an electric SUV above $30k, but the Hyundai Kona Electric is a worthwhile package of fun you'd have to experience. Powered by a 64kWh battery pack with a 201hp electric motor driving the front wheels (sorry, no AWD version), the Kona Electric offers a refined driving experience that makes you feel like you're driving a car more than an SUV. It can quickly go from 0 to 60 in about 6.6 seconds, an enthusiastic amount of performance in its relatively compact frame. Coupled with a very responsive regenerative braking system with three options, you'll be zipping around the city or along the highway with little difficulty.
Besides that, you're getting the usual Hyundai suite of standard features, ranging from a decent touchscreen infotainment system to decent storage space and absolutely excellent warranty coverage – five years/60,000 miles for the overall vehicle, among other things! If you're welcoming guests aboard, they might find the back seats to be a little short on legroom (and maybe even headroom for taller folks), but apart from that grievance, the Kona Electric delivers on its promise of a great EV and then takes it even further. And with 258 miles of range, just one short of the Bolt EV, you've got an SUV for a great time.
Review
Reliability
Performance
Appearance
Features
2023 Kia Niro EV ($39,090)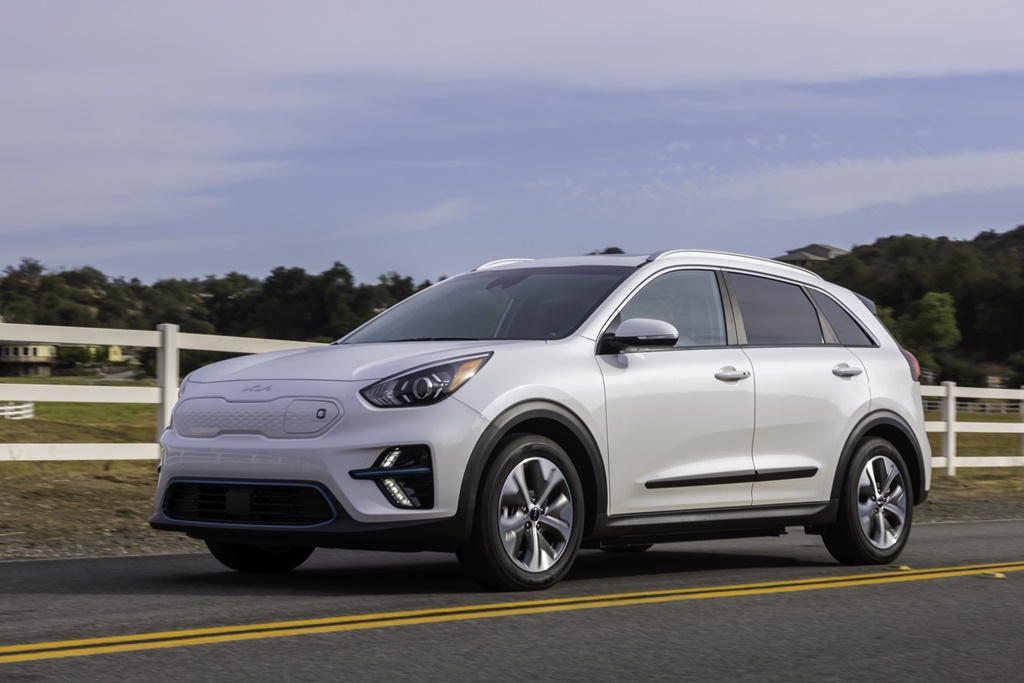 What We Liked
Decently priced
Amazing real-world range
Great ride quality
EPA-estimated combined mpge rating: 112
If you need an SUV with more range than the first two on our list, the Kia Niro EV is a good, affordable pick. The base S trim is a good deal at just below 40k, and though the EPA-estimated range says 239 miles, experts have found that it's possible to go up to 285 miles with a full charge of its 64kWh battery pack and front-mounted, 210hp electric motor combination. That's incredible! On top of that, the extra price point also adds a slew of other positives that outclass both the Bolt EV and the Kona Electric: impressive acceleration (with 0-60 times at around 6 seconds or so), four levels of energy regeneration, a quiet cabin as you're driving, and a consistently enjoyable ride throughout.
As it's based on the regular Niro hybrid SUV, it shares many similarities to its hybrid counterpart. You'll get a host of standard tech and safety features (although official safety ratings have yet to come out for the Niro EV) and enough cargo space to reliably fit a family's worth of luggage bags for a long trip. Some may find rear passenger space a little iffy, while others might fault the unsatisfying steering experience. However, the Niro EV is still valuable for an electric SUV that delivers a pleasant, quiet, and composed ride over speed and overall power. The other major drawback is that it's currently available to only a select few states in the country; the newer EV6 will be available nationwide once it's officially launched.
Review
Reliability
Performance
Appearance
Features
2023 Hyundai Ioniq 5 ($41,245)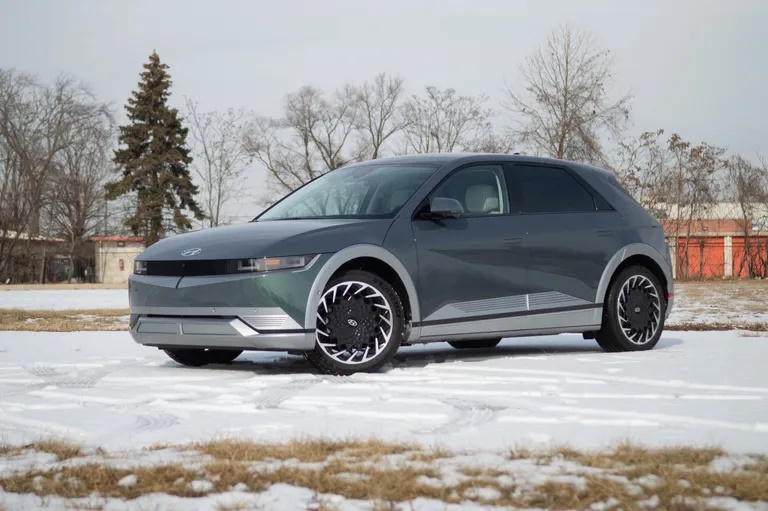 What We Liked
Comfortable, quiet rides
Lots of small storage space
Good variety of trim choices
EPA-estimated combined mpge rating: 110 (98 with AWD)
The overall boldness of the Ioniq 5's design will divide some folks, but the overall experience of driving one is sure to have the naysayers singing a different tune. This stylish crossover comes with either a 58kWh pack or a 77.4kWh one; the former is standard on the base model, offering a max range of about 220 miles, while the latter is available on the Long Range trims with a max range of 256 or 303 miles. This difference is because you can pick between all-wheel or rear-wheel drive. The AWD adds a second motor to give you more performance but a slightly reduced range; 0-60 is clocked at around 5 seconds or so. If you're eyeing the Ioniq 5 for your daily work commutes and occasional trips, then the RWD is a good, balanced pick, thanks to its higher range.
The Ioniq 5 isn't just blazing in the performance department. Look inside, and you'll find cozy seats, ample legroom and headroom, and a significant amount of space for storing small objects. Rear visibility isn't the greatest, while cargo storage could be a bit bigger. Meanwhile, some drivers may complain that its steering can be somewhat lacking, while others may gripe about the inconsistent ride quality. Still, your mileage will vary based on what you find is more important. The Ioniq 5 is an advantageous electric SUV comparable to, if not better, the competition.
Review
Reliability
Performance
Appearance
Features
2023 Volkswagen ID.4 ($42,525)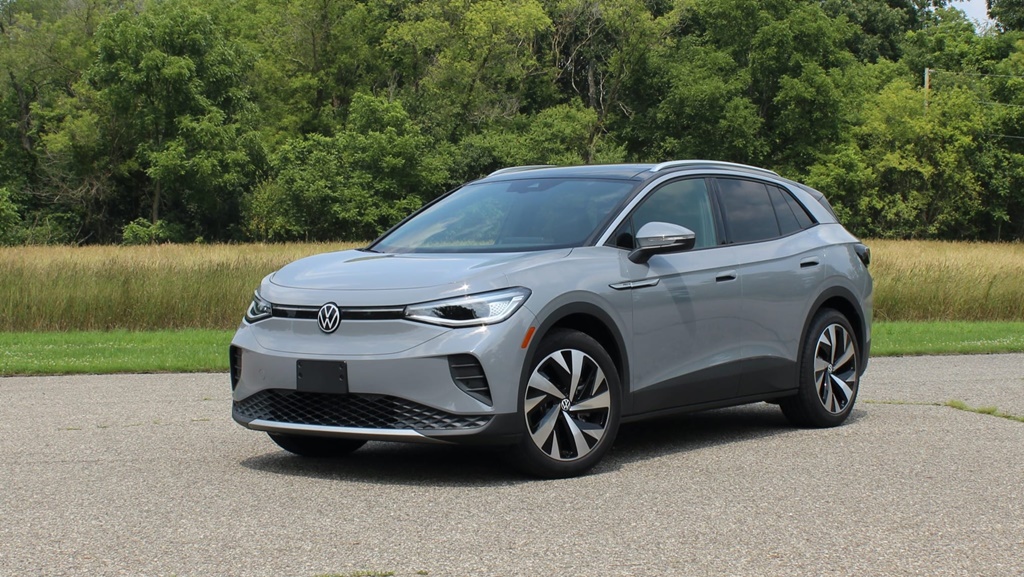 What We Liked
Various standard features
Spacious interior
Great range
What We Disliked
Finicky, flawed tech features
EPA-estimated combined mpge rating: 107 (101 for AWD)
It might be smaller than their Tiguan SUV, but the ID.4 squeezes nearly identical interior space thanks to various clever design tweaks. Equipped with a single rear-mounted motor and a 77kWh battery pack, the ID.4 ekes out around 280 miles of max range, easily outdoing both the Kona Electric and Bolt EV. It also boasts slightly higher DC fast-charging speeds, decent regenerative braking, and the option to go with an AWD instead. The AWD also packs a lot more power, adding an asynchronous motor to the front wheels for a combined output of 295 hp and 339 lb-ft of torque. You can easily hit 60 in under 5 seconds with the AWD. Volkswagen (the "People's Car" company) knows how to make an electric SUV that captivates with its firm, composed, and serene ride quality.
Despite these positive mentions, some of its features could use more work. Sure, you're getting Volkswagen's trademark interior comfort and spacious trunk (no front trunk – or "frunk" – space, though); that's a given. However, their decision to use capacitive surfaces instead of tactile buttons is weird and frustrating. At the same time, the infotainment system can be clunky, infuriatingly slow to respond, and generally confusing to do the simplest things. Updates have somewhat improved the experience but can still lead to some quirks. Apart from those issues, the ID.4 makes for a satisfactory electric SUV, primarily if you've driven a Volkswagen before (or would like to give it a go).
Review
Reliability
Performance
Appearance
Features
Getting an Affordable Electric SUV
Depending on your needs, each of these electric SUVs can deliver. Many other options are available from various automakers, although most tend to go well above the 40k mark. Used EVs are also a good choice if you're on a tight budget; many EVs still have a fair amount of features that keep them relevant and well-liked even today. Nevertheless, this list gives you a selection of contemporary picks that are well worth the value, especially for those eligible for the $7,500 EV tax credit!
While you're looking out for a good deal, be sure to stay vigilant for potential automotive fraud red flags. Shady sellers can make an offer that's too good to be true, no questions asked. But that does present a problem if you've got questions of your own. Be sure to find out anything you can about the car being sold. Get a hold of the car's VIN and use it to check its vehicle history report. Maybe the car is a lemon or is using a cloned VIN. It's always important to keep yourself safe while shopping for a used car!