Last Updated on April 24, 2023 by Calvyn Ee
In this uncertain economic period, owning a car can become a liability. With interest rates still higher than usual, auto loan repayments are becoming increasingly expensive, even if gas prices have stabilized since the beginning of the year. Auto loan delinquencies are also rising, making the prospect of owning a car seem much more unlikely.
Used cars are still in demand, so it becomes important to look out for not just an affordable used car, but also one that will reliably last you a long time. Consider the options available to you in this list of the most reliable used cars money can buy.
Rating This List
Performance
A good used car will give you a good balance of fun driving and confident handling.
Appearance
Used cars can still look good despite their age, with a combination of fancy aesthetics and nifty extras.
Features
Used cars do still offer many valuable features, from great safety techs, cozy interiors and more.
Reliability
Reliable used cars can last a long time, especially with frequent maintenance. Our reviews consider feedback from current and previous drivers and ratings from reliable sources like Consumer Reports and CarMD.
Featuring the Best Used Cars for Under 20000
2018 Kia Soul (From $9,000)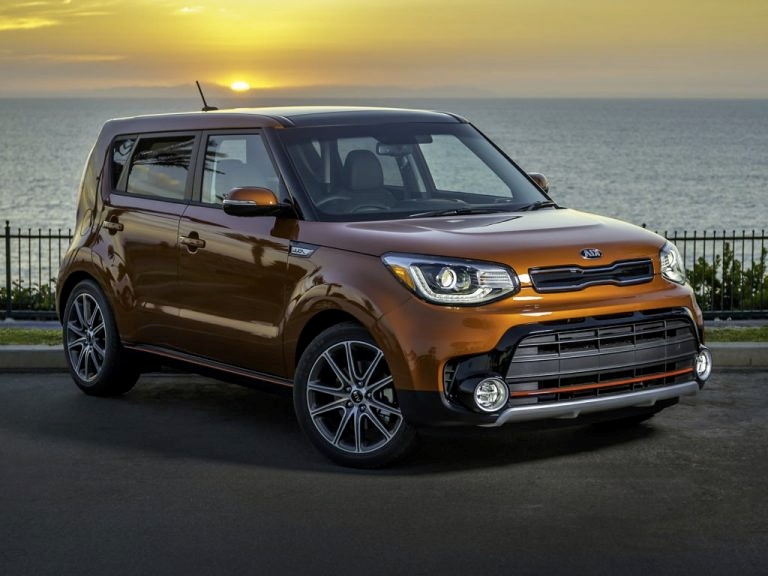 What We Liked
Modest performance
Decent fuel efficiency
Good use of space
What We Disliked
Lacking some useful features
This subcompact crossover offers a fun, peppy ride while still affording plenty of room for both passengers and cargo. Base Souls have a 1.6L inline-4 with 130hp and 118 lb-ft of torque and are paired with either a 6-speed automatic or manual. Meanwhile, the Plus ("+") trim has a slightly more performant 2.0L inline-4 making 161 hp and 150 lb-ft of torque, paired with a 6-speed auto; the higher Exclaim ("!") trim has a turbocharged 1.6-liter inline-4 that produces 201 hp and 195 lb-ft and comes paired with a 7-speed dual-clutch automatic. The Exclaim is what you want if you want something a little speedier for your commutes, but you'll have to bear with the lack of automatic emergency braking that's only available on the Plus. The Soul isn't for those who want excitement in their drives but is more suited for people who need a reliable daily driver with good interior space. Despite its compact frame, the Soul squeezes utility in every inch of it: there's ample room for two people in the back, including taller passengers. The ride quality is stiff but not uncomfortable, although the rear seats could do with some extra padding for long rides. Front seats don't have too much of a problem, having just the right amount of padding where it's needed. 24.2 cubic feet in the trunk is a good amount for most trips, and you can expand it to an impressive 61.3 cubic feet with the rear seats folded. Safety beyond automatic braking has you covered with lane departure, blind-spot warning systems, and adaptive cruise control.
Review
Performance
Appearance
Features
Reliability
2018 Toyota Camry (From $15,000)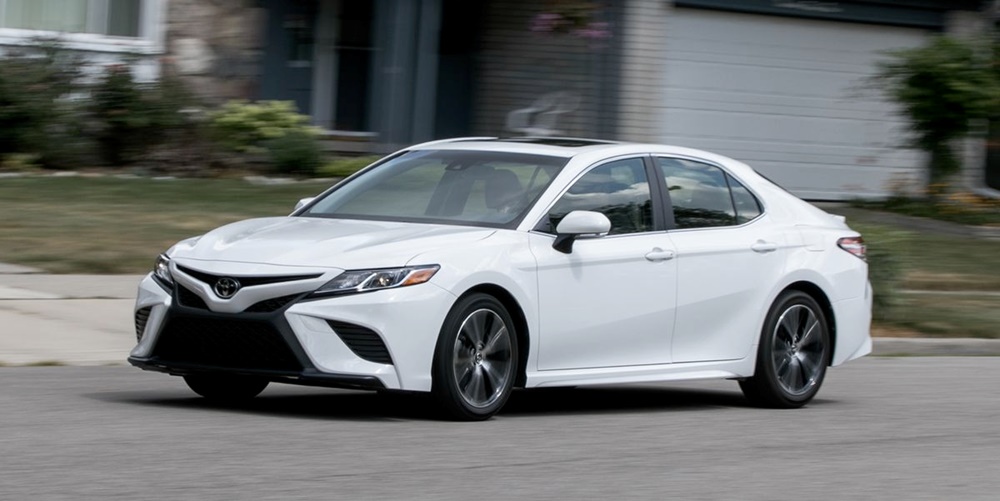 What We Liked
Strong V-6 option
Good handling
Good fuel economy
If you prefer a sedan instead, the Toyota Camry is a must for its well-regarded reliability record. The base engine is a 2.5L inline-4, rated at 206hp, and pairs with an 8-speed automatic; it does a fairly decent job for daily driving, but could do with a little extra power. The 3.5L V-6 found on the Camry's sportier trims has 301hp, delivering smooth power at the cost of fuel efficiency. A good balance of power and savings can be had in the Camry Hybrid's two-motor system and 176hp 2.5L engine, which can deliver a combined mpg rating of up to 52. It's the better pick over the standard engine while also adding quiet and comfortable rides from start to finish. The Camry's cabin is also good, even though the Camry now sits a little shorter and wider; occupants will find generous amounts of legroom and headroom. The seats are also nice and cushy to sit in even though they are a little lower than previous year models. There's also plenty of space to store small items in the cabin, which is more than welcome; cargo space is also above average at 15.1 cubic feet. Ride quality is also decent, although you'll have to bear with external noise seeping into the cabin. Lastly, safety is one of the Camry's strong points: forward-collision warnings, adaptive cruise control, lane-departure warnings with active lane control, and automatic high beams, among other features. Some other safety techs are locked behind optional packages, which are standard on higher trims.
Review
Performance
Appearance
Features
Reliability
2015 Mazda 3 (From $11,000)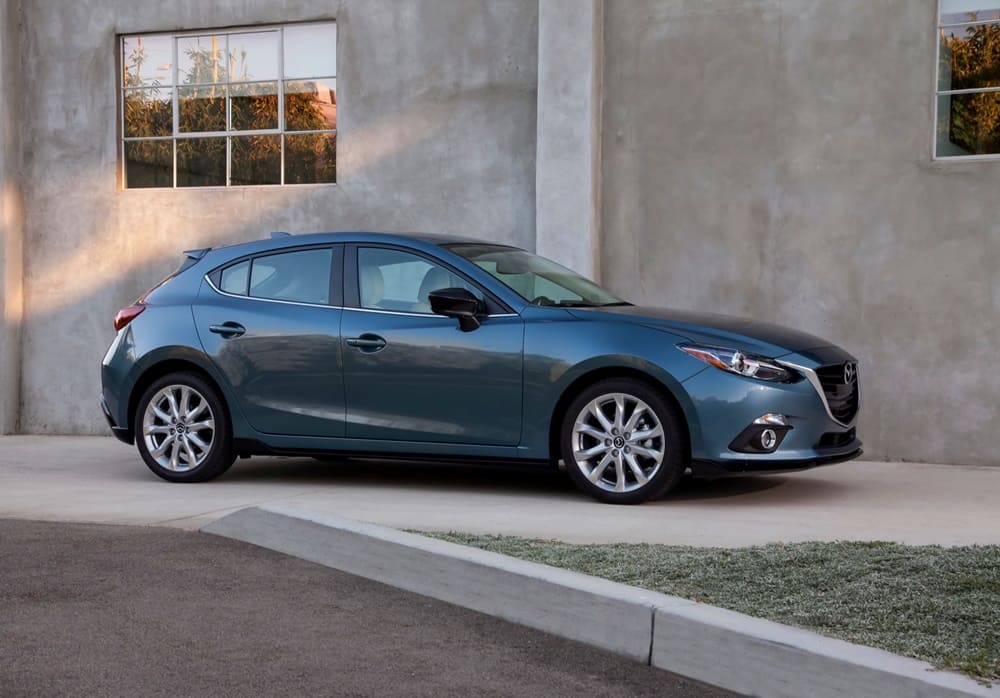 What We Liked
Good engine options
Great handling
Roomy hatchback
What We Disliked
Might feel a little small
The Mazda 3 is a long-running sedan/hatchback that's well-liked for its impressive balancing act of above-average performance and its luxurious feel. Available in either the 3i or 3s models, their main difference is in their power plant: the 3i has a 2.0L four-cylinder engine that produces 155hp and 150 lb-ft of torque, paired with a six-speed manual or optional six-speed automatic. The 3s mounts a 2.5L four-cylinder generating 184 hp and 185 lb-ft of torque and has the same choice of transmissions. The power the 3s offers would make it the more desirable option, but overall handling between the 3i and 3s is fairly good. It drives well and responds smoothly to your steering inputs (although the electric power steering system could be better), while braking power is fairly strong. Available drive modes also help tune your rides to something you'd like. The luxurious feel of the Mazda 3's cabin also helps make it a very good choice for a car, especially if it's relatively low in price. You'll get supportive seats, decent headroom and legroom, and an intuitive control layout to boot. The hatchback model is 1.8 inches shorter than the sedan version, so it can feel a little smaller than most cars. The Mazda 3 sedan, however, only has 12.4 cubic feet of trunk space, while the hatchback has 20.2 cubic feet; it becomes a choice of which one suits your needs best. Regarding safety, you'll find the Mazda 3 packs antilock disc brakes, stability and traction control, active front head restraints, automatic high beams, and a lane departure warning system. Higher trims also add some features like blind spot monitoring.
Review
Performance
Appearance
Features
Reliability
2018 Subaru Legacy (From $15,000)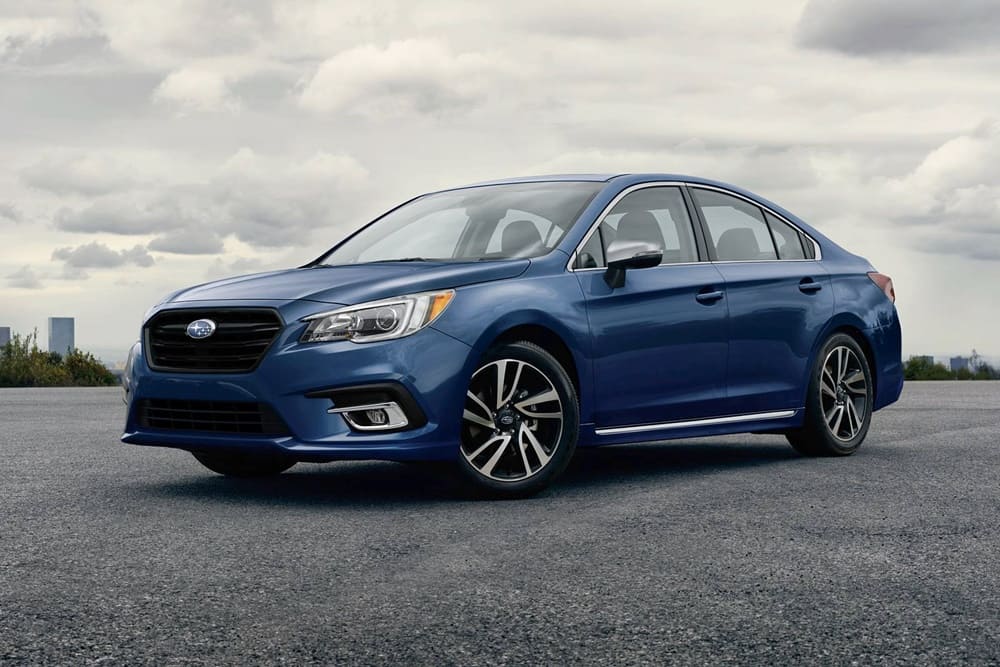 What We Liked
Great handling traits
Comfortable cabin
Standard all-wheel drive
The midsize Legacy sedan comes with standard all-wheel drive, a rarity among the class, and despite the plain appearance of the vehicle, it offers a lot of great value. It offers two engine options: a 2.5L flat-4 with 175hp and 174 lb-ft of torque and a 3.6L flat-6 (256 hp and 247 lb-ft of torque) only available for the Limited trim. Both engines pair with a CVT, which is probably one of the best CVTs on the market. Overall, the Legacy does a good job serving as a strong daily driver, and Subaru's all-wheel-drive system keeps traction on the road. The Legacy is also easy to maneuver, helped by its accurate steering even, despite the occasional body roll when turning. The only downside performance-wise is its low fuel economy rating, especially if you go with the beefier flat-6. On the inside, the cabin has a good deal of room and nice, comfy seats for the driver and front passenger. It also manages to keep out much external noise beyond some engine whining when you're going fast. Rear passengers also won't have much to complain about, thanks to a good amount of legroom and equally comfortable seats. The Legacy also has a 15 cubic foot cargo hold, more than sufficient for groceries and luggage bags for a trip. As for safety, the Legacy is equipped with the EyeSight suite, comprising adaptive cruise control, active lane control, forward-collision warning with automatic emergency braking, and blind-spot monitors.
Review
Performance
Appearance
Features
Reliability
2018 Hyundai Tucson (From $16,000)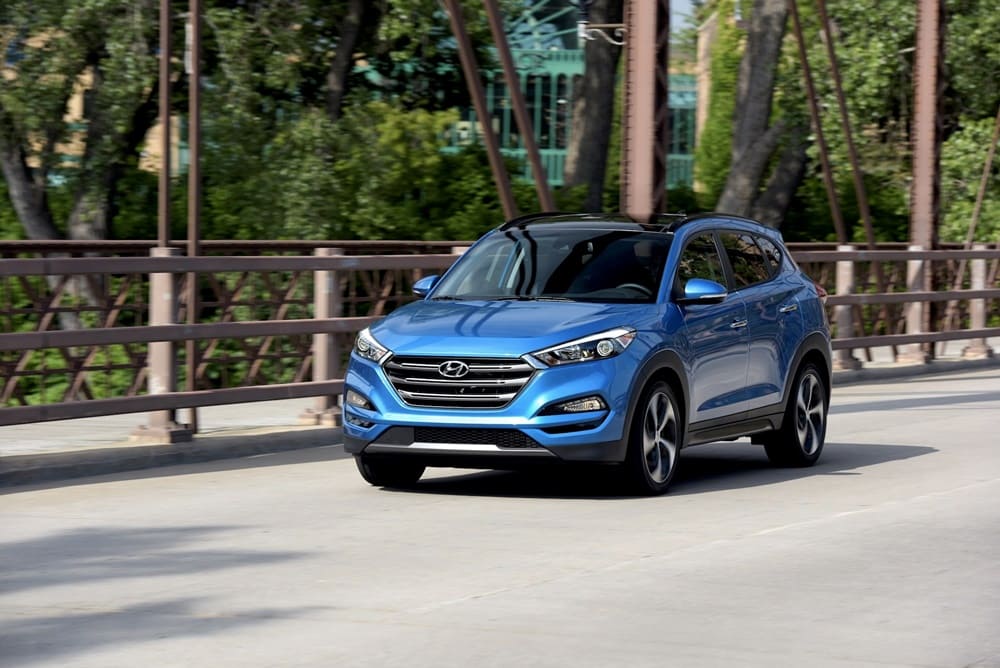 What We Liked
Decent handling
Good cabin space
Impressive trunk space
What We Disliked
Safety techs on higher trims only
The Hyundai Tucson is a decent compact crossover SUV, especially concerning its value for money thanks to its wide range of features. Base Tucsons have a 164hp 2.0L inline-4, paired with a 6-speed automatic, but it feels like a very underpowered engine. You'd better go with the 175-hp, 1.6L turbo-4 paired with a 7-speed dual-clutch transmission, available on the higher Tucson trims, as it offers improved performance than the base engine. The overall drive quality of the Tucson is competent, with good body control when turning and responsive steering. You also have the option to pick either all-wheel or front-wheel drive. Acceleration isn't the best since there's some delay in the initial throttle response, followed by a sudden surge once the turbo takes effect. Being a compact crossover, the Tucson has a decent amount of space to fit two people in the rear without problems with headroom and legroom; the seats are all well-padded, although the rear seats do feel rather upright. Ride quality is also good, doing a relatively good job absorbing all but the harshest of bumps or rough terrain. Then there's the trunk, with 30.1 cubic feet available to use; it grows to 61.9 cubic feet when you fold the rear seats down. Safety tech is a little restricted, unfortunately, as only higher trims have driver aids like automatic emergency braking, blind-spot monitoring, and lane departure warnings; it feels like an oversight not to let lower trims have some measure of safety features.
Review
Performance
Appearance
Features
Reliability
Time to Look for a New (Used) Car
Used car hunting can be exciting for some people, while others may dread the whole search process. Given how some shady deals floating around on the Internet or even in the classifieds section, you'd want to be sure you're not falling victim to a scam. It becomes very important to safeguard your finances in these uncertain times, so be sure you get a vehicle history report beforehand. Even if the seller has a free report to give you, what are the odds that its details are falsified? You'd need an insurance policy to keep you safe from falling victim to these scams. You can even compare the vehicle history report with what the seller's given you. A keen eye might help you identify red flags, be it inconsistent odometer readings, missing maintenance records, or something else that doesn't add up.