Last Updated on January 30, 2023 by Calvyn Ee
An electric convertible fulfills one of the significant fantasies of EV lovers. With EVs dominating the sedan, SUV, and Hypercar divisions, it would seem the Electric Vehicle Convertible is one of the only categories with fewer good options for buyers.
Great Convertible EVs are few and far between, but options are available if you know where to look. In this post, we'll look at a few of the best electric convertible cars on the market and a few promising future releases.
How We Compiled Our List of the Best Electric Convertible Cars
Electric convertible cars are more challenging to make than regular EVs. The added weight of the roof-folding mechanism paired with the powerpack, motor engine, and cabin means they'll have a poorer range than their counterparts. For that reason alone, most modern EV manufacturers avoid them as the risk is too significant in an emerging market. This fact, as well as many others, shaped our list and the criteria we had for each entry.
Range
Range is King in EVs. More than any other feature, buyers look for range in their EVs. It translates to less time at the charging station, more distance traveled, and more travel flexibility. For a weighty EV category like convertibles, the range becomes doubly important.
Performance
EVs are famous for their whip-tide acceleration and jaw-dropping technology features, including but not limited to fast charging, inductive charging, and precision handling. These features remain very attractive even in Electric Convertible cars.
Availability
As we mentioned, most EV manufacturers don't make Convertibles. Engineering them is a challenge within itself, and a drop-top roof might not be enough to sell a car. That said, we still included the few electric convertibles currently available and the few concept cars that might become available eventually.
Best Electric Convertible Cars Available in North America
Tesla Roadster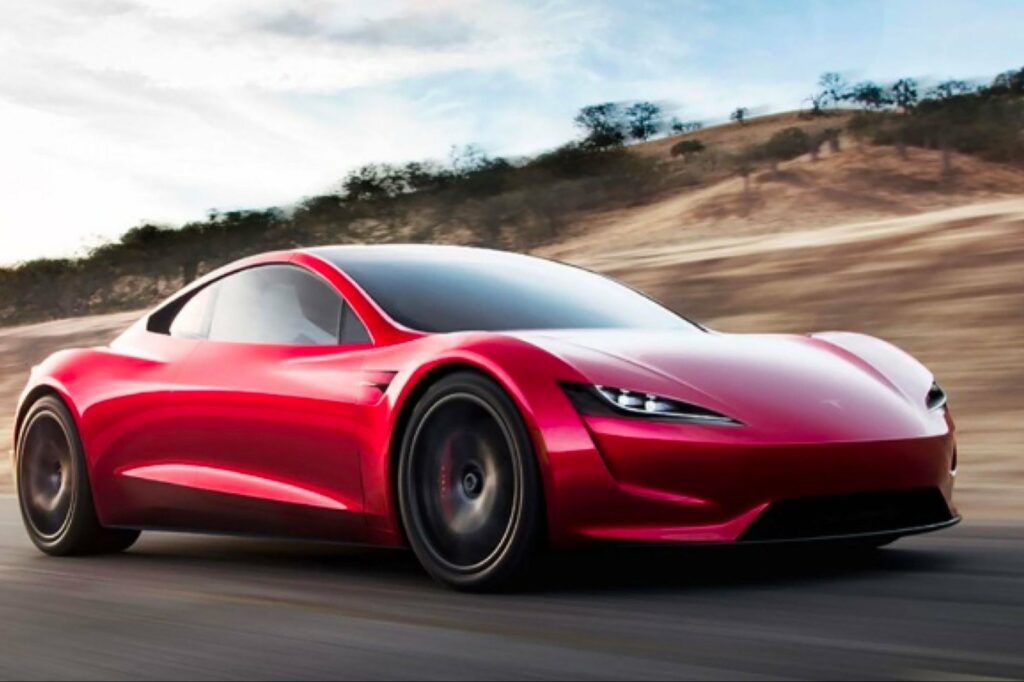 What We Loved
World-record-breaking performance
Aerodynamic chassis
The first model is one of the few commercially available convertibles
The Tesla Roadster is the first and most famous EV convertible ever to grace the asphalt. Reserved for the discerning few, the first car in the line was unveiled in 2008 at a private event hosted by Tesla's CEO, Elon Musk. The first few units of the car were reserved for investors, and it rocked the chassis of the world-famous Lotus Elise. It ran on Tesla's first engine, a 3-phase, 4-pole induction electric motor capable of 288 hp and capable of accelerating from 0 to 90 in 3.9 seconds.
The EV catapulted Tesla into the limelight and formed the foundation for many of its cars since it was built. The second version of the electric convertible was announced at the Tesla Event in 2017. If the specifications on the website are anything to go by, it might be the fastest Electric convertible car ever built. When it rolls off the line, it should do 1-60 mph in 1.9s, reach a +250mph max speed, and 620 miles of range. It has been confirmed that the Tesla Roadster has a glass removable roof instead of the standard cloth roof, and it has the most aerodynamic frame Tesla has designed to date.
Rating
Availability
Range
Performance
Design
Best Electric Convertible Cars Available Outside North America
Fiat 500 Electric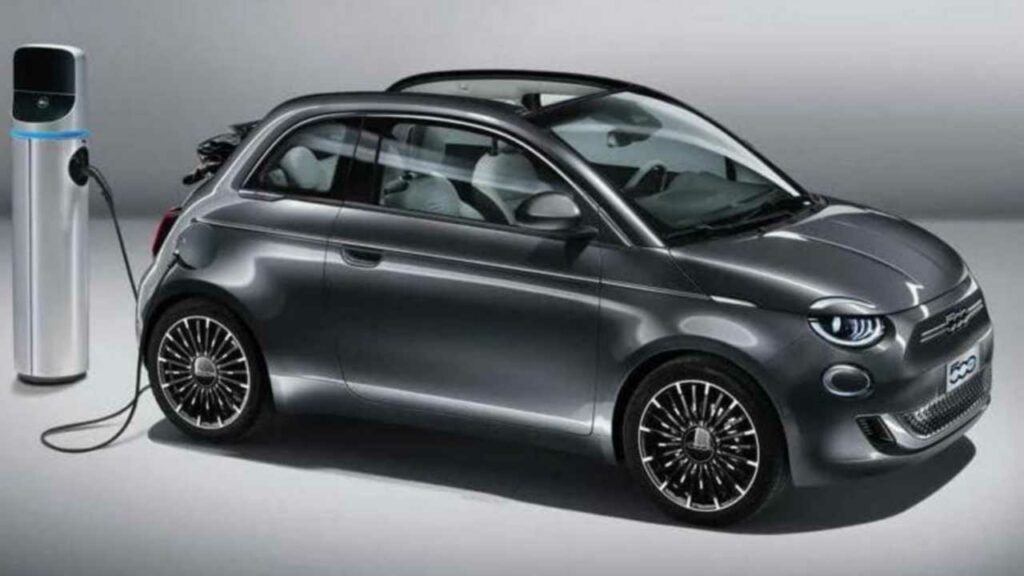 What We Loved
Inexpensive car
Decent range and speed
What We Disliked
Unavailable in North America
Trade your sports and luxury cars for something more affordable. The Fiat 500 Electric is a four-door Electric Hatchback with an optional convertible flap that transforms it into a convertible EV. It runs on a modest Permanent magnet AC synchronous motor which outputs 220 Nm or 162 lb. ft. It has a 199-mile range and a total battery capacity of 42 kWh.
If you don't mind paying another $2000 or so for the unconventional flap that can withstand high speeds and like hatchbacks, then you'll love the Fiat 500 EV. It retails for well under $30,000 and might be one of the few Electric Convertible cars in your budget range.
Rating
Availability
Range
Performance
Design
Smart EQ Fortwo Cabrio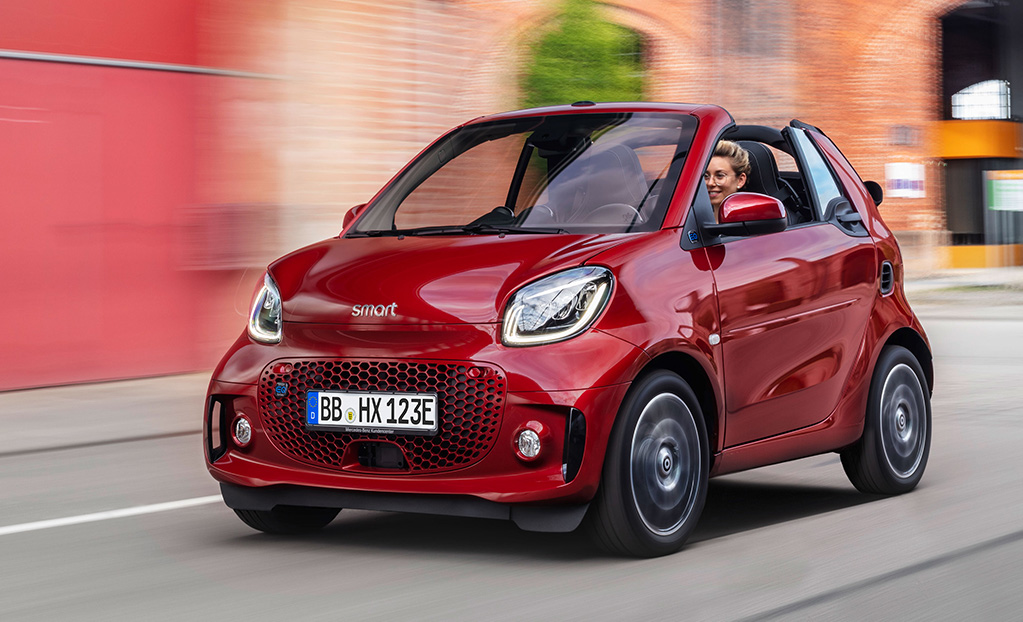 What We Loved
Portable convertible design
Decent engine and range
The Smart EQ is a hidden gem of a Convertible Electric car. Designed for city commutes, the Fortwo Cabrio is a Mercedes-funded, smart Electric Vehicle that runs on a conservative but powerful 80 bhp motor with a 17.2kWh battery. Together, the system nets you 82 miles of range and a maximum speed of 81 mph.
Charging is a non-issue with the battery. Although it's limited to a 22kW onboard charger, you won't have to wait long at the charging station or at home.
The Smart Fortwo Cabrio appeals to the thrill-seeking EV lover with its boxy design, sharp angles, and 12-second retractable top. You'll miss out on nothing with the Fortwo basic design. It has a standard infotainment system and several levels of interior trims and supports Apple Carplay and Android Play.
Rating
Availability
Range
Performance
Design
Electric Convertible Cars to be Released
Mercedes-Maybach 6 Cabriolet Concept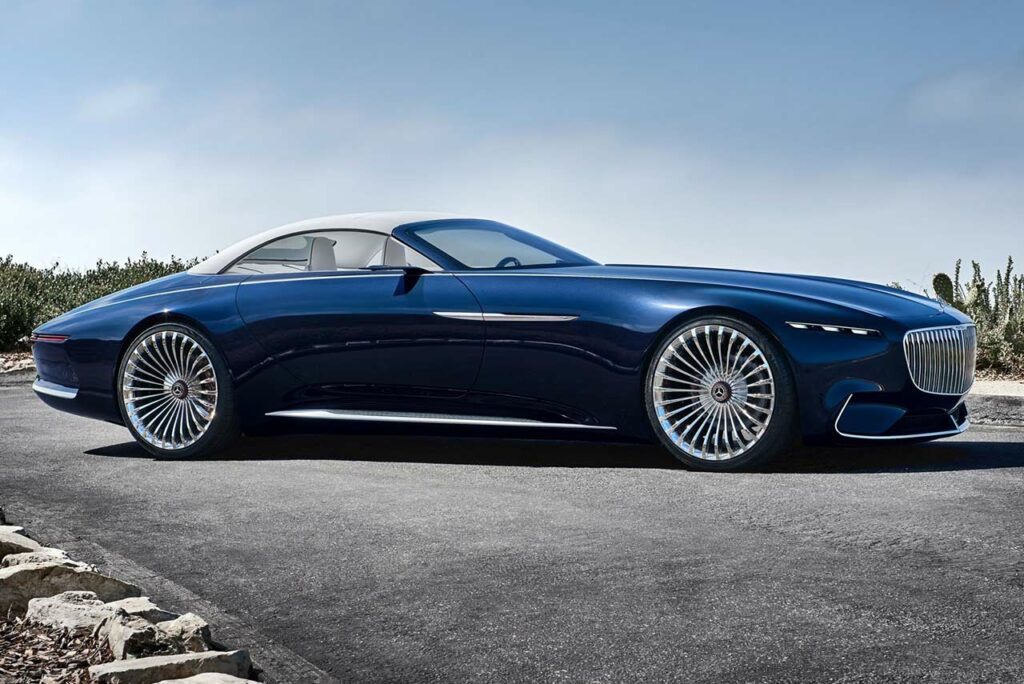 What We Loved
Has an estimated range that puts other electric convertibles to shame
Premium cabin design and Artificial Intelligence
The Mercedes-Maybach luxury brand takes a generational leap forward with the Maybach-Cabriolet Concept. Future owners will be enchanted by everything from its refreshed luxury boat-inspired chassis to the snappy EV motors, range, and speed.
It is powered by four electric motors that connect to an All-wheel-drive system that delivers 750 horsepower and accelerates from 0-60 in 4.5 seconds flat. It has a 200-mile range and a quick charge feature that nets you 60 miles of range for a five-minute charge.
The 360-degree interior lounge fitted with crystal-white leather is easily the highlight of the concept car. The inlaid aluminum, two heads-up displays, a voice-activated concierge, and biometric sensors elevate the Cabriolet past above any known convertible experience.
Bentley EXP 12 Speed 6e Concept
Unlike the other cars on this list, there isn't a ready spec sheet for the Bentley EXP 12 6e. However, the information available paints the car as a range king. According to Bentley's official website, it should be able to travel between London and Paris using battery power, fast charging, and inductive technology. The engine, speed, transmission, and everything else remain a mystery, but with Bentley's track record, it's sure to be on par with the range.
Its bold exterior design also incorporates architecture, aero-design, and natural geometry supported with a bombastic drop-top design that luxury convertible enthusiasts are familiar with.
Finding the Best Convertible Electric Vehicle for You
Buying your dream Convertible EV is not as simple as visiting your local dealership. The first-generation Tesla Roadster, the Smart Fortwo Cabrio, and the Fiat 500 Electric will likely not be available in your area. You're better off browsing an online marketplace. As for concept cars, you'll have to wait for their launch like the rest of the world and hope to snag one at launch.