Last Updated on July 24, 2023 by Calvyn Ee
Buying a car for the first time can be quite a stressful experience, especially if there's a lot of jargon or practices that you're still unfamiliar with. Given the current state of the automotive market, going in unprepared may be a lot scarier – more so when there are unscrupulous sellers looking to make a quick buck from less-than-savvy buyers like yourself.
You might be thinking of getting a decently priced car that's good on value, but sifting through so many different automakers' offerings can get a little overwhelming. Luckily for you, we've got this handy list of the best cars for first-time buyers, with top scores in reliability and being at a fair price to own.
Our Rating Criteria
Reliability
Reliable used cars can last a long time, especially with frequent maintenance. Our reviews consider feedback from current and previous drivers and ratings from reliable sources like Consumer Reports and CarMD.
Performance
Some of these cars have high marks in speed and power, while others boast stable handling and smooth rides.
Appearance
These cars may be frugal choices, but they still have got the looks that get the attention of passers-by.
Features
Many cars are packed with useful standard features any driver would want, from driver assist aids to infotainment systems and more.
Our Selections of Great Cars for First-time Buyers Like You
2023 Nissan Versa (From $16,925)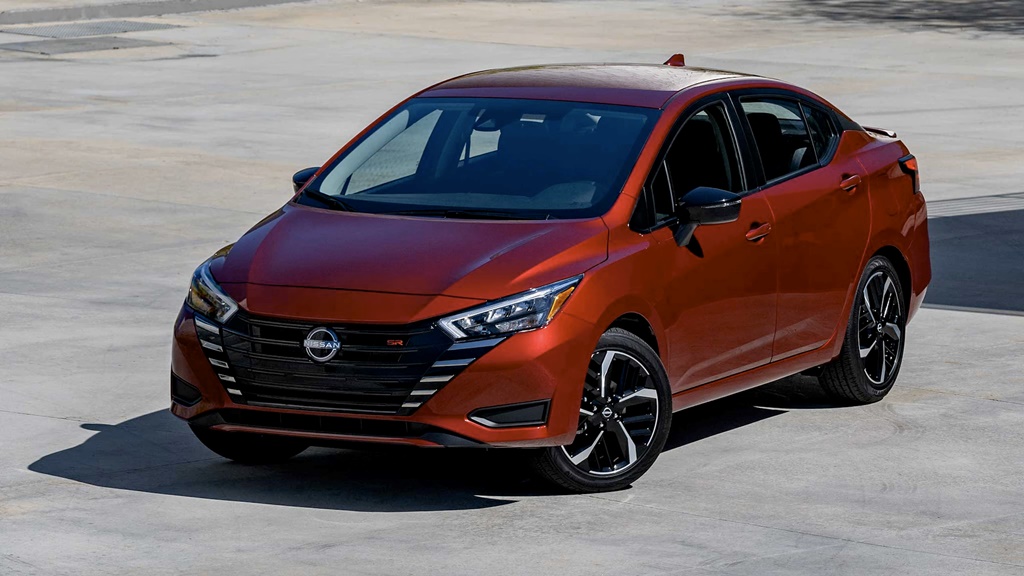 What We Liked
Good fuel efficiency
Decent cargo space
Value-for-money features
Currently one of the most, if not the most, affordable cars in the US market, the Nissan Versa is a humble subcompact sedan that's good for daily driving around the city – be it to commute to work or for some leisurely driving. The base 1.6-liter inline-4 is alright for most city driving, but it does lack the power needed for highway passes; planning will be needed if you plan to drive one on the highway. It nonetheless handles itself nicely, even when making turns, and absorbs most (but not all) road imperfections fairly well. The engine does pair with either the standard 5-speed manual or a CVT, but neither is particularly impressive. Despite its low price tag, the interior is pretty good, although adults may find the rear seats to be a bit of a squeeze. The seats are comfortable, thankfully, but on long journeys, it might get a little less cozy. The trunk offers 15 cubic feet of space, which isn't too bad at all. Interior storage is nowhere as generous, sadly. The Versa also fits a good deal of safety tech, including automatic emergency braking and lane-departure warnings, with blind-spot monitoring and adaptive cruise control available as options. On top of all this, the Versa is also pretty fuel-efficient: EPA ratings put it at 35 mpg combined.
The Versa tops it off with limited warranty coverage of three years/36,000 miles and powertrain coverage for five years/60,000 miles. You also get roadside assistance for three years/36,000 miles, but other automakers do give better all-around coverage. Still, you can afford the highest trim (the SR) for just slightly below 21k and still get a good amount of features to go with your new car.
Review
Reliability
Performance
Appearance
Features
2023 Kia Forte (From $20,815)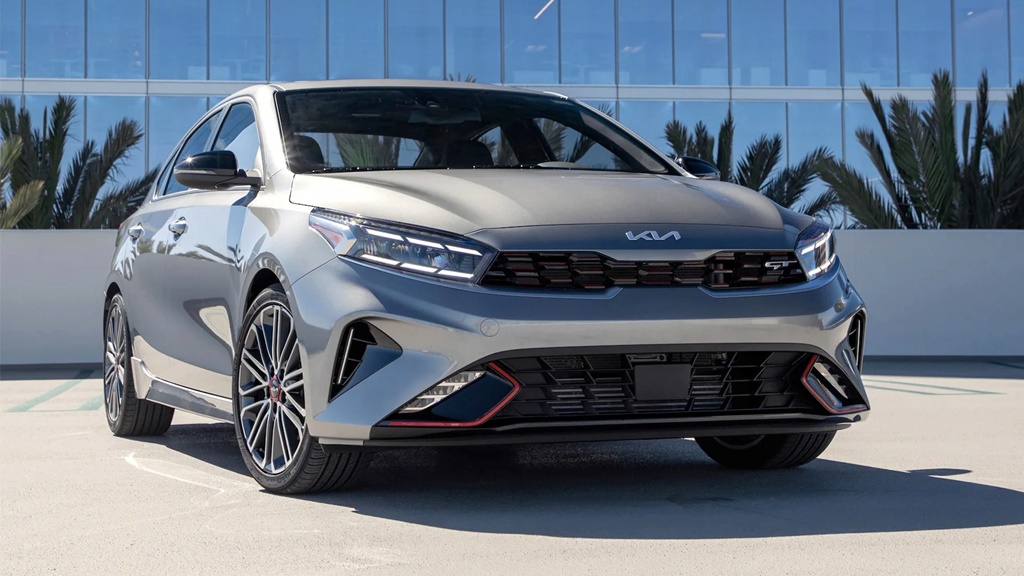 What We Liked
Decent fuel savings
Good cabin quality
Fairly performant with the GT trim
Want something more than the "basic" Versa? The Kia Forte would be a good choice; it comes equipped with a 2.0-liter inline-4 engine with 147hp and 132 lb-ft of torque, paired with a less-than-stellar CVT. It's a decent choice for a base car, but the performance is rather tepid. For only 25k, you could get the sportier GT trim instead. It's armed with a 1.6-liter turbo-4 that pairs with either a 6-speed manual transmission (what we'd pick) or a 7-speed automatic. It's a lot more performant than the base model, and it'll get you to good speeds, but its handling dynamics aren't as refined as some competitors; the stiff suspension also doesn't help as it has a hard time smoothing out bumps, especially the harsh ones. At least cabin comfort is good, with minimal external noise coming in. The front and rear seats are nicely padded; the front space is substantial for taller drivers. Unfortunately, the rear is not the greatest with its small-ish room, and taller passengers will have some trouble with the minimal headroom. Tech offerings are pretty good, and the controls are laid out in a clean, logical manner. The trunk is just slightly bigger than the Versa's at 15.3 cubic feet, but it does better in terms of small-item storage in the cabin. As for fuel economy, base and mid-level trims have 33 mpg combined, contrasted to the GT's 30 mpg owing to its increased performance power.
Both Kia and Hyundai have the most competitive warranty coverage in the industry: with the Forte, you get six years/60,000 miles of basic coverage and 10 years/100,000 miles for the powertrain. Roadside assistance, on the other hand, is covered for five years/60,000 miles. There's definitely a lot going in the Forte's favor.
Review
Reliability
Performance
Appearance
Features
2023 Chevrolet Trailblazer (From $23,395)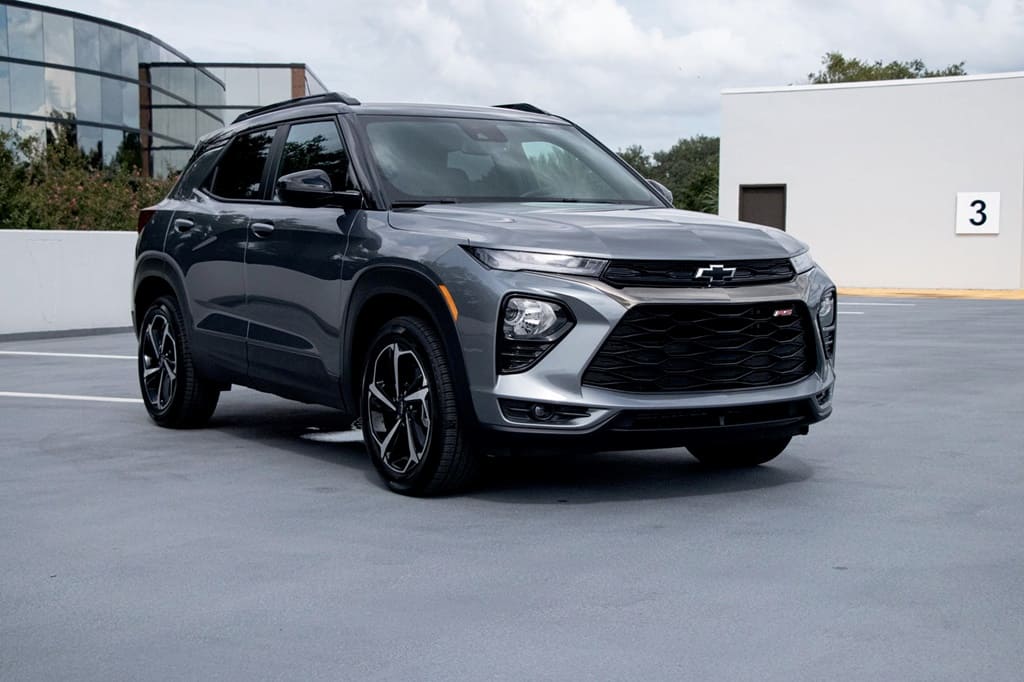 What We Liked
A good amount of space
Decent handling traits
Confident safety scores
For a subcompact crossover, the Chevy Trailblazer is a surprise hit. With a low price tag for an SUV, the Trailblazer manages to offer a decent SUV for those looking for more utility on a budget. The base engine, 1.2-liter turbocharged inline-3, makes 137hp and 162 lb-ft and pairs with a CVT. It's a lackluster engine, unfortunately, with bland performance despite its fairly balanced driving dynamics. There's an upgraded turbo-3 available, upping the horses to 155; it does replace the CVT with a smooth-shifting 9-speed automatic transmission. The turbo-3 is passable in town and in the city, but highway driving will need some forethought beforehand. If you can look past its below-average performance, the Trailblazer shines on the inside. The front and rear seats are well-padded, there's ample visibility for drivers, and rear passengers can breathe a sigh of relief thanks to the Trailblazer's generous legroom. The trunk offers 25.3 cubic feet of storage area, which is fairly generous for an SUV of its size. You can fold the rear seats to get up to 54.4 cubic feet to work with. It's also loaded with some nice tech features, and a Technology package does add some fancier gear such as a Bose seven-speaker audio system. Safety is another strong point, with high safety ratings and the inclusion of safety techs such as automated emergency braking with pedestrian detection and lane-departure warning. Adaptive cruise control and some other safety aids are available on option packages.
With some of the optional packages, the Trailblazer can get a little pricey. You do still get basic coverage of three years/36,000 miles, as well as powertrain coverage for five years/60,000 miles. You can also get five years/60,000 miles of roadside assistance and complimentary maintenance for a year.
Review
Reliability
Performance
Appearance
Features
2023 Hyundai Kona (From $23,475)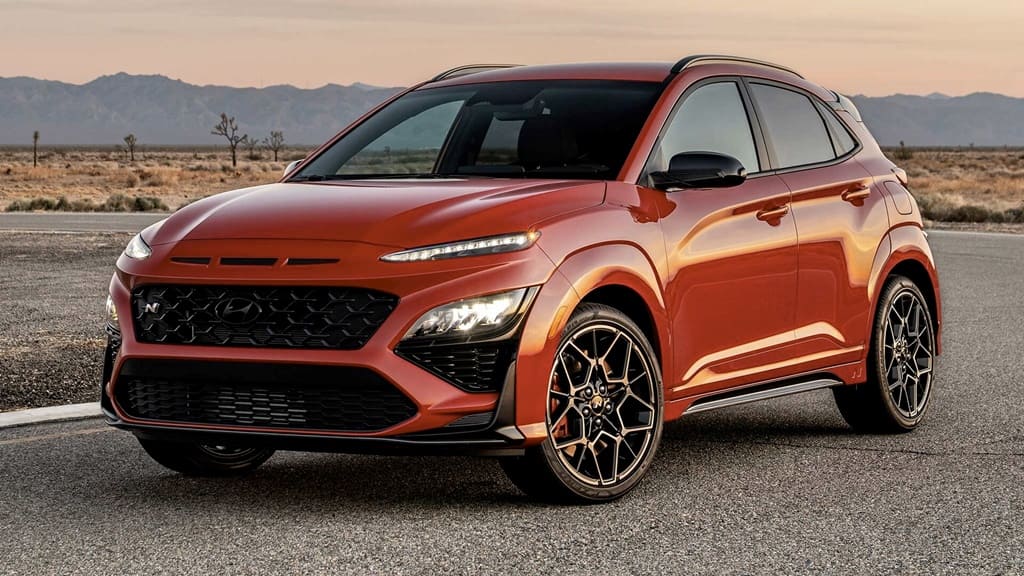 What We Liked
Good fuel savings
Roomy, quiet cabin
Fairly performant engine
The Hyundai Kona is a good alternate choice if you're not a fan of the Trailblazer. It mounts a 147hp 2.0-liter inline-4 linked to a CVT on the base SE and SEL trims, while the upper-crust N Line and Limited trims offer a 195hp turbo-4 paired with a 7-speed dual-clutch automatic transmission. The base engine is a decent daily driver choice, while those looking for more zest would prefer the turbo engine. Still, the N Line goes for 29k, so if your budget allows it, you could always go for more. The Kona's handling is impressive, allowing you to maneuver the vehicle with little difficulty; available AWD helps make the ride much more composed, thanks to the added multi-link rear suspension. The Kona might seem tiny, but its use of space should be lauded. The seats are OK for most driving needs, while the rear has 35.2 inches of legroom that make it bearable for taller passengers to sit in. The cabin also feels well-built, which is always a plus point. Hyundai also packs the Kona with a good deal of tech features, including Apple CarPlay and Android Auto smartphone integration and even wireless charging. Cargo space is a little lacking at 19.2 cubic feet (42 cubic feet with the rear seats folded), compared to the Trailblazer and other rival offerings. Safety is also top-notch thanks to standard automatic emergency braking and active lane control, with adaptive cruise control and some others available as options.
Much like Kia, Hyundai's warranty coverage is solid, with basic coverage of 5 years/60,000 miles, as well as a 10-year/100,000-mile warranty for the powertrain and 3 years/36,000 miles of complimentary scheduled maintenance. It's industry-leading coverage!
Review
Reliability
Performance
Appearance
Features
2023 Ford Maverick (From $23,690)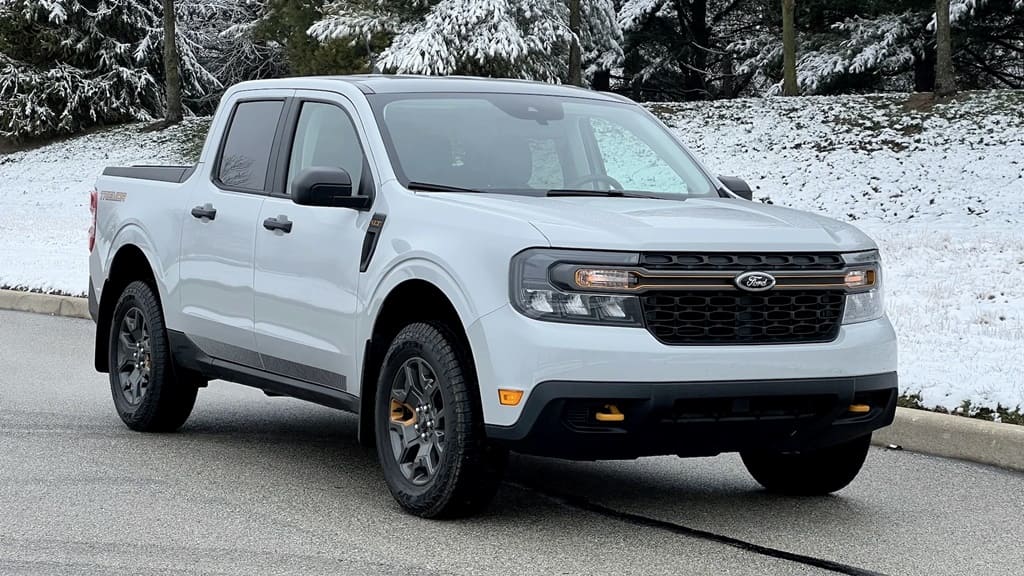 What We Liked
Hybrid powertrain available
Good utility
Good value for a pickup
Looking for a pickup truck instead? The Ford Maverick is a decent crew-cab pickup that might suit your needs. Base trucks come with a 2.5-liter inline-4 paired with an electric motor and a battery pack; it offers up a decent 191hp net and 155 lb-ft of torque. It's what you need for town/city work while getting maximum fuel efficiency. For more performance, there's the optional 2.0-liter turbo-4, upping its stats to 250 hp and 277 lb-ft of torque. You lose out on fuel economy but gain more performance power and acceleration; the beefier engine also allows for AWD. The Maverick still does have truck-like handling, but a softly tuned suspension and responsive steering help mitigate this quality – to an extent. The cabin is pretty good with its clean, minimalist feel. Front seats could do with some more padding, while the rear will feel a little tight for taller passengers. It does shine with the amount of interior storage you have, with plenty of cubbies and spaces for small items and even medium-sized items. The 54.4-inch bed has all the space you'll really need: you also get two covered bins, as many as 10 tie-downs, and even a power outlet for your tools – and that's just scratching the surface. You do only get 2,000 lbs of towing power (double that with the turbo-4) and 1,500 lbs max payload, but that's alright for a compact pickup like this. Tech offerings are pretty basic until you pay for add-on packages; standard safety features are also lacking until you grab the Luxury package, which adds adaptive cruise control, blind-spot monitors, and rear parking sensors.
Ford does offer a three-year/36,000-mile basic warranty and five years/60,000 miles for the powertrain; if you went with the hybrid powertrain, you also get hybrid component warranty coverage of 8 years/100,000 miles. It's not class-leading like Hyundai, but it's fairly decent.
Review
Reliability
Performance
Appearance
Features
2023 Mazda Mazda3 (From $23,715)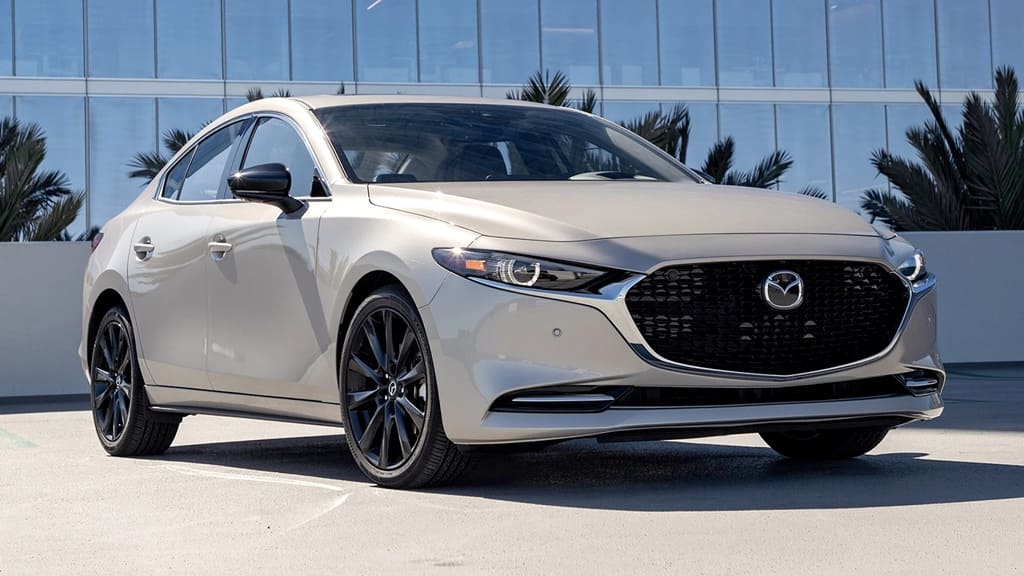 What We Liked
Luxury car styling
Great engine choices
Good tech features
For such an affordable price, the Mazda3 sure does feel like a premium-level car. Available as either a sedan or hatchback, the 3 comes with two engines to choose from: base models get the 2.5-liter inline-4 making 191hp and 186 lb-ft of torque and paired with a 6-speed automatic. Higher trims get the 2.5-liter turbo-4 instead, generating 227hp and 310 lb-ft of torque. The overall ride quality is very good, with minor bumps and vibrations going through. The 3 also handles competently, with good feedback from steering and braking, while it effortlessly maneuvers through traffic and along twisty roads. It definitely feels refined from start to finish. The interior also earns top marks with a simple, minimalist look. The front seats are nice and comfortable while offering great outward visibility; however, rear visibility isn't particularly great, requiring a great deal of concentration to avoid unwanted mishaps. Meanwhile, the rear seats may be tight for adults, despite the 35 inches of legroom available. Cargo space is tight for the sedan, a meager 13.2 cubes, while the hatchback model does have slightly more cargo room at 20.1 cubic feet. Tech offerings are yet another plus point for the Mazda3: for safety, you do get automatic emergency braking, automatic high beams, active lane control, and adaptive cruise control standard. Optional safety aids include blind-spot monitors, front and rear parking sensors, adaptive headlights, and a surround-view camera.
The Mazda3's warranty is also lagging behind both Hyundai and Kia: its limited warranty covers three years/36,000 miles, while powertrain coverage is for five years/50,000 miles. You sadly don't get any complimentary maintenance, either.
Review
Reliability
Performance
Appearance
Features
Be a Smart Consumer
There are other choices available to you, like the popular options from Toyota and Honda, but with how things are right now in the automotive market, it can be tricky to find these particular vehicles – especially when demand for them remains very high. That's not to say you shouldn't actively look, of course. Be mindful of potential price hikes when you look for a deal; be sure also to find out what the financing is like. You might find a relatively inexpensive car (new or used) that catches your eye, but the financing might turn out to be a pain down the road (no pun intended).
And stay alert! Some deals might be too good to be true; scams can hide in plain sight with low sticker prices, attractive financing rates, and many other ways to lure potential buyers. Make sure you take extra precautions if you feel a little unsure about a deal; ask questions or get them to provide pictures. If they seem hesitant to comply with certain requests or something about their answer that doesn't sit right with you, don't be afraid to back away. Make sure you also get a vehicle history report so you can tell if the vehicle is in good shape, as the seller purports. You might be able to use it to spot inconsistencies or possible issues with the vehicle, too.