Last Updated on July 24, 2023 by Calvyn Ee
Key Points
Auto sales went up in March thanks to reasonably strong consumer spending
New vehicle sales are performing better than used despite slightly higher prices
Consumer spending power might not last for long as inflation continues, and a recession is anticipated later this year
---
Auto performance in March still shows positive growth, with light vehicle sales going up 9.3 percent year over year; the seasonally adjusted annual rate (SAAR) currently stands at 14.8mm. Based on that total, car sales went up 8.7 percent year over year, while light truck sales were up 8.6 percent year over year.
March sales were up 19.3 percent month-over-month compared to February; sales may be below pre-Covid trends, but it's nonetheless the highest since May 2021.
By the end of March, total automotive inventory went up a whopping 103,000 units from the end of the previous month to reach 1.84mm units; this exceeds February's 1.74 million units to make it the highest level it's been since April 2021. However, inventory levels are still below "normal" levels, although the good news is that some inventory segments, such as large cars and pickup trucks, are starting to normalize. This should be a good sign that supply can reliably meet consumer demand.
Shift in Vehicle Sales' Momentum
If you recall our previous article, we predicted that used car inventories would slowly dry up while new car inventories would see growing demand again. Cox Automotive's recent report seems to indicate that this is happening: total new light-vehicle sales shot up to 8.6 percent in March compared to a year ago "with the same number of selling days."
However, this gain is actually led by strong fleet sales that "increased 27.7 [percent] year over year in March to 225,200 units." Leading the pack are rental fleets, whose sales went up 46 percent year over year. Retail sale estimates indicate an increase of 5.6 percent with an estimated retail SAAR of 12.9 million – an increase of 0.6 million from last month.
But new vehicle sales are still on a modest upward trend. In fact, new retail sales "last week" were up by 10 percent year over year. In the words of Cox Automotive's Chief Economist Jonathan Smoke, "Volumes were up for new, and relative to last year, [sales] performance improved." In contrast, used sales were the complete opposite: volumes were down, and "performance declined."
Cox Automotive data indicates that used vehicle sales "increased 13 [percent] in March from February" but were still 6 percent lower year over year owing to lackluster performance as is "typically [seen] in the month of March." The higher-than-normal used retail prices, coupled with higher interest rates and "lower tax refunds," have only served to hamper used sales performance.
Consumer Spending Still Going Strong
Despite the lag in used car sales, consumer spending is still relatively good. While vehicle sales have fluctuated in recent years, they recently went up by 7 percent year over year. According to TrueCar, average transaction prices have increased 5.6 percent yearly to $45,397 – equal to $2,419 per unit year-over-year. It reflects that consumers are still willing to spend thanks to modest savings and higher-paying incomes.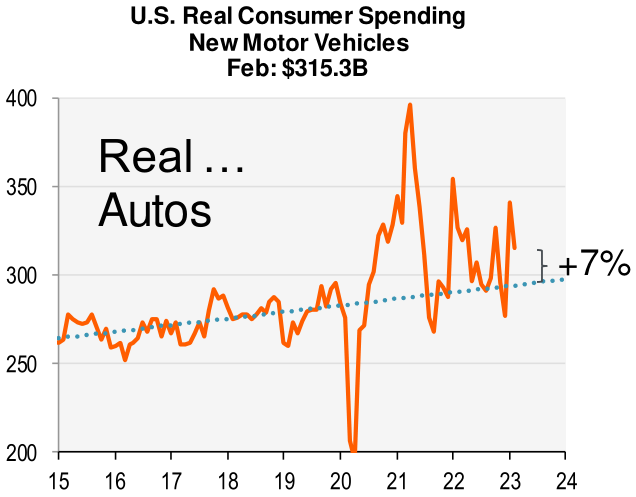 Nominal consumer spending is still going strong and is currently 31 percent above pre-Covid trends despite price hikes (22 percent higher than pre-Covid trends) on new and used vehicles. The modest increase in sales also comes in spite of persisting but normalizing supply chain issues, the bank failure scares, increasing gas prices due to OPEC's oil production cuts, and the risk of a recession later in the year.
Pickup trucks and compact utility vehicles (CUVs) remain highly sought after despite higher price tags. This is partly due to consumers looking for more utility and off-roading capability in their personal vehicles. Total car sales also saw a modest increase, especially as more frugal buyers look to fuel-efficient cars and EVs to save on costs in the long term.
Electric vehicles also saw a surprising boost in sales: the number of EVs sold in the first quarter of 2022 was 5 percent of the total auto market share, far higher than the 2.4 percent market share in the first quarter of 2021. Retail used EV sales have also seen a remarkable increase, going up 32% year over year in Q1 of 2023 to 42,753 units. It also helps that the "average retail listing price for a used EV" hovers around $43,400, a significant decrease compared to the $59,000 for a new EV.
In fact, Kelley Blue Book estimates that EV sales for the first quarter went up 44.9 percent "year over year" to reach a staggering total of 258,882 vehicles! If anything, it seems very likely that annual EV sales can "surpass 1 million for the first time in 2023." Tesla held 62.4 percent of the market share, down from 64.2 percent in the previous year; high Chevrolet Spark sales placed Chevy in second place, while Ford trailed in third.
But Will It Last?
However, this consumer spending dynamic might not last for long, especially if the aforementioned factors start inhibiting consumer spending. In fact, the average unleaded gas price has gone up 2.3 percent week over week to $3.58/gallon as of April 10th, according to Cox Automotive.
In spite of "access to auto credit" loosening "slightly," auto loan performance has also been deteriorating. In February, delinquent loans for 60 days or more went up 21.9 percent compared to a year ago, a streak of ten consecutive months. 1.9 percent of auto loans in February were classified as "severely delinquent," while the number of loan defaults was up 2.2 percent in February from January.
Higher auto loan rates are causing more Americans to default on their payments, with new car rates elevating to 8.95 percent in March from 5.66 percent the previous year. Meanwhile, used car rates increased 11.3 percent in March from 7.7 percent the previous year. It's not uncommon to see someone paying upwards of $700 monthly on their car's auto loan these days.
Consumers are still cautious about where and how they spend their money, but priorities may differ from person to person. Paying $700 monthly for a car loan might seem reasonable for some, while others will find it too steep on top of other financial responsibilities. Automakers usually try to generate interest through incentives, such as cash-back offers, but most incentives today are intended for full-sized trucks.
Demand for new or used cars can fluctuate, especially if consumers decide to wait and see if dealerships will offer further incentives: discounts, more cash-back options, and more. Even if the price is right, the financing aspect may differ greatly: you'd have to deal with unfavorable – some would say hostile – interest rates. In fact, one in six borrowers paid more than $1,000 on monthly auto payments from January to March!
Despite the higher income levels and robust job market (with 1.7 jobs available per unemployed person), it will eventually come to a head once prices of commodities continue to rise precariously. The rise in loan delinquencies is already a telling sign. Automakers may be enjoying record profits for now, but the question of affordability – especially with phenomenally high loan payments – remains debatable.
Automakers and dealers seem to be taking all these factors into consideration. For one, automakers are looking to shift their focus from "going after market share to production discipline to maintain [their] strong profits and cash flow," especially as they move towards reducing the production of internal combustion engine (ICE) cars in favor of more EVs. Secondly, they aim to keep "inventories at levels lower than the pre-covid (sic) norms" to keep prices sustainable.
"Job market pressures" in the form of "wage inflation" and labor shortages are a core challenge in helping the automotive industry recover, especially once commodity prices increase, corporate profits tank, and companies lay off staff to maintain profitability. Fears of a recession may also compound this issue, but it's too early to say how things will develop from now.
The EV Outlook
EV growth will likely see further improvements this year, with predictions that it'll reach a 7 percent market share by the end of 2023. Even as new vehicle pricing "peaked in 2022" before coming down from Q3 of 2022 (and even this year), premiums for a new EV have gone down to 23 percent above the average new vehicle price. Compare this to 2018 when a new EV, still a new, emerging technology at the time, could cost as much as $66,000, an 83 percent premium above the average new vehicle at the time.
The bottom line is that automakers are keen to transition from ICE vehicles to EVs; Ford, for one, has already outlined plans to "begin production of its 2nd generation EVs in 2025" and improve upon its EV capacity. Meanwhile, the Biden administration looks set to introduce "aggressive climate regulation[s]" in a bid to promote further EV growth, further entailing the need for more supporting changes, such as new charging stations nationwide.
The IRA's clean vehicle credit was a good motivator in getting more Americans to own an EV, and the results did show some promise. However, this new regulation is bound to shake things up beyond the government's interest in combating climate change. While willing, automakers are nonetheless worried that EV demand won't reach the expected demand; lingering issues could still pop up occasionally and potentially affect EV sales performance.
The future of EVs definitely looks great, and we're pretty excited about it as well. Barring the impending recession later this year, we believe EVs are headed down the right track, especially with more incentives to own one, improve charging infrastructure, and accelerate developments into new EV technologies.