Last Updated on July 24, 2023 by Calvyn Ee
For the more conscientious car buyers, getting a used car is a good way to get a decent car for your daily needs. It might not have the latest bells and whistles to make it an attractive deal, but what's more important is getting the most of your money's worth from what it does offer. With various models to choose from and used prices not going any lower over time, it can still make the car buying journey particularly tricky.
If you're looking for an SUV in particular, you don't need to set aside tens of thousands of dollars to get the right one for you. Here's our list of the best used SUVs under 15000, perfect for frugal car buyers while accommodating the most value each model can offer.
What We're Looking For
Reliability
While it's nice to get a good-looking or well-performing SUV, one that is also reliable is a must; you don't want your SUV to break down after a few minutes of driving, after all. We considered well-rated SUVs from previous owners and those listed by JD Power and other reputable sources.
Performance
We look at SUVs that have a good balance of speed and handling so that you can get the most out of their engine and suspension capabilities.
Appearance
A good-looking exterior and cabin can make a huge difference in an SUV's overall looks, even for previous model years.
Features
Even used SUVs can have various useful features or fun creature comforts. Plus, they don't always lack tech features, even if they might be a little dated.
Our Picks of the Best Used SUVs Under 15000
2016 Mazda CX-5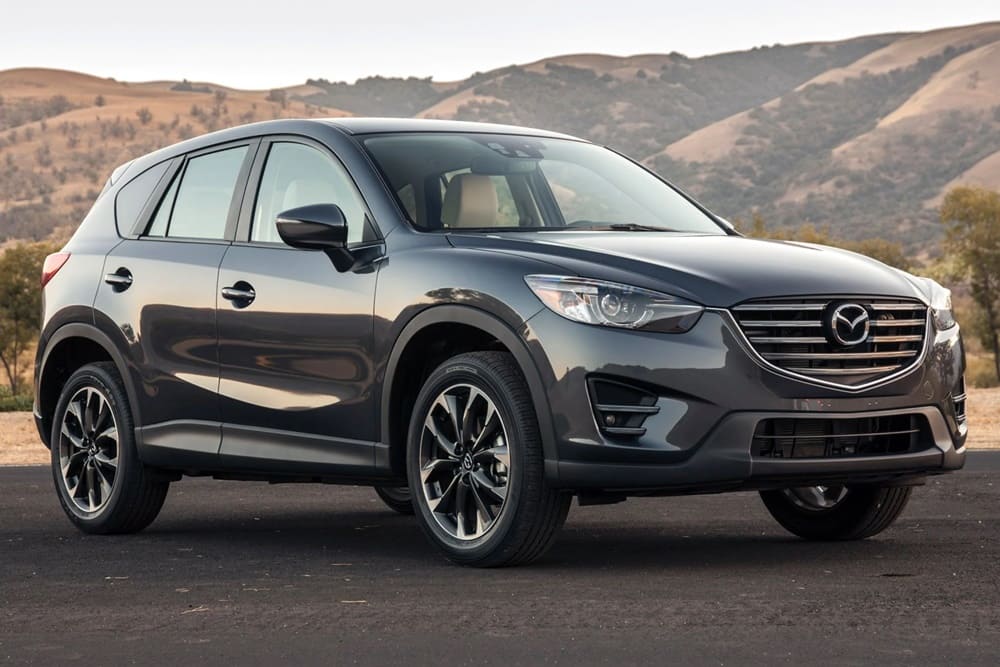 What We Liked
Sporty handling
Decent fuel economy
Spacious cabin
Mazda's lineup of cars and SUVs have always merged premium stylings with excellent performance, and the CX-5 is no slouch in either department. For a compact crossover, the CX-5 offers a great amount of cabin space without sacrificing interior quality touches: no hard plastics or other cheap materials. The infotainment system works nicely, while the control layout is sensible. Seats for both front and rear passengers are also superb, with excellent support and lots of leg and headroom, even for tall passengers. Safety features are also aplenty, with important ones such as antilock brakes, stability and traction control, and airbags; higher trims offer optional blind spot and rear cross-traffic warning systems.
Engine-wise, you could opt for the 2.0L four-cylinder engine with 15hp and 150 pound-feet of torque paired to a six-speed manual; it's a decent engine, but don't expect it to excite on the road. For something with a bit more power, there's the 2.5L four-cylinder engine producing 184 hp and 185 lb-ft of torque and paired to a six-speed automatic. Both offer 29 mpg combined fuel efficiency, which is above average for their class. The 2.0L engine isn't very peppy, but it gets the job done; we'd recommend the 2.5L one with its similar fuel economy but better engine performance. The CX-5 also handles like a champ thanks to its well-engineered steering, braking, and suspension, even as it winds down twisty corners.
Review
Reliability
Performance
Appearance
Features
2015 Subaru Forester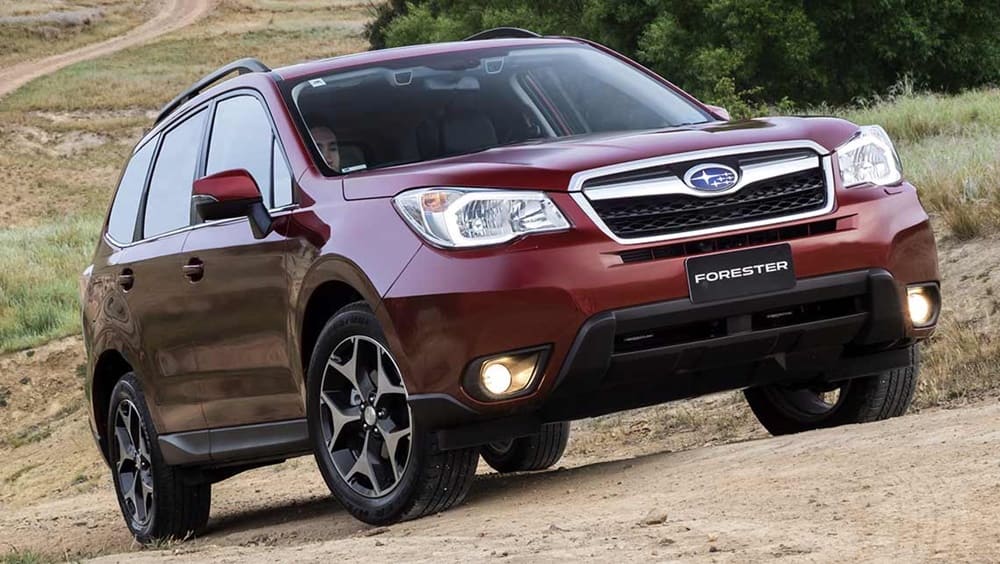 What We Liked
Roomy interior
Great tech features
AWD is standard
The Subaru Forester is a top-notch pick for adventurous drivers who want a good amount of interior space for passengers and cargo. While it looks and feels like a crossover SUV, it also performs admirably with a mix of station wagon and car-like qualities. Subaru went to great lengths to re-engineer the interior layout, making it much more comfortable for passengers to relax on any journey without compromising anything else. It also has more cargo space than the previous model, going up to 74.7 cubic feet once the rear seats are folded. It's also packed with standard driver assistance aids, such as antilock disc brakes, traction and stability control, airbags, and a rearview camera; additional safety tech is included in an optional package. While the tech is good, the infotainment is unfortunately clunky, and the audio system is subpar.
Performance-wise, the Subaru Forester's standard engine is a 2.5L four-cylinder that makes 170hp and 174 pound-feet of torque and is paired with a six-speed manual. As far as base engines go, this one does the job nicely in a 3,300 lbs vehicle. If you want a little extra zest, the 2.0XT trim mounts a turbocharged 2.0L four-cylinder which provides 250 hp and 258 lb-ft of torque, paired to a decently performing CVT. The 2.0XT also features a tuned suspension to emphasize both comfort and style on the move. Additionally, the SI-Drive system adds three modes to help improve your driving experience. And with standard all-wheel drive and 8.7 inches of ground clearance, coupled with the Forester's own trailblazing prowess, you'd be tempted to take it out into the wilds for an off-road adventure.
Review
Performance
Reliability
Appearance
Features
2016 Honda CR-V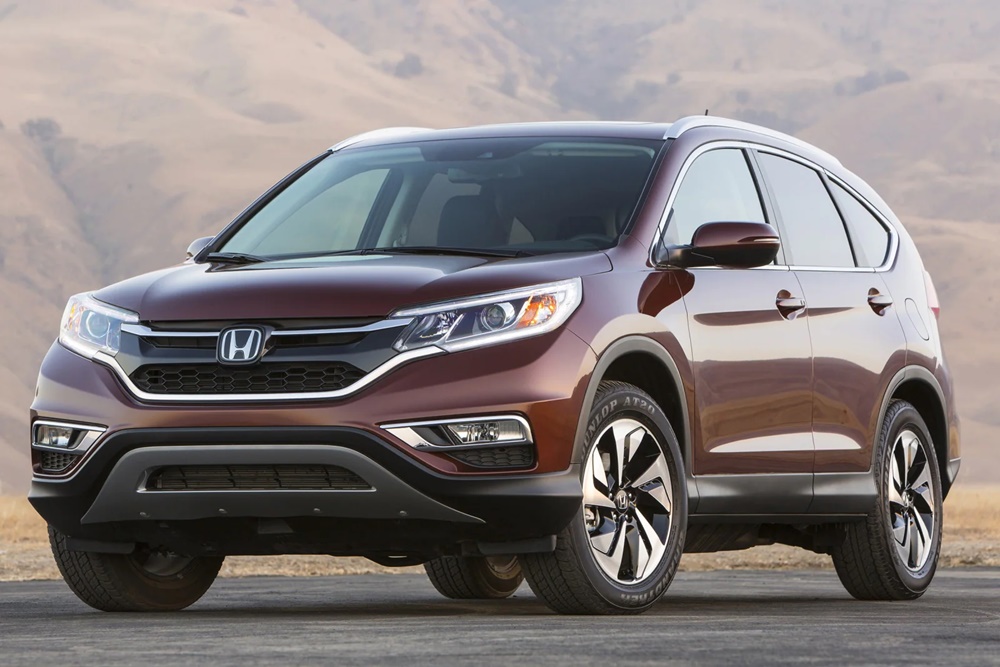 What We Liked
Impressive fuel efficiency
Chock full of tech features
Decent ride quality
If you're not looking for something exciting, you can't go wrong with the Honda CR-V. That's not to say that this SUV's boring; on the contrary, it's one of the best of its class with its impressive interior space and Honda's trademark reliability. The CR-V has many important features, such as the necessary safety tech (with some others available on higher trims), up to 70.9 cubic feet of cargo room with the rear seats folded, and excellent visibility. In fact, the cabin itself shines thanks to a much-needed overhaul, granting it a more refined appearance despite the prevalence of hard plastics (your mileage may vary) and greatly reducing the amount of external noise that filters in as you're on the road. In contrast to the previous model, the CR-V definitely gets some things right. However, its infotainment system feels rather dated to use, no thanks to some unintuitive controls.
Once you take it for a drive, you'll easily feel the CR-V's smooth, reassuring handling. Again, with its 2.4L inline-4 engine that produces 185hp and 181 pound-feet of torque paired to a CVT, don't expect it to turn heads with its average performance power; you would, however, very much like its impressive fuel economy ratings (29 mpg combined is fairly high for an SUV). The CR-V's main aim is to provide families with a highly utilitarian car that provides more function and space over a regular sedan. Meanwhile, all-wheel drive on the CR-V helps to provide better stability on almost any terrain and less so as a means for semi-decent off-roading capability. As it stands, the CR-V's engineering tailored it to provide maximum comfort over sportiness.
Review
Performance
Reliability
Appearance
Features
2014 Toyota RAV4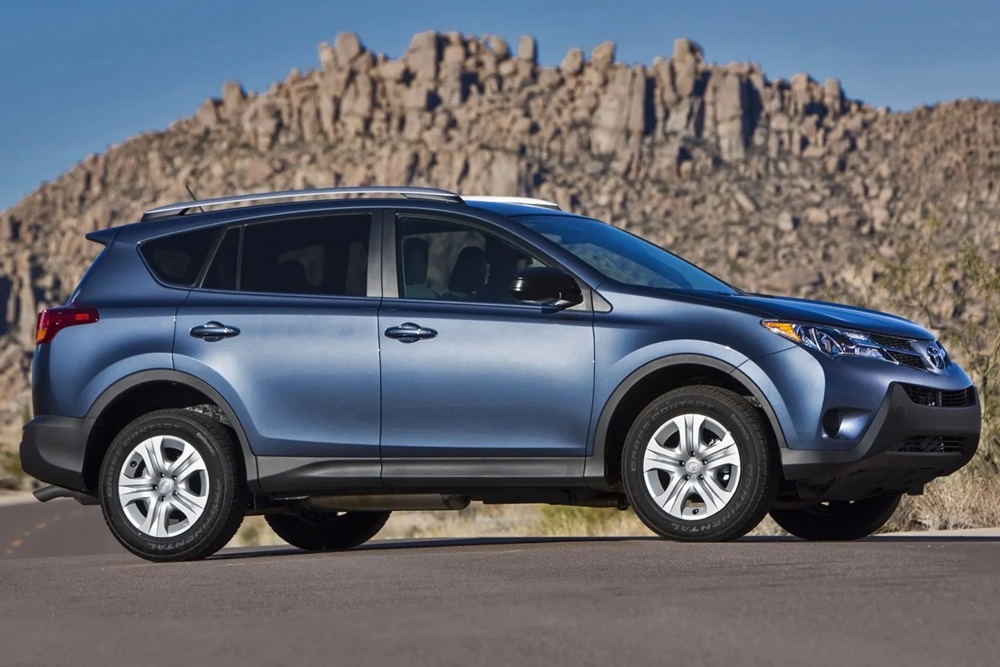 What We Liked
A good amount of space
Comfortable ride
Stylish appearance
An excellent all-rounder SUV from Toyota, the RAV4 remains a popular choice among all of Toyota's offerings. Much like Honda, Toyota cars are well-known for their excellent tech. The RAV4 is full of it: antilock disc brakes, airbags, rearview camera, and even a highly functional infotainment system that includes Toyota's Entune suite of smartphone-related services. While the Entune feature isn't necessary, you might find some of its features handy or interesting. At least the infotainment system works well enough and is relatively easy to use. Meanwhile, the interior is well-designed to ensure maximum comfort for five passengers. Higher trims naturally add more goodies, from adjustable front seats to synthetic leather upholstery. Cargo-wise, you can get up to 73.3 cubic feet once the rear seats are folded; it's clear that spatial adjustments have done wonders to improve the feel of the RAV4's cushy interior.
As for performance, it's a similar story to the CR-V, which means it's not exciting at all. A 2.5L four-cylinder powers the RAV4, paired with a six-speed automatic that performs admirably for the most part. The engine makes 176hp and 172 pound-feet of torque and has slightly less fuel economy than the CR-V. It steers nicely and handles fairly well on most road conditions, but you may be tempted to look for an all-wheel drive RAV4 for improved finesse. In fact, coupled with the Sport drive mode, you might find the RAV4's handling and stability only gets better, even for some mild off-roading. With 6.3 inches of ground clearance to boot, it makes the RAV4 a surprising but workable choice for a little trailblazing on gravel or muddy paths.
Review
Performance
Reliability
Appearance
Features
2016 Hyundai Santa Fe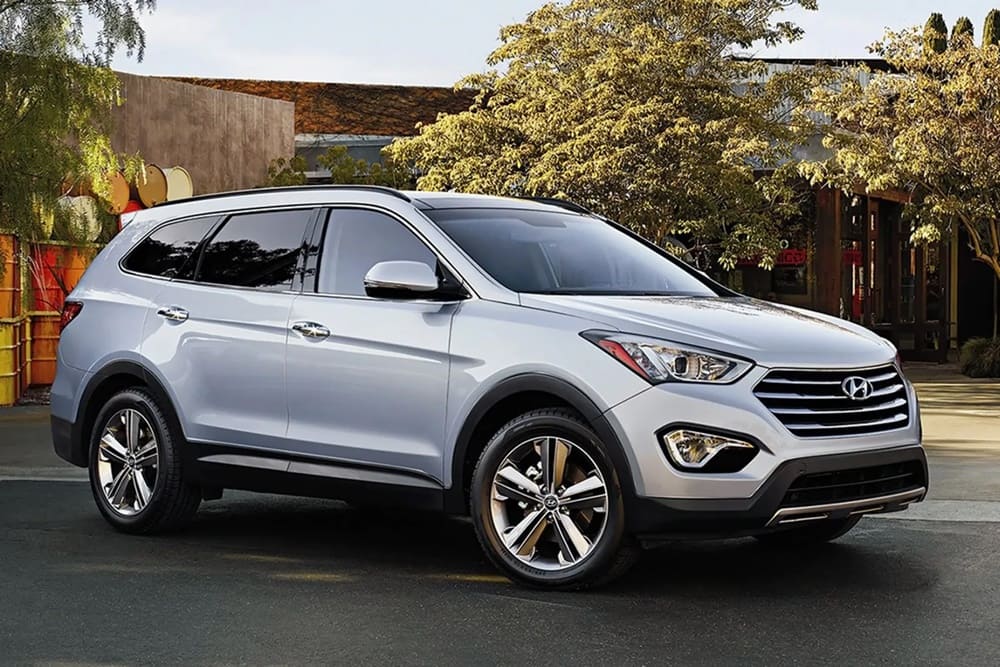 What We Liked
Strong powertrain
Good handling
Bold styling
If you want something that looks good and drives well, why not opt for Hyundai's Santa Fe? While the base four-cylinder engine offers good fuel savings and above-average performance, the 3.3L V-6 – paired with a smooth-shifting six-speed automatic – might be what you'd like for some added zest to your drive. With 290hp and 252 lb-feet of torque, you'll be jubilantly zipping down empty roads and tackling corners pretty well. With three drive modes available, you can fine-tune your driving experience to suit your needs. And even though it's a potent engine, it still offers a relatively quiet thrum that won't filter into the cabin (nor does any external noise, for that matter). The only issue you'll have with this engine is that it's not all that fuel-efficient in exchange for better performance statistics: at 20 mpg combined, it pretty much falls in line with most vehicles of its class.
At least the ride quality is fairly comfortable for everyone on board. You'll be able to enjoy high-quality material choices, a well-laid-out control scheme, and an intuitive infotainment system on top of the well-padded seats. There's also plenty of head and legroom for rear passengers, so you can comfortably sit in the back; there's a third row available, too, but that's best suited for kids. If you're not planning to use the third row, you'll have 41 cubic feet of cargo storage to work with. As such, we recommend not using the third row at all unless it's absolutely necessary. Safety tech is also plentiful, with airbags, antilock disc brakes, traction control, and stability control, among other things. However, some features (such as a frontal collision mitigation system) are unavailable or locked behind optional packages. Still, what it does have is plenty enough to keep you safe while driving.
Review
Performance
Reliability
Appearance
Features
2014/2015 Jeep Grand Cherokee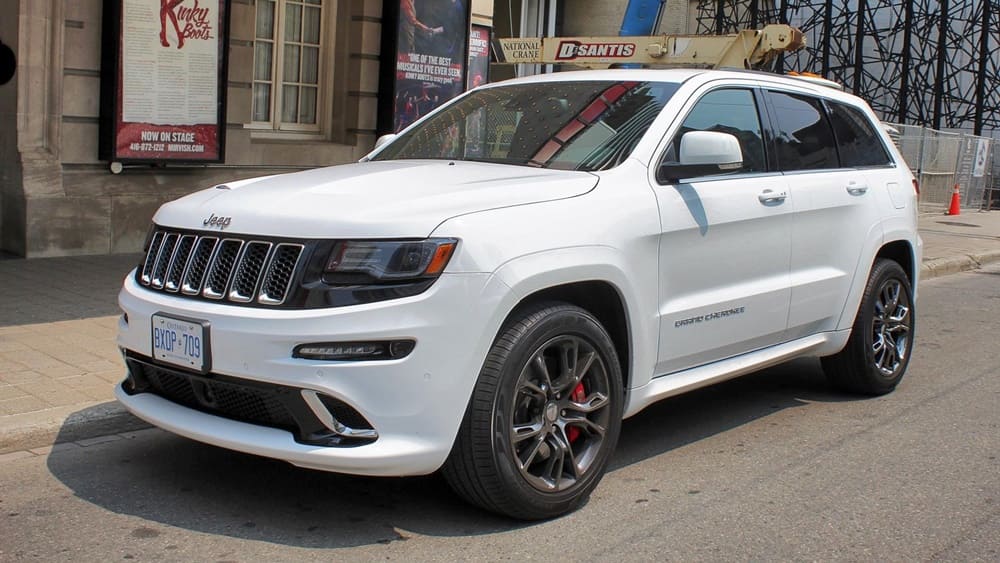 What We Liked
Off-road potential
Upscale feel
Strong towing capacity
Jeep's midsize Grand Cherokee is an attractive choice for a luxury SUV below 15k. Its main draw is in its base 3.6L V-6 that produces 290hp and 260 pound-feet of torque, allowing it to breeze to thrilling speeds – at the cost of middling fuel economy. On higher trims, you have two alternative choices. Opt for the turbocharged 3.0L diesel V-6 that makes 240 hp and 420 lb-ft torque for slightly improved fuel economy (24 mpg combined, compared to the base V-6's 19 mpg combined) but slightly worse handling owing to its weight. Otherwise, the muscular Hemi V-8 makes 360 hp and 390 lb-ft, allowing the Grand Cherokee to tow up to 7,400 lbs with no issue; the V-8, however, guzzles more fuel than the other engines. Whichever your choice, the SUV handles admirably on- and off-road conditions, aided by Jeep's top-quality engineering, great ground clearance, and a host of other improvements under the hood.
Jeep also didn't hold back with its interior trimmings: expect to sit back in style with wide, supportive cushions and a lot of head and legroom to work with. Front seats are fairly easy to adjust to your liking, too, so that's an additional plus point. You can easily fit five people in the spacious cabin and still have room for small item storage. As for cargo space, you have an ample 36.3 cubic feet to work with; fold the rear seats for 68.3 cubic feet instead. The infotainment is also easy to use, and an optional 8.4-inch touchscreen adds smartphone app integration, among other things. Standard safety tech is also included, with antilock disc brakes, 015 Jeep Grand Cherokee comes with antilock disc brakes, stability and traction control, hill ascent/descent controls, and airbags being part of the suite; higher trims have more to offer, such as blind spot monitoring. For 15k, getting a well-equipped Jeep Grand Cherokee is a real no-brainer.
Review
Performance
Reliability
Appearance
Features
Caveat Emptor!
Looking for a used car is not a straightforward experience, especially if you've never gone through the motions. It might seem rather easy, you'd think, but it goes beyond visiting a used car dealership and picking the car of your choice. You'd want to ensure that you're not walking into a scam, and given how automotive fraud is still prevalent, how do you know if the deal you're offered is genuine? If you've not seen the car yourself, can you be sure you're not being taken for a fool?
With the aid of a vehicle history report, you'll be able to protect yourself from falling victim to a scam. Here at VinFreeCheck, we provide a free license plate lookup system to quickly get your hands on a comprehensive report on a used car's particulars. You might find that the SUV you've been eyeing had its odometer readings tampered with somewhere down the line or that it's had a history of unaddressed mechanical failures. Don't let your guard down!