Last Updated on July 24, 2023 by Calvyn Ee
Thinking about getting a car with a V-6 for a change of pace? V-6 engines are known to be powerful but reliable, more so than the more potent but fuel-hungry V-8s that many enthusiasts love. While the V-8 attracts drivers who want more out of their car's performance power, the V-6 can still provide significant performance gains while keeping the car's overall handling nicely balanced.
You do have to deal with a premium if you opt for a V-6-capable car, but if you're planning to save up for a speedy addition to your garage, you definitely shouldn't hesitate. This article will help you point out some of the best V-6 cars you can buy today.
What We Look At
Reliability
V-6 cars are all about going fast, but you can't go fast if your car runs into issues frequently. We only pick those based on various reviews from reliable sources such as JD Power and various consumer reviews.
Performance
V-6 engines aren't just solely about horsepower. Combined with strong engineering by automakers, the overall handling also provides drivers with a memorable driving experience from start to finish.
Appearance
Modern car design has come far since the good ol' boxy days. Be it aggressive, angular looks or futuristic concepts brought to life, there are plenty of great designs to look for.
Features
Whether it's a host of top-notch safety features, high-tech infotainment systems, or hefty cargo space, you'll definitely be spoiled for choice.
A Selection of the Best V-6 Cars Available
2023 Ford F-150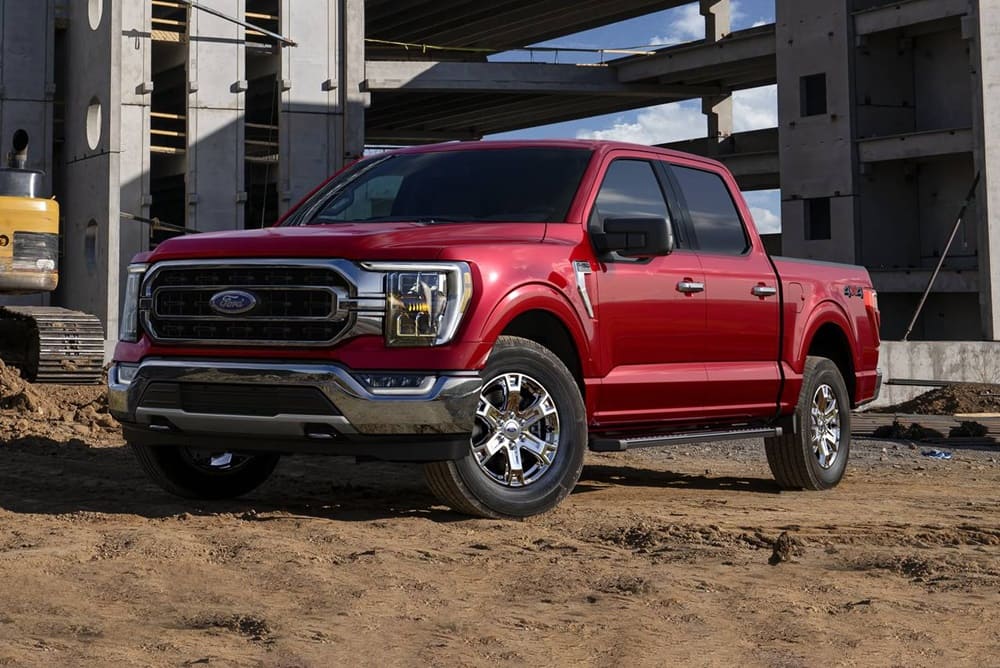 What We Liked
Potent V-6 choices
Strong towing capacity
Highly configurable
The Ford F-150 comes with two V-6 choices: the standard 290hp 3.3L V-6, which isn't very athletic but still offers decent performance power, or the 2.7L turbo V-6 available on the higher trims. The latter engine squeezes out 325 hp and 400 lb-ft of torque, allowing acceleration times below 6 seconds. There's also a hybrid V-6 engine that consists of a 3.5L twin-turbo V-6 and a 35 kW electric motor that makes about 400hp, so you're getting some extra fuel efficiency on top of strong performance. Though it might be a pickup truck, the F-150's strengths come from its almost car-like handling and braking; you'd think you were driving a regular car (although the firm ride quality does jerk you back to reality). Smooth transmission shifting – all engines came with a 10-speed automatic – also helped with performance, and on higher trims with specific additions, you'll enjoy a very comfortable ride quality on every drive.
The F-150 is generous with space, too, especially the crew cab. Its interior is also striking, especially in the upper trims. The front passengers enjoy very comfortable seats, while the rear seats have a plentiful 43.6 inches of legroom. Payload capacity goes between 1,840 to 3,250 lbs depending on your configuration, keeping it in line with the stiff competition. As for towing, the turbo V-6 enables the F-150 to pull 10,100 lbs easily. The F-150 also has several optional creature comforts, such as heated rear seats and leather upholstery for a more premium look. If you go for the hybrid V-6, you might like the Pro Power onboard generator that turns the F-150 into a mobile generator with variable power levels (based on your configuration) and outlets in the bed for any use. Lastly, the F-150 comes packed with essential safety features for drivers who want peace of mind: automatic emergency braking, automatic high beams, active lane control, and extra great tech you can get from higher trims, such as parking sensors.
Review
Reliability
Performance
Appearance
Features
2023 Toyota Camry TRD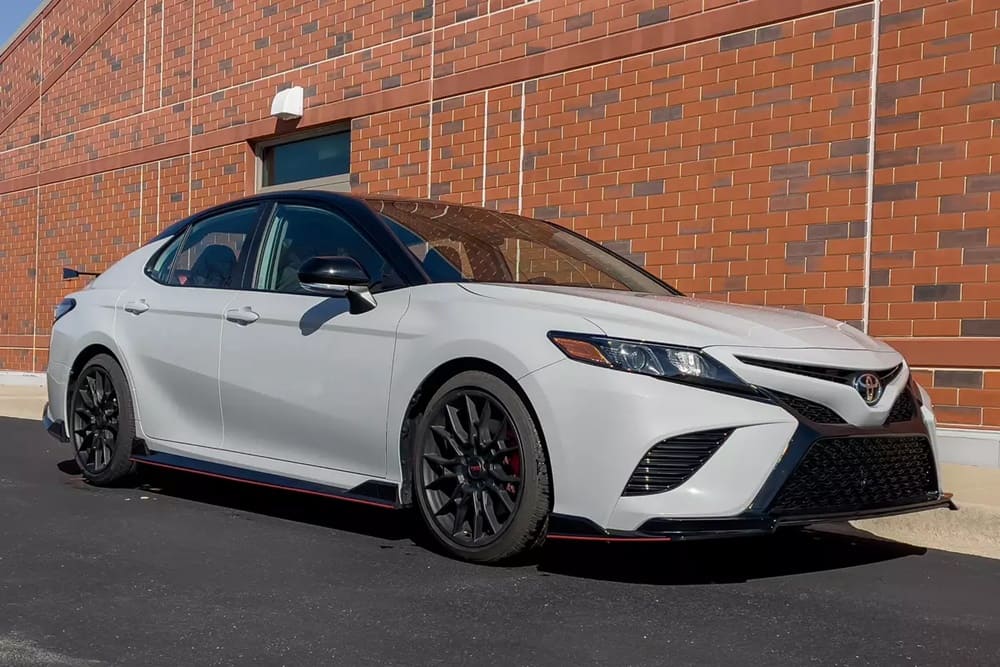 What We Liked
Smooth, powerful engine
Packed with features
Excellent handling
The Camry TRD takes the pros of the already capable Camry and adds a potent engine to give it far better overall performance. It's equipped with a 2.5L naturally aspirated V-6 that delivers 301 hp and 267 lb-ft of torque, taking you from 0 to 60 mph in under six seconds; it also comes paired with an eight-speed automatic. With such a great engine under the hood, the Camry delivers a controlled ride, has strong brakes, and handles very well on the road. The additional extras the TRD adds help accentuate its driving capabilities, such as Toyota Racing Development chassis modifications, shock absorbers, larger front brake rotors, and bold 18-inch rims. These help iron out the stiff ride on the regular Camry model, though external noise still manages to creep into the cabin. Appearance-wise, the TRD sports a very feisty look with goodies such as a discrete rear spoiler and a pair of prominent exhaust tips. The one downside is that the Camry's fuel efficiency takes a hit with the more potent engine; you can expect 25 mpg combined daily.
The Camry TRD remains a cushy ride from start to finish, helped by Toyota's excellent track record where tech features are concerned. There's ample space for front and rear passengers, though the noise that comes in could be annoying for most. If you can look past that, the cabin has a clean, sporty look accentuated by a full-black interior that nicely stands out. Interior storage space is also adequate, with plenty of room for keeping small items; cargo space can store 15.1 cubic feet of goods, which is still a fairly good amount. Toyota's tech advantage continues to draw popular opinion for their vehicles' overall safety and performant results: beyond the infotainment system and clean layout, you get a suite of driver assistance features, with some optional techs such as blind-spot monitors. For just under $40,000, the Camry TRD makes for a speedy and feature-filled car worth the money.
Review
Reliability
Performance
Appearance
Features
2023 Chevrolet Camaro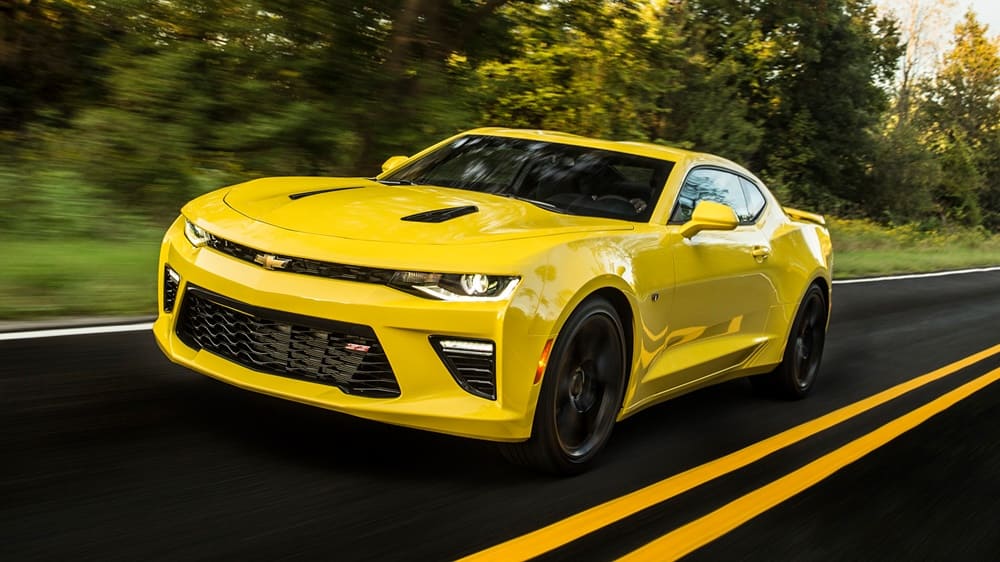 What We Liked
Great performance
Useful optional packages
Superb handling
What We Disliked
Poor visibility and rear space
Like many American muscle cars, the Chevrolet Camaro puts the emphasis on nothing else but performance power with its potent engine options. While the base four-cylinder does a good job, you're looking for a V-6, aren't you? The 3.6L V-6 delivers a soaring 335hp and 284 lb-ft of torque on top of a sonorous sound as you blaze a path at full speed. Acceleration goes hard, with 0-60 times coming in at 5 seconds, regardless of whether you pair it to a six-speed manual or 10-speed automatic. In line with such agility, the Camaro also delivers great handling even when tackling corners. The steering has a great, balanced heft to it, allowing for accurate turns, while optional magnetic dampers can help improve the ride quality and make it much smoother. With the 1LE Performance Package, you're getting both a stylish facelift and a variety of extras: cooling systems for the powertrain, strong Brembo brakes, enhanced suspension tuning, and more. You don't even need to spend the extra money for the V-8, as V-6 Camaros are wholly capable in their own right.
The Camaro's ideal if you don't plan to accommodate rear passengers, as rear cabin space is pretty much forgettable. The driver's seat is power-adjustable, but the front passenger doesn't have that benefit. The 1LE package adds some cool satin-black accents inside and out, and you get to enjoy the comforts of the more supportive Recaro seats (on the higher-end models), but we'd still advise against having anyone sit in the very cramped rear area. To further emphasize the two-person nature of the Camaro, cargo space is a paltry 7.3 cubic feet, so you won't be storing much. Front and rear visibility are also relatively poor, so it pays to be careful if you consider going for a spin. The dashboard layout can get confusing, with odd choices in the control arrangement that makes for a steep learning curve. The lack of some key safety features is also baffling, but it may have been done to keep its costs low: forget about automatic emergency braking, for one. Some other driver assists are locked behind the fancier models, making base models much less attractive. The Camaro is a good pick for solo drivers who want to focus on going fast and aren't inclined to invite others for a ride.
Review
Reliability
Performance
Appearance
Features
2023 Kia Stinger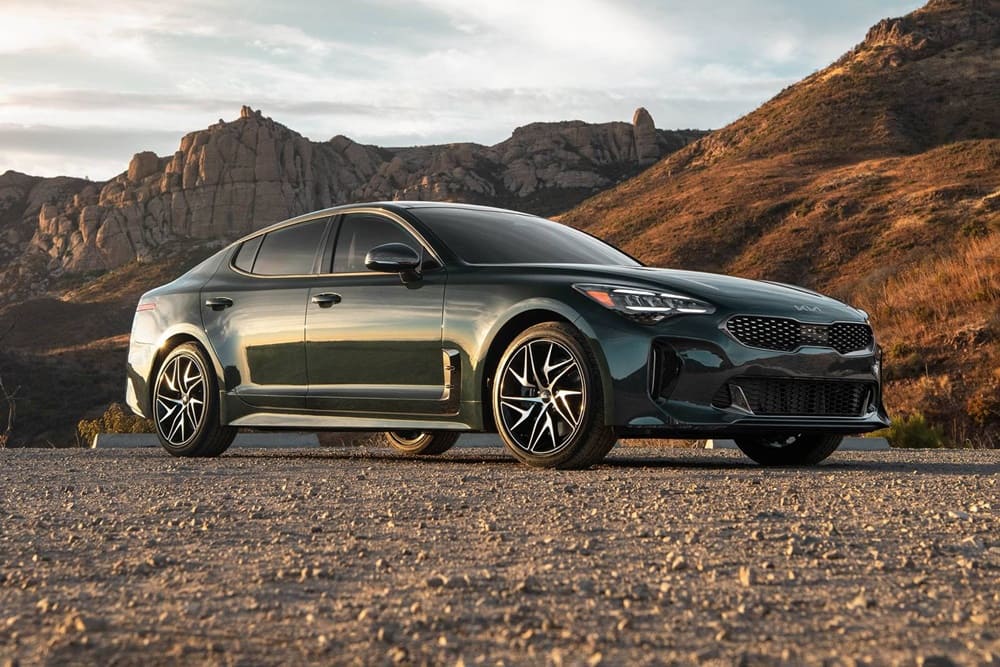 What We Liked
Powerful V-6
Quiet ride quality
Snazzy interior and tech
The Kia Stinger is a big, beefy contender with a muscular twin-turbo 3.3L V-6 that delivers 368hp and 376 lb-ft of torque. It does far better than the standard 2.5L turbo-4 engine, with acceleration times going under 5 seconds. With the right tuning, the Stinger can easily blast to 160mph in a matter of moments. Though it comes with strong Brembo brakes, braking performance is a hit-and-miss affair, but it could depend on your current tires or overall configuration. At the very least, the Stinger is a responsive car with fairly decent handling traits, helped by a nimble steering feel that provides accurate feedback – and this comes despite the car's tendency to lean more as it takes corners. The beefiness of the Stinger also does work a little against its favor, making it more suitable on the road than on the track. If you're not looking to race it, then that's not a major issue. And even if you're going full steam, you can rest assured that exterior noise won't hurt your drive home.
Kia touted the Stinger as a budget-friendly sports car, but looking inside, you might think that Kia could have gone the extra mile to make it an impressive car. While the front seats offer a good amount of space to work with, rear passengers might not enjoy the reduced headroom caused by the sloping roofline. That sloping roofline also ends up hampering rear visibility, which might be a bummer. Infotainment and navigation are bundled, and they both are quite user-friendly. Additional tech kit includes a wireless charging pad, competitive driver aids, and safety features – one would say it's class-leading. You'll have the assurance of automatic emergency braking, active lane control, automatic high beams, blind-spot monitors, adaptive cruise control, and even rear parking sensors, making it as attractive as any Toyota or Honda offering. 23.3 cubic feet of cargo space is decent but nowhere as big as some rival offerings; at the very least, it's far better than what the Camaro offers. All in all, the Kia Stinger makes a good case for an affordable, alluring, and agile V-6 car that's also chock full of handy extras that make it a great value purchase.
Review
Reliability
Performance
Appearance
Features
2023 Cadillac CT5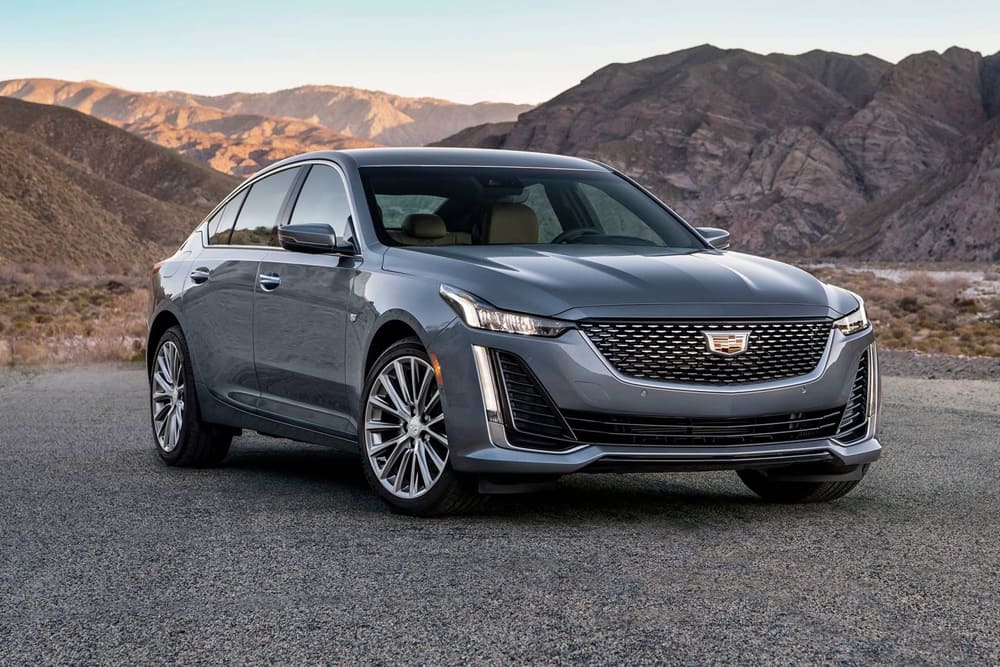 What We Liked
Stylish looks
Agile performance
Good value-for-money
While the CTS is no more, its legacy lives on in the CT5. If you're not looking to splurge on the expensive V-8-powered CT5-V Blackwing, the CT5 does offer a performance-grade twin-turbo 3.0L V-6 engine if you're not interested in the base four-cylinder; the V-6 pumps out 335 hp, giving straight-line acceleration at just 5.5 seconds. Even on a lazy cruise around town, the CT5 offers a splendid ride, though maybe not as smooth as its predecessor. The 10-speed automatic transmission is responsive, as is the steering, so both lend themselves well to the overall drive experience. Meanwhile, the CT5's well-tuned suspension provides a stable ride, though uneven terrain – even the smallest of bumps – can cause a fair bit of discomfort for occupants. Available magnetic dampers can help alleviate that problem to a degree, but your mileage will still vary. Braking is also not the smoothest; it's touchy but nonetheless serviceable for the most part.
Cadillac has done a fine job with the cabin, with synthetic leather upholstery, supportive seats for front passengers, and a fair amount of leg and headroom for rear passengers. However, some other aspects could definitely be improved, such as a few strange control layout choices, minimal adjustment for the steering wheel, and lackluster cabin materials despite the CT5's labeling as a luxury sedan. Visibility also took a big hit, with small side mirrors and a narrow rear window; maneuvering the CT5 in and around small, tight spaces can get difficult. Apart from these, other positives include the infotainment system that's easy to use, and the safety systems that come with the car are what you expect: rear sensors, automatic emergency braking, and adaptive cruise control, to name a few. On higher trims, you can get a hold of GM's Super Cruise hands-free highway driver-assist system, a Level 2 autonomous-driving feature that enables the car to drive itself while the driver keeps their hands off the wheel. It's not a replacement for actual driving, but it's a pretty cool piece of navigation technology. The CT5 remains a good choice for a well-tuned, sporty sedan that nicely serves as a daily driver while you occasionally zoom down empty roads.
Review
Reliability
Performance
Appearance
Features
Power in the Palm of Your Hands
We don't mean that literally, but it's still satisfying to feel that you command a great deal of performance power whenever you hold the steering wheel of a car with a strong engine. V-6 engines will remain a top-notch choice for people looking to thrill themselves with a car capable of delivering great speed and equally fantastic handling. You'll still need to save up for one, as even affordable models can go for above $30k but just slightly under $40k. If you'd like an alternative, you can always consider something that's capable of going above 300hp (maybe even higher) while keeping within your budget.
If you find a used V-6 car for a bargain, be sure to be wary that it isn't an attempt at automotive fraud. Shady sellers can make an offer that's too good to be true, so long as you don't probe them for more details. Your first line of defense would be to obtain the car's VIN and acquire a detailed vehicle history report. Your diligence might reveal that the car is actually a lemon or uses a cloned VIN. Keeping yourself safe from such schemes can save you a massive legal and financial headache!