Last Updated on July 24, 2023 by Calvyn Ee
Recent reports indicate that used car prices have seen an increase of 2.5% in January this year compared to December 2022. This occurred owing to high demand for used cars and in part due to "seasonal adjustment." It's still too early to predict if prices will see a slow rise or continue to fall as was initially forecasted, so buyers ought to ensure they do their homework before they finalize a purchase for a used car they want.
If you're considering owning a used luxury SUV once prices are low enough, luxury car prices did not decrease in January. If that trend does continue, you might want to consider our list of the best used luxury SUVs that money can buy at a bargain.
Our Criteria for Selection
Performance
We provide a mixed balance of sporty, speedy luxury SUVs and those where performance takes a backseat for top-notch comfort.
Appearance
Even older luxury models can look great years after their initial introduction.
Features
From safety tech to creature comforts, each SUV has something that will appeal to your kind of driving needs.
Reliability
A reliable luxury SUV will last a long time without frequent maintenance. As such, we take into account reviews by current and previous owners of these SUVs, as well as ratings from reliable sources like JD Power.
Own the Best Used Luxury SUVs at an Affordable Price
2017 Acura RDX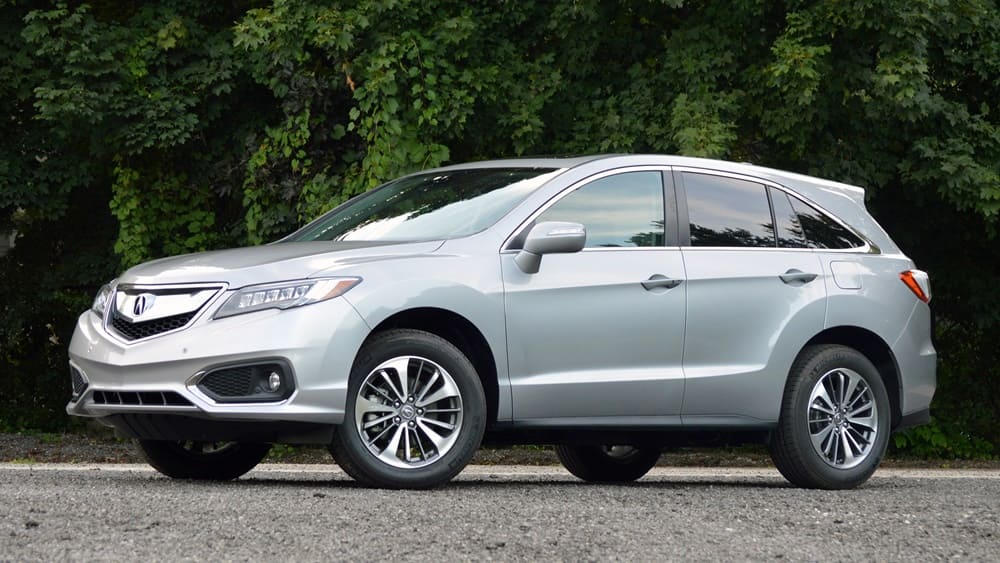 What We Liked
Decent acceleration
Smooth, stable handling
Excellent cabin comfort
What We Disliked
Unimpressive fuel economy
The Acura RDX comes equipped with a 3.5L V-6 engine that makes 279hp and 252 lb-feet of torque and is paired with a six-speed automatic transmission. It might not be a sporty luxury SUV, but its ability to hit 0-60 in only 6.5 seconds is nonetheless impressive. The engine makes a powerful roar at a higher rpm, and its ride quality is impeccable even as you're going fast. You and your passengers can enjoy a relatively quiet ride in stylish comfort. Though imperfect on occasions, the transmission offers smooth gear shifts while the steering is light yet confident, granting accurate maneuvers on the highway and down city streets. It won't impress the thrill-seekers, but family drivers will undoubtedly love the RDX's drive quality. The one issue is the middling fuel economy compared to more modern SUVs: its combined mpg is only 23 (22 for AWD models). For a compact crossover, the RDX makes excellent use of its cabin to provide cushy seats for everyone, decent headroom and legroom (though taller passengers in the rear may still complain), and a fairly intuitive infotainment system. Cargo space is a modest 26.1 cubic feet, which can be expanded to 61.3 cubic feet with the rear seats folded. As for safety, you should aim for RDX models with the optional AcuraWatch safety suite: you'll get forward collision warning, forward collision mitigation with automatic braking, and adaptive cruise control, among other goodies. And that's on top of the standard kit, such as airbags, antilock brakes, and a rearview camera.
Review
Performance
Appearance
Features
Reliability
2017 BMW X5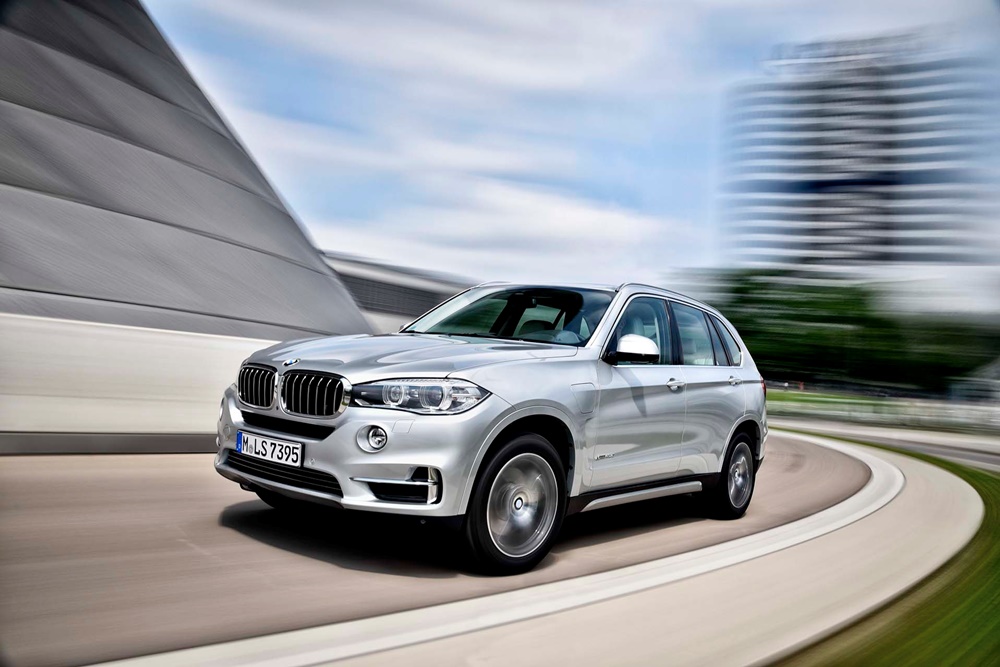 What We Liked
Fast, agile roadster
Exquisite handling
Perky engine
BMW's long-running midsize luxury SUV is quite a substantial package with its lineup of excellent powertrains, including a beefy twin-turbocharged 4.4L V-8 or the uprated V-8 for the more potent X5 M. For more practical drivers, there's also a plug-in hybrid version available, sporting a turbocharged 2.0L inline-4 paired with an electric motor, a 9.2-kWh lithium-ion battery pack, and an eight-speed automatic; its max electric-only range is a humble 14 miles. With variable drive modes and the xDrive all-wheel drive system, the X5 makes for a powerful on- and off-road machine, especially on higher trims with the bigger, noisier, performance-pushing engines. The one downside of its sporty nature is that the suspension doesn't do much to improve the ride quality, but that might not be a downside for some drivers. On the inside, the X5 is quite a beauty to behold. You'll be spoiled with expensive-looking trimmings on every corner of the cabin, adding to the whole luxurious feeling of riding in a Beemer. Meanwhile, front and rear seats have the right amounts of comfort for almost any kind of passenger, but like many midsize SUVs, the rear might not be the best for taller folks. There's a foldable third-row available, but you may as well keep it tucked away in favor of 23 cubes of cargo room; fold the second row as well, and that's 66 cubic feet available. As for safety, BMW includes the usual stability and traction control, antilock brakes, and more, though features like a rearview camera, blind-spot monitoring, and lane-departure warning are locked behind optional packages; look for X5s equipped with these for solid all-round safety tech.
Review
Performance
Appearance
Features
Reliability
2016 Lexus RX350
What We Liked
Exquisite cabin
Sleek design
Perky engine
What We Disliked
Smaller cargo space than rivals
Sporting an updated look (including the massive front grille) for 2016, the Lexus RX350 is now much more carlike than its 2015 predecessor, thanks to various improvements made to its engineering. Engine-wise, the RX350 sports a 3.5-liter V-6 that's 25hp more than the previous version, making a total of 295hp and 267 lb-feet of torque. It's also paired with an eight-speed automatic transmission for a decent fuel economy boost. It won't get you around fast, but it will get you around in stylish comfort. There are also three drive modes – Normal, Eco, and Sport – to pick from, each of which has different characteristics to the powertrain, steering, and more. For the most part, the RX350 is a decent daily driver, though you'll be getting quite a bit of road feedback in the electric steering, while its overall handling is pretty average compared to its competitors at the time. Again, it's a matter of the RX prioritizing comfort over performance; if that's fine with you, you'll like it a lot. The interior has a lot to love: great outward visibility, appealing interior design, lots of headroom, and well-padded seats. It's amazing how much difference adding two inches to the wheelbase can make. Cargo space is a measly 18.4 cubic feet compared to other SUVs that go above 20 cubes. Fold the rear seats, and it increases to 56.3 cubic feet, which is adequate but could be better. And where safety is concerned, the top active-safety systems were packaged in an affordable option compared to other luxury brands. Look for models equipped with this to get adaptive cruise control, automatic emergency braking, lane-keep assist and departure warning, and a few others.
Review
Performance
Appearance
Features
Reliability
2015 Infiniti QX60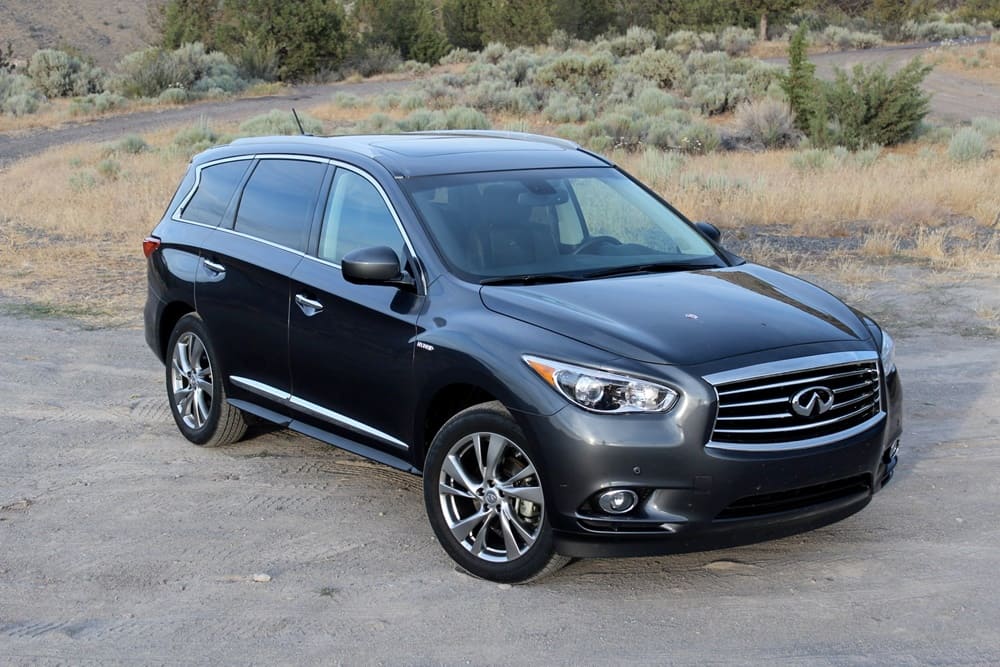 What We Liked
Looks good inside and outside
Available hybrid powertrain
Roomy cabin
Based on the Nissan Pathfinder, the Infiniti QX60 is a roomy luxury crossover with two powertrain options. The base engine is a 3.5L V-6 that makes 265hp and 248 lb-feet of torque and is paired with a Nissan-derived CVT. A hybrid option is also available in the form of a supercharged 2.5L four-cylinder engine paired with a single 15-kilowatt electric motor. Both engines do a decent job at getting you places, but that's about it. The overall ride quality is smooth and quiet yet bland and sedate. It does a great job of absorbing road imperfections, but apart from that, its handling is somewhat unimpressive, with its vague steering and body leans when turning. Much like the RX350, its driving isn't up to par. Step inside the cabin, however, and you'll be greeted with posh interior trimmings with a mix of wood, leather, and metal accents. You might inevitably find some hard plastics mixed in, which can be a bummer for some. All three rows provide comfy, adjustable seats, though the third row is still recommended for kids and teenagers, even with its decent amount of headroom. The electronic interface was great for its time, but now it might seem like an out-of-place relic owing to its dated graphics and odd color palette. Cargo space for a three-row crossover like the QX60 goes small, with a paltry 15.8 cubic feet – smaller than even the RX350's. However, if you don't need the other two rows, the trunk expands to accommodate up to 76.5 cubic feet. And as for safety, Infiniti's got you covered with standard traction control, anti-lock brakes, and plenty of airbags. The Premium Plus package equips the QX60 with front and rear parking sensors and a 360-degree parking camera system. Meanwhile, the Driver Assistance package includes adaptive cruise control, a forward collision warning system with automatic brake assist, and some other safety techs.
Review
Performance
Appearance
Features
Reliability
2016 Volvo XC60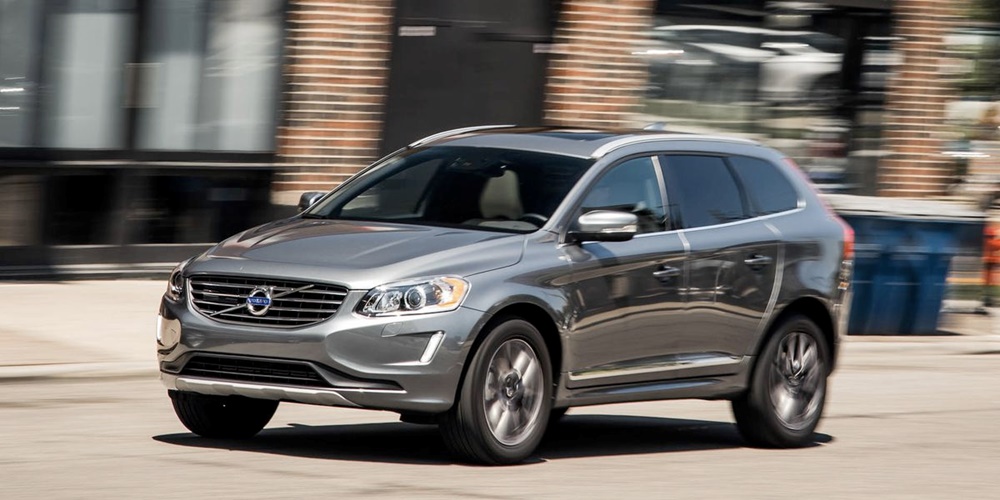 What We Liked
Responsive engines
Plenty of cabin room
Large cargo capacity
Perhaps you'd be interested in a Volvo instead? The XC60 makes a fine choice for its roomy interior, though in terms of handling, it falls short. You have the option of going front-wheel or all-wheel drive, each of which mount different engines. The base T5 FWD XC60s have the newer turbocharged Drive-E 2.0L inline-4 that make 240hp and 258 lb-feet of torque; the more potent T6 uses a super- and turbocharged 2.0L inline-4 that produce 302 hp and 295 lb-ft of torque. Meanwhile, AWD models use older but reliable engines and transmissions. Both FWD and AWD models perform quite similarly, though the FWD ones feel a little extra sporty and balanced. Handling is generously competent, composed and comfortable for the most part, making for a stable but unsporty drive. The firm ride quality might not be for everybody, though. On the plus side, the cabin is chock full of good things to say. For one, the front seats are very comfortable, with plenty of padding and bolstering that's great for long drives. The second row has a good amount of headroom, although legroom is a little lacking compared to some other crossovers. Cargo space is an impressive 30.8 cubic feet, going up to 67 cubic feet with the second row folded down. And when it comes to safety, Volvo checks all the right boxes. Aside from the standard traction and stability control, antilock brakes, and the City Safety system that adds forward collision warning and automatic braking, there are optional features available – including the Blind Spot Information System (BLIS) package for blind-spot monitors, an advanced frontal collision warning system with automatic braking and even pedestrian/cycling detection, as well as lane-departure warning.
Review
Performance
Appearance
Features
Reliability
Luxury at a Bargain
While it's still uncertain if used car prices are going to go lower, it's still a good idea to do some research before you set off on your car-buying journey. while prices are indeed dropping soon, you're bound to see many lucrative sports car deals at relatively affordable prices. You've probably heard stories of people waiting almost a decade for prices to go down to a level they can afford. Maybe you've been in that situation yourself. It can be easy to be tempted by a great-looking deal for a luxury SUV you've always wanted. But did the seller provide you photos of the car? Did you get to see it for yourself? Was the seller very eager to get the car out of their hands? Something fishy might be going on.
The last thing you want is to spend tens of thousands a luxury SUV, only to find that the car's suffered significant flood damage or that it was repossessed for a lien that's unpaid, and now you're obligated to repay the rest of it. It's why you should do your research first and to also get a hold of the car's vehicle history report. The report tells you all you need to know about a car, including its technical specifications, odometer readings, and records of unpaid liens or any damage it may have suffered throughout its past use. Be a smarter consumer and protect yourself from the perils of automotive scams today!