Last Updated on March 13, 2023 by Calvyn Ee
Is it time to look for a new family car? Or are you just looking for something a little (or a lot) bigger than a sedan for a change? Whatever your needs, a midsize SUV is a good choice for the space and the stylish comfort it can offer. But with car prices still fluctuating, you'd have to be prudent with where you put your money – and you'd definitely want a reliable workhorse for all sorts of reasons.
Consider this list of the best used midsize SUVs you can buy this year. Each model offers their fair share of pros and cons, and one will surely be just what you need.
How We Rate
Performance
A midsize SUV doesn't need to be super performant but should still offer a fun, balanced ride with minimal fuss.
Appearance
Modern SUVs can also look really good with a combination of cool curves and fancy extras.
Features
Midsize SUVs offer a variety of valuable features, from high-tech safety aids to great interior design and more.
Reliability
Reliable midsize SUVs will go a long way to helping you get around. Our reviews consider feedback from current and previous drivers and ratings from reliable sources like JD Power.
Here are the Best Used Midsize SUVs for 2023
2020 Kia Telluride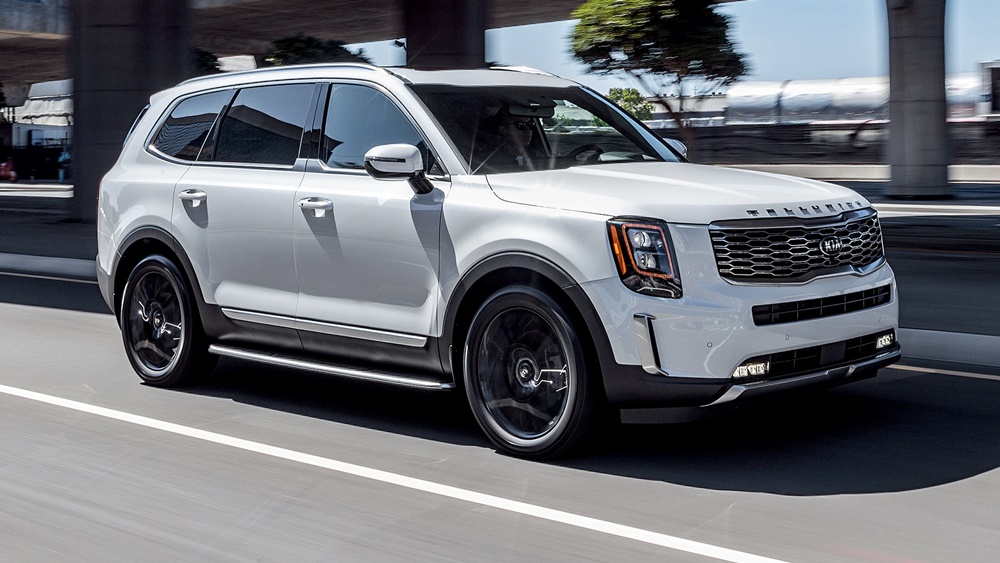 What We Liked
Plenty of room inside
Looks great
Top-notch handling
Well-liked for offering a whole heap of goodies at an affordable price when it came out in 2020, the Kia Telluride is a great midsize SUV to consider. It wins big in terms of overall comfort and space but is also a decent daily driver with its base naturally aspirated V-6 making 291hp and 262 lb-ft of torque. While it won't get you to places as fast as a sports car could, it will get you (and your fellow passengers) places in ultimate style and comfort. Strong brakes and handling also ensure that your rides are safe and smooth. It has a handsome exterior that will catch everyone's attention. The interior is just as impressive, with excellently padded seats, minimal road noise, and copious amounts of passenger space for a three-row SUV. 21 cubic feet is a decent amount of cargo storage if you need the third row, but bring that down. You'll be enjoying as much as 87 cubic feet to work with. With the right loadout, the Telluride can also effortlessly tow up to 5,000 lbs: perfect for a long getaway in another state. Safety is also a big plus point with its suite of safety aids: adaptive cruise control with stop-and-go, automatic emergency braking with pedestrian detection, active lane control, and blind-spot monitors, to name a few. The higher trim SX adds automatic high-beam headlights, forward parking sensors, and a surround-view camera system.
Review
Performance
Appearance
Features
Reliability
2019-2020 Mazda CX-9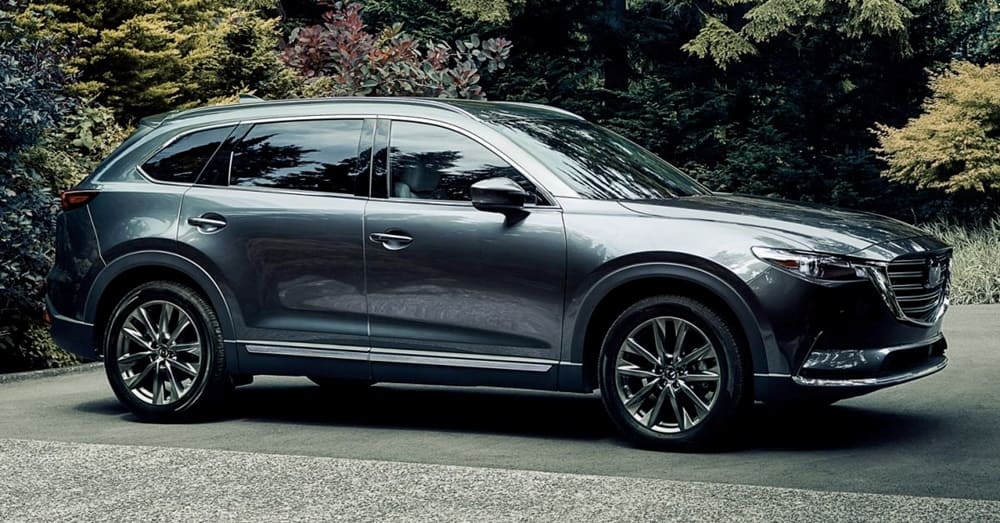 What We Liked
Above average performance
Strong handling traits
Luxurious-looking cabin
Prefer something a little more athletic? You can't go wrong with the Mazda CX-9. A 250hp 2.5L turbo-4 offers a strong engine note and a relatively performant SUV that almost resembles a sports car. The six-speed transmission shifts nicely but could be better, lacking a little responsiveness as you drive. Thankfully, it still provides a pleasant driving experience, helped by its great driving dynamics that make you feel like you're driving something smaller. It can also get through some tight spaces but don't push it too hard. The ride quality is smooth and quiet enough that passengers won't be bothered by the road imperfections the CX-9 rolls over. The luxurious-looking cabin helps with adding to the plushness of the CX-9 with its easy-to-use features, optional leather upholstery, and elegant appearance. It also happens to be a three-row SUV, but the third row is best for kids or stowed away for more cargo space. On that note, with the third row in use, the CX-9 has a below-average cargo space of 14.4 cubic feet; it goes up to 38.2 cubic feet with the third row tucked away. It's not the best compared to rivals, so keeping the third row folded might be the best. And as befitting a Mazda, it's packed with advanced safety and driver aids such as adaptive cruise control, blind-spot monitoring, forward collision warning, and lane-keeping assist.
Review
Performance
Appearance
Features
Reliability
2020 Honda Passport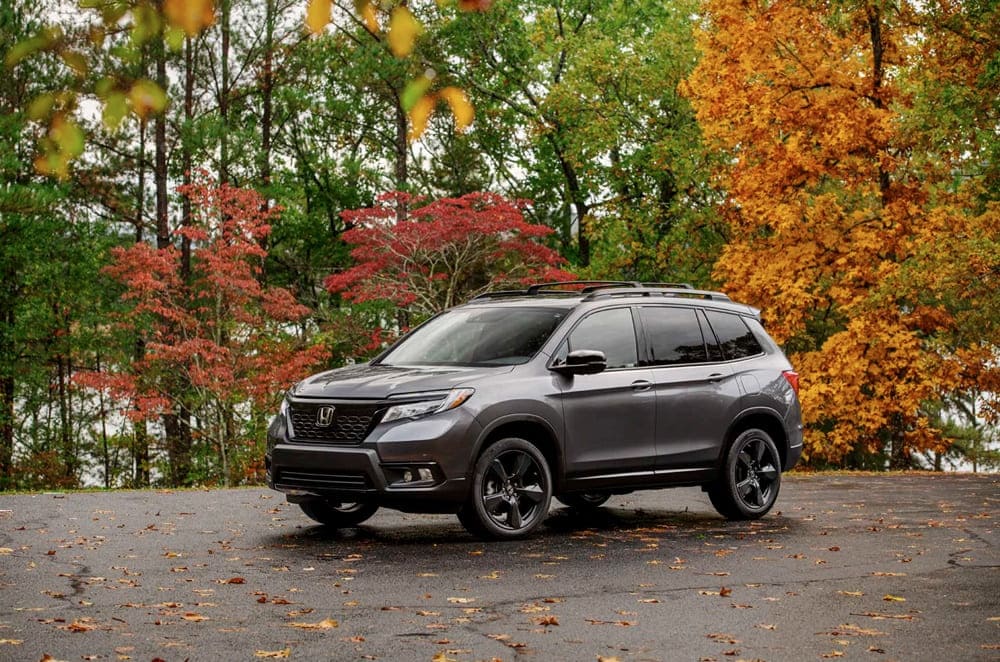 What We Liked
Comfy interior
Decent ride quality
Plenty of tech features
It may not be the most stylish two-row crossover on the market, but the Honda Passport's real strength lies in its rich assortment of safety tech, good comfort levels, and above-average performance characteristics. It mounts a 280hp 3.5L V-6 that delivers satisfying agility, aided by well-balanced steering, strong handling traits, and a sufficiently smooth – though slightly stiff – ride quality. The nine-speed automatic shifts smoothly but does present some hesitancy when you shift. On the whole, driving the Passport is surprisingly fun, offering plenty of room inside and comfortable seats despite the lack of bolstering. The cabin also gets additional points for the high headroom and legroom, so tall passengers can ride without fear of squeezing their legs together. The infotainment system is very useful and responsive, which is always a pro. You've got a bountiful 41 cubic feet of space in the cargo area, making it ideal for long hauls with a lot of luggage. Have no need for the second row? Fold that, and lo and behold, you now have a whopping 78 cubic feet at your disposal. As with all other Honda models, safety tech is a big plus: automatic emergency braking, active lane control, and adaptive cruise control, with available blind-spot monitors on higher trims.
Review
Performance
Appearance
Features
Reliability
2020-2021 Hyundai Palisade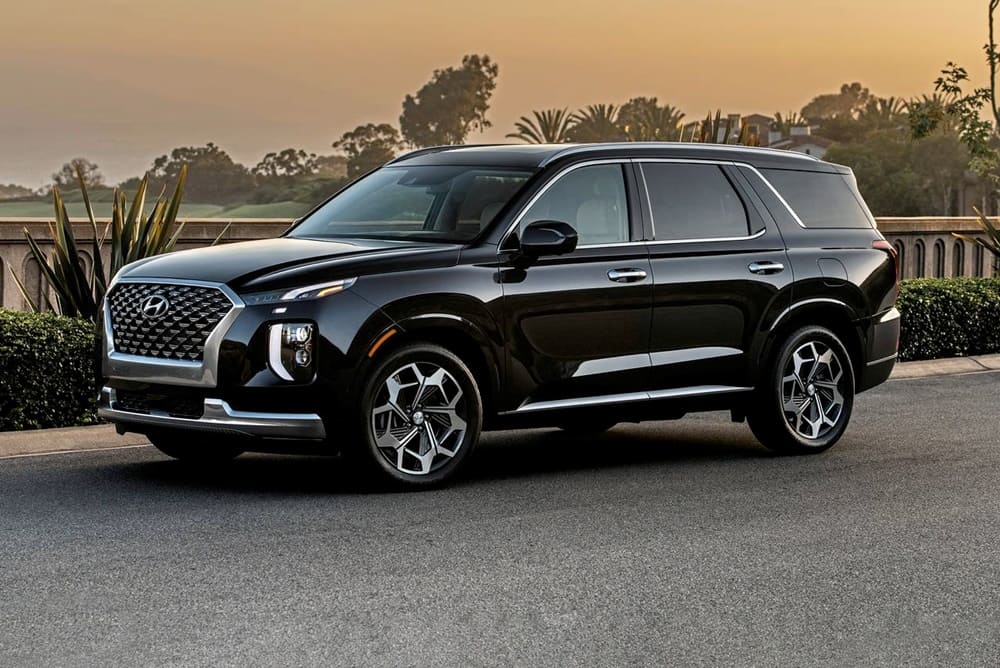 What We Liked
Luxury feel
Maximum comfort
A great amount of cargo space
Hyundai's Palisade is another strong contender worth the money. Performance power isn't its forte, but that's fine: the 291hp 3.8L V-6, paired with an eight-speed automatic, impresses with quick acceleration and adequate performance numbers for city and highway driving. It's not an exciting vehicle, but you'll still have a good time driving one around. The Palisade really shines for its responsive drive, sublime ride quality, and quiet and cozy cabin. For a midsize SUV, it does seems quite big on the outside. With an overall length of 196.1 inches, front seats have great amounts of comfort, while second-row seats are on a track that allows you to adjust legroom to a desired amount – up to 40 inches or more! The third row will be snug for adults, so it's best reserved for kids. The cabin has a very stately feeling to it thanks to the use of premium-looking materials and various options to make it look even better. The trunk also offers excellent cargo room with the third row tucked away, as you get 45.8 cubic feet to use. Tech features are also available, with a head-up display and rear-seat intercom feature as options you can pick. As for safety, Hyundai also doesn't skimp on tech: automatic emergency braking, active lane control, and rear parking sensors, with optional blind-spot monitors and a useful surround-view camera system.
Review
Performance
Appearance
Features
Reliability
2021 Ford Bronco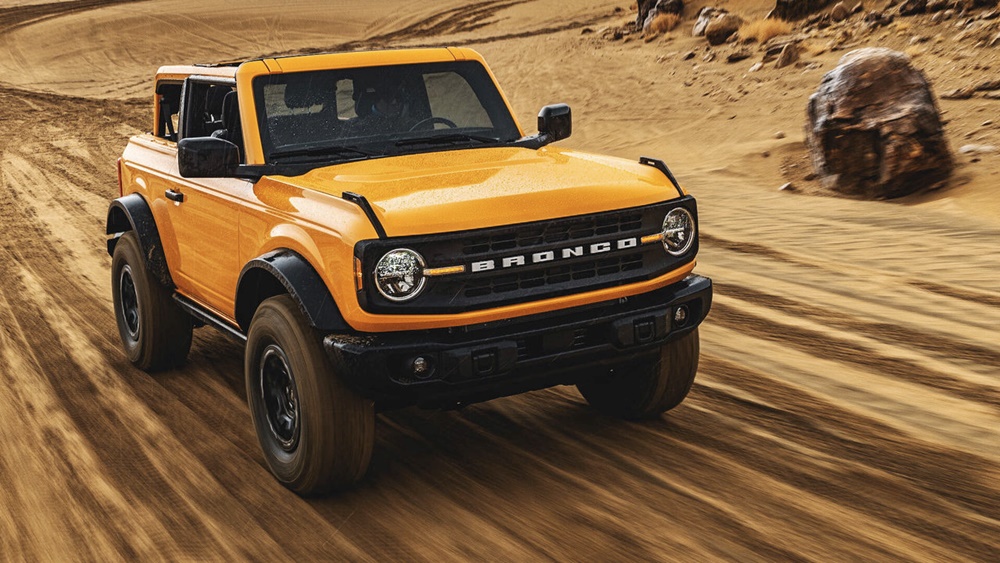 What We Liked
Nimble off-roader
Powerful engine choices
Nice cabin
Fancy a rugged wilderness explorer instead? The Ford Bronco makes a stellar pick for your off-roading needs. You can pick between the standard 2.3L turbo-4 with 275 hp and 315 lb-ft of torque, or the 2.7L twin-turbo V-6 packing 315 hp and 410 lb-ft of torque. Both engines are great, but those looking for a thrill will prefer the V-6. Standard four-wheel drive enable it to take on rough terrain and ford (no pun intended) most obstacles with little trouble. It even manages to deliver a great, comfy ride on streets and paved roads from start to finish. You'll still have to get used to its bumpy ride quality, noise filtering into the cabin, and the rather weak braking power. The interior is a clean, spartan offering with plenty of legroom for rear passengers to chill in the back; the four-door makes good use of the cabin space so we'd recommend that over the two-door. The infotainment system works nicely, but the speakers will have difficulty drowning out external noise. Meanwhile, storage is a sizable 35.6 cubic feet for luggage and other goods, while towing strength is up to 3,500 lbs, which is useful for most general-purpose hauling. The Bronco is also generous with safety tech, featuring automatic emergency braking with pedestrian detection, hill descent control, adaptive cruise control, and lane-keeping assist.
Review
Performance
Appearance
Features
Reliability
Making the Most of Your Money
Car prices are still unstable at the moment, so you'll need to be extra careful with making any car purchases. Used car prices saw an unexpected jump of 4 percent in the first half of February; even though it might not be for long, it was still worrying nonetheless. Used car prices did go down 11.6 percent in January compared to a year ago. However, if used car inventories begin to diminish owing to their low price points, it could inevitably cause an upsurge as demand increases while supply diminishes. And we've not even touched on how rising interest rates also increase your monthly car loan payments. All of this can take a toll on your financial health.
In such uncertain times, being prudent is very important. You'll need to do a lot of research to find a used car you want that's also at an affordable price point. Then you'll need to consider how much you'll need to save to afford to keep up with the loan or lease payments. And given how scammers can use this economic climate to offer deals that are too good to be true, you'll need to ensure you have a vehicle history report to ensure you're not being ripped off for any deals you're offered.